Are sides being chosen in the Cyrus family? The famous clan recently sparked concern about bad blood between its members as two of Tish Cyrus's children skipped her marriage to Dominic Purcell.
The new bride recently tied the knot to the "Prison Break" star in an intimate wedding surrounded by her loved ones. While it is understandable for her former beau, Billy Ray Cyrus, to skip the event, some of their kids seemingly supported the country singer.
While Miley Cyrus and her older siblings were spotted celebrating their mother's happiness, the "Hannah Montana" star's younger brother and sister, Braison and Noah Cyrus, were seen hanging out together away from the ceremony. What did they skip the wedding to do?
Noah Cyrus Seemingly Throws Shade At Mom Tish Cyrus's New Chapter With Dominic Purcell
Speculations about the relationship between the entertainment manager and her youngest children began after Noah's social media updates amid her mother's wedding. The rising singer spent the day bonding with her older brother instead of commemorating Tish's nuptials.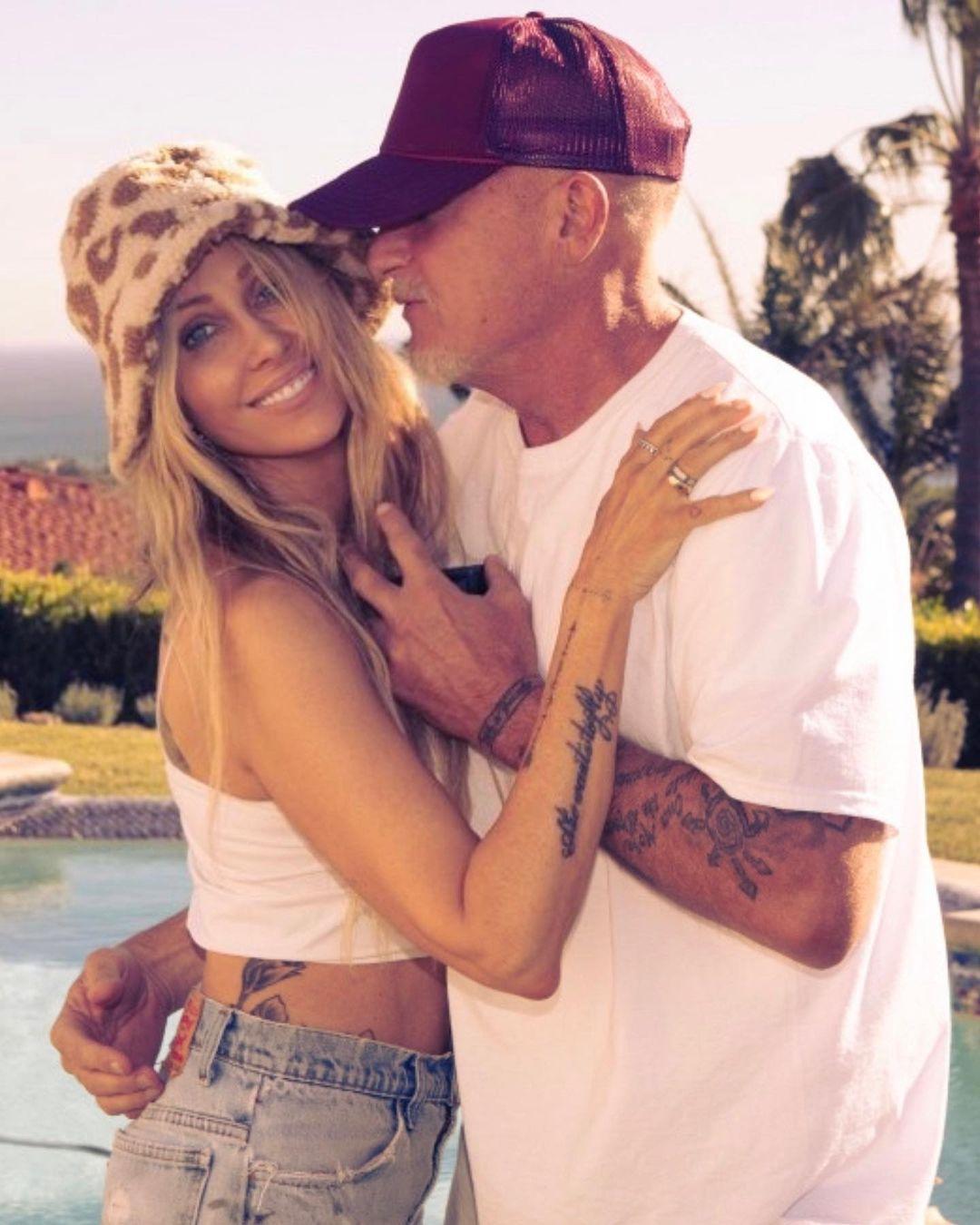 As seen in the pictures shared by a fan on X, formerly Twitter, the "Young & Sad" artist shared snaps of herself and Braison at Walmart while her other siblings were at their mother's ceremony. For their outing, the pair dressed casually, with Noah seemingly shading her mother by rocking a graphic t-shirt with her father's face.
This not-so-subtle mention of Billy Ray during Tish's wedding did not go unnoticed as the follower tweeted, "Noah Cyrus and Braison Cyrus spending the day together at Walmart in LA during Tish's wedding. Hope Miley, Tish, Brandi, Trace will ignore her wedding too. She is also wearing a Billy Ray t-shirt to make fun of @tishcyrus' wedding today."
Stepping out in her father's t-shirt was not the only diss Noah threw her mother's way. In her social media update, the 23-year-old revealed Braison traveled to LA to spend time with her. The siblings also enjoyed a sleepover, showing they would rather cozy up together than attend Tish's wedding.
The fan who was disappointed in the update wrote in a separate tweet, "Noah Cyrus keeps shading Tish's wedding by saying Braison Cyrus flew to LA (where Tish's wedding was) ONLY to see Noah, and they had a sleepover during the wedding night."
Noah Cyrus and Braison Cyrus spending day together at Walmart in LA during Tish's wedding.
Hope Miley, Tish, Brandi, Trace will ignore her wedding too 💋 she also wearing a Billy Ray t-shirt to make fun of @tishcyrus ' wedding today. https://t.co/EEkoi0vvSD pic.twitter.com/mm1fK3Dh5l

— wildcard (@brightmindedxx) August 20, 2023

The individual then lamented, "Younger siblings couldn't keep their shady attitude to themselves and needed to post about it publicly on Ig." More supporters echoed similar sentiments, noting the duo's actions proved something was wrong in the Cyrus family.
"Noah Cyrus and Braison being absent at Tish's wedding speaks volumes," someone noted, while another believed the beef extended to the Disney alum, painting a picture of feuding siblings.
"Even though they are not in good terms, I think Miley would still be upset seein' this.. Noah is still her sister, and she probably miss her. I feel bad for Miley," the social media user claimed. "I didn't know this family was essentially split & that Billy Ray unfollowed Miley a year ago & only claims the two in the first picture as his children.. 😭," another fan observed while referencing a picture of Noah and Braison.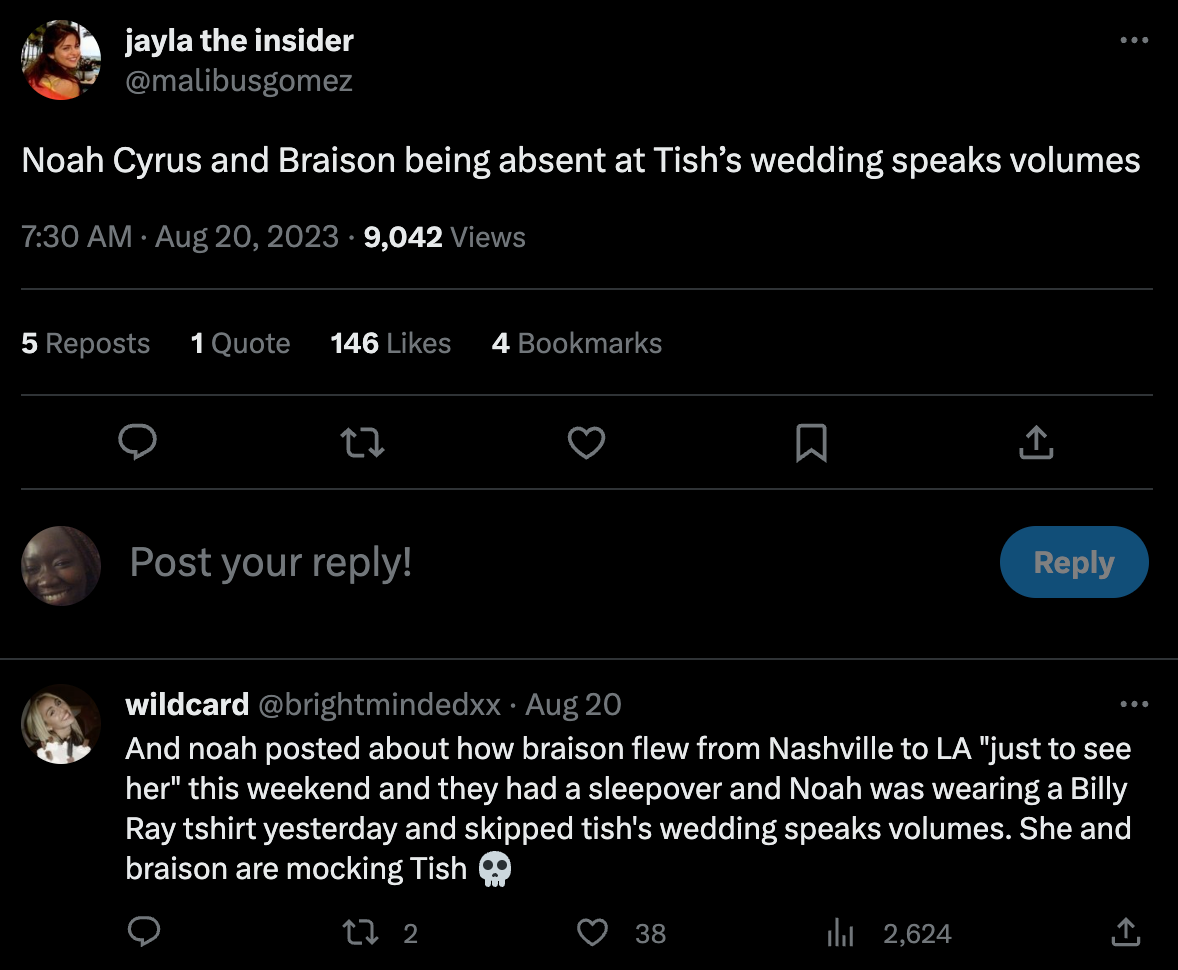 On the other hand, some called out Noah for her poor actions and warned the 23-year-old of future consequences, writing "@noahcyrus, u didn't even attend your mother's wedding, ohhh baby girl, you are gonna regret this, hope that Walmart was fun!"  
 The forewarned aftermath might have arrived sooner than expected, as Tish seemingly hinted at her distance from her youngest children. On her Instagram Story, the new bride reshared a post by her oldest son Trace. In the black-and-white throwback snap, the mother of five posed with three of her kids —Miley, Brandi, and Trace.
Tish captioned this snap with a string of red heart emojis, perhaps saying she was happy with those who supported her marriage and unbothered by those who did not show up.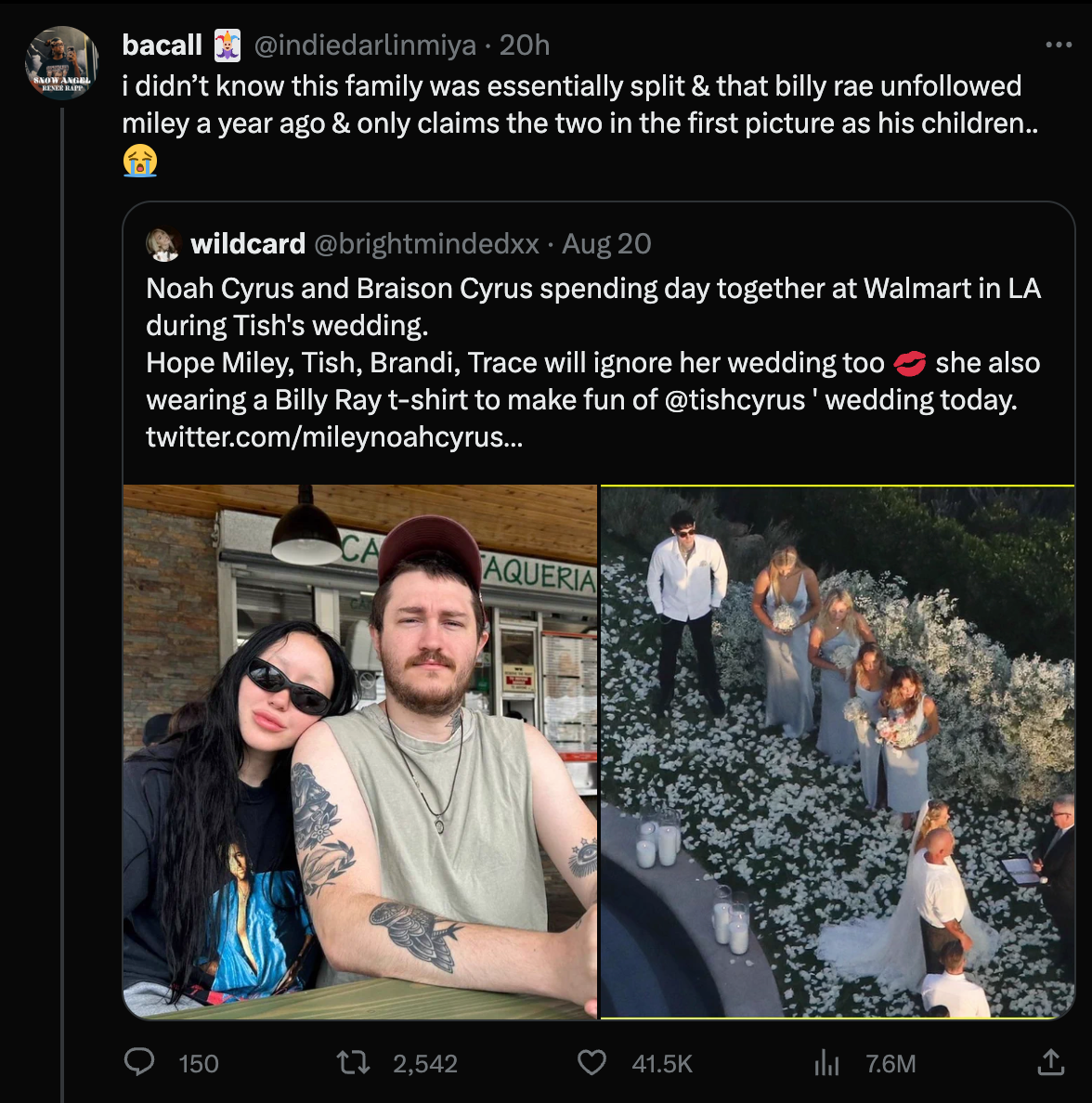 While it is unsure if the Cyrus family is indeed divided after Billy and Tish's split, it is worth noting that the country singer was the only one to publicly congratulate Noah on her engagement to German boyfriend, Pinkus, in June.
Inside The Hopetown Entertainment President's Private Malibu Wedding
Tish and Purcell tied the knot in an intimate ceremony in Malibu, California, on Saturday, August 19. The lovebirds had announced their engagement four months earlier, a milestone they achieved less than a year after publicly confirming their relationship.
As mentioned, the entertainment manager's youngest children with Billy Ray, Braison and Noah, did not attend the event. Instead, the blonde beauty's children from a previous relationship Brandi and Trace, alongside Miley celebrated her marriage to the Hollywood veteran.
Pictures taken from the intimate affair captured the "Wrecking Ball" hitmaker serving as her mother's maid of honor. The Teen Choice Award winner donned a baby blue, one-shoulder gown and held a bouquet of white roses and baby's breath.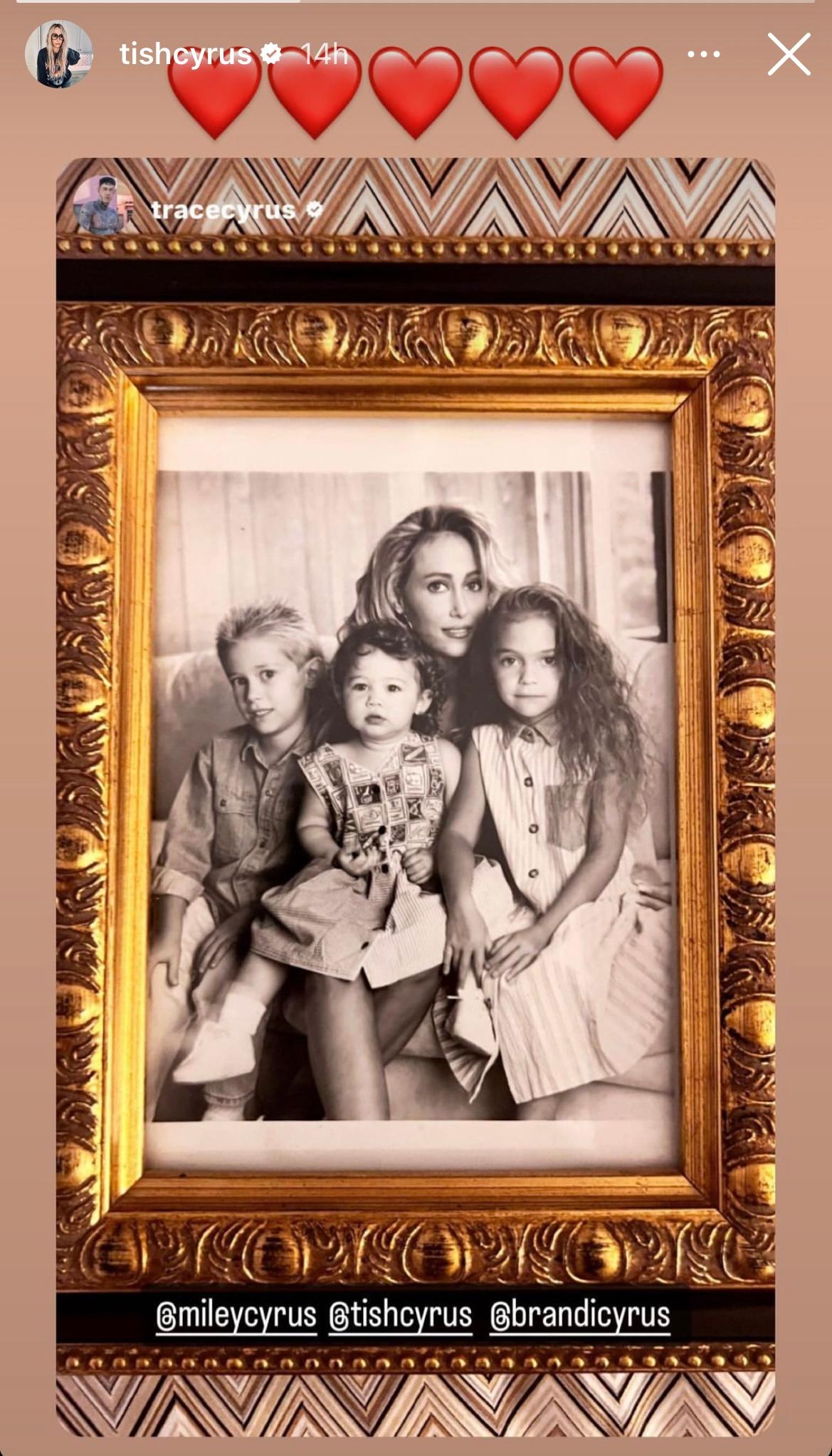 Meanwhile, the bride stunned in a long white dress and a matching veil looking head over heels for Purcell. The groom did not ditch his signature casual vibes for the affair as he rocked a short-sleeve white shirt with black trousers.