Tiana's Bayou Adventure is replacing the iconic, now closed, ride Splash Mountain. This decision was announced in 2002 as the Walt Disney Company pushes for more inclusion. Just days ago, Disney Imagineers installed the centerpiece for the new ride — a new water tower, topped with Princess Tiana's tiara.
Now, Disney is giving fans a first look at Tiana's new costume for the ride.
Tiana Shows Off Her NEW Look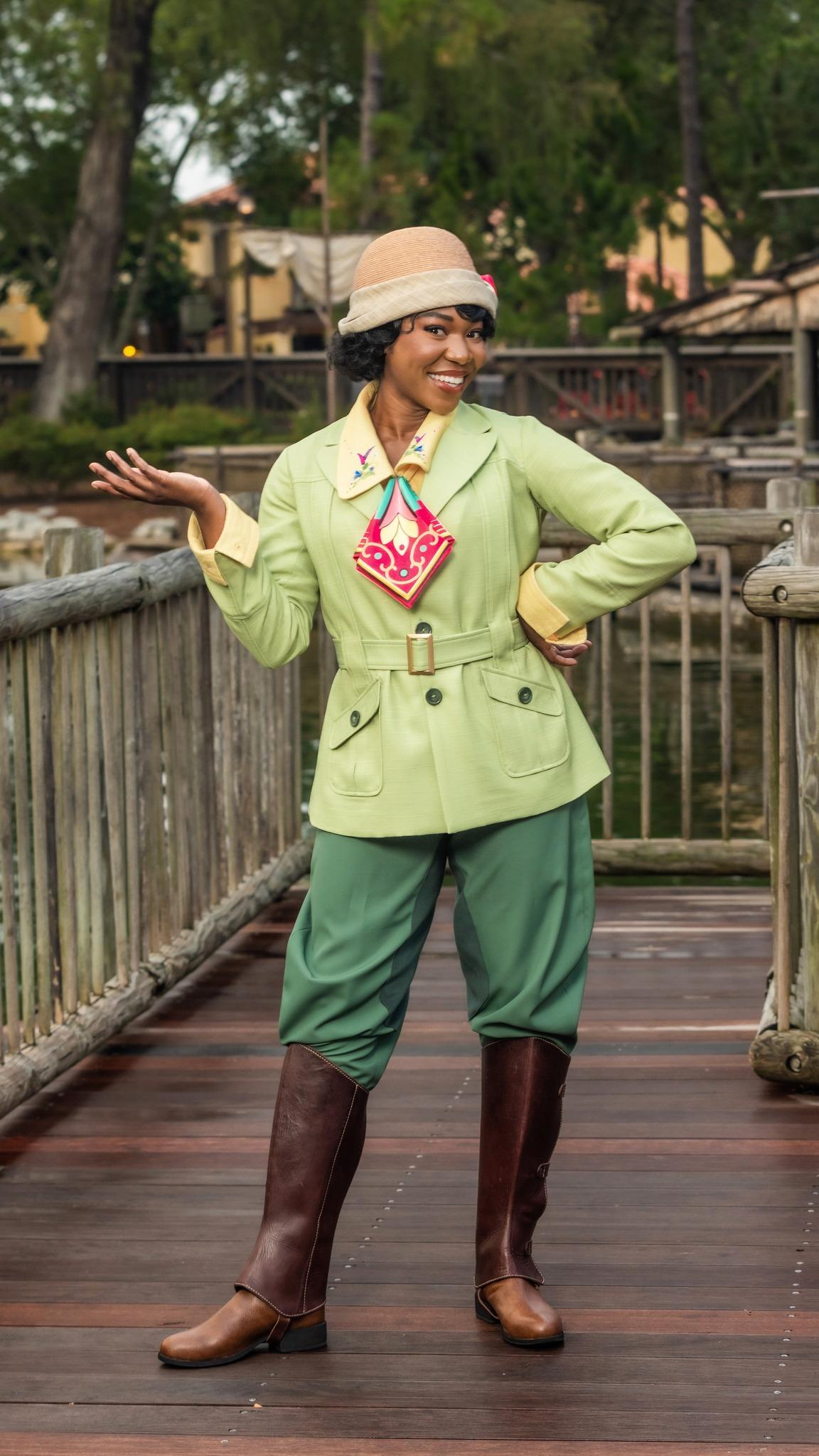 Princess Tiana is ditching the iconic green dress and trading it in for a bayou-ready look!
"JUST REVEALED 🚨 Princess Tiana is dressed for a bayou adventure! A first glimpse of Tiana's new look spotted at ESSENCE Fest in New Orleans. Princess Tiana, still in her royal gown 👗 👑, awaits your visit today! 🎵 🎺 💚," Disney shared alongside the photo.
Fans first saw the new outfit in concept art, which was shared last year, but this is the first time they are seeing it on Tiana in real-life. She is wearing a pair of brown boots, green pants, and a green jacket, complete with an adorable brown hat.
Many took to the comments section to share how excited they are for the new costume and the new ride. "I love this so much!! Princess and the Frog is in my top 3 Disney animated films, and I can't wait to see what they do with this ride! ," one fan commented as another chimed in, "Love her gown of course, but the new look is so adorable too!!! 💚💚💚 I'm so excited for Tiana's Bayou Adventure!!"
A third commented, "I love these looks, so adorable and I cannot wait for the ride and area glow up!," while one user said, "Omg I love love LOVE this!! I can't wait to see what Naveen wears!! 💚."
What Will Tiana's Bayou Adventure Be?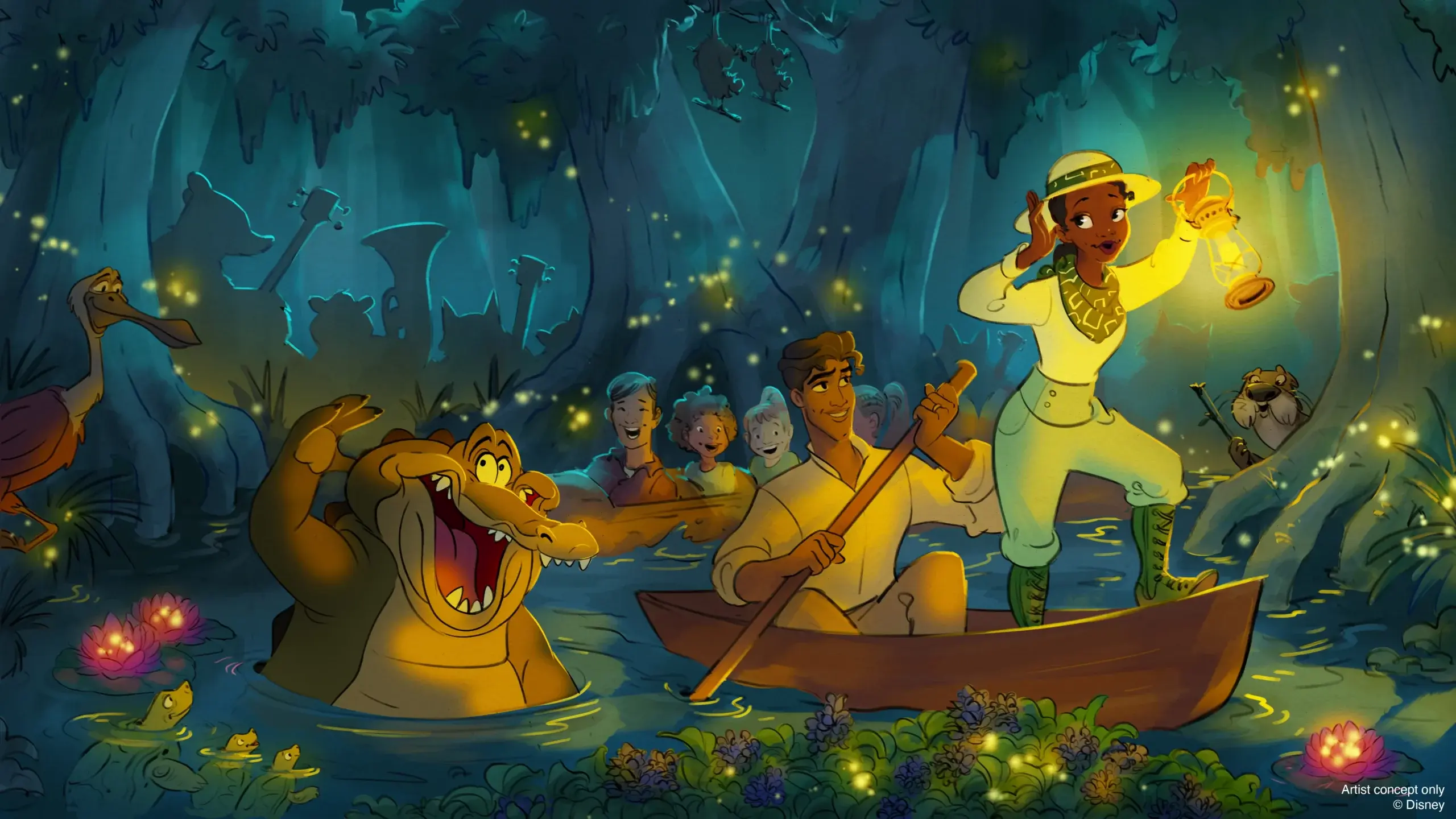 Disney Parks previously reported that the new ride will pick up where the beloved 2009 film left off, seeing how Tiana's life is after the success of her restaurant debut and marrying Prince Naveen.
The storyline of the new ride will follow Princess Tiana after she purchased the salt mine and the surrounding areas from which the salt dome operated. Guests riding the new attraction will see beloved characters from the film, including Tiana's mother, Eudora, her husband, Prince Naveen, and the lovable alligator, Louis, who all helped Tiana revive the old salt mine and the surrounding land, allowing them to grow fresh new ingredients such as vegetables, herbs, and spices for her recipes.
Disney Parks Blog stated, "When we arrive, we may see that Tiana spruced up the company's facilities with vibrant art from local artists. Food for the party is being prepared and beignets are being loaded into crates for the celebration. All kinds of preparations are underway for the journey into the bayou with Tiana, along with new and familiar friends from the animated film."
"Picking up where that story left off, Tiana continues bringing people together with Tiana's Foods, another treasured meeting place to spend time together and celebrate a diverse community. Tiana is also working with cooperative members to teach gardening and cooking to children of all ages, and inspiring other women to run successful businesses as the brand grows nationwide," the report continued.
Disney also previously confirmed that Guests riding the attraction will see many familiar faces from the 2009 animated film, including Mama Odie, the two-hundred-year-old Bayou Fairy Godmother from "The Princess and the Frog."
Guests can also look forward to brand-new characters within the attraction and new, original music alongside favorite songs from the 2009 animated film.
The new ride, Tiana's Bayou Adventure, is set to open at both Walt Disney World Resort in Florida and Disneyland Resort in California sometime in 2024.