Adele has kickstarted her Las Vegas Residency in full gear, and she is still holding her own powerfully even as Weekend 2 comes to a successful end.
However, as with all things Adele, she never fails to makes to make headlines, thanks to her quirky side. Whether it's struggling during an Instagram Live session or finally performing the moves to the viral "Adele X Megan Thee Stallion mashup," the British singer's playful side is always the hit.
Such was the case recently during week two of her residency when she couldn't handle a filter that a fan used on her.
Adele Reacts To Fan Using Filter During Vegas Residency
In a viral video from the second week of her Las Vegas residency, Adele was seen having a moment with a fan, supposedly after her performance on stage, when things took a different turn. With a mic in her hand and still in her glamorous low-cut black dress, the "Hello" singer approached a fan who was holding up her phone in anticipation of a picture or video together.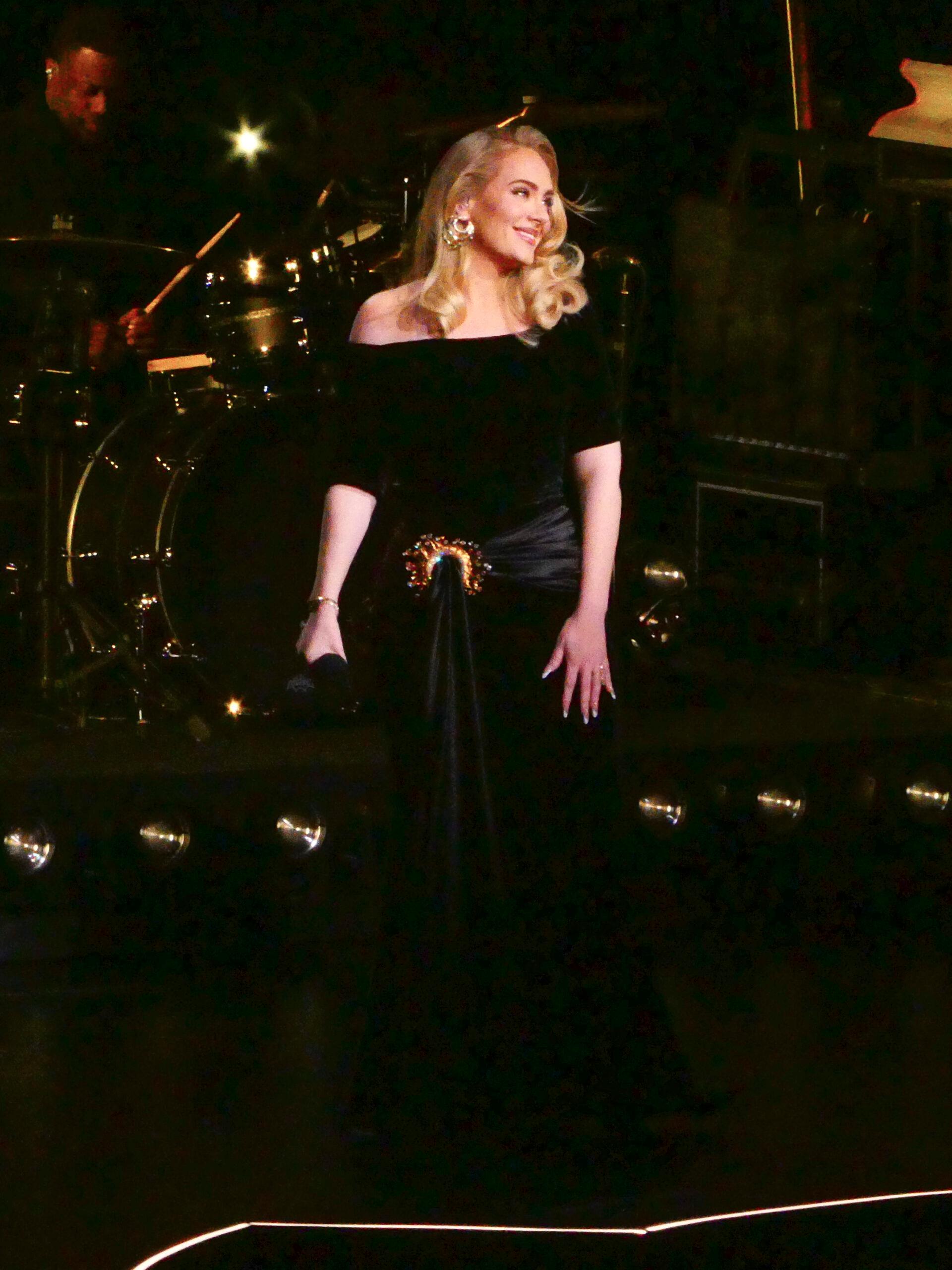 However, as soon as Adele stepped into the frame of the camera, her bubbly persona switched to that of confusion as she observed the filter on her face. The fan used the common filter that adds layers of tan to a person's face.
Forever the Queen of being dramatic, the Tottenham native asked in a bewildering tone, "Is there a filter on that? Oh my God! What have you done to my face?!" The thrilled fan couldn't help but break out a laugh as Adele still couldn't fully comprehend the filter.
Proving that she is not a fan of filters, Adele urged the fan, "Wow, girl! Get that filter off my face!" She then proceeded to ask the female fan for her name while grilling her on why she chose to use such a filter. "We don't look like that darling," Adele declared.
In the end, the 15-time Grammy Award winner returned the smile to her face and playfully posed with the fan, accepting the tan filter. The crowd, no doubt, loved the spectacle as they couldn't help but laugh and cheer as Adele was losing her mind over a filter.
Fans online felt a simile way as they poked fun at the 34-year-old on Twitter. One Adele fan gushed about her snarky remark, "'We don't look like that darling,' She's so cute." Another user suggested, "Adele seriously needs her own reality show, she's too funny."
Adele reacts to a fan having a filter on their camera when taking a video with her at her Vegas residency. pic.twitter.com/d0KT0kho0N

— Pop Crave (@PopCrave) November 27, 2022
This netizen, who claimed to be present at the live show, added, "I was there, working as a usher, and she is hilarious. Love @Adele so much!"
Adele Can't Keep Calm About Shania Twain's Presence
The filter hullabaloo wasn't the only headline-making moment that went down during last week's residency performance. In an Instagram Story update shared by Adele herself, it was confirmed that THE Shania Twain was in attendance!
Adele posted a picture of her onstage with Twain in the front row, seemingly wearing a disguise. The iconic Canadian songstress donned a gold shimmery ensemble consisting of a gold coat and a huge hat that perfectly covered her face. While Adele was no doubt the star of the show, she couldn't help but have a major fan girl moment.
In the caption of the picture posted, the "Hometown Glory" singer wrote, "Thank god you had a hat on @shaniatwain. I would have self combusted had I seen it was you!! I adore you, I can't believe you came to my show ❤️."
The "You're Still The One I Love" songstress replied to Adele's compliment in an Instagram Story update of her own, writing, "Thank goodness we didn't make eye contact. All I can think of is the reaction of all those fans to @adele combusting halfway through the show 😂."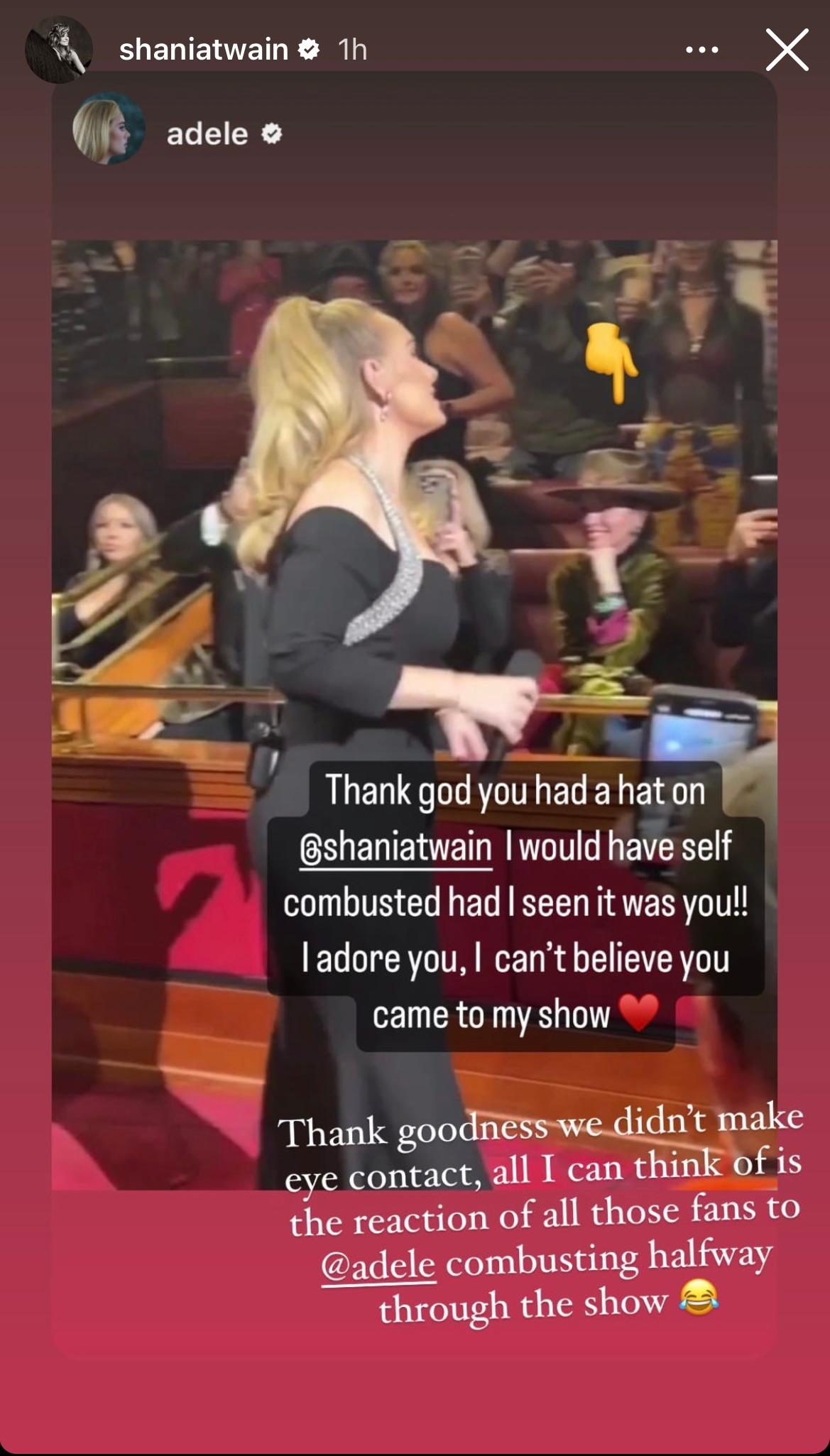 Twain also shared a picture of her view of Adele belting out tunes stage. "POV you're having a magical time at @adele's Vegas Show."