Drew Barrymore had some "corny" fun on her show with TikTok famous "Corn Kid," whose real name is Tariq. Tariq has been making the rounds lately from being named "Corn-Bassador" of South Dakota to helping Chipotle sell more corn and everything in between. While hanging out with Barrymore and Ross Matthews at "Drew's news desk," the trio had some fun trying out different types of corn to get the corn expert's opinion.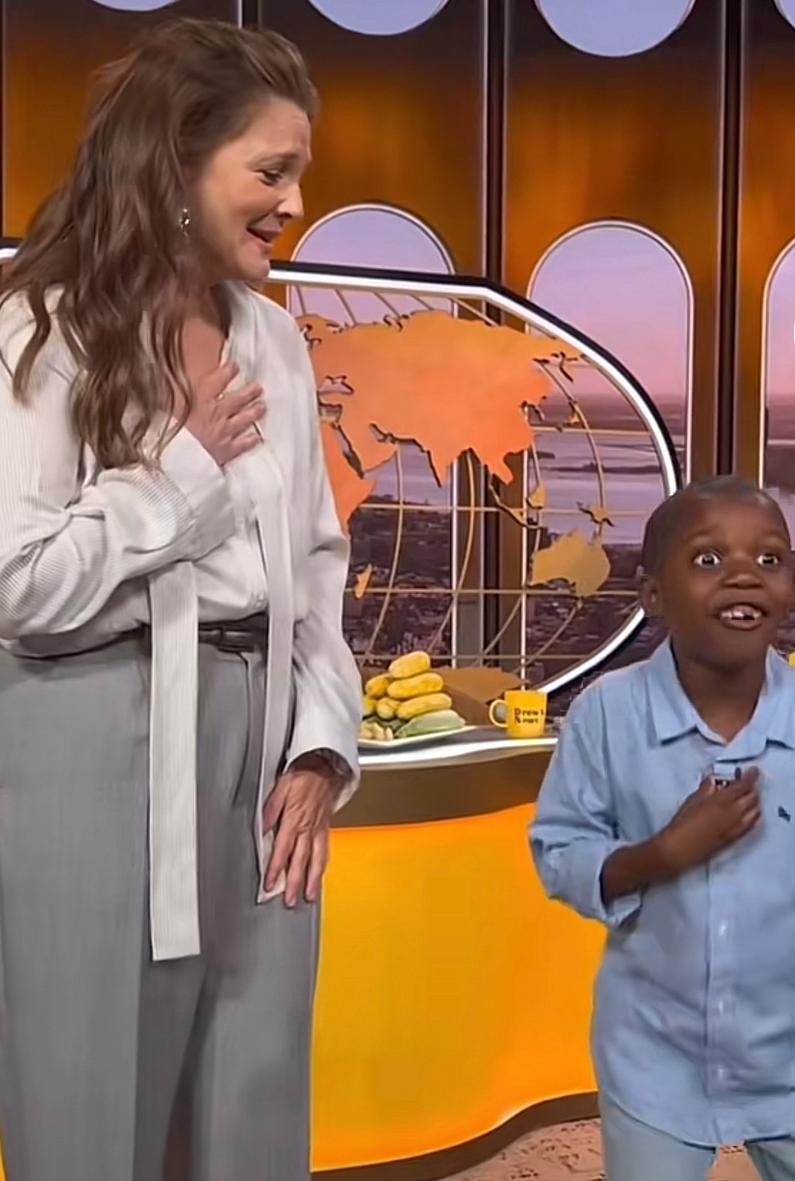 The Trio Tried A Unique Drink And Dessert
First, they tried corn soda. But before they took a sip, Tariq said he wanted to make a toast. When Matthews asked Tariq what he thought of the unique flavored soda, he said, "To be honest," and did a thumbs down. Next up was the dessert corn (bet you didn't know that was a thing), which is corn on the cob with Nutella and sprinkles on it. The three tried the dessert corn and Tariq gave his honest review saying, " this is the best corn I've ever had in my life" and gave it two thumbs up.
Barrymore then introduced Tariq to something he's never tried before – baby corn. But first, she schooled him on the scene in the Tom Hanks classic "Big" where Hanks ate baby corn like corn on the cob. Tariq took a mini taste and said, "it tastes like rainwater" to which Barrymore responds, "where have you been all my life, I love the rain."
Barrymore Posted A Sneak Peek Of The Episode On TikTok
The day before Tariq's corn-tasting fun on Barrymore's show, she posted a teaser video on TikTok captioned, "For me, I really like Tariq, and I'm so excited that he will be on @thedrewbarrymoreshow this week!!"
Viewers of the video were excited for his moment in the TV spotlight commenting, "Corn kid living his best life right now and I'm here for all of it! 🥰🥰🥰🥰🥰," "I love how the internet is united in supporting him," "I'm literally crying. I love him so much. He has brought us all so much joy and he 100% deserves this!!!" and many other supportive comments. The Drew Barrymore Show's TikTok page commented, "Name a more iconic duo! 🌽," and SONIC Drive-In wrote, "the little pats on the back 🥺."
Tariq Was Recently Interviewed On "Entertainment Tonight"
Barrymore's show wasn't the first time Tariq heard the name Tom Hanks. Just a few days before visiting her show, the corn-bassador was interviewed by "Entertainment Tonight" on the red carpet at the Hollywood premiere of the live-action "Pinocchio" remake. When asked if he was excited to meet Tom Hanks tonight, Tariq responded very innocently, "Who's Tom Hanks?"
Tariq Now Has His Own TikTok Page
You can now easily follow what "corntastic" stuff Tariq is doing on his own TikTok page. Videos on his page include his red carpet experience at the premiere of "Pinocchio," as well as being a special guest at the opening of the new MrBeast Burger in American Dream Mall in New Jersey. And of course, the original videos that made him a household name are on his page too!