There are still 11 days to go and birthday surprises are already rolling in for Tarek El Moussa!
His wife, Heather Rae Young, gave him an unforgettable treat at the Porsche Experience Center, Los Angeles, 11 days ahead of his actual big day. The pair, who are expecting their first child together, looked giddy as El Moussa took over the tracks.
Heather Rae Young Showers Her Husband, Tarek El Moussa, With Amazing Birthday Surprise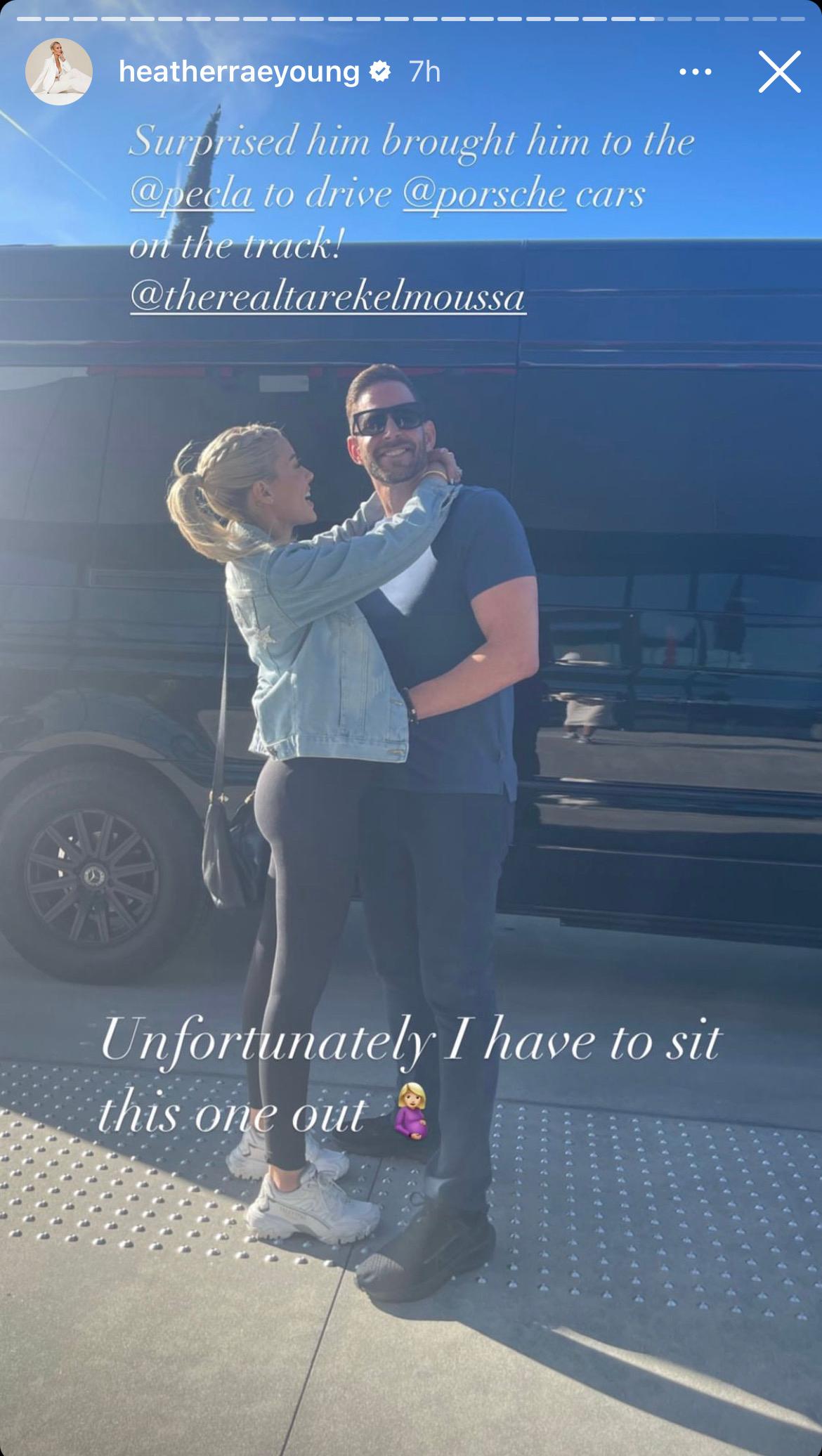 Young has kicked off birthday celebrations for her husband of nearly one year in the sweetest way. The expectant mom shared a series of Instagram Stories that informed fans and followers that she gave El Moussa an early birthday gift. In the first clip, Young and her man are in a vehicle filled with balloons. While El Moussa watched something on his phone, his wife explained that she could not wait for viewers to see her gift for him.
She wrote, "His actual birthday is in 11 days & surprise tonight and special birthday weekend," across the clip. The next update featured Young holding her beau around his neck as she told fans, "Surprised him brought him to the @pecla to drive @porsche cars on the track!" Unfortunately, the "Selling Sunset" star could not join him on the Pecla tracks due to her pregnancy. Her condition, however, did not stop her from watching El Moussa race through in a blue Porsche.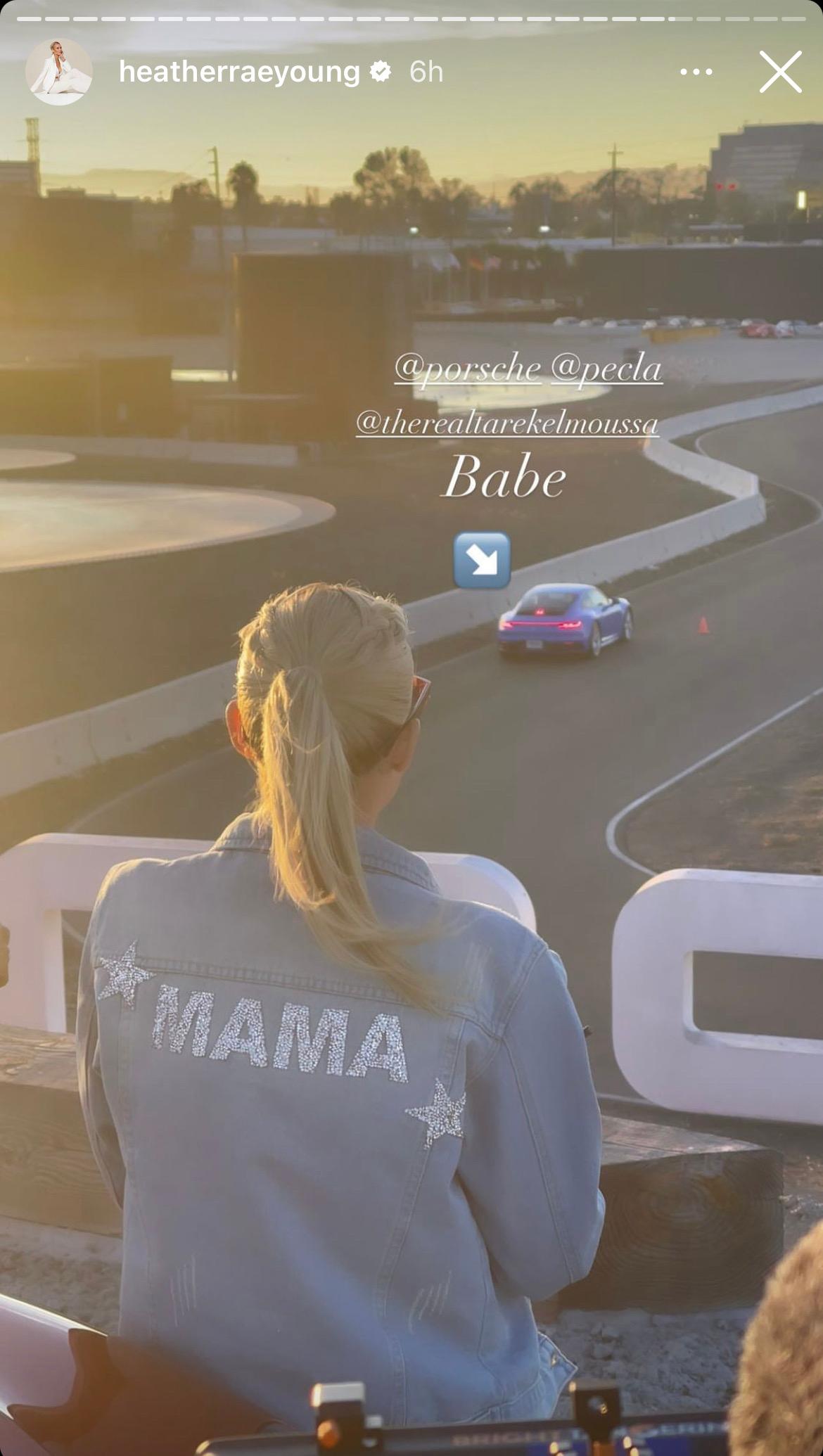 The image she dropped showed the back of her jean jacket with two shiny stars and "MAMA" written on it. Young's last post was a glorious picture of the sun setting over the Porsche lot as she gushed, The dopest evening. My love is smiling ear to ear."
The pair has a lot of lost time to catch up after Young missed out on a trip with El Moussa and their families earlier in the month. The Blast reported at the time that the realtor uploaded a monochrome pic of herself in her husband's arms. The reality stars paid no mind to their surroundings as they smiled and gazed lovingly into each other's eyes.
They opted for matching white outfits, with the 34-year-old donning a halter dress that put her back on full display while her husband wore a T-shirt. Young styled her blond hair in an updo that revealed her dangling earrings and slender neck, as a few bangs left down to frame her face. She penned, "Miss my bestie so much @therealtarekelmoussa. I can't wait to kiss and hold you," on the image.
The Expectant Parents Had A Fairytale Encounter When They First Met
In July, The Blast observed that El Moussa and Young marked the third anniversary of their first meeting with PDA-filled posts that came with juicy details about their relationship. El Moussa started things off by sharing a snapshot of himself and his realtor wife rocking matching black shorts and slippers. The "Flip or Flop" star paired his shorts with a white t-shirt, dark shades, and face cap, while his wife added a pink long-sleeved top, white-rimmed sunglasses, and a bedazzled cream hat. The duo smiled as they held onto a United States flag on a moving boat.
The 40-year-old explained in the caption that he has always been a fan of the Fourth of July, but the day got a new meaning when he met Young three years ago. The TV personality recalled how sure he was of their life together when he met his wife while boating in the summer. Young took the celebration further when she uploaded multiple photos and a lengthy and emotional caption to her Instagram. The pictures showed the couple sharing hugs and smooches on various public occasions, including their wedding day in October 2021.
The "Tarek and Heather: The Big I Do" star revealed that even though there were "a lot of cute details to the story that I've shared in the past," she still got "chills" whenever she thought about the moment they first met. Young concluded her sweet tribute by declaring her love for her husband and hoped that her followers would "have a life-changing moment" during the Fourth of July weekend. The post has received more than 60k likes and 300 comments from hopeful romantics who wished the couple many more "fairytale moments."