Pregnant Heather Rae Young recently made her first appearance on a carpet event since conceiving.
According to her latest Instagram updates, Heather looked as captivating as ever with her cute baby bump, which she now regards differently, while she gave highlights of the spectacular occasion with vivid pictures.
Heather Rae Young Makes Debut Carpet Appearance With Baby Bump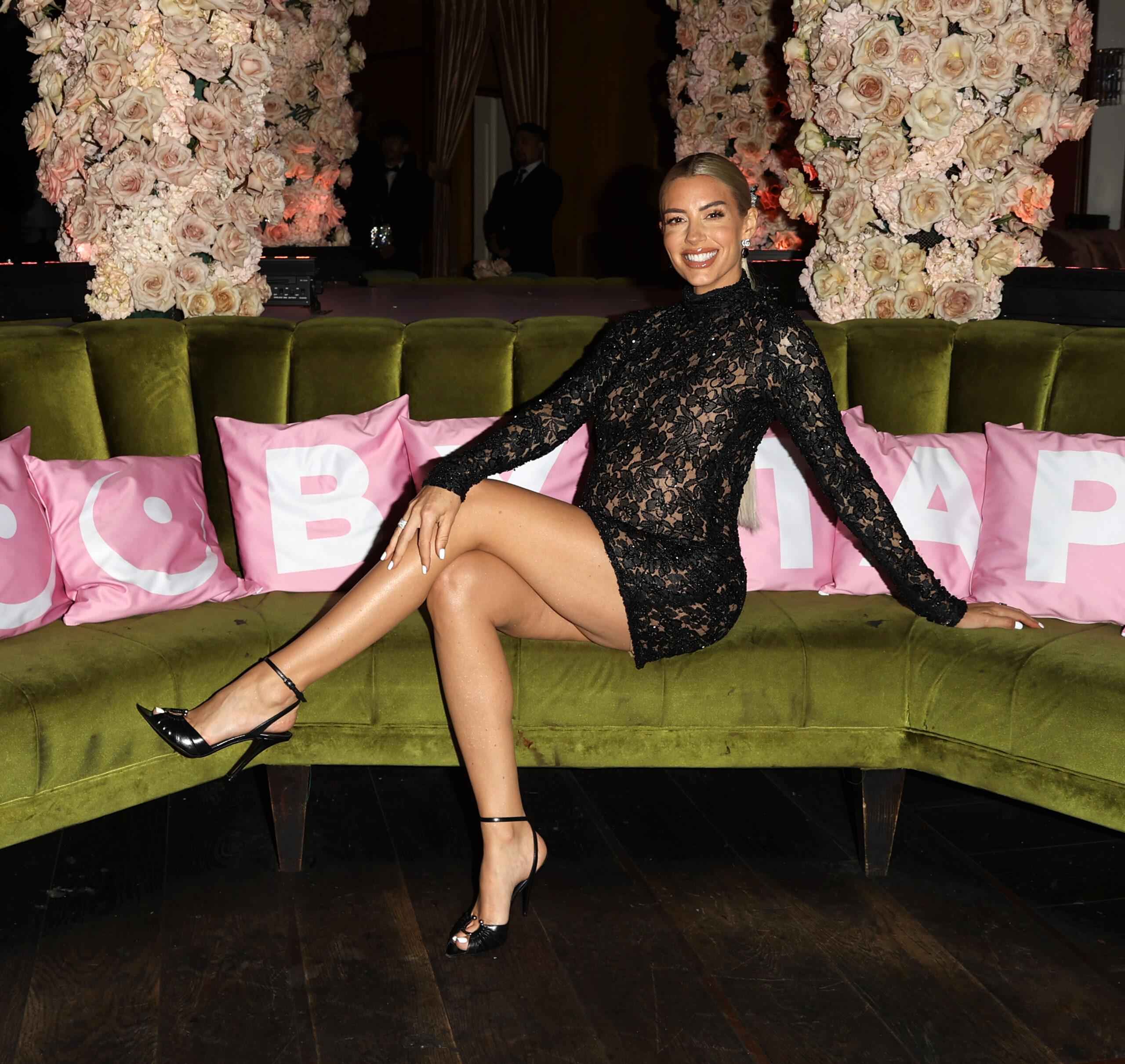 The 34-year-old realtor showed up at the pink-themed event in a short black long-sleeved lacy dress, which she displayed on her Instagram Story from a post on her feed detailing the event.
She admitted that that was the first time she walked the carpet during her pregnancy, and she called her baby bump her "cutest little accessory."
As for the post she shared to her Story, it included a carousel of five snaps, with the first showing her posing on a pink carpet in front of large pink block letters, naming the event.
She could then be seen with Anastasia Karanikoloaou in the next slide, where the women held each other's waists while Young beamed at the camera and caressed her baby bump.
The following photo was another duo capture, including the gorgeous real estate agent but with another friend, Alessandra Ambrosio, who donned a bright green two-piece ensemble and smiled brightly.
Heather's ensuing fourth post was a group shot of herself with the founders of Booby Tape, Bianca Roccisano and Bridget Roccisano. In contrast, her final update was a sole capture of her grinning at the camera. 
She then captioned the post, "Walked the pink carpet last night to celebrate StasxBooby Tape and had so much fun. This was the first event I've been to since announcing my pregnancy." Heather's caption continued and read:
"So, being in a tight dress and heels definitely hits a little different now, but I think my baby is a cute little accessory & I just felt so incredible."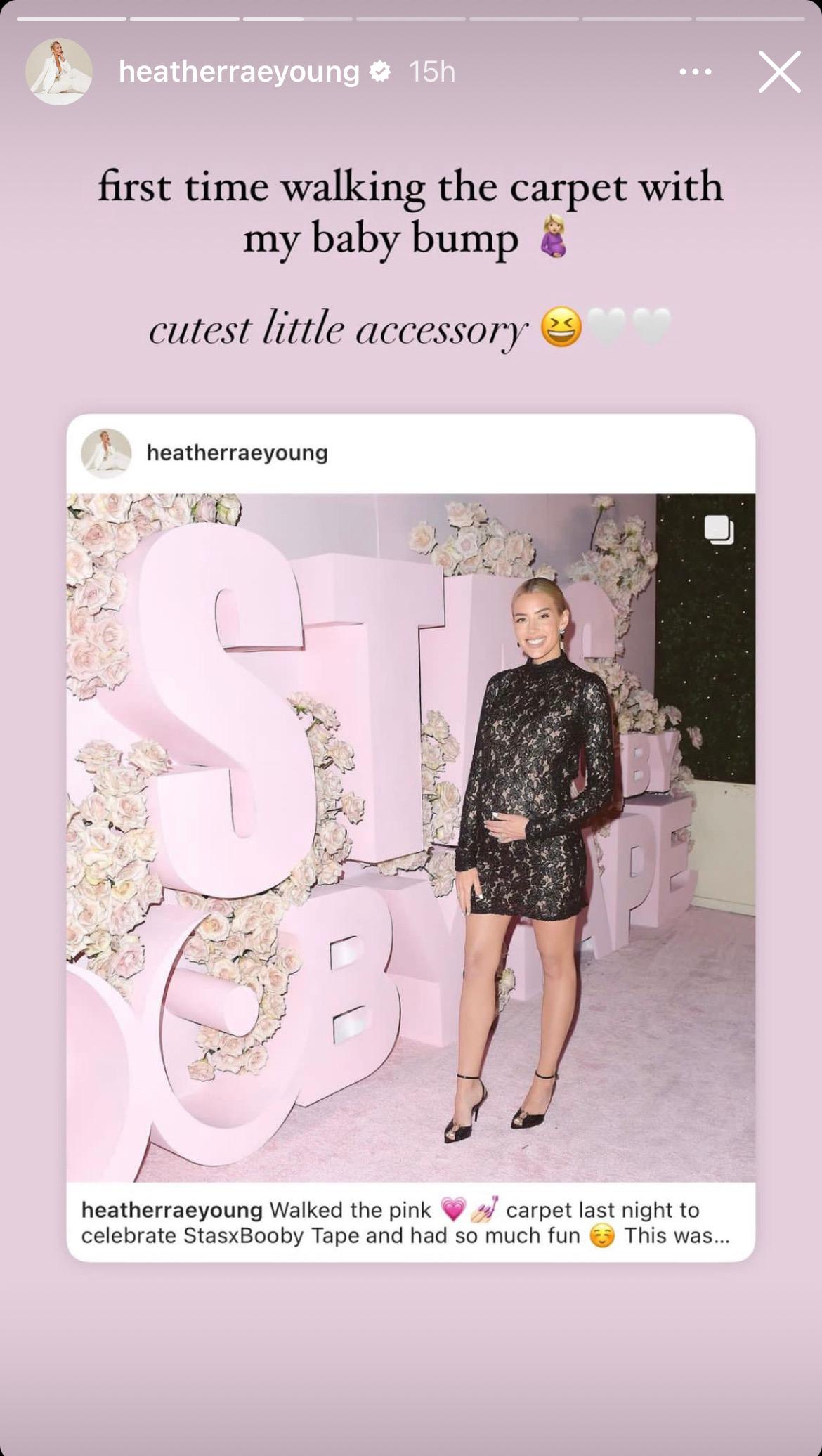 She concluded her sweet message by congratulating the brands and women behind the event and confessing that she loved seeing women "killing it, being bosses, and doing amazing things together."
Prior to Heather's debut appearance as an expecting mother and before her pregnancy announcement, she and her husband of less than a year, Tarek El Moussa, had a lovely dinner with friends but without phones.
The Blast shared that details of the fancy evening were posted on the blonde-haired icon's Instagram feed, showing the stylish hosts, every invitee in their classy outfits, and the dinner's venue.
Alongside Heather, four other beautifully dressed women appeared to have been at the banquet, including Casey Beau Brown, Leyla Milani-Khosbin, Mindy Stearns, and Heather Dubrow.
The elegant women's husbands also graced the occasion, looking debonair in neat slacks, dinner jackets, and complimenting inner shirts.
Heather then shared her experience at the dinner via the caption, showing that it was a classy event with no phones allowed at the table to enable everyone to connect and have great conversations.
She called the dinner her "new favorite" after noting that the group ate "fresh food in a stunning home together" thanks to the hosts, Mindy and Glenn Stearns, who were appreciated for organizing "such a perfect dinner."
View this post on Instagram
The "Selling Sunset" star also wanted to know what fans thought about having a no-phones-allowed dinner, leading to numerous opinions, with the majority remarking on how great the idea sounded.
The 
"Flipping El Moussas" 
Realtor Announces Upcoming Real Estate Show With Husband
Heather and her husband El Moussa previously announced the airing of their new series, "The Flipping El Moussas," set to go live in 2023, marking a huge milestone for the couple.
The Blast reported that the excited soon-to-be mother shared the news to her millions of followers on Instagram alongside four pictures of herself and her spouse posing in different houses.
She proclaimed, "Beyond thrilled to finally share some really exciting news! After many conversations, we've finally made one of our goals a reality and are excited to announce our all-new series, The Flipping El Moussas."
Heather added that the show was with HGTV and would be coming next year, after which tons of avid supporters congratulated the married pair on the achievement.
It is worth knowing that the program will give fans a view of the El Moussas moving houses and taking on a large-scale renovation while embarking on an emotional journey to have their own children.