Heather Rae Young has an unending love for her heartmate and father of her unborn child Tarek El Moussa as she recently made a beautiful post about him.
As one of her latest Instagram Story updates revealed, she expressed how much she missed the real estate investor and looked forward to his return to her.
Heather Rae Young Misses Tarek El Moussa And Anticipates Embracing Him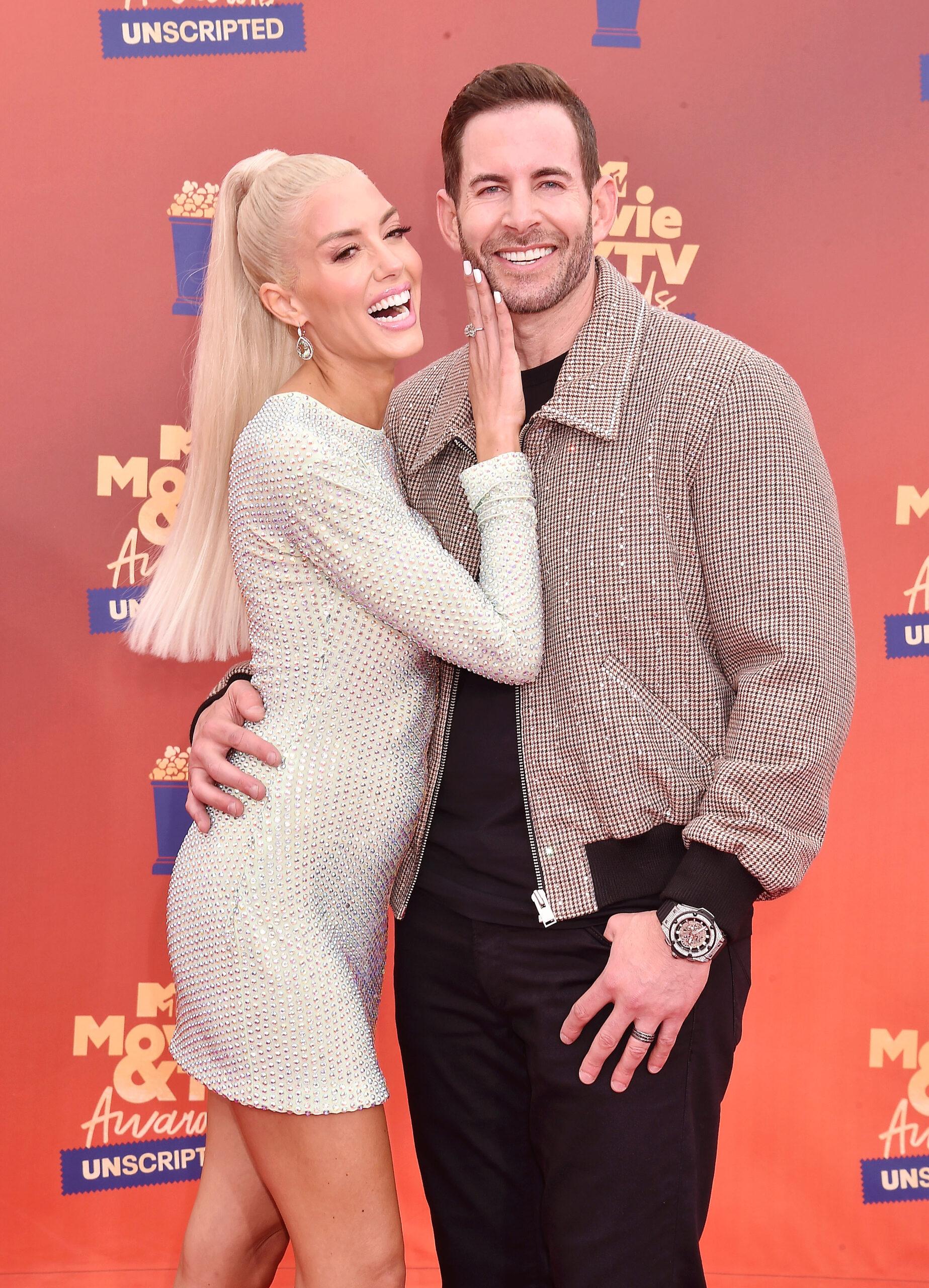 Young shared a cute monochrome snap of herself in Tarek's arms, with the couple being all smiles as they gazed lovingly in each other's eyes.
They both donned white outfits, with the 34-year-old wearing a halter dress, putting her upper back on full display for the camera, while her husband wore a white T-shirt.
Young's pretty blonde tresses were styled upwards, revealing her slender neck and dangling earrings; however, a few bangs were also left down to frame her lovely face.
She gushed on the post, "Miss my bestie so much @therealtarekelmoussa. I can't wait to kiss and hold you."  
The twosome's picture appeared to have been taken during their gender reveal party, which The Blast shared details of, including its sentimental location.
Young previously updated fans with various photos of the event, showing the fascinating "décor+details," and she gave due credit to those responsible.
The party was held on July 24 and comprised numerous baby-themed designs, including a placard with a blue baby shoe and a pink one, indicating the infant's gender.
Added to the poster was the date of the occasion and a "He or She" written under the baby shoes with "Come in and see!" penned beneath it.  
The said placard was the first thing guests would have seen immediately after walking in, along with a tidy collection of white chairs and tables covered with matching white table cloths.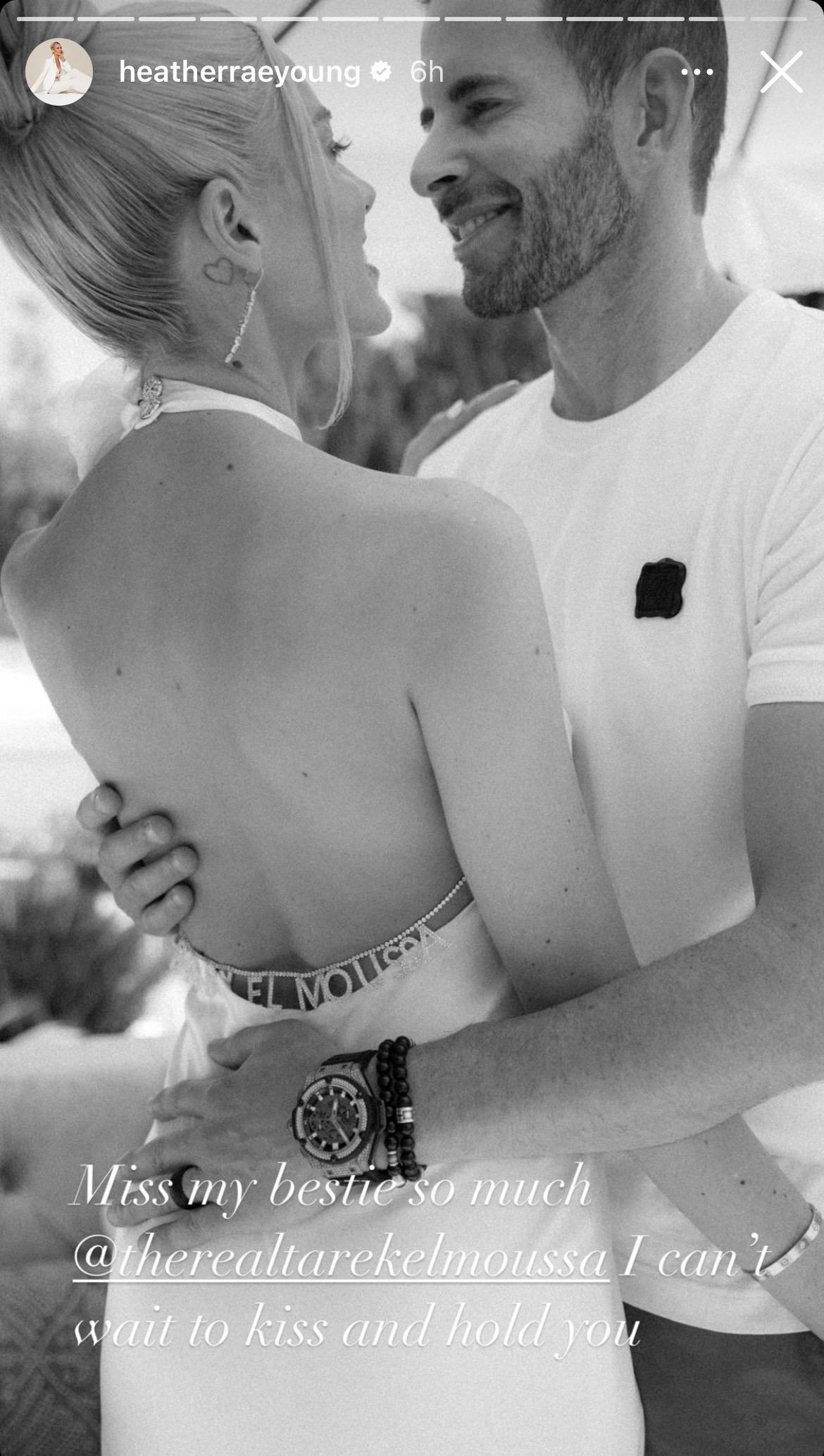 The beautiful real estate agent then revealed the party's venue, which took place in the backyard of her spouse's father, Dominique El Moussa's house, where Tarek grew up. She also appreciated Dominique for hosting them.
Young further showcased "so cute" beautifully positioned glass tiers of frosty cupcakes with colorful sprinkles, which she credited Hapa Cupcakes for.
The party involved several fun activities, including a "little station where everyone could take their best guess" of the unborn child's gender.
According to a picture showing the activity, there were several pencils colored blue and pink, separated by their colors, with blue indicating a boy while pink was for a girl.
The pencils had "welcome baby" written on them and were paired with multiple cards for guests to write down their guessed gender and name suggestions.
Young's detailed pictorial account of the event ended with a sideways shot of a balloon-surrounded large heart-shaped placard with "Boy or Girl?" scrawled in golden letters that she was admittedly "obsessed" with.
Speaking of her baby's gender, she and her husband revealed in the past that they were expecting a baby boy during the same gender reveal party.
They announced so with a video showing them throwing confetti and embracing each other after sharing the exciting news, which also came months after they revealed Young's unexpected pregnancy.
The 
"Selling Sunset" 
Star Did Not Believe She Would Have Her "Miracle Baby" With Partner
View this post on Instagram
Based on The Blast's recent report, the expecting mother recently got candid about her pregnancy journey, which had been far from normal from the onset.
She described her experience from the beginning, revealing that she and Tarek had been doing IVF and did not know what life had in the making for them. Young further stated:
"[We] went from having 7 frozen eggs to being told we were only supposed to get 2 follicles to then being able to get 8 to…having an all-natural pregnancy."
She believed life was not predictable as a person could plan and try to make things happen, but what was meant to be would always be.
The former Playboy Playmate of the Month called her child a "miracle baby" and noted that the odds were against her and Tarek.
Nevertheless, all that mattered was that she got pregnant, causing her expectantly to look forward to holding the infant in her arms.
Young shared her experience not long after she revealed her pregnancy to her partner, who was over the moon on hearing the update.
She initially did not believe she was pregnant but was convinced otherwise after taking multiple pregnancy tests using First Response Pregnancy kits that proved super helpful.