Honey Boo Boo is growing up so fast, and we can't keep calm! The reality star who started off on TLC's "Toddlers & Tiaras" is getting ready to become a high school senior!
Honey Boo Boo shared some awesome senior year photos to the delight of fans!
Honey Boo Boo Gears Up For Senior Year
Over the weekend, the teenager, whose real name is Alana Thompson, took to Instagram to share some awesome pictures from her photoshoot.
The "Here Comes Honey Boo Boo" star looked ravishing in a black off-shoulder top paired with a pleated skirt with the print "class of 2022" and chunky white sneakers.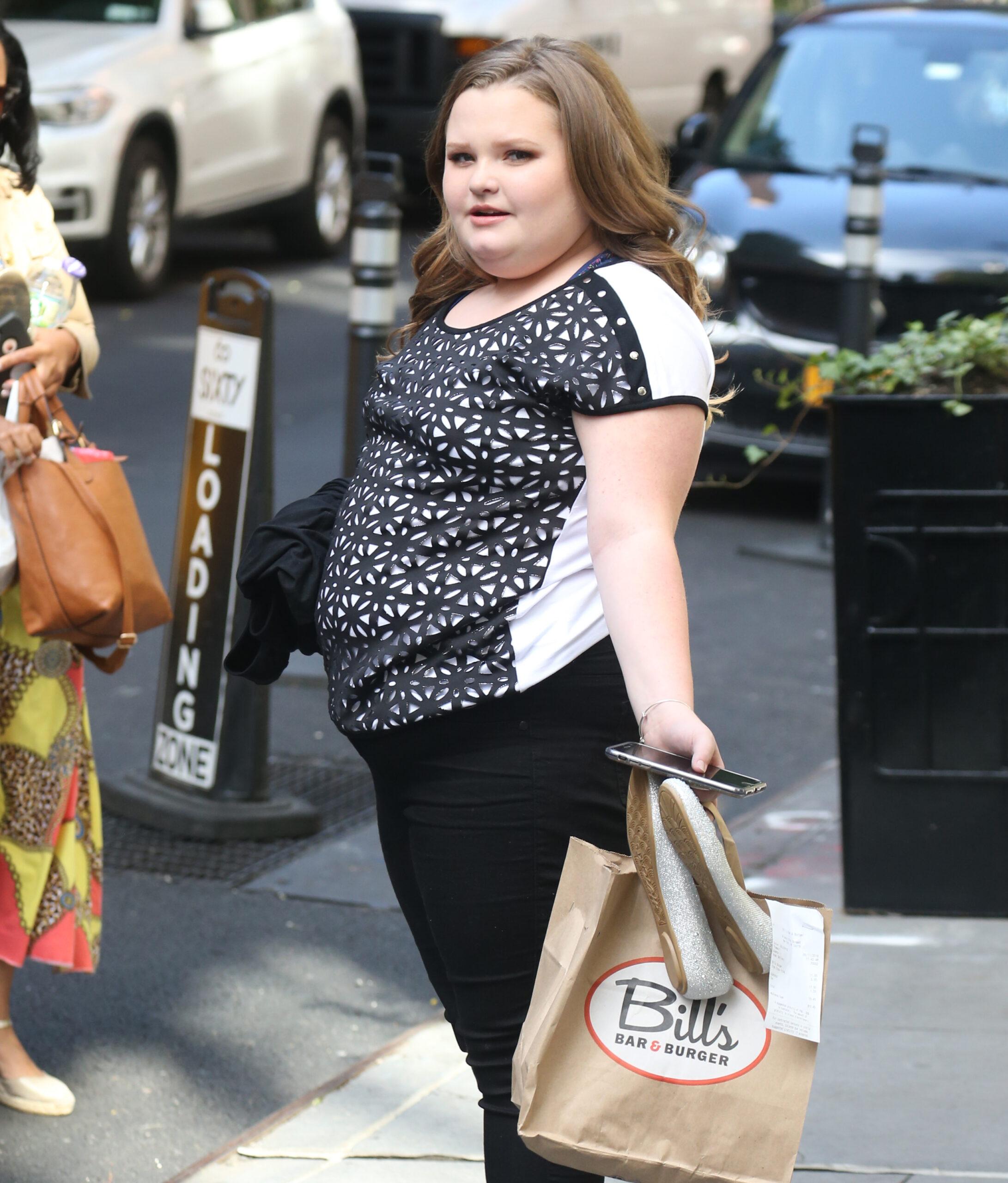 Alana was glammed up for the special photoshoot with her blonde hair straightened and styled with a side part. She rocked long shimmery nails and had a fully-done makeup look consisting of long lashes and nude lips.
"senior year!! 💗," the 16-year-old captioned the post. Honey Boo Boo's major milestone was also celebrated by her legal guardian and elder sister Lauryn "Pumpkin" Efird."
The super proud sibling shared several new pictures from the photo shoot and this time, Honey Boo Boo was seen in a yellow graduation gown and cap while posing with her certificate.
It was no doubt a family moment as Honey Boo Boo was seen cuddling her 1-year-old nephew Bentley in one frame and posing with the mother-son duo in another.
The 16-year-old attends Wilkinson County High School in McIntyre, Georgia. Mama June was nowhere in sight at the ceremony.
Pumpkin gushed over her little sister, writing, "Today my not so little sister had senior pictures done🥺❤️. I'm so proud of how far you've come against all odds that have been thrown at you."
She concluded the touching post, "Here to Alana's last year of high school. Excuse me while I ugly cry lol ❤️. We love our Lana @honeybooboo"
View this post on Instagram

Fans bombarded both posts, congratulating the reality star. One fan gushed, "awww she is gorgeous i love her and she has came this far i don't ever wanna see her quit 💕😭🥲💗."
Another fan urged, "Seems like yesterday you were drinking gogo juice! Hope you have a wonderful senior year! Soak it, it goes by fast," while another added, "You look happy and beautiful it shows in your pretty smile👏❤️."
Others showered praises on Pumpkin for being a great model and raising Honey Boo Boo to achieve such an important milestone.
This netizen wrote, "The way you took your baby sister in and gave her the support, love, and stability she needed in such a hard and difficult time in her life speaks volumes of your character as a person the true rock of the family I wish you nothing but joy and happiness God bless ❤️❤️."
The "Toddlers & Tiara" Alum Plans To Undergo Weight Loss Surgery
Honey Boo Boo's transition to senior year comes weeks after the teenager made headlines for her plans to go under the knife in order to drop some pounds.
As The Blast reported, rumors surfaced that the "Dancing with the Stars: Junior" alum was planning to shell out $13,000 for a suture sculpt endoscopic sleeve surgery to reduce her weight from 275lbs to 150lbs.
Honey Boo Boo was reportedly set to travel to New York in late August for the procedure performed by a prominent doctor. Following speculations and comments from fans who worried about her age and eligibility, Honey Boo Boo opened up about her plans.
View this post on Instagram

During an interview, she noted that it wasn't a surgical procedure that had been set in stone as she was not "100 percent ready."
"I just wanna make sure that this is actually something I wanna do before I just go and do it. I wanna make sure that it's, like, not something that's, like, gonna kill me. And I just wanna make sure it's something I actually wanna do before I go and do it," Honey Boo Boo explained.
She got candid about her desire to achieve her weight loss via a faster route even though she understood that a consistent gym routine and healthy diet could give her the desired result without the risks of surgery.
In her words, "I know for a fact I could get in the gym and I know for a fact I could diet and I know for a fact I can do this to lose my weight. I've tried. I will say I've tried, but the one thing with me is I have no motivation."
Big sister Pumpkin fully supports Honey Boo Boo's decision but believes she should begin with a lifestyle change before undergoing surgery. However, matriarch Mama June isn't in support of her daughter having surgery until she turns 18.