Ciara is celebrating the beginning of something new in her husband Russell Wilson's life.
The mother-of-three updated fans that her man has started his training at the Broncos camp ahead of the upcoming American football season.
The update comes months after the pair and their three children — Future Zahir, Win Harrison, and Sienna Princess — relocated to Denver from Seattle.
Ciara's Husband, Russell Wilson, Gears Up For New Football Season With Family
The family of five is seen on a football field in a new reel that the "My Body" singer shared on Instagram.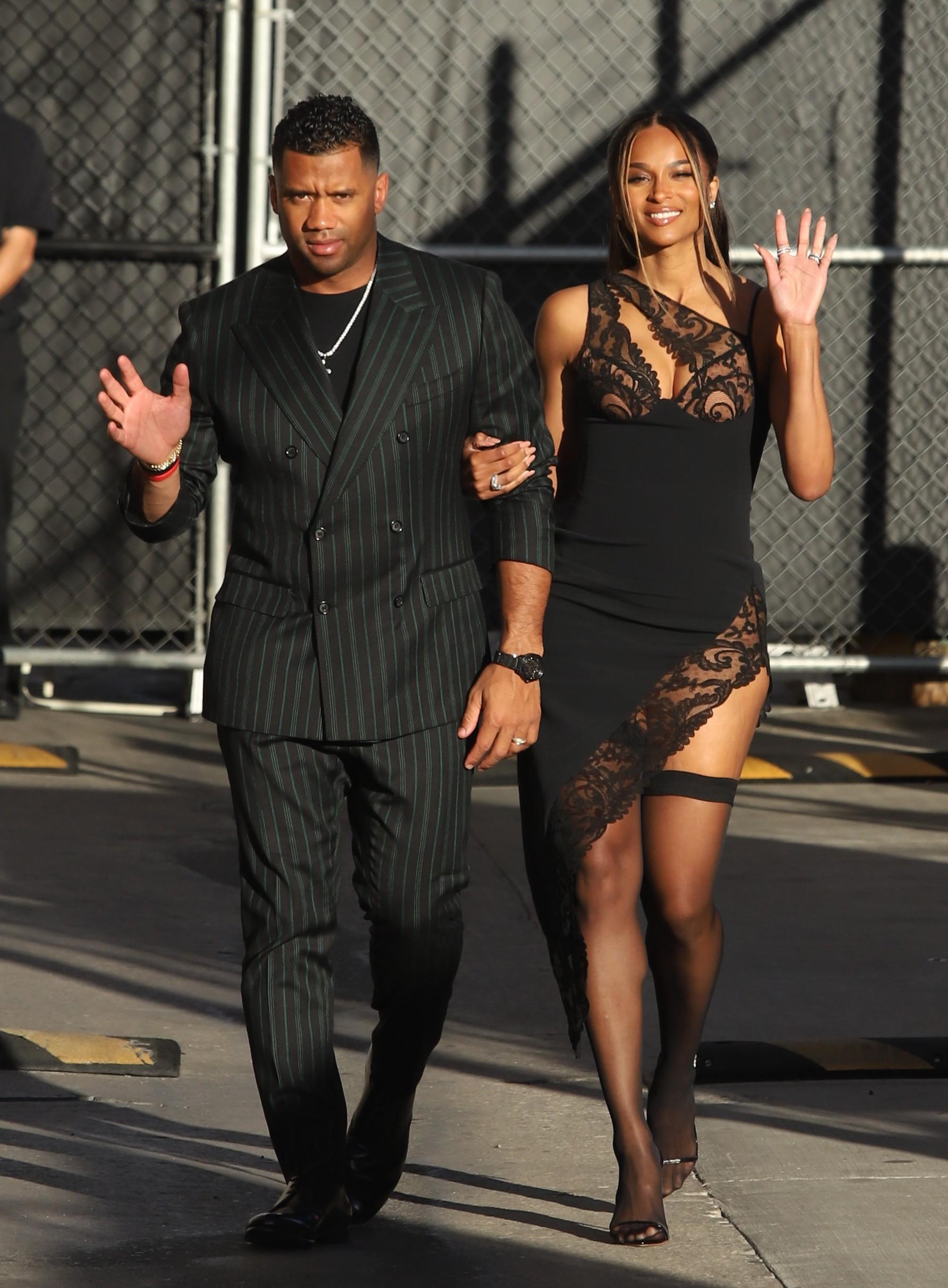 The clip started with Ciara gleefully raising one knee and planting a huge kiss on Wilson's cheek before their children joined them.
Soon, the entire family is seen dancing happily as House of Pain belts out their 1992 hit song, "Jump Around," in the background.
The reel came with the caption, "Training Camp Day 1. Year 11. We love you @DangeRussWilson @Broncos Country. Let's Ride. #family."
With over 80k likes and counting, fans trooped into the comments to drop their thoughts, with one person typing, "Beautiful family support!"
A second person said, "Cheers to a wonderful and successful season," and another claimed that Wilson was "winning" thanks to his wife's support.
Several other commenters dropped love, clapping, and fire emojis under the post. 
Russell Wison Is Now A Denver Broncos' Quarterback
As The Blast reported, earlier this year, Wilson ended his nine-year journey with NFL's Seattle Seahawks and joined the Denver Broncos as their quarterback.
View this post on Instagram

The 13-time Ascap Music Awards winner broke the news of her husband's move to the Denver's Broncos with a sweet picture of her family on Instagram.  
While she and her daughter, Sienna, opted for orange outfits, the boys looked dapper in their black two-piece suits. Sienna held a helmet in her hands, and two-year-old Win clutched a football.
Under the post, the "1, 2 Step" singer wrote, "Broncos Country Baby! Let's Ride! @DangeRussWilson [orange and blue heart emojis]."
The unveiling was pretty sensational as thousands of supporters, including celebrities, like Vanessa Bryant, Lala Anthony, Lily Collins, and Yolanda Frederick, congratulated the family.
Frederick wrote, "Such a beautiful moment! I'm so overjoyed by this incredible blessing! God is good," and Bryant exclaimed, "Love you guys. Congratulations!!!! [red heart emoji]."
Some fans wished the football quarterback success in his exciting new phase, and others complimented the Wilson family on how good orange looked on them.
The 'That's My Boy' Actress Has No Problem Supporting Her Man's Dreams
In March, Wilson made headlines for how much he spent to maintain his toned physique for the sport. As we covered, during an appearance on "Jimmy Kimmel Live!" to promote their children's book "Why Not You?," the NFL star confirmed that he spent $1 million on his body.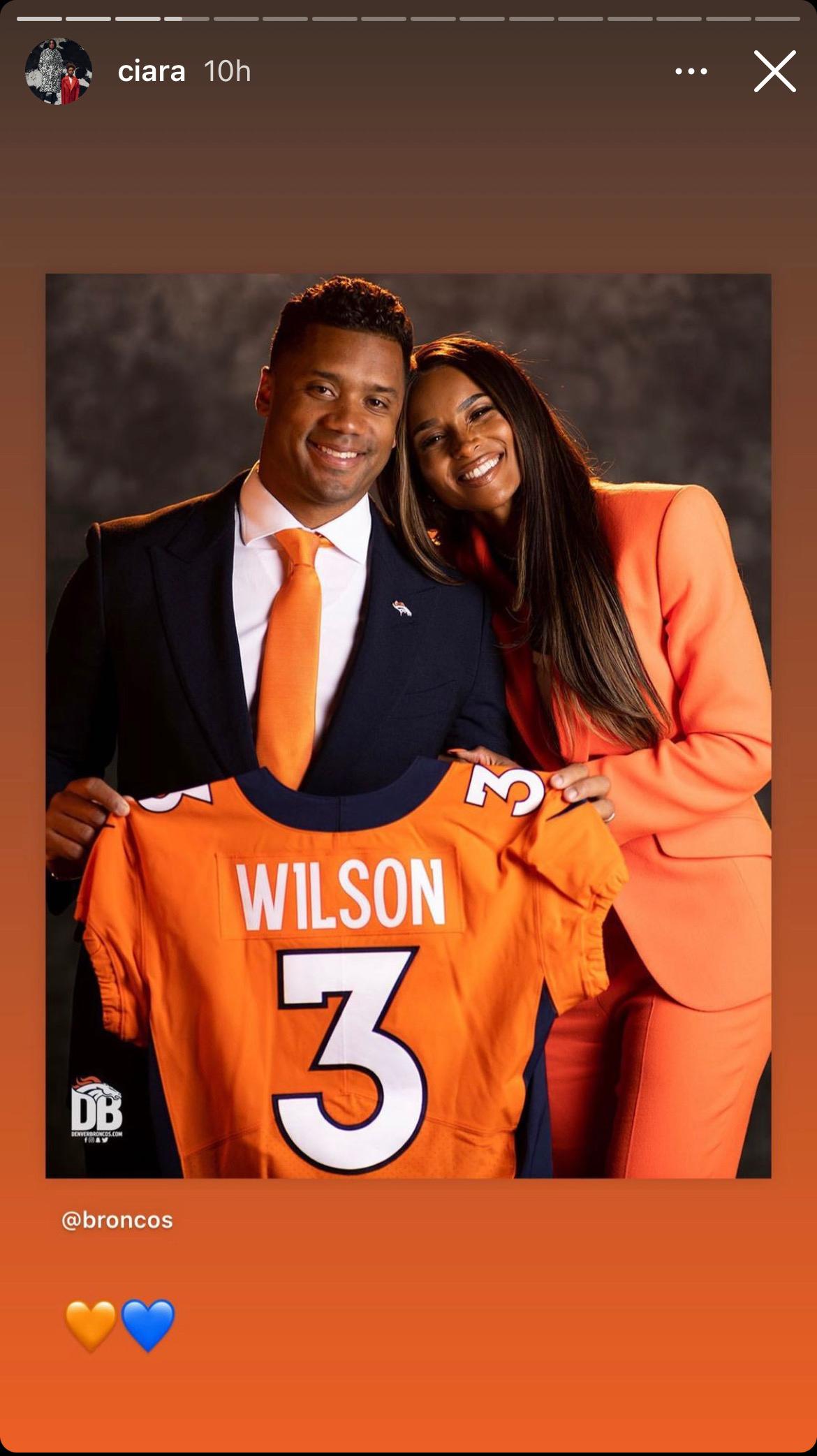 He described it as a lifestyle that involved his mentality and focus level, which was vital since he planned to play football till he turned 45.
When Kimmel asked Ciara if she got annoyed by her man's lifestyle, she responded with a "no," claiming she was solidly behind him and his plans.
Wanting to know if the couple indulged in eating tacky food given how toned they both, the television host asked, "Do you guys eat anything sloppy?"
Ciara answered, "Oh, we eat real good. I'm from the South, so you know everything I ate had a lot of seasoning and flavor to it; that's about me still to this day."
The singer added that she and her spouse were terrific as a team and often competed in several challenges. However, the "Jump" singer revealed that she did not join her husband on his ten-day "no dairy, no gluten, no red meat challenge" because "she loves to eat."
View this post on Instagram

The couple looked as good as ever in the matching black outfits they wore to Kimmel's late-night talk show. While Ciara rocked a lacy asymmetrical dress, Russell opted for a pinstripe suit.
The "Mama, I Want to Sing!" actress's dress not only hugged her curves in the right places but also showed off her toned body.  Ciara paired the outfit with a pair of thigh-high stockings and black stilettos.
As for the quarterback, Wilson added a black crewneck shirt beneath his suit jacket, finishing off with black dress shoes.