Ohio-born Russell Wilson has been into football since he was four. In sixth grade, he played his first set up game for the Tuckahoe Tomahawks youth football team.
He has deep roots as his father and paternal grandfather were into sports. His father played baseball and football at Dartmouth, while his grandfather played basketball and football at Kentucky State University.
Russell was drafted into the NFL's Seattle Seahawks in 2012 and was their quarterback till 2021. His new status as Denver Broncos' quarterback was recently revealed in photos with his family.
Russell Wilson Is Ready To Work As Denver Broncos' Quarterback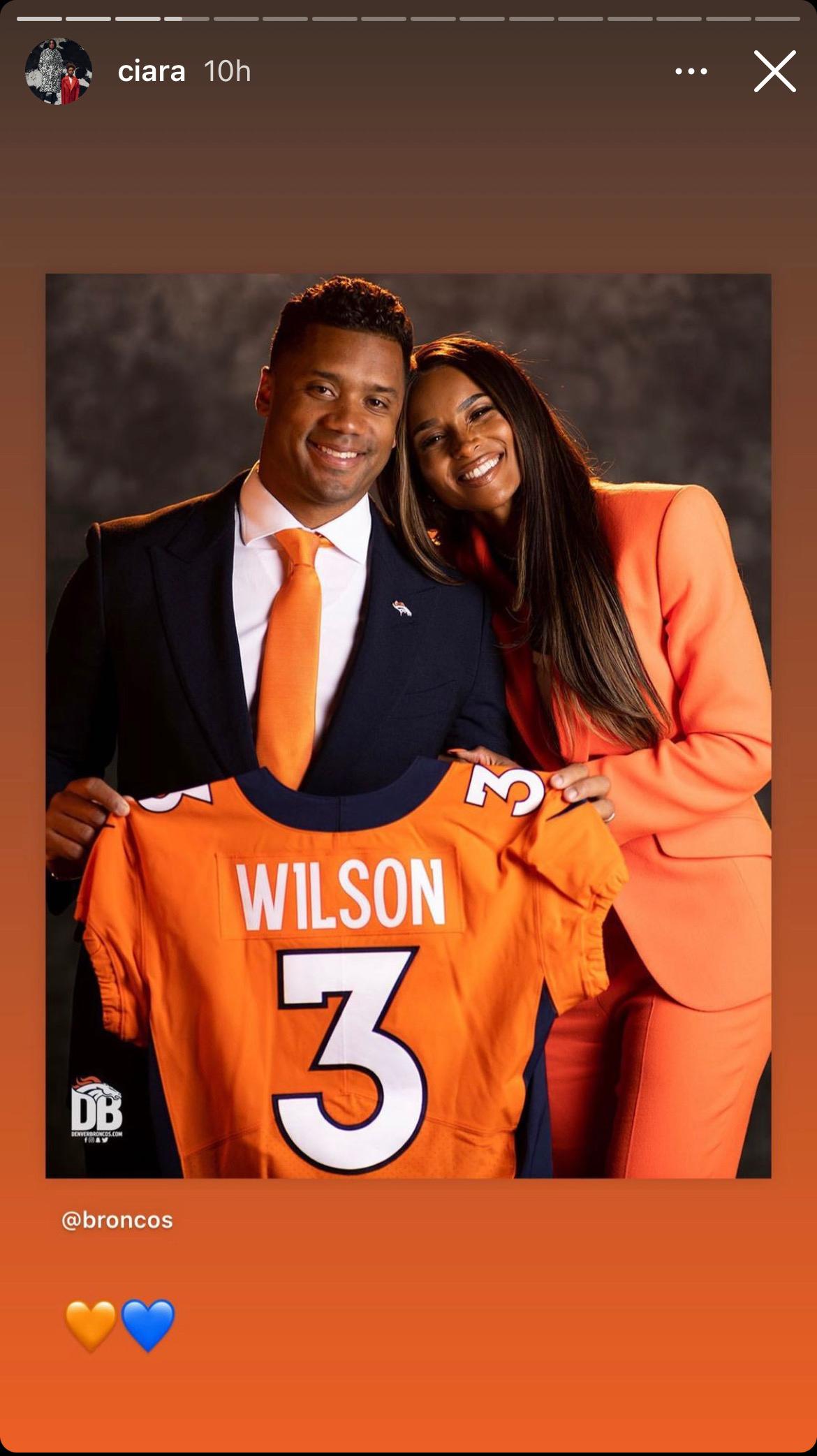 Russell's wife of more than five years, Ciara, uploaded a photo showing the beautiful family of five, including herself, the NFL star, and their kids, Future, Sienna, and Win.
She also took to her story to share screenshots of her husband's story and a Broncos' post of herself and her husband holding up his signature number three orange jersey. Her husband wrote on his story post, "Broncos Country!!! Let's get to work."
One of the story posts showed Sienna wearing her dad's helmet and grinning at the camera. Her dad called her Sisi on the post and tagged his wife and the Broncos.
The family was all smiles for the camera, and they all had a touch of orange in their clothing to signify Russell's new position with the Denver Broncos. Orange is one of the team's colors, including white and navy blue.
The athlete wore a navy blue suit with a white shirt and an orange tie while Ciara wore an orange pant-suit. She carried Win, who wore a similar outfit with his dad but instead put on an orange bow tie.
View this post on Instagram
Future had a suit on, and Sienna wore an orange dress. The almost five-year-old carried a helmet while baby Win clutched a football.
Ciara wrote under the post, "Broncos Country Baby! Let's Ride! @DangeRussWilson," followed by orange and blue heart emojis. 
The unveiling was pretty spectacular as thousands of supporters, including celebrities, congratulated the family.
Vanessa Bryant, Lily Collins, Lala Anthony, and Yolanda Frederick were among the well-wishers. Frederick wrote, "Such a beautiful moment! I'm so overjoyed by this incredible blessing! God is good."
Several fans complimented the Wilson family on how good orange looked on them. Others expressed excitement and wished the sportsman success in the new chapter of his life.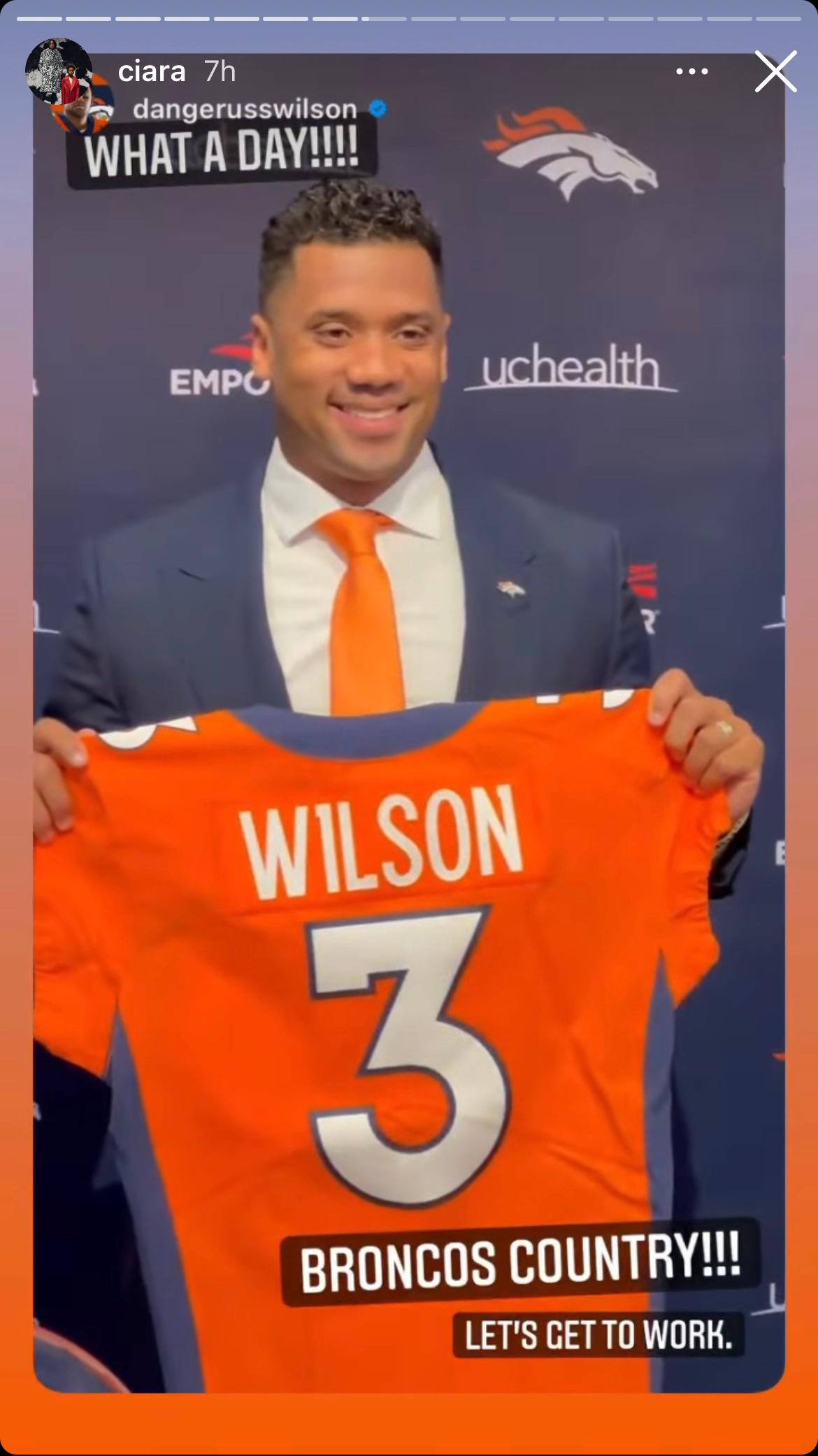 His latest achievement seems worth it as he spends a million dollars to maintain his physique. The NFL star confirmed it on "Jimmy Kimmel Live earlier this month."
The Blast reported that he and Ciara appeared on the show to promote their book for kids, "Why Not You?" and discuss his football plans for the next decade.
Spending such an amount on his body was a lifestyle that had to do with his mentality and concentration. Ciara did not find his lifestyle frustrating; instead, she supported him with it.
Russell plans on playing football till 45, which his wife backed. They both have fit bodies and eat well, not lame meals. The couple also works as great teammates and engages in several fitness tasks together. 
Not only do they co-author a book, but they also co-own a school, 'Why Not You Academy.' They founded the school with public school leaders Garth Reeves and Scott Canfield to provide equal access for kids to good education.
The Super Bowl Champion's Focus And Confidence Leads Him To Victory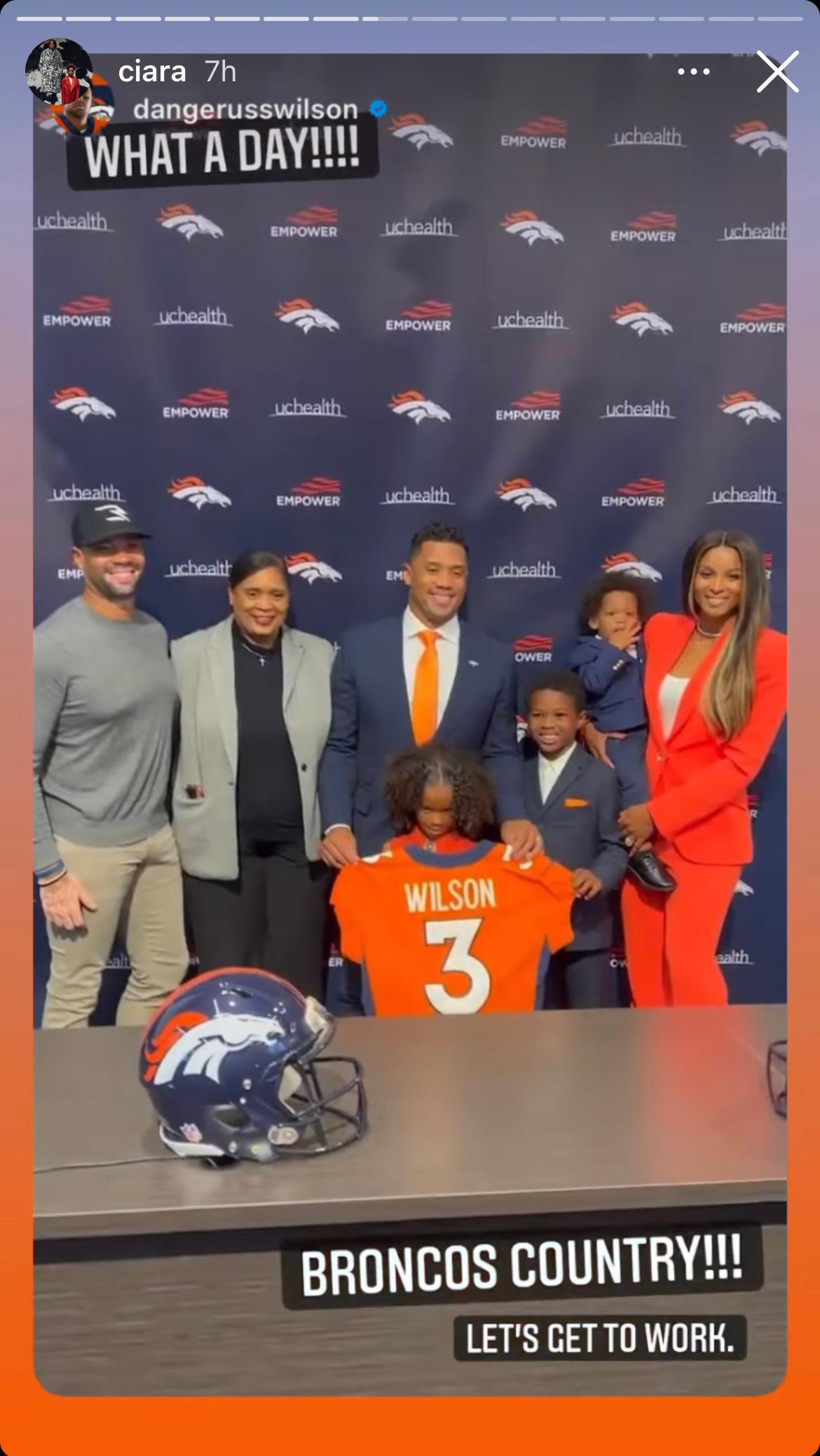 Ciara and the kids have supported Russell countless times, both on and off social media. Last December, the music star celebrated her husband's victory against the San Francisco 49ers.
As The Blast reported, the 33-year-old played for Seattle Seahawks at the time. The two opposing teams had a pretty intense game which concluded with a win for the Seahawks.
Ciara shared a video showing herself and her three kids wearing matching jerseys with Russell. They excitedly danced in front of the screen, as they were super proud of the win.
Football was not always rosy for the quarterback as he experienced numerous criticism for losing three consecutive games after his injury. The injury involved his right middle finger and required surgery.
He did not lose confidence and believed he would only get better. The lost games did not take up much space in his head as he was concentrated on being in the game and winning.
Russell told Seattle Times that he was highly focused on the next game and possibility, as he believed worrying was pointless. His focus paid off as he led his team to victory against the 49ers.