Someone may want to tell Shake that the cameras have stopped rolling!
Abishek Chatterjee, better known as Shake, had a heated exchange with hosts Nick Lachey and Vanessa Lachey during the season 2 "Love Is Blind" cast reunion. Deepti Vempati walked away from him at the altar after he made a series of disrespectful comments about her looks.
Shake wasn't apologetic for his comments and even doubled down on his attitude, which caused Vanessa to literally shake with rage.
What Did Shake Say At The 'Love Is Blind' Cast Reunion?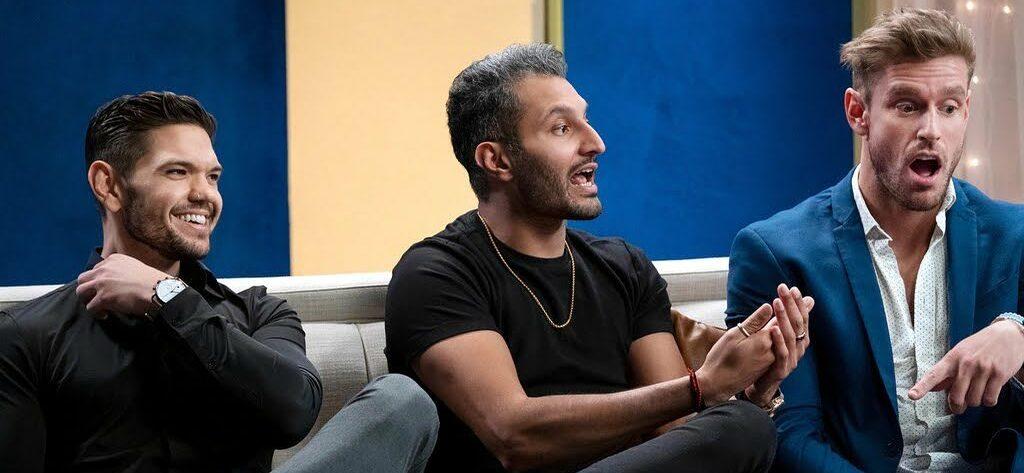 During the reunion special, Shake was already aggravating the rest of the cast by interrupting the other contestants when it wasn't his turn to speak. When Shake said that he was "nervous about how we're going to get edited" on the show, fellow contestant Shayne Jansen told him to stop playing the victim card.
The premise of the show is to test whether or not love is truly blind. Each contestant forms a connection with another in "pods" where they can speak to another person without seeing what they look like. Usually, the man proposes to a woman without seeing what she looks like and the woman accepts, without seeing what her potential husband could look like. After she accepts the proposal, the couple then goes on a short honeymoon and can meet friends and family before choosing to say "I Do" at the altar. Two couples got married in both the show's first and second seasons.
However, Shake seemed to… not understand the premise of the show, saying that physical looks did matter to him. This prompted Vanessa to tell him that he was on the wrong show.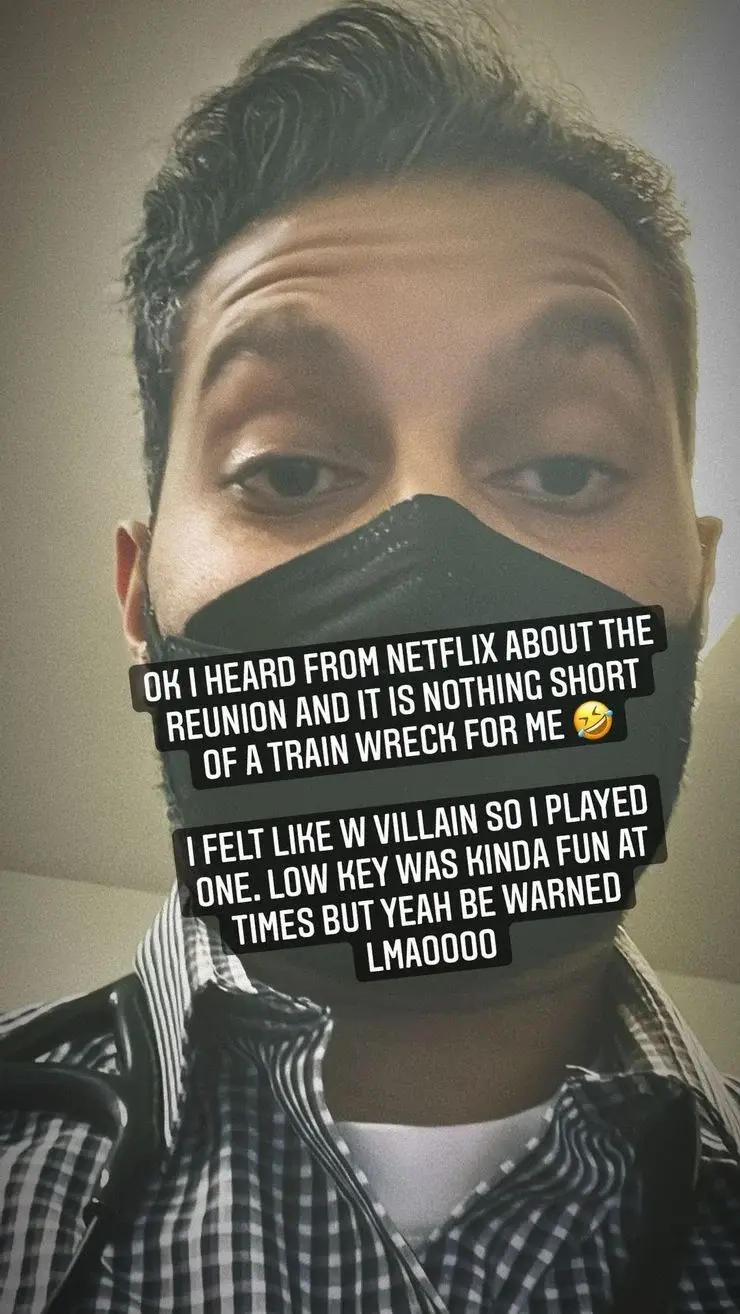 "Before you make this type of commitment, I feel like you have to read the fine print on that," Shake said during the special. "I want to make sure this thing works. I wanted more than anything for this to work. For me, that meant I knew at least a certain physical body part to get me in the ball park. … If I were to marry somebody and there was a big weight discrepancy, it would be really hard to get past that. How do I get past that?"
"The problem that I have, Shake, is that you sit there and berated every single one of these women physically and then went through the process with this beautiful soul over here all because you wanted someone that you wanted to f—, not fall in love with," Vanessa countered. "I'm heated."
Shake doubled down on his comments, saying, "Every woman here is beautiful. I think you're all beautiful. I'm not attracted to all of you. Unfortunately, the only one I'm attracted to is Vanessa — and I wish I wasn't," he said while Nick's face revealed pure surprise. "It's nature, baby! We're animals."
Nick quickly countered the veterinarian from Chicago, saying, "No, you treat animals. We're human beings. And I can see now why you don't treat human beings. … I don't like people who treat human beings like you do. It's wrong."
Although Nick seemed to win that one, it seems that Shake is still holding onto some feelings about the exchange, as he called out Nick in an Instagram post that he quickly deleted a short while later.
Shake Calls Nick A 'Massive Twat' And Then Deletes The Entire Post!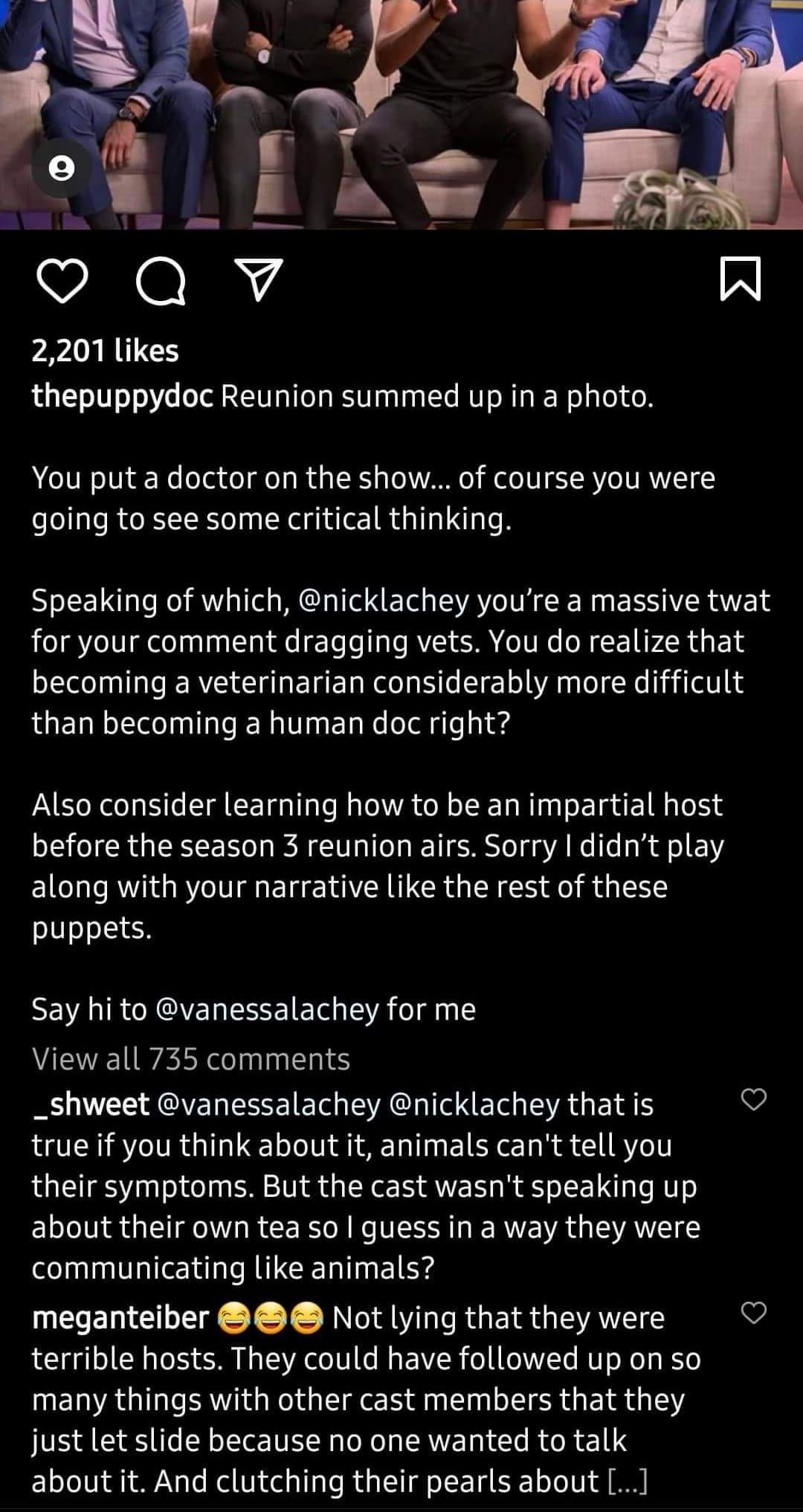 After posting a series of memes about the reunion special when it dropped on Netflix on March 4, Shake waited until Monday before he stirred the pot some more.
"Reunion summed up in a photo," he wrote alongside a snap of him and the others sitting on the couch from the reunion special. "You put a doctor on the show… of course you were going to see some critical thinking."
"Speaking of which, @nicklachey you're a massive twat for your comment dragging vets. You do realize that becoming a veterinarian [is] considerably more difficult than becoming a human doc right?"
"Also consider learning how to be an impartial host before the season 3 reunion airs," he added. "sorry I didn't play along with your narrative like the rest of these puppets."
He closed his message, writing, "Say hi to @vanessalachey" for me."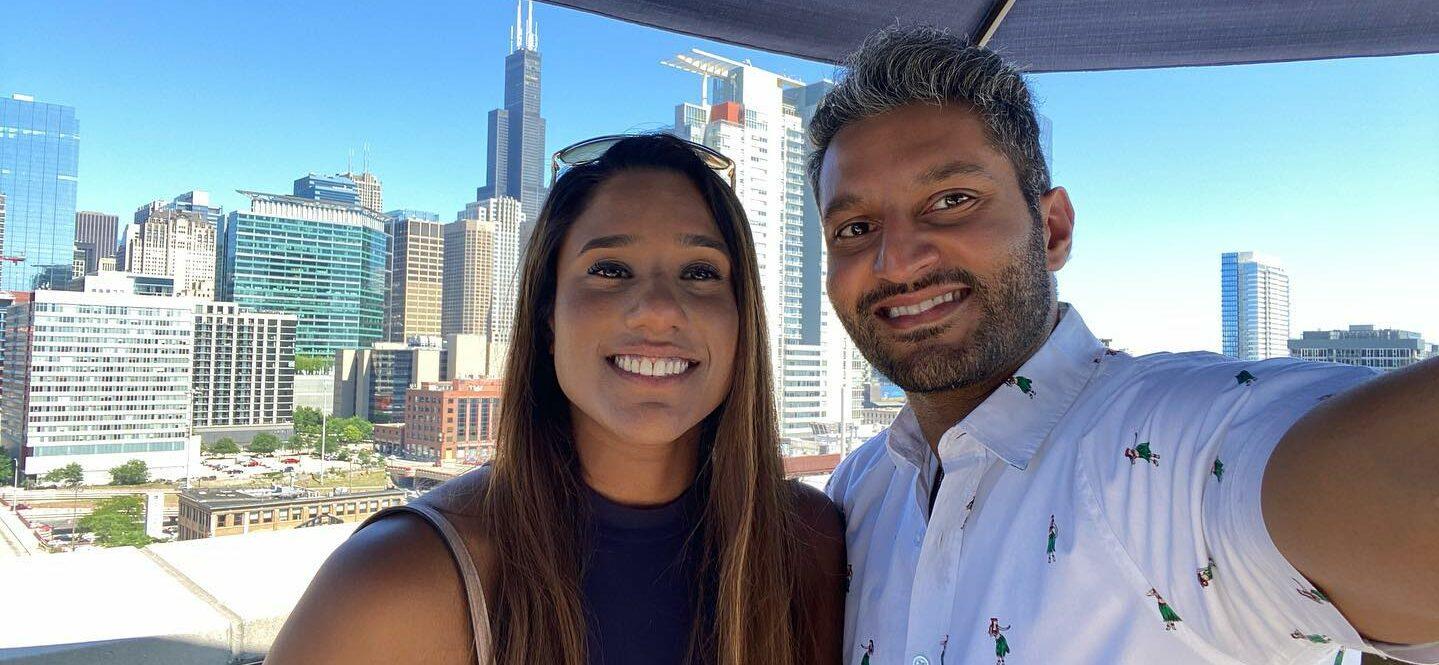 Fans took both sides of the issue, saying that both Nick and Vanessa had a right to respond to Shake's polarizing comments instead of being impartial. Series creator Chris Coelen told Variety that the producers didn't influence the hosts' behavior one way or the other.
"We don't tell them what to say or not to say, it's their thing," he explained. "Shake was jumping in from the word 'go.' Nobody tells him to do that. That's what he decided to do, he wants to get his point of view across and I guess, good for him."