Machine Gun Kelly (MGK) and Megan Fox are officially engaged and bound together by… blood.
Yes, blood.
The big news was revealed yesterday by the actress on Instagram. The couple, who's been dating for a year and a half, got engaged on January 11 during a vacation in Puerto Rico.
Megan posted a video of the engagement, which had multiple camera angles, to Instagram on Wednesday, January 12.
View this post on Instagram
The punk rocker is seen dropping down to one knee underneath a banyan tree, which Megan revealed was the same spot  they sat together in July 2020. This was right around the time the pair went official with their relationship.
However, there's a twist to this engagement story and video.
Was Their Engagement Staged?!
According to Page Six, MGK actually proposed to his future wife outside the Spa Botánico at the Ritz-Carlton Dorado Beach in Puerto Rico.
Of course, it wouldn't be a "Hollywood proposal" without lights, cameras and some beautiful scenery.
View this post on Instagram
Megan wore a cute black two-piece number that included a black bralette and black oversized pants.
MGK wore a sequined black-and-gold turtle neck sweater, black pants and black combat boots.
While the engagement news shocked fans, what really got them going was the fact that they drank each other's blood AND MGK looked like a referee.
Fans Rip Into MGK's Engagement Outfit!
We'll get to the blood guzzling in a minute, but we can't pass up the humor in Megan's comment section.
One person commented on the video, "Did he dress like a referee because he wanted to make it official?"
Another wrote, "Why is he wearing a bedazzled referee shirt?"
This person hysterically replied, "Did he just come from his Foot Locker shift?"



Someone else compared MGK to Beetlejuice.
While many had a good laugh with his outfit, others were questioning why the proposal looked so staged and professional.
"Why does this look so staged," one put off fan commented.
Others expressed their disappointment in Megan and wrote, "Meg this ain't u," and "I ain't gon lie this cringe."
"Clearly staged with 5 different angles from cameras 😂 👍🏼 keep drinking each other 🙄," an unimpressed person wrote.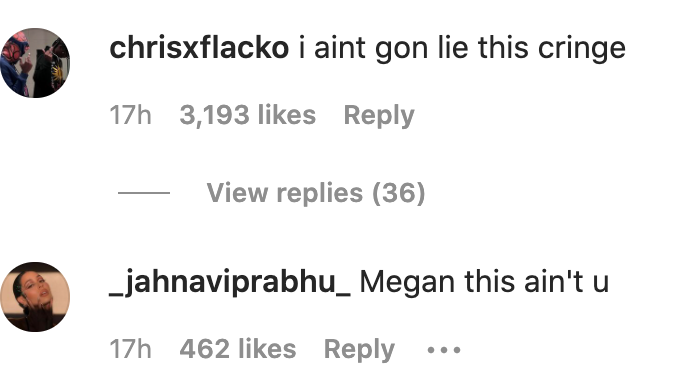 Many thought it felt 'weird' that there were so many camera angles and asked questions like, "How many takes was it?"
I have to agree, felt a bit inauthentic and VERRRRY staged.
But I digress.
On the other hand, there were plenty of celebrities who were over the moon excited for the newly engaged couple.
Kourtney and Kim Kardashian expressed their excitement in the comments.
Kim wrote, So happy for you guys!!!! 💍😍❤️," while Kourtney left a bunch of red heart emojis.
Alright, now time for the blood!
Blood Drinking Was Involved In The Making Of This Proposal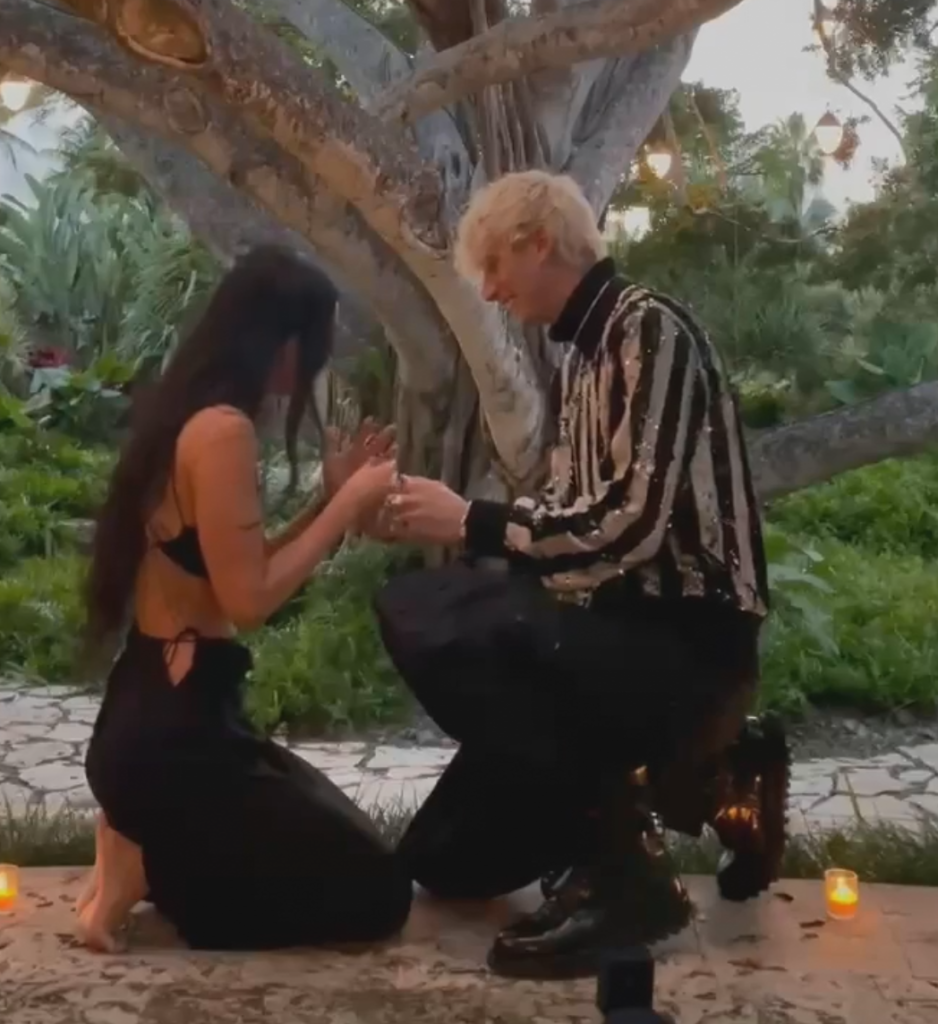 Megan captioned the video, "In July of 2020 we sat under this banyan tree We asked for magic
We were oblivious to the pain we would face together in such a short, frenetic period of time.
Unaware of the work and sacrifices the relationship would require from us but intoxicated off of the love. And the karma. Somehow a year and a half later, having walked through hell together, and having laughed more than I ever imagined possible, he asked me to marry him. And just as in every lifetime before this one, and as in every lifetime that will follow it, I said yes. …and then we drank each other's blood."
Everything about this caption was sentimental and cute until the blood drinking bit.
Tons of people flooded her comments with questions, shock, disgust and no 'aweee' whatsoever regarding the blood drinking.
"What the f**k did i just read," multiple people commented.
Someone asked, "Nobody reading that last line?!? Wtf 😳."
One confused person replied, "Y'all drank what," while another wrote, "you did what now?"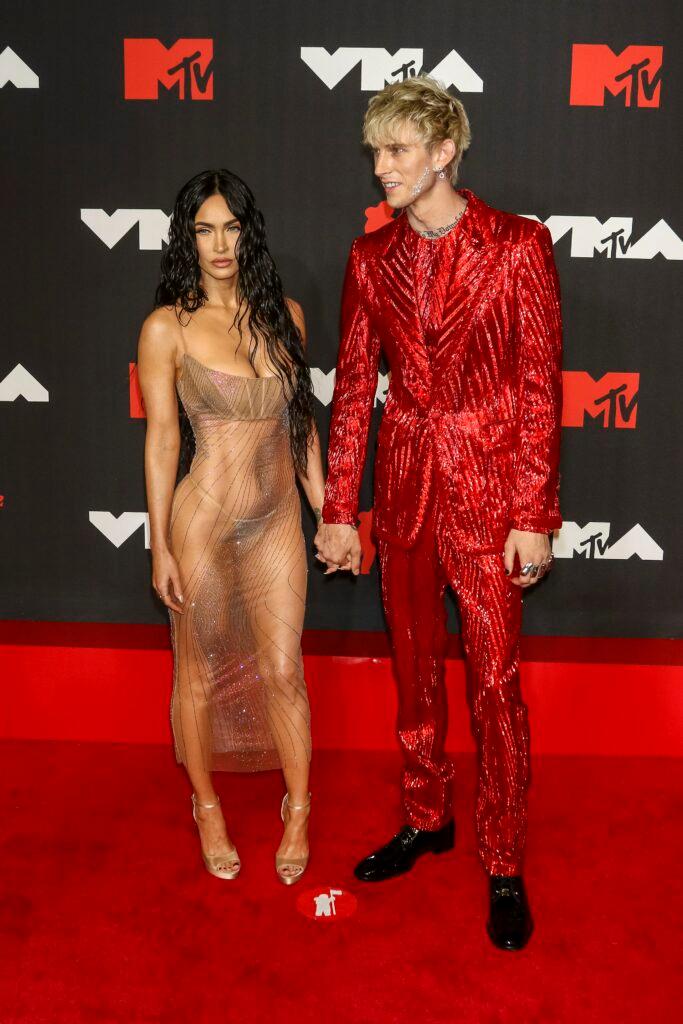 Megan and MGK have always gone for the shock factor. They were literally chained together by the fingernail.
In December, the two walked the red carpet at the launch of his unisex nail polish line, UN/DN LAQR, chained at the literal nail.
Also, Megan gifted MGK a drop of her blood in a vile that he wears around his neck.
Back in February, MGK posted a bunch of pictures to celebrate Valentine's Day, including one that showed off an orb/vial that seemed to hold a drop of blood.
That drop of blood was Megan's.