Current "Jeopardy!" champion Amy Schneider has passed yet another milestone in the game show's history!
On Friday, January 7, Amy reached a 28 day total of $1,019,600 dollars, officially passing the one million dollar mark!  Her latest win makes Amy the fifth millionaire in "Jeopardy!" history, and the fourth to do so in regular gameplay!
After the game, Schneider gave a short interview to discuss her latest achievement!
'Jeopardy!' Amy Becomes Fifth Millionaire In 'Jeopardy!' History!
Amy Schneider looked nothing short of elated when she crossed the million-dollar mark!
In a brief interview, Amy was asked, "Well, when you hear one million dollars, there's got to be something you just want to splurge on. Anything that comes to mind?"
"You know, definitely some, like, nice, like, designer clothes, I think," she answered. "I would like to really develop a taste for that. I think would be nice."
"Now, when you think of beating James Holzhauer's record or maybe sitting courtside as the Warriors win a title, which one ranks the highest for you?" she asked.
Amy didn't miss a beat when she answered, "Beating James Holzhauer."
She later went on to explain, "Because the Warriors are gonna win a title, and if I get that much money, I can be there."
Amy Schneider Shares Her Thoughts On That Record-Breaking Episode!
Post-game thoughts (1/7/22):
Well, I've said I usually felt good in the Friday games, and this was certainly no exception! Having seen my streak in danger the game before, I was not to be denied on this one!

— Amy Schneider (@Jeopardamy) January 9, 2022
Over the weekend, Amy Schneider recalled what it was like to win that much money to her Twitter followers in a lengthy breakdown of the episode. The game was a clear runaway for Amy, who had stretched her lead by $13,000 at the end of the first round.
"Well, the win was secured, and in convincing fashion!" Amy shared. "Even with two wordplay clues taken off the board, I got 37 correct answers, and 0 wrong! But the million wasn't secured yet, and I had a decision to make. I could have wagered $25000, and any other game I might have done it."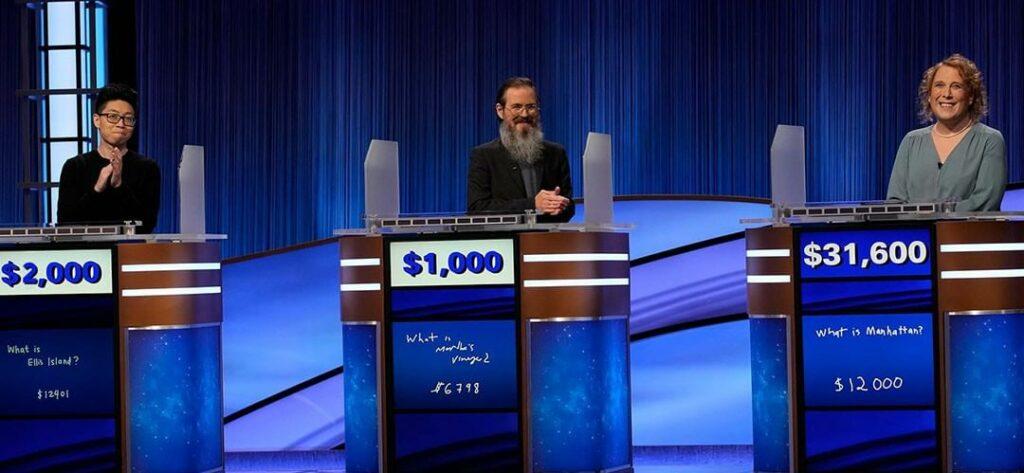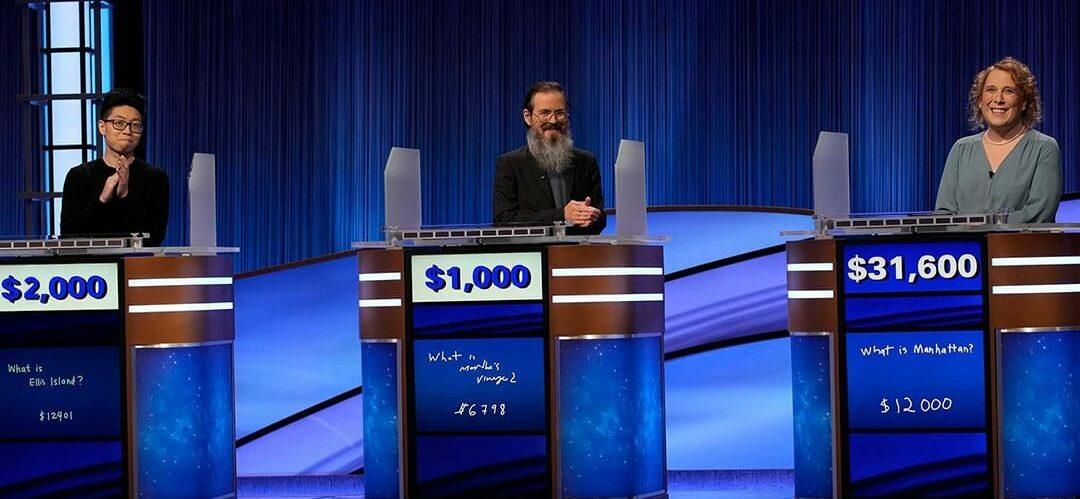 "But if I wagered that much and lost, it would put me below the million mark, and I didn't want that hanging over me all evening," she shared. "So I bet an amount that, if I lost, would put me at $1,000,000 exactly (yes, I'd made sure to memorize how much I needed lol)."
"So even before seeing the [Final Jeopardy!] clue, I knew the quest was complete!" she wrote. "It wasn't quite a slam dunk for me, I definitely considered Churchill. Maybe he was writing about Germany's invasion of Norway? But I loved Kon-Tiki as a kid, it's just such a fun story, so I felt pretty good about it."
"And of course it was correct!" she wrote. "I'd cleared the million with room to spare, kept the streak going, and I'd be back to play more tomorrow!"
Amy Describes Her Next Goal After Hitting The Million Dollar Mark!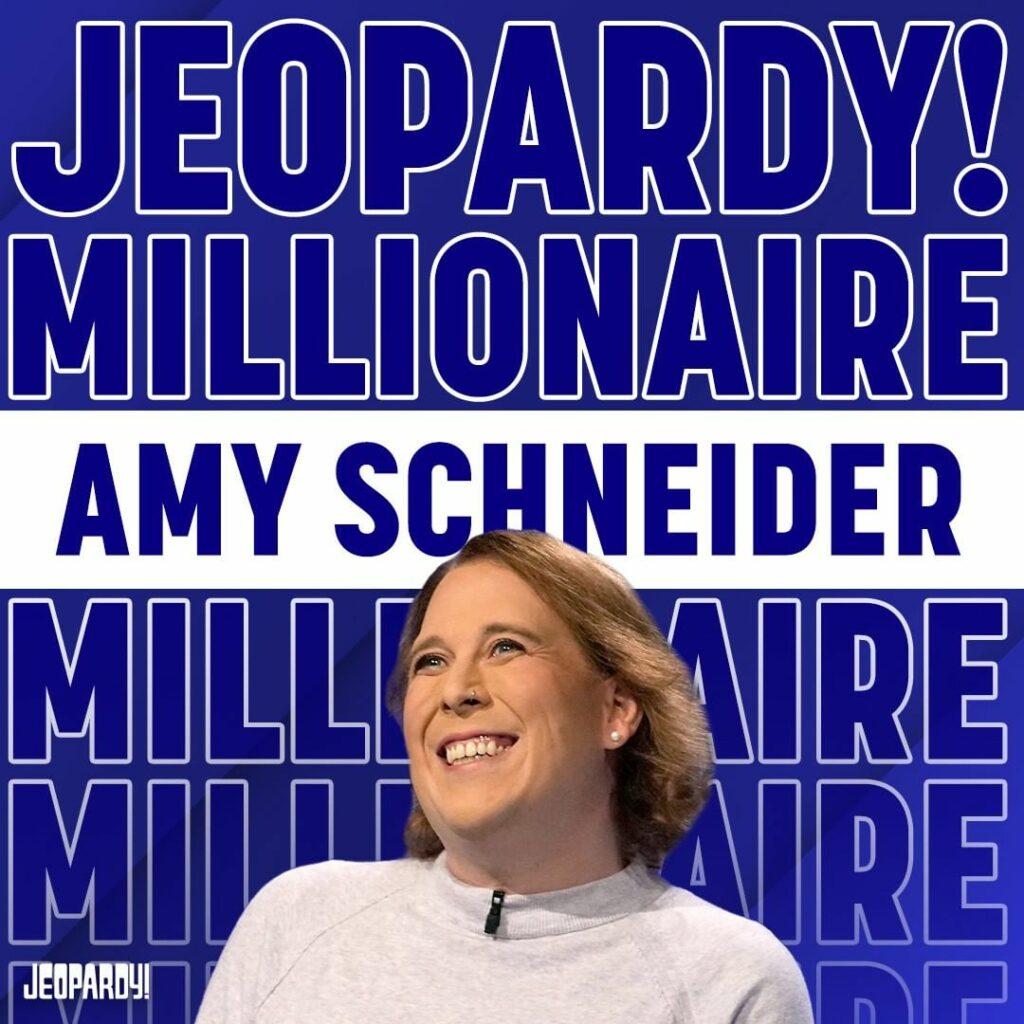 "I then, as I knew I would, had to go do some promotional stuff," Amy shared with her fans. "As that was getting set up, Michael Davies, the EP, said that this was the ~15th (I don't remember the exact number) time he had given someone a million dollars on TV, and that it never got any less fun to do it!"
"Anyway, there's more to be said about the million-dollar mark, but I'll get to it eventually," she wrote. "Thanks to Patsy and Sean, I didn't give them much of a chance, but they both said they were just glad to be a part of history, which was sweet of them."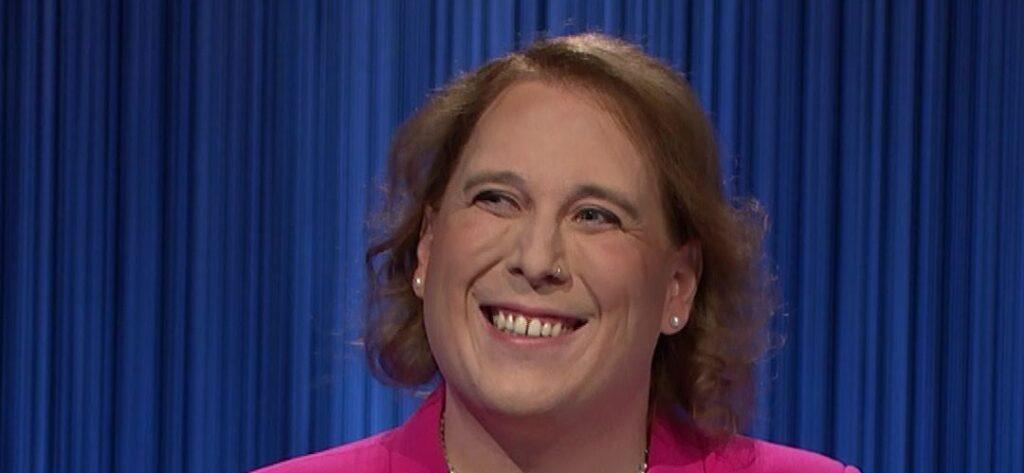 "It was off to share the good news with Genevieve, and then go lie down!" she concluded. "I was exhausted, and I needed to be back in 12 hours or so, this time with a new quest in sight: catching James Holzhauer for third-longest streak all time. That quest starts tomorrow, see you then!"
James Holzhauer set a 32 game win streak back in 2019, which means that Amy is close to setting yet another record! On Monday, Amy continued her winning streak. Although she got the "Final Jeopardy!" question incorrect, Amy still went on to add $15,800 to her total for a 29-day total of $1,035,400.
If Amy Schneider is able to last until the end of the week, she will have the third longest-running streak in "Jeopardy!" history. But will she be able to catch up to Ken Jennings and his top score of 74 wins? Fans can't wait to find out!