A former "Jeopardy!" contestant has just spilled the beans on what current champion Amy Schneider is really like in person!
Former contestant Terry Wolfisch Cole completed her taping for "Jeopardy!" in November 2021. At the time, due to COVID-19 restrictions, the studio audience was composed entirely of anxious "Jeopardy!" contestants waiting to take their turn behind the podium.
None of the episodes featuring Amy Schneider had aired yet, so Cole was relieved that she wouldn't be facing off against former champion Matt Amodio and his record-breaking 38-game win streak that put him just behind current host Ken Jennings for the most wins in "Jeopardy!" history.
However, when announcer Johnny Gilbert started announcing Amy and her new winning streak, Cole was absolutely gobsmacked!
Cole Says Amy Burned Through Questions 'Like A Flamethrower'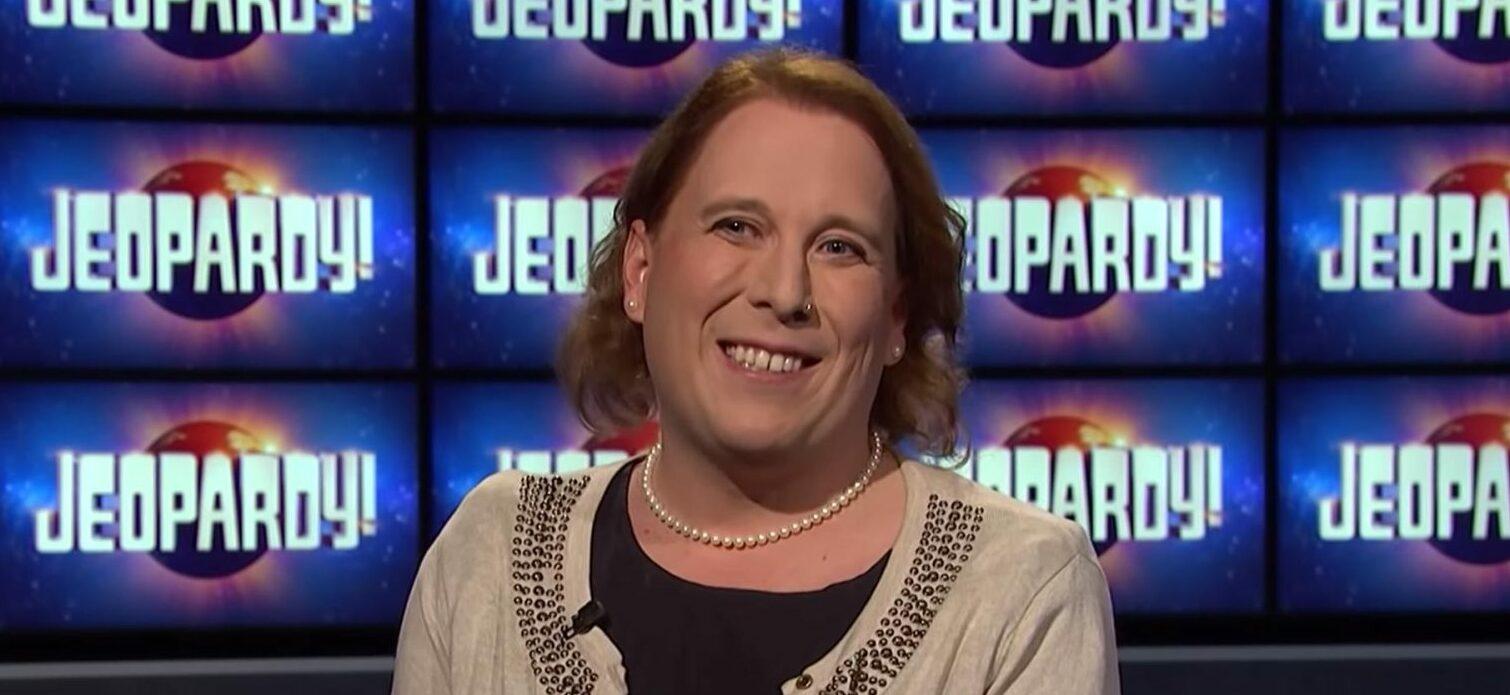 "We thought they were joking," Cole said in an interview with SFGate. "Matt Amodio's last episode aired between the time my cohort got the call and the time we went to the taping. So we thought we had really dodged a bullet."
"We didn't yet know there was a champion among us, for all we knew, we thought we were all just new contestants," she continued. "And then they did the first rehearsal round, and she burned through it like a flamethrower."
Later on, Schneider actually told Cole that the rehearsal questions were repeated, which is why she blew through the practice questions with ease. Once the actual match started, however, Schneider continued to surpass her opponents.
During that game, Schneider answered twenty-nine questions correctly and only guessed three wrong. This gave her a winning total of $25,400. Cole came in second place with an impressive $13,400.
Although she came in second, she can still boast about one thing: she didn't answer a question incorrectly throughout the entire game! Cole only had good things to say about her experience on the "Jeopardy!" stage, and about meeting Amy Schneider herself.
Amy Schneider Just Passed The Million Dollar Milestone!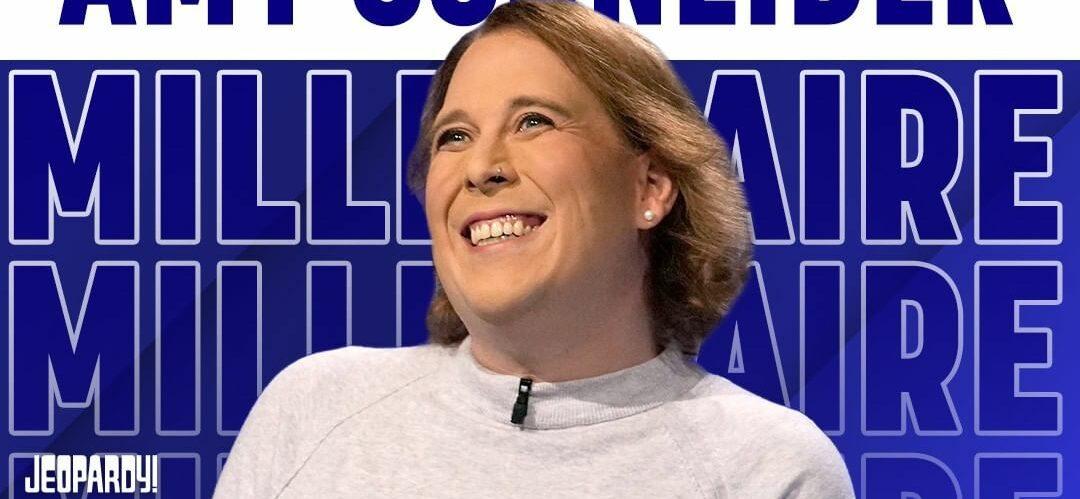 On Friday, January 7, "Jeopardy Amy," as she's known to her fans, was up against a speech-language pathologist named Sean and a social studies teacher named Patsy. At the beginning of the show, Amy was a 27-day champion with winnings of $977,400 dollars.
By the end of the game, Schneider has secured an insurmountable lead and won the game with $42,200 dollars. This gave her a 28 day total of $1,019,600 dollars, officially passing the one million dollar mark!  Her latest win makes Amy the fifth "Jeopardy!" millionaire, and the fourth to do so in regular gameplay!
On Friday, "Jeopardy!" shared some insights into the statistics of some of their fan-favorite players on their Instagram page. They wrote, "We're all getting more obsessed with stats at 'Jeopardy!' See how current champ Amy Schneider's average earnings per game stack up against Ken Jennings, James Holzhauer, and future Tournament of Champions competitor Matt Amodio."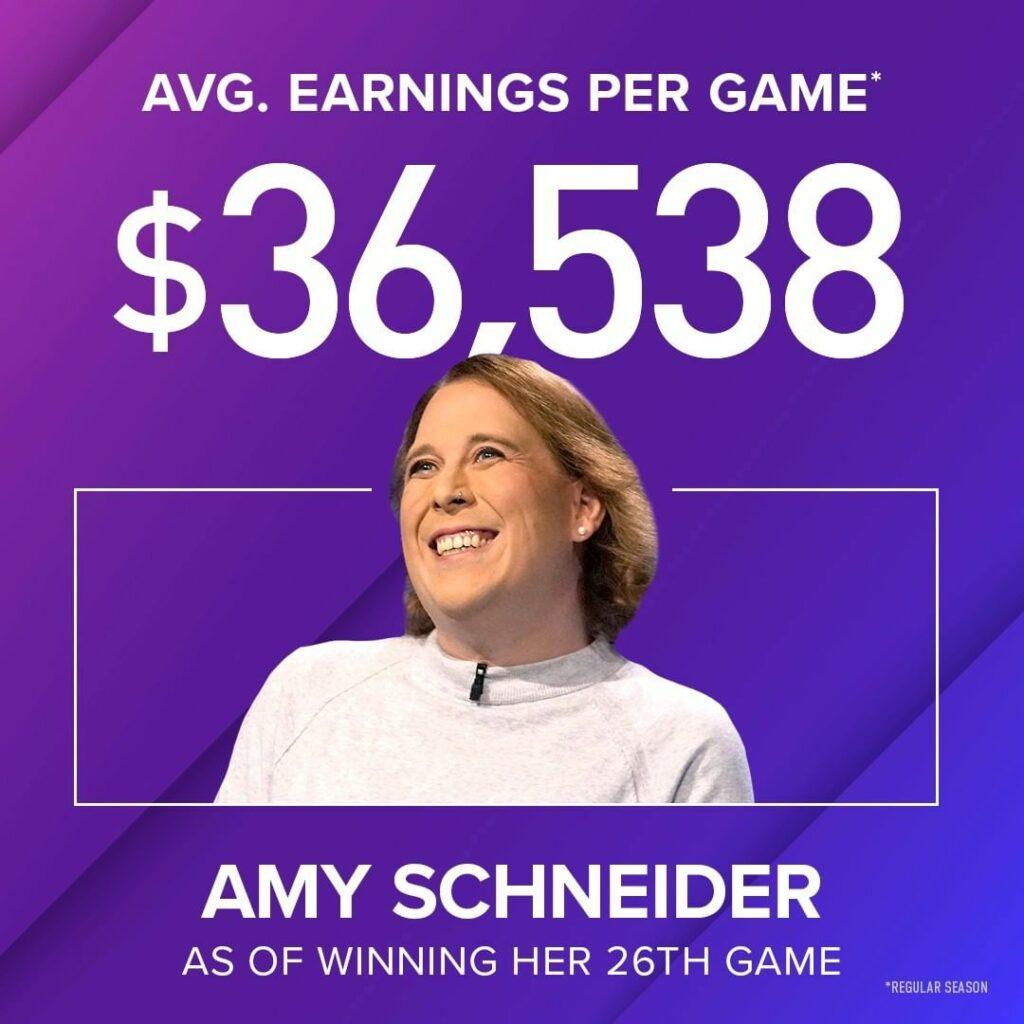 After winning her 26th game, Amy averaged $36,538 dollars per game. Ken made slightly less, earning $33,609 over his 75 games. Matt Amodio fared slightly better, averaging $38,938 across his 39 games. However, it was James Holzhauer that really stood out. His average earnings per game were $74,613 dollars per game, which is almost double the rest of the contestant's average earnings per game!
"That's impressive, especially considering that Amy is generally conservative with Daily Double wagers compared to Matt who used them to establish his runaways early a lot of the time," one fan noted.
"I'm convinced James will never be caught," another wrote. "Love them all tho!"
Holzhauer won 32 games back in 2019, which means that "Jeopardy Amy," as she is known to her fans, is just a few days shy of beating his win streak. However, it's extremely unlikely that she'll be able to beat his average earnings per game. James has become famous for going "all in" on his "Double Jeopardy!" wagers and consistently won over $50,000 dollars per episode!
Even if Amy isn't able to best Holzhauer's win streak, fans still look forward to seeing her return to face off with Matt Amodio in the 2022 Tournament of Champions. The release date has not been revealed yet, but fans can't wait to see all of their season 38 "Jeopardy!" favorites back on stage to compete for one last time!