Mike "The Situation" Sorrentino has a lot to be thankful for this year, and recently celebrated the baptism of his son!
That past few years have been difficult for "Sitch" and his wife, Lauren Sorrentino.
In 2018, he was sentenced to eight months in prison and two years of supervised release.
He was ordered to complete 500 hours of community service, was given $123,913 in restitution in addition to a $10,000 fine.
Mike got himself into a sticky situation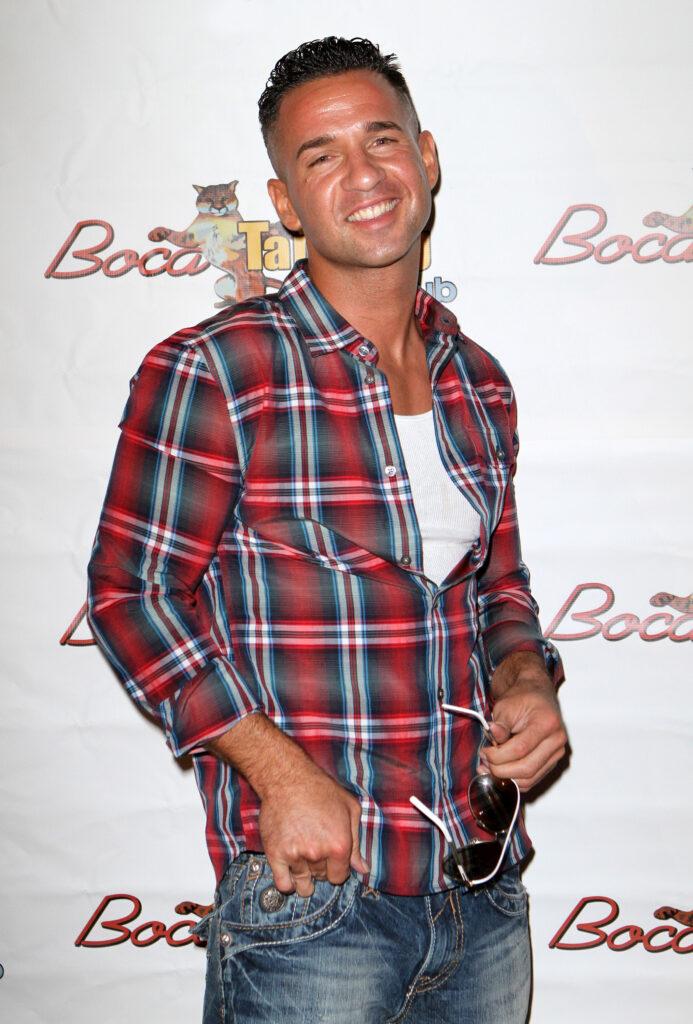 He was released from the Otisville Federal Correctional Institution in Otisville, New York, on Sept. 12, 2019.
Upon being released from prison in 2019 for tax evasion, Sorrentino and Lauren got married and started planning for baby.
Sadly, the couple suffered a miscarriage in 2019.
By November 2020, the couple was elated to share the news that their "rainbow baby" was on the way.
Baby Situation is on the way
View this post on Instagram
Sorrentino and Lauren welcomed their first child, a baby boy named Romeo, on May 26.
The couple had themselves a "mini-Situation" and the little one made his debut on Instagram on May 27.
"Romeo Reign Sorrentino May 26th, 2021 6lbs 8oz 19 inches 🤍🤍🤍," the "Jersey Shore" star captioned the photo.
Baby Situation Has Arrived
View this post on Instagram
Life has continued on swimmingly for the new mom and dad, and over the weekend, the Situation and his wife celebrated the baptism of their son.
And you know it wouldn't be a proper celebration without bringing a little bit of the Jersey Shore.
Nicole 'Snooki' Polizzi, Jenni 'JWOWW' Farley and Deena Cortese Buckner were all in attendance at the baptism.
Snooki documented the festivities on her Instagram Story on Sunday, December 5.
The infamous Uncle Nino also joined in the on the fun.
"I love you so much. [inaudible] the meatball too," Uncle Nino said to the camera.
JWOWW was joined by her fiancé, Zack Carpinello while Deena was accompanied by her husband, Chris Buckner.
Sorrentino recently died his hair blonde for the occasion and debuted the his new 'do on Saturday, December 4.
He posted a photo with Lauren and Romeo and captioned it, "Blondes have more fun."
The reality TV star was rocking his blonde locks and a tuxedo for the Baptism, and Lauren wore a beautiful white gown.
If a baby wasn't involved, one might think it was a wedding.
Parenthood looks great on Sorrentino and his wife, and it looks like his little one might have a career in "The Biz."
Back in November, the 'JS' star posted a side-by-side photo of his son and "The Boss Baby" animated character.
The 'Jersey Shore' star took to Instagram showing off a perfect eyebrow lift from his baby son and posed next to a photo of the 'Boss Baby' from the movie. The resemblance is remarkable, and you know exactly where he gets this from…you have to see this!
Boss Baby Sitch
View this post on Instagram
The 'Jersey Shore' stars keep their fans updated with regular photos of the little guy and he is about to star on his first season of the popular reality show.