Tom Holland took to Instagram to share a meme on Tobey Maguire in a Spider-Man costume, and the internet is losing it.
Is There Something In The Air?
As The Blast previously reported that Sony and Marvel have yet a long way to go since they have at least three more Spider-Man movies on their way, Tom Holland who has been the talk of the town ever since the Sony revelation, weighs in to share memes that tease Tobey's appearance in the much-anticipated Spider-Man movies.
The story might also be a way of indirectly promoting No Way Home since Tom shared movie tickets in his latest Instagram story but that has not stopped fans from speculating that there is more to the meme than what is visible on the surface.
Tom's Instagram Story Has Something To Say
Tom's Instagram story has an image that features Maguire in his wrestling suit from the beginning of the first Spider-Man. This meme reminds us that somebody needs to introduce the paper bag mask into the MCU mythology.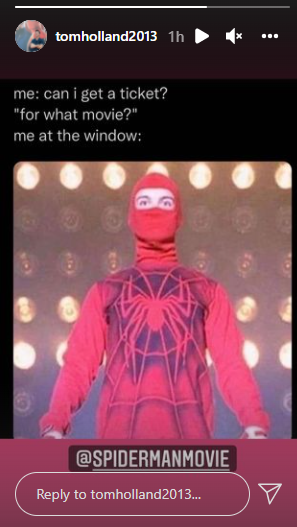 Andrew Garfield and Tobey Maguire have long been rumored to make their marvel debuts alongside Tom Holland in No Way Home. As much as fans would like to see this happen, both the Spider-Man cast and producers have outright denied images or reports that hint towards any such news.
Really Exciting Or Really Disappointing…
In a recent interview with Variety, Garfield was questioned about his contribution, if any in the Spider-Man movies to which he subtly replied that he does not know if at all he is a part of anything 'as cool as that.'
"I understand why people are freaking about this and I know it would be really cool because obviously it's Spider-Man but as far as I know, I don't think I am a part of anything like this yet.", said the 38-year-old popular actor.
However, it is not like that the actor isn't aware of how much people yearn for a Spider-Man movie that centers around him. Owing to the same he said: "There is nothing that I can say that will convince people that I really don't know what's happening. It's either going to be really exciting or it's going to be really disappointing."
Twitter Is All The Rage
Users went crazy on Twitter with their speculations and what-ifs. One user wrote" Tom Holland posting Tobey Maguire memes is only adding fuel to the fire", while another post read "Tom Holland using Tobey's Spider-Man Meme. What more proof do you need?"
There is not one but several instances where things have insinuated towards the actor trio working for a spider man production at least once and it is not wrong to say that fans are expecting it.