Taylor Swift is not holding back as she was seen cheering rumored boyfriend Travis Kelce on at Arrowhead Stadium after the all-star tight end scored a touchdown in the third quarter.
The rumors that have been circulating the internet are likely true as the "Love Story" singer was spotted hanging out with Donna Kelce, the mother of the Kansas City Chiefs tight end, at Arrowhead Stadium for the game against the Chicago Bears.
The two have been chatting it up the entire game, but what has really grabbed fans' attention is when Swift went nuts after Kelce scored a touchdown.
Travis Kelce Scores, Taylor Swift Cheers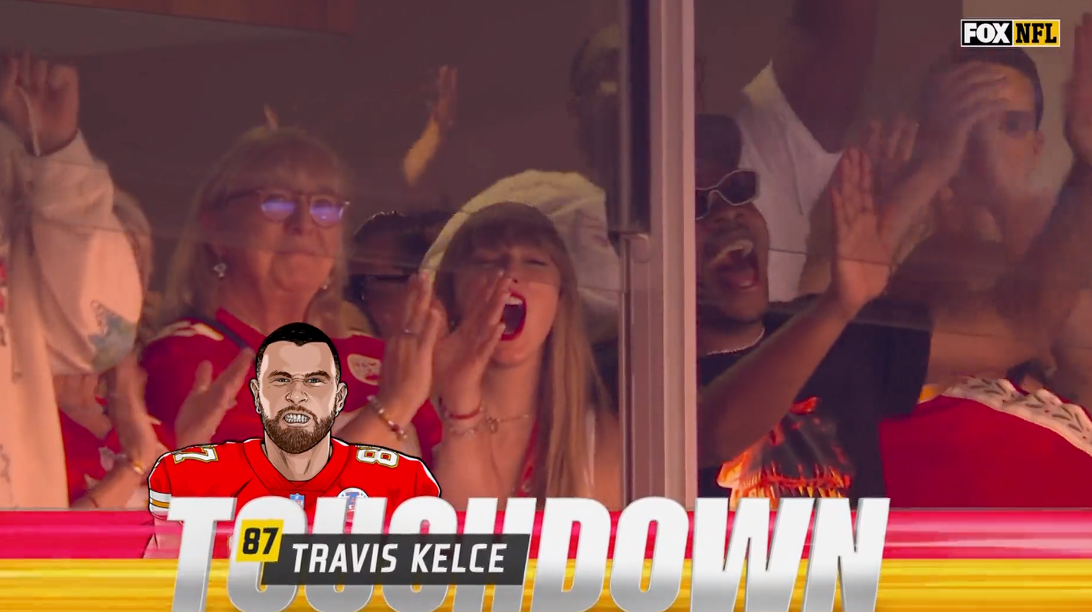 Taylor Swift was seen screaming her heart out after Travis Kelce scored a touchdown at the Kansas City Chiefs game.
Kelce scored a touchdown in the third quarter of the game against the Bears, which Taylor Swift was ecstatic about, as seen in the video below.
"LET'S F*CKING GOOO!"

Taylor Swift was HYPED after seeing Travis Kelce score a touchdown 🗣️pic.twitter.com/3kDEKVNd5N

— ClutchPoints (@ClutchPoints) September 24, 2023
Fans are loving how much attention Taylor Swift is getting as one user wrote, "They're showing Taylor Swift in the suite after every touchdown like she's the offensive coordinator, Roger Goodell said business is business."
Another Tweeted, "Let's be honest, they've been together more than we all think… #Taylor #TaylorSwift …. She's into him. Period."
And one fan said, "She's not wrong. I'm rooting for these two. Taylor and Travis, that is. I can see it. I thought Kelce had a new, slick haircut and looked slimmer. Now we know why…right? #TaylorSwift #TravisKelce Are we saying #TayTrav, or what is the merge?"
One fan said, "All my Twitter feed is is Taylor Swift and football, so the fact that she's at the Chiefs game with Travis Kelce's mom has my Twitter tweaking".
Another is an NFL fan thanks to Taylor Swift as they shared, "The power of Taylor Swift to make me care about football just because she's at Travis Kelce's game."
Taylor Swift Attends Chiefs Game Following Travis Kelce's Invite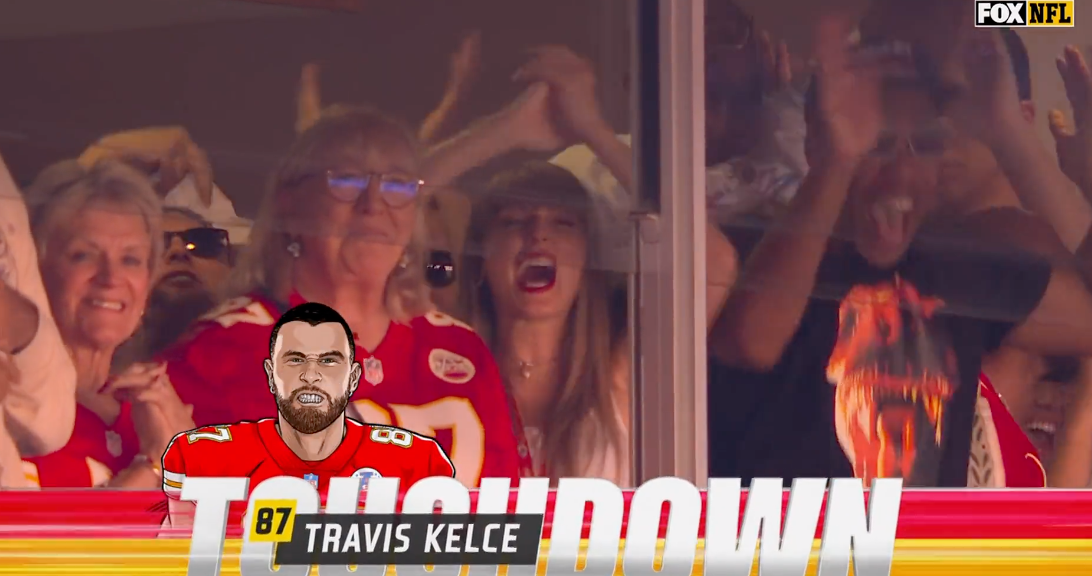 It's been rumored that Kansas City Chiefs tight end Travis Kelce and pop icon Taylor Swift have been dating — though neither party has confirmed this relationship to be accurate, leaving Swifties and NFL fans everywhere on the edges of their seats.
While Kelce was on ESPN's "The Pat McAfee Show," he admitted inviting Swift to Arrowhead Stadium. "I mean, I threw it out there. I threw the ball in her court. I told her, 'I've seen you rock the stage in Arrowhead. You might have to see me rock the stage in Arrowhead and see which one is a little more lit.' We'll see what happens shortly," he said.
Although neither have confirmed the relationship, it is evident that some sort of relationship is in the air, considering Swift was hanging out with Kelce's mom at the game Sunday afternoon.
One fan even admitted to feeling that Swift was foreshadowing her relationship with her hit "Red." "Oh, I get it. Taylor Swift was foreshadowing when she wrote, "Loving him is RED'," they Tweeted before adding, "Good for them 👏🏼👏🏼👏🏼."