Chris Evans has taken the Captain America route to happiness. However, not everyone supports the actor's decision.
Like the fictional character he played in Marvel's Cinematic Universe, the Hollywood hunk traded his shield to be with his new wife, Alba Baptista. The adorable pair recently tied the knot in an intimate ceremony in Cape Cod.
Unlike the character Steve Rogers, the "Knives Out" star has a 16-year age gap with his partner. Although the pair appear unaffected by the difference in birth dates, some fans were displeased by the entertainer's taste in a young woman.
Chris Evans' Marriage To Alba Baptista Sends Fans Into A Heated Debate About Age Gap
The TV personality became a first-time groom on Saturday, September 9, after saying his vows to the beautiful Portuguese actress. A source confirmed the joyous news, revealing the pair's wedding took place at a private estate in Cape Cod.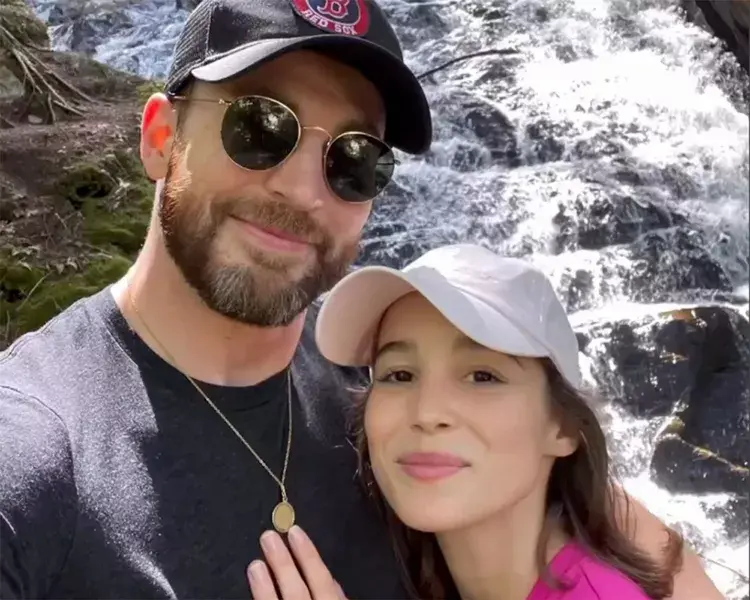 The lovebirds' big day was commemorated with the 42-year-old's "Avengers: Endgame" co-stars in attendance, including Robert Downey Jr. and his wife, Susan Downey; Chris Hemsworth and his wife, Elsa Pataky; and Jeremy Renner. The group was seen in nearby Boston for the wedding.
Other famous faces like John Krasinski and Emily Blunt were present at the ceremony. According to an insider, the highlighted guests "were very happy, joking and smiling." Although the attendees supported the couple, fans were not on the same page.
Many may recall that the newlyweds first sparked dating rumors in January 2022 when the Portuguese actress followed Evans back on Instagram. It, however, wasn't until a year later that they went Instagram official with the Marvel star taking the plunge!
There were mixed reactions to the spouses' wedding, with many lamenting their age gap on X. Some bashed the actor for choosing a younger woman as his bride, while others screamed about double standards, claiming the internet would have exploded if a woman had wed a younger man.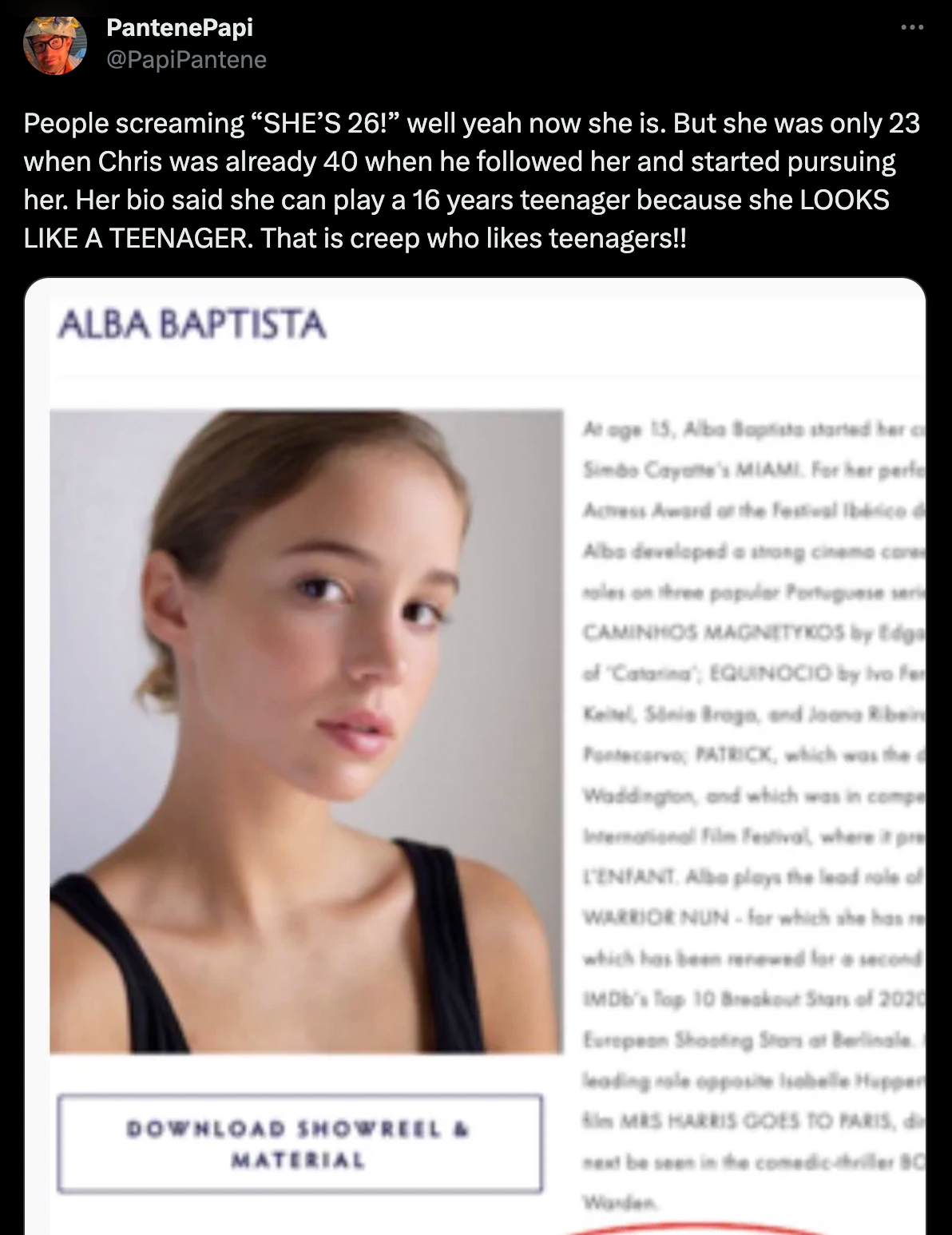 "Chris Evans has said he's wanted a family for years, then he gets a girlfriend who's 16 years younger and still of age to start a family (as opposed to him), the wedding seems rushed, and she's new in the industry and just starting up her career, this feels extremely icky to me," someone wailed.
"All I'm saying is when Priyanka Chopra married Nick Jonas, people are calling her "grandma" and all that stuff since she's 11 years older than him. But when it's Chris Evans marrying a woman who is 16 years his junior, the age gap doesn't matter. Make it make sense, come on!" Another displeased fan cried. 
A third echoed similar sentiments about the public's inconsistent morals, writing, "You people are defending Chris Evans and saying she's grown, but let it be Leonardo Decaprio; y'all will understand why a 16 year old age difference is weird. Y'all need to pick a side and stick to it."

"People screaming 'SHE'S 26!' Well yeah, now she is. But she was only 23 when Chris was already 40 when he followed her and started pursuing her," a social media user claimed. "Her bio said she can play a 16 year teenager because she LOOKS LIKE A TEENAGER. That is a creep who likes teenagers!!"
The criticisms about Evans' choice continued with someone stating the entertainer would have received more backlash if he was not good-looking.
"It's only justified bc he's like famous and like 'hot' BC 16 YR AGE GAP WOULD'VE BEEN THE TOPIC OF DISCUSSION IF THAT MAN WASN'T CHRIS EVANS," the fan penned.

Someone else compared the "Lightyear" voice actor's relationship to the bond they had with their son. "The only thing I'll say about the Chris Evans/Alba Baptista news is their age gap is virtually the same as the one between me and my son (I'm 40, he'll be 23 soon), so I find it gross as f**k and have lost a lot of respect for Evans," the individual wrote.
Some Believed The Captain America Star Wasn't A Predator
While many bashed the "Not Another Teen Movie" actor for walking down the aisle with Baptista, others supported the entertainer's decision. In his defense, these devotees noted the age gap was not a problem as the pair were two consenting adults.

One fan brought evidence of the 42-year-old's morals, revealing the TV personality's dating history showed no pattern of being interested in younger women. The individual's message read:
"Y'all making Chris Evans look like he's a predator for marrying someone younger than him…dude's dating history has always been with women close to his age, there's no pattern here, he ain't no Leonardo Dicaprio. Plus, that lady is grown asf."
Another wondered, "Why r people mad at Chris Evans and Alba Baptista's age gap? You do realize they met as consenting adults???? There's literally nothing wrong with it. Aaron Taylor and his wife, on the other hand, are a great example of grooming. He wasn't even 18 yet when they met."
"Are people really giving Chris Evans shit because he's a 42-yr-old consenting adult who married Alba Baptista, a 26-yr-old consenting adult?" A third wondered.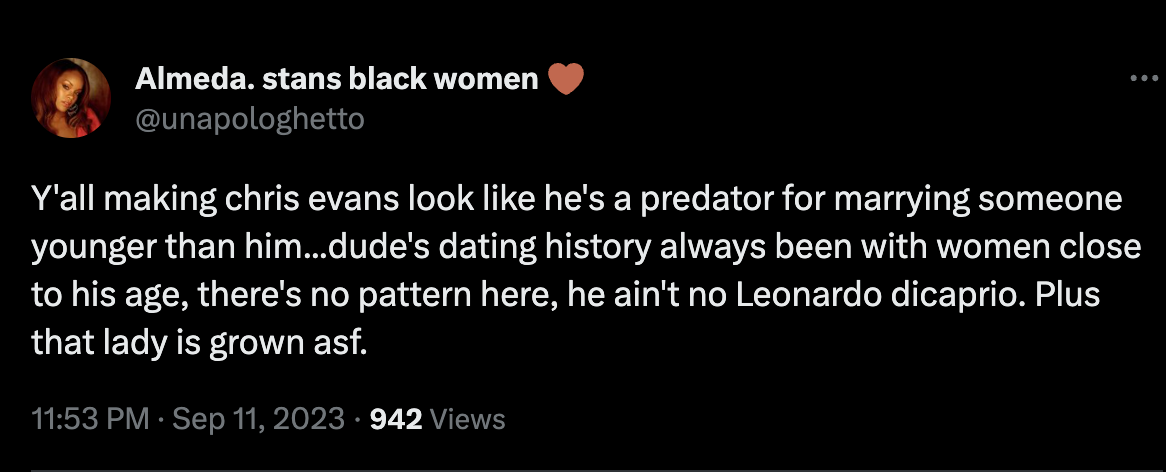 The fan continued, "The only time you have to worry about someone else's age difference is if someone is underaged. Otherwise, butt out. You don't know them."