The announcement of Jimmy Carter and his wife Rosalynn being in their "final chapter" is sparking sadness and memories from admirers.
Jimmy Carter Passing On Soon
Carter's grandson shared the news that the former president and his wife are slowly but surely making the transition to the afterlife. Carter is 98 and served one term as president the 39th President's grandson told PEOPLE.
The couple's Georgia, home is "quiet and calm" nowadays. "My grandparents have always been the entertainers," Josh Carter tells PEOPLE. "But now we're kind of the ones having to entertain. It's different, it's just a different era."
In February, the ailing former president had decided to stop medical intervention and enter hospice care "to spend his remaining time at home with his family." After that announcement, t family shared that Rosalynn, 96 has dementia.
Jimmy Carter Is The Same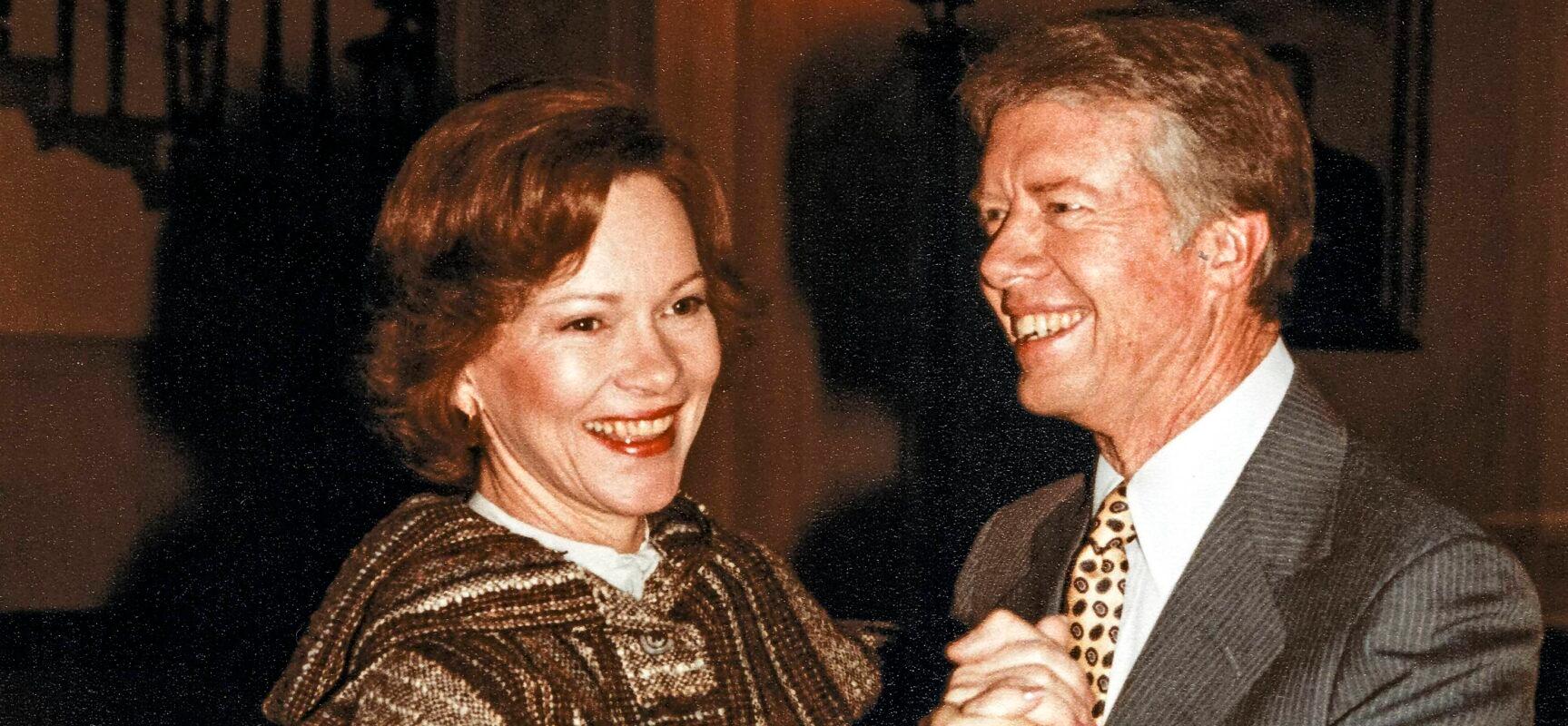 While the family admits he is struggling in his old age, he is still Jimmy. "He's still fully Jimmy Carter," Josh says. "He's just tired. I mean he's almost 99 years old, but he fully understands [how many well wishes he's received] and has felt the love."
As for Grandma Rosalynn, "She still knows who we are, for the most part — that we are family." After a good night's sleep, her memory comes back a bit. "My grandmother is still able to form new memories."
Admirers of the former Pres are sharing just how he shaped the nation with his leadership and reminding people he was a cool-ass dude and the ultimate Christian and continues to keep that same energy to this day.
Jimmy Carter Still Building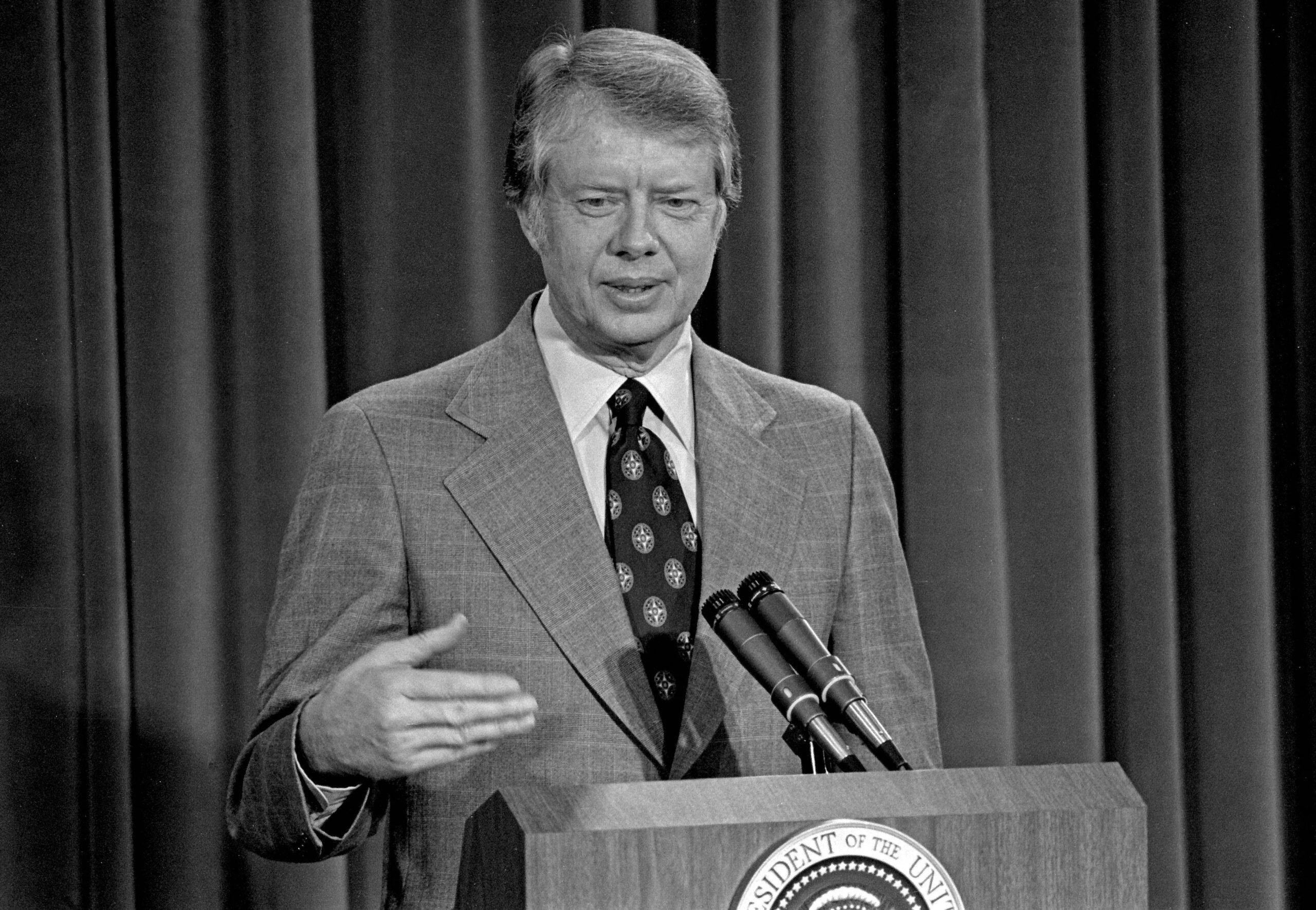 The Twitterverse is sharing all the great that Carter did right up until being too ill to continue. He built homes for Habitat For Humanity even after falling and getting a crazy-looking black eye, he came back for more hard work the next day.
"Jimmy Carter is trending… He is 98 years old. He built homes for people in his 90s even after a fall he is the definition of a humanitarian he gave his all to life. He gave back to so many national Treasure FOREVER."
The progressive president even once took a moment to shake a lot of people's hands while on a plane. "If there is a heaven, Jimmy Carter will rest in heaven when his time comes. This man has devoted his life to serving the betterment of mankind. Sending prayers for peaceful, calm & uplifting spirits as he enters the finale stage of his beautifully lived life."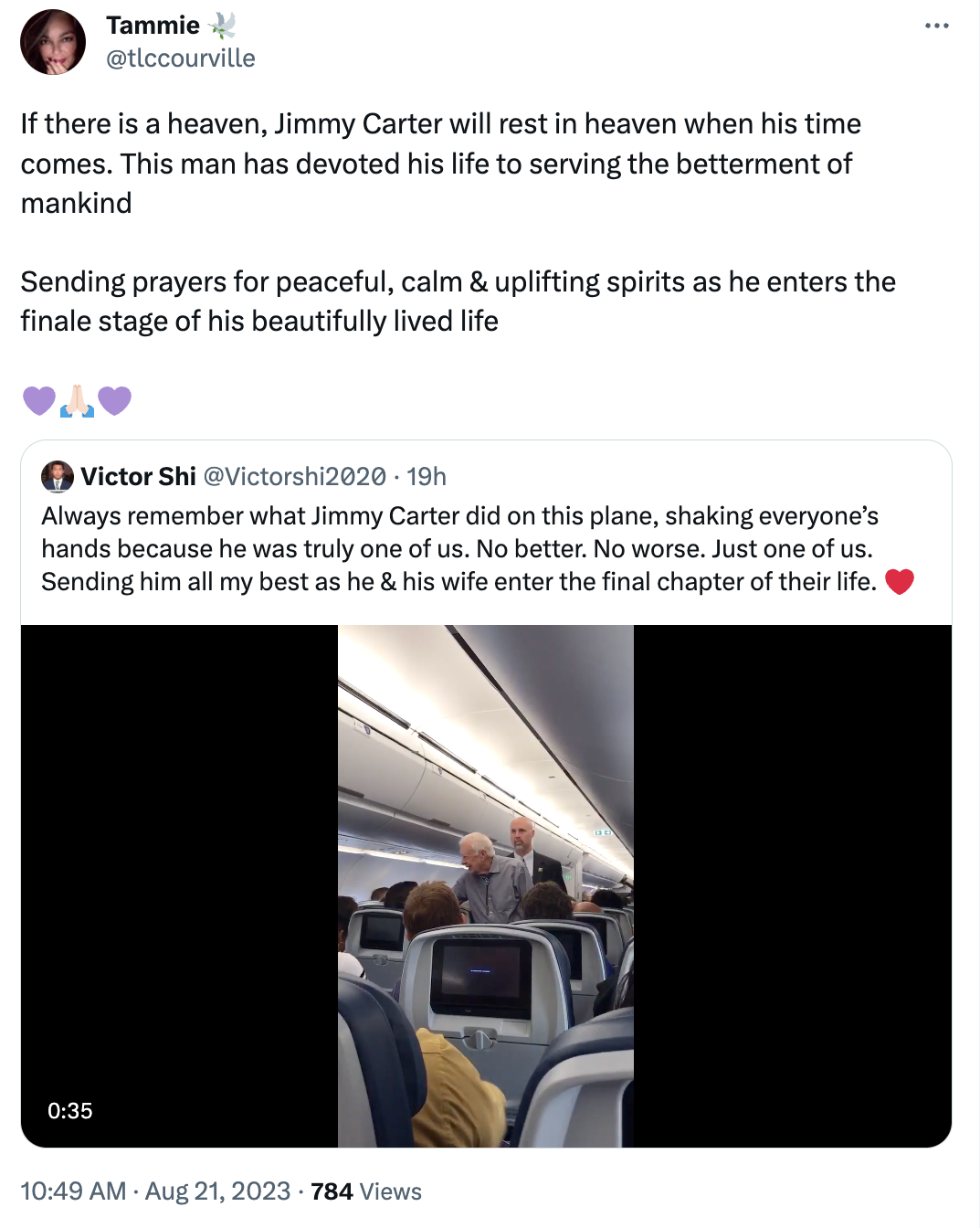 Bless Jimmy Carter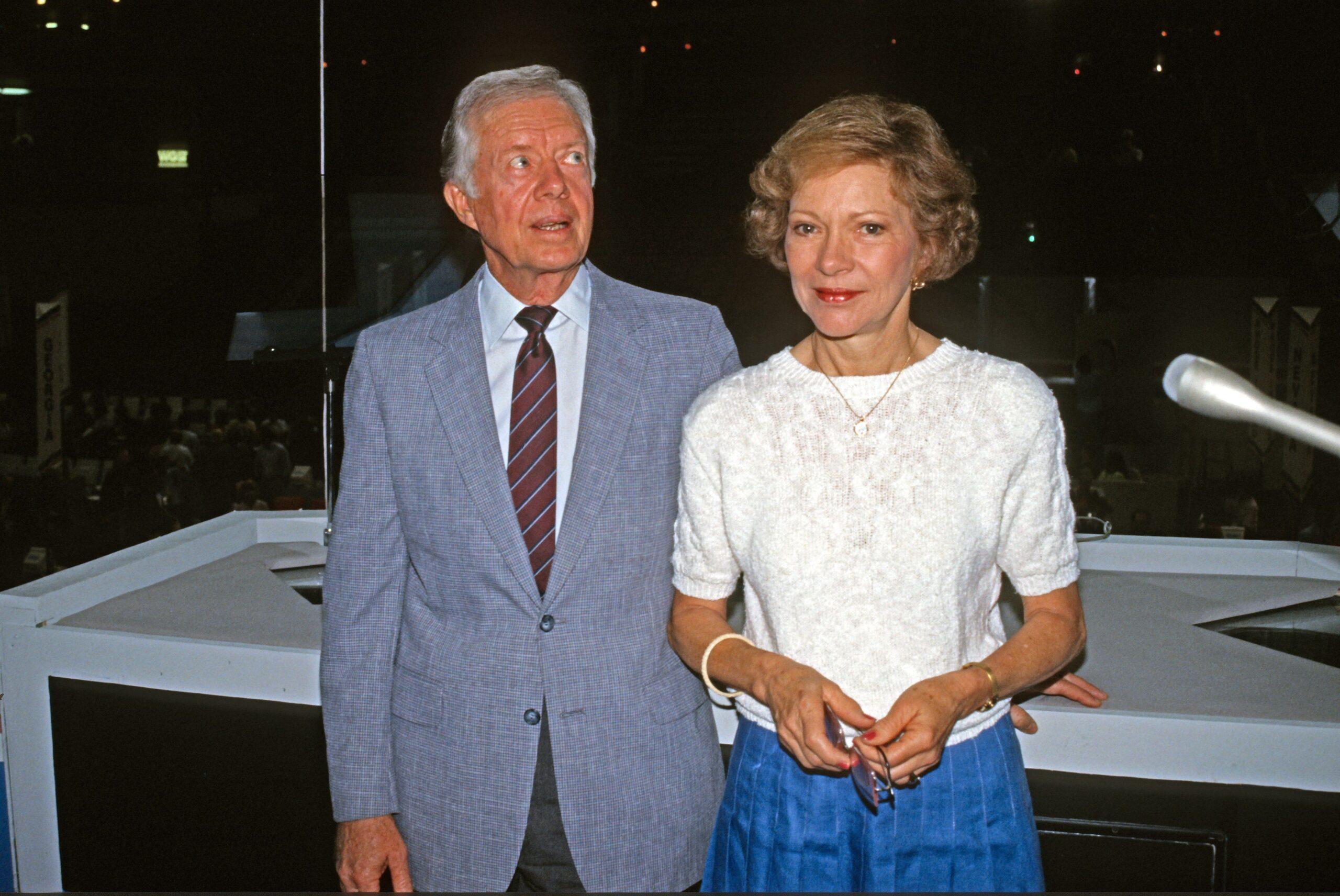 Many people are also reminding followers that Carter was into some topics way before his time like equal marriage rights and solar panels. "I learned that President Jimmy Carter had put up solar panels on the White House half a century ago. The world knew about global warming!
Yet the greedy oil execs & power-hungry elected GOP won? What happened? When did we start siding with the greedy & power hungry?" one follower asked.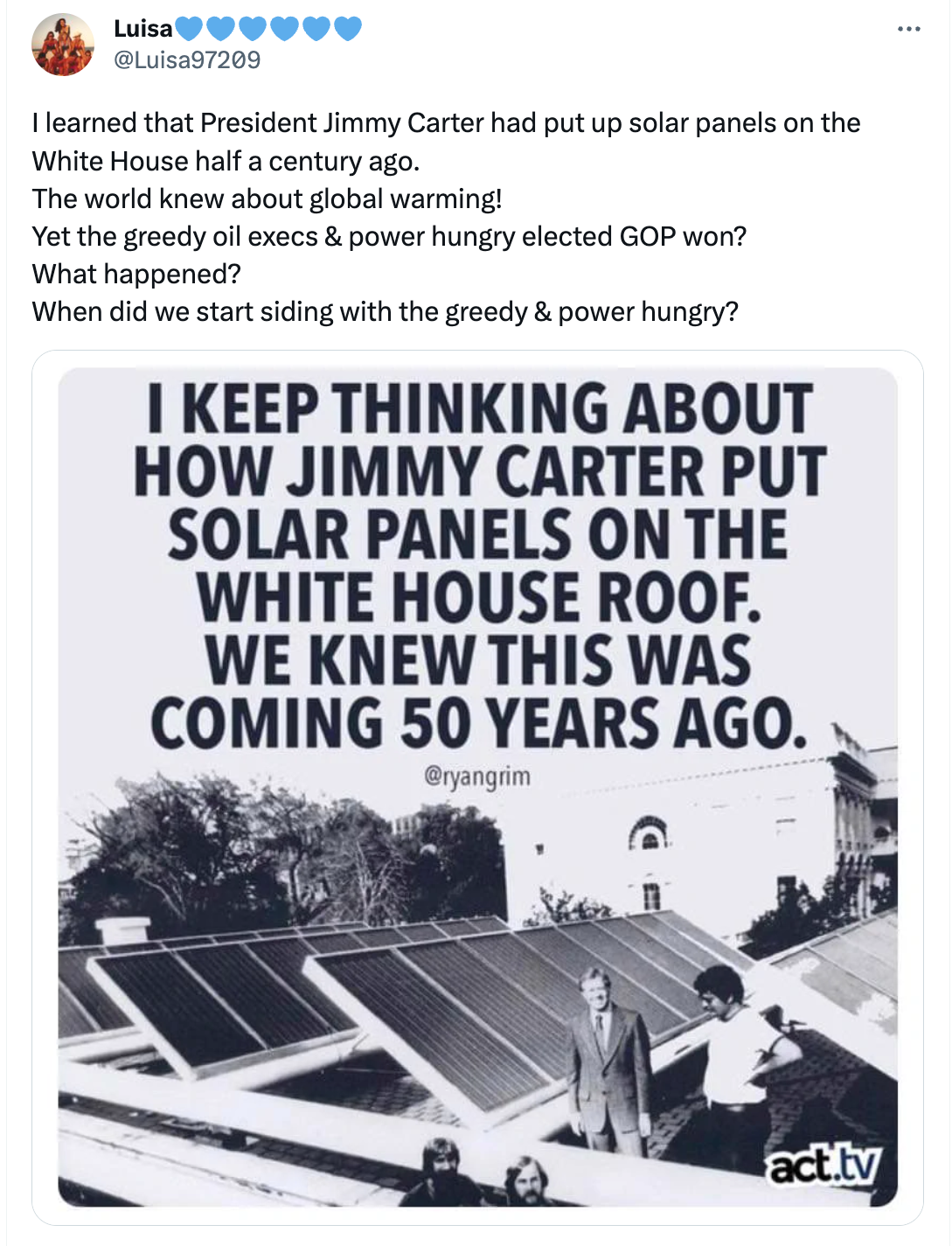 Another follower kindly schooled us on how amazing the relationship between Jimmy and Rosalyn all these years has been.
"Rosalynn and Jimmy Carter have been married for seventy-seven years. Their families lived next door to each other, and three-year-old Jimmy's mother helped bring Rosalynn into the world. Holding them in my heart as they face their final chapter together."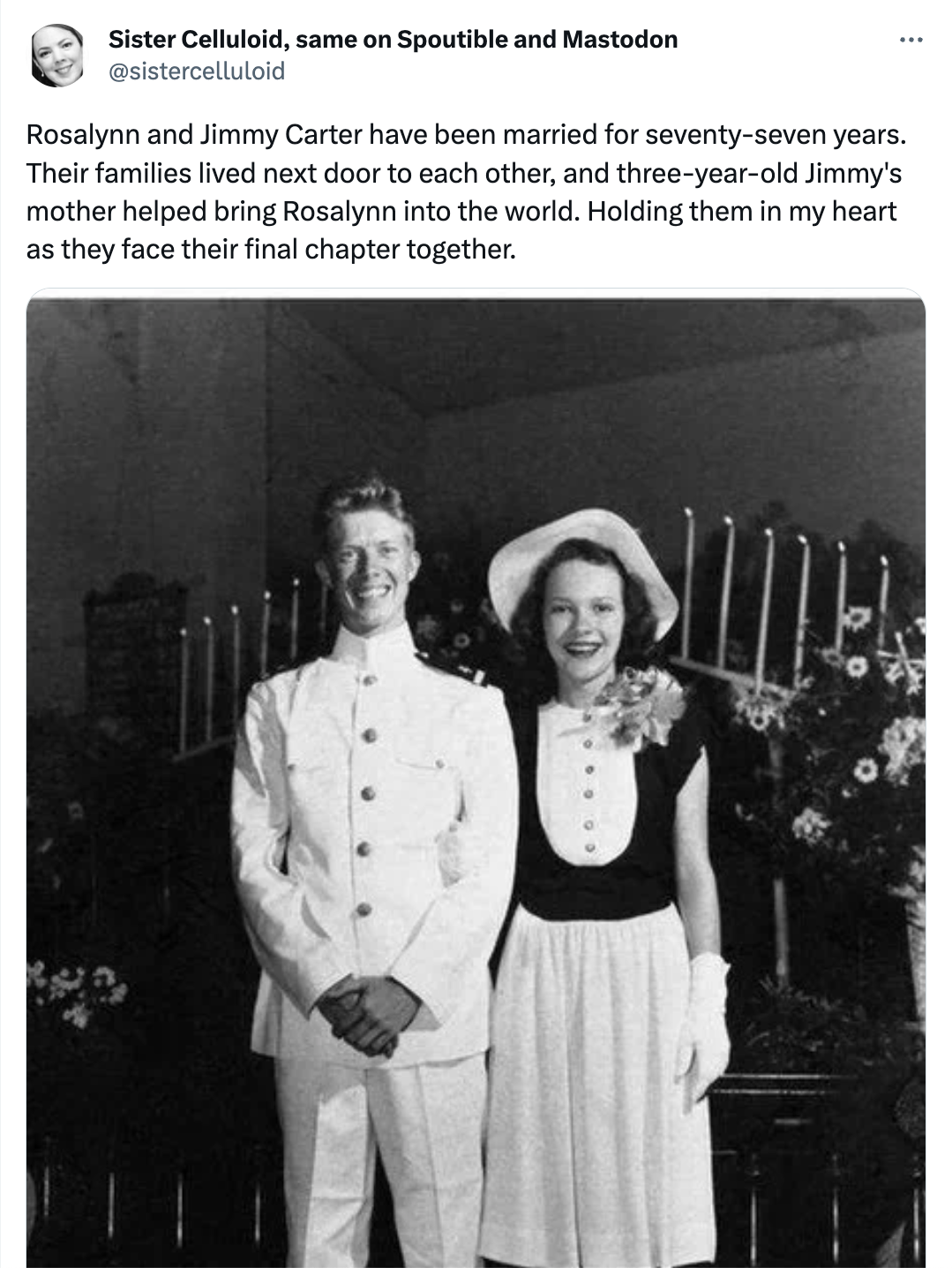 Some celebrities are sharing their thoughts on President Carter's current situation like actress Mia Farrow.
"Today we have many examples of powerful people who fail to prioritize service helping those in need. It is dispiriting to see selfishness & greed.
But we can renew our inspiration and compassion by looking at the life of Jimmy Carter, peanut farmer, president, humanitarian."
Prayers up for the former president, Rosalynn, and their wonderful family.