Britney Spears has had a lot of shitty men in her life, but Sam Asghari may take the cake as the biggest asshole and manipulator of them all.
As you may have heard, Britney has to deal with a whole new string of drama – after finally taking care of her family – now that her husband, 29-year-old Hesam Asghari – decided to pull the plug on their short-lived marriage while going on social media and having the nerve to ask for "privacy" during this difficult time.
Let's discuss why Asghari may be the biggest douchebag Britney ever shacked up with … and what a monumental fucking mistake this guy is making after it's clear he can't act and probably won't ever have a career in Hollywood post-Britney breakup.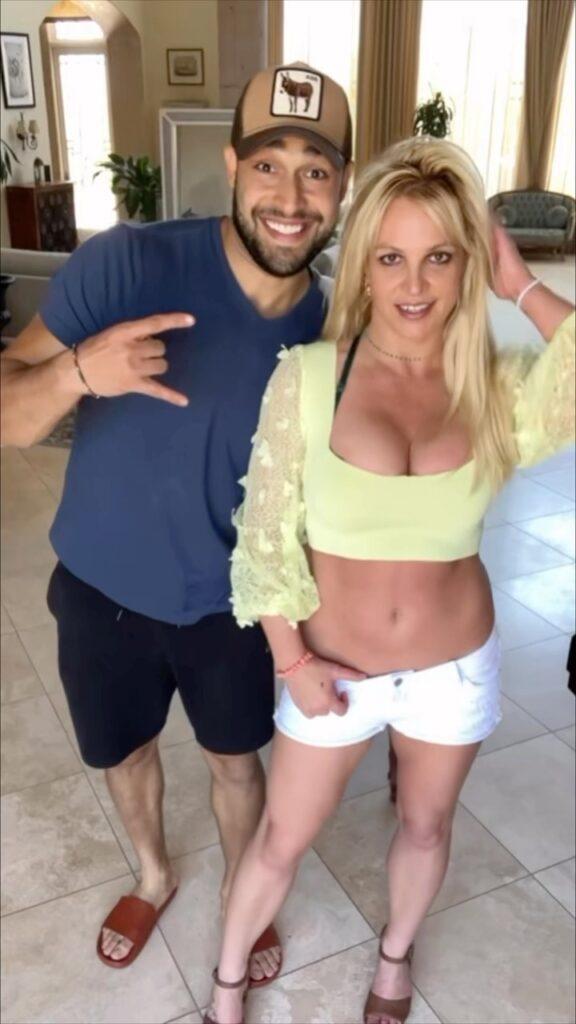 The two first met on the set of Britney's 2016 music video, 'Slumber Party,' with Asghari courting and dating the singer for years before they got engaged in 2021. Let's be clear, by the time 2016 rolls around, Britney's woes are no longer a secret – this is almost a decade after the infamous hair-shaving incident and post breakups with K-Fed and Jason Alexander … so getting into a relationship with Britney Spears at this point is a bold move, as EVERYONE is aware of her mental state and the issues surrounding her personal life.
It was clear from the beginning that Asghari was using Spears to springboard his shitty career – and soon began enjoying the most bookings and cameo appearances on TV shows that he's ever experienced. Was it because he was a great fucking actor that everyone wanted to book on their next project? No! He was booked because he was in a romance with Britney Spears, and everyone wanted to throw the Princess of Pop a bone by getting her F-boy some work.
Fast forward to Asghari leading the charge to get Britney to rebel against her conservatorship and throw her into a whirlwind of drama that manifested with another public breakdown on social media – as Britney burned bridges with her children, management, and legal teams to end her conservatorship. So, he did it. Asghari got what he wanted, and he could break Britney away from the shackles of her conservatorship and get ready to enjoy a life of freedom in the singer's palatial mansion while having access to millions of dollars.
However, it's all fun and games until you're in charge of Britney, and she's manically dancing around the house on a stripper pole gyrating for Instagram views – and Asghari clearly couldn't handle it. Put that together with the fact that his lackluster career never took off, and it's undeniable that Britney no longer has aspirations of any fame – Asghari now starts the next phase of his evil plan and files for divorce.
View this post on Instagram
Rumors are swirling that Britney was "unfaithful" with a male worker at the house … which I would personally not find surprising because there is NO WAY Asghari was taking care of things in the bedroom – he's the type of dude who gets his rocks off by looking at himself flexing in the mirror.
Perhaps the most disgraceful thing of all – Asghari is now threatening to spill secrets about Britney from their relationship if she doesn't adjust the terms of their pre-nuptial agreement, which at this point gives him diddly squat.
So, you're telling me the guy who loved Britney Spears and helped her escape the legal drama from her family is now okay with throwing her into a brand new legal battle and threatening to expose her in the same type of way her scumbag father used to do.
Poor Britney can't catch a break, and now Sam Asghari has joined the long list of men who have just used and abused our Princess of Pop.
I can't believe I'm saying it, but Asghari may be worse than Sam Lutfi.