Sofia Vergara seems to have become hotter amid her divorce announcement, and as expected, fans and colleagues of the star can't seem to get enough of her beauty!
The actress and her husband of seven years, Joe Manganiello, took the public by surprise after they released an official statement confirming their separation while requesting their fans to respect their privacy.
Notwithstanding the unfolding development that has rocked Vergara's world, the "Modern Family" alum continues to live her best life, as she recently went on a vacation to one of the European countries.
Julie Bowen Is Enamored By Sofia Vergara's Glow-Up As A 'Single' Woman
Julie Bowen, who played the character of Claire Dunphy in the ABC Sitcom "Modern Family," couldn't help but rave about her co-stars' eye-popping pictures as she vacationed in Capri, Italy to celebrate her birthday.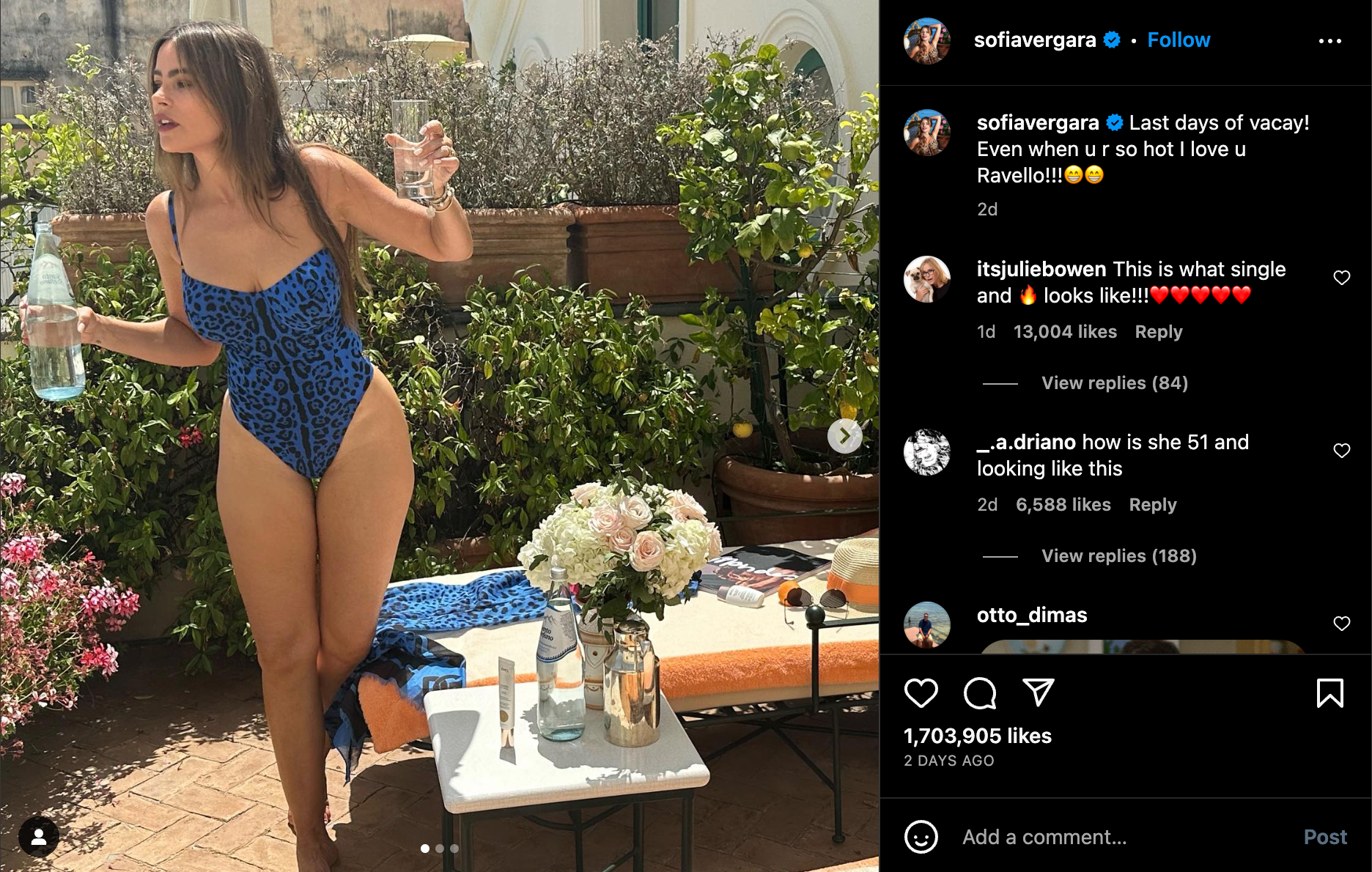 Vergara, on her part, took to her Instagram to post a carousel of stunning images of herself soaking up the Mediterranean sun on a lush patio featuring green plants and a bouquet. In the first slide, the "Hot Pursuit" actress looked breathtaking in a blue and black leopard-print one-piece bathing suit. The daring attire gave her followers a clear view of her tiny waist and curvaceous hips.
In the following slide, the actress knelt on a pool chair as she carried her skincare products, presumably to apply to her body. Next to the chair was a side table where she placed her bottles of liquid and a golden jar. 
Meanwhile, the last slide had fans drooling, mainly because the brown-haired beauty gave a cheeky look at her backside while she hydrated under the Italian sun, taking a glass of water. Living her hot girl summer era to the fullest, she brought along with her — a designer matching scarf, a sunhat, fancy sunglasses, and a magazine for her reading pleasure. 
Captioning her post, she gushed, "Last days of vacay! Even when u r so hot I love u Ravello!!!😁😁" Thrilled that the actress was doing well, fans hailed her in the comments section and appreciated the post with millions of likes.
Her co-star, Bowen, excitedly penned, "This is what single and 🔥 looks like!!! ❤❤❤❤❤."  One fan wondered, "How is she 51 and looking like this?"
Another admirer declared, "Mother is mothering." A third supporter expressed, "I don't understand why people feel you need to show some type of suffering like you can't go on with life while dealing with a divorce. Speaking first hand. After my divorce, I upgraded myself @sofiavergara keep going mami."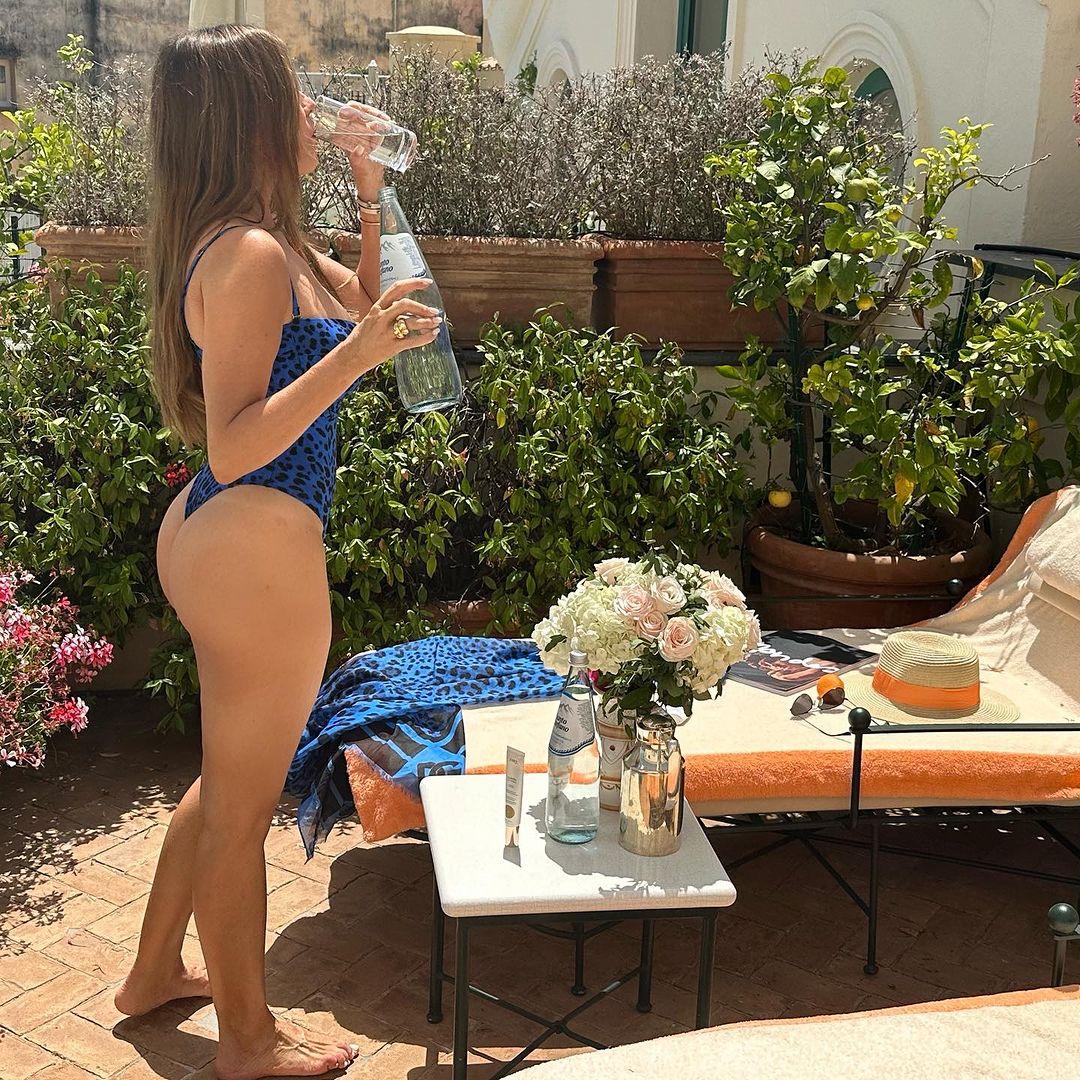 A fourth commenter added, "Love Ravello! I have a beach house further south! Enjoy every minute ❤." One fan chimed, "You must have a pact with the devil because you are a beautiful woman everywhere you look!!! Blessings and may this beauty last you for more than 100 years!!!! 🥰."
A fifth follower wrote, "@sofiavergara I hope you rested, I'm glad to see you enjoying the details of life 😍." Meanwhile, a disheartened fan expressed, "Sofia please tell me it's not true and you and Joe are still together 😭😭 I'm crying over here!!!💔😭."
Many of her other supporters might have felt this way when the news was carried by the media that the beloved couple had decided to part ways. Vergara and Joe Manganiello addressed their divorce saga in a joint statement, dashing fans' hope of a reconnection/settlement.
The statement read, "We have made the difficult decision to divorce. As two people that love and care for one another very much, we politely ask for respect of our privacy at this time as we navigate this new phase of our lives."
While the pair did not give a reason for their split, a source close to the stars revealed that "Sofia and Joe have been growing apart for a while now and are taking some distance from each other to contemplate their future."
As for the matter of custody battle, none of that will happen as they don't have any children together. And given their career success before becoming a couple, they most certainly have a concrete prenuptial agreement.
Fans Foresaw The Barranquilla Native And Manganiello's Impending Divorce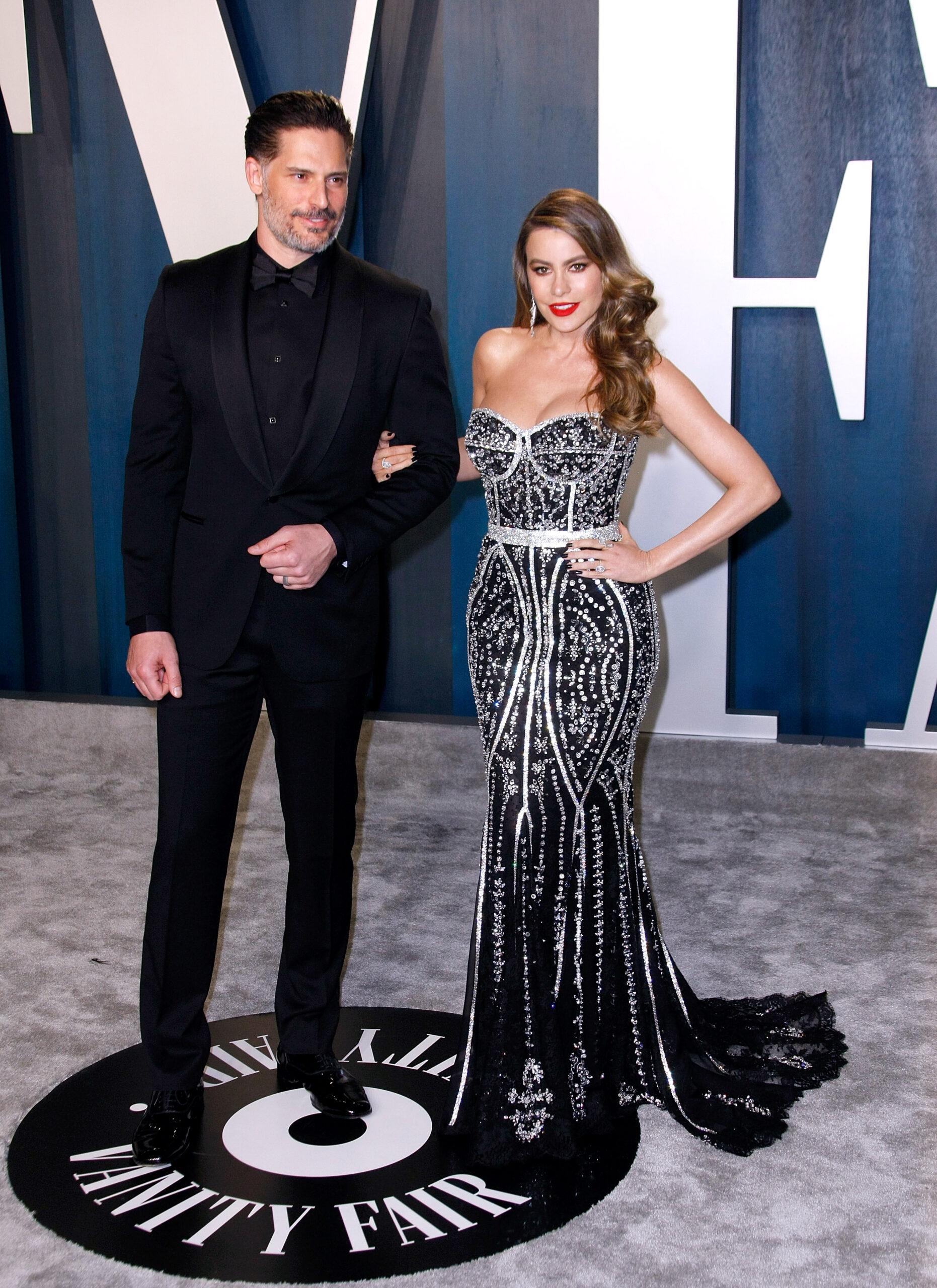 While Vergara and Manganiello's glamorous love life stole the hearts of fans, their supporters could sense when things began to feel off! Per The Blast, speculations about their troubled relationship surfaced on the "Four Brothers" actress's birthday, marking her 51 years on earth.
What should have been a joyous occasion for Manganiello did not exactly seem that way, following the post he shared about his wife's special day on his Instagram. 
The "Magic Mike's Last Dance" actor posted two images to mark Vergara's birthday. The first slide was a throwback shot of the pair, a poor-quality photo with a grainy and blurry texture.
On the other hand, the second frame was even more perplexing as it featured a crystal ornament with light. For his caption, he penned in Spanish, "Feliz Cumpleaños Sofía!!!" Translated to mean, "Happy Birthday Sofia," in the English language.
Surprised by the lack of sincerity in his words, fans trooped into his comments section to express their concern. One fan inquired, "Joe, I hope you guys are OK; that was a very different (cold) happy birthday wish to your wife compared to previous ones"!
Another expressed, "Am I the only one who doesn't like the way it sounds? Sofia'…. Not even 'My love, My beloved wife."' A third agreed with the latter comment, writing, "What a cold greeting. Not a drop of love expressed Joe Manganiello."
A lot of his fans could not conceal their disappointment over how the "Rampage" star celebrated Vergara, with one even comparing his reaction to the actress's birthday and that of the couple's dog, whose 10th birthday was marked on the actor's Instagram page.