Singer Britney Spears is speaking out after she was reportedly assaulted by a member of Victor Wembanyama's security team.
The 41-year-old pop star was looking to have dinner at the Catch restaurant in the ARIA Hotel with her husband, Iranian actor Sam Asghari, and two others when she noticed the San Antonio Spurs player also approaching the restaurant with his entourage. Initial reports state that Britney tried to tap him on the back when she was allegedly slapped by the Director of Team Security for the San Antonio Spurs so hard that she fell over.
The "Hold Me Closer" singer has filed a police report, which named Damian Smith as the security guard. While law enforcement officials continue to investigate the incident, Britney addressed the matter on Instagram to assure her fans that, although she appreciates their support, she was "not prepared" for what happened to her on Wednesday night.
Britney Spears Denies Victor Wembanyama's Claim That She Grabbed Him Before Alleged Security Guard Slap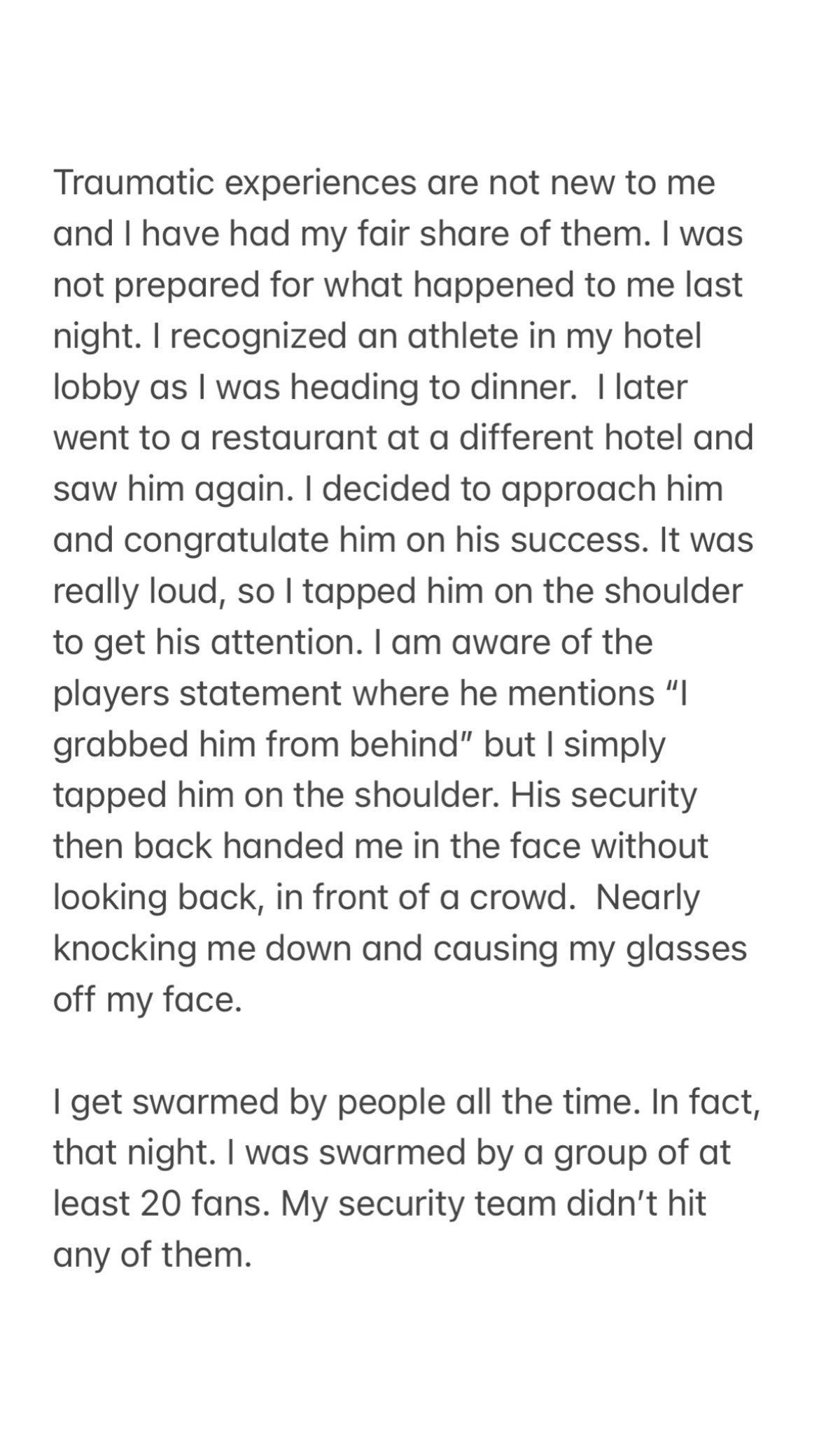 In her Instagram Stories, the "Stronger" singer began: "Traumatic experiences are not new to me and I have had my fair share of them. I was not prepared for what happened to me last night." She then proceeded to give fans her version of events.
"I recognized an athlete in my hotel lobby as I was heading to dinner. I later went to a restaurant at a different hotel and saw him again," she explained. "I decided to approach him and congratulate him on his success. It was really loud, so I tapped him on the shoulder to get his attention."
Although Victor had previously claimed that she "grabbed" him from behind, Britney maintains that she only tapped him on the shoulder, as initial reports suggested. "I am aware of the players [sic] statement where he mentions 'I grabbed him from behind' but I simply tapped him on the shoulder," she wrote. "His security then back handed me in the face without looking back, in front of a crowd. Nearly knocking me down and causing my glasses off my face."
"I get swarmed by people all the time. In fact that night. I was swarmed by a group of at least 20 fans. My security team didn't hit any of them," Britney noted. Previous reports had indicated that the pop star had been mobbed by fans as she entered the casino, but as she noted, there were no incidents regarding her security detailing.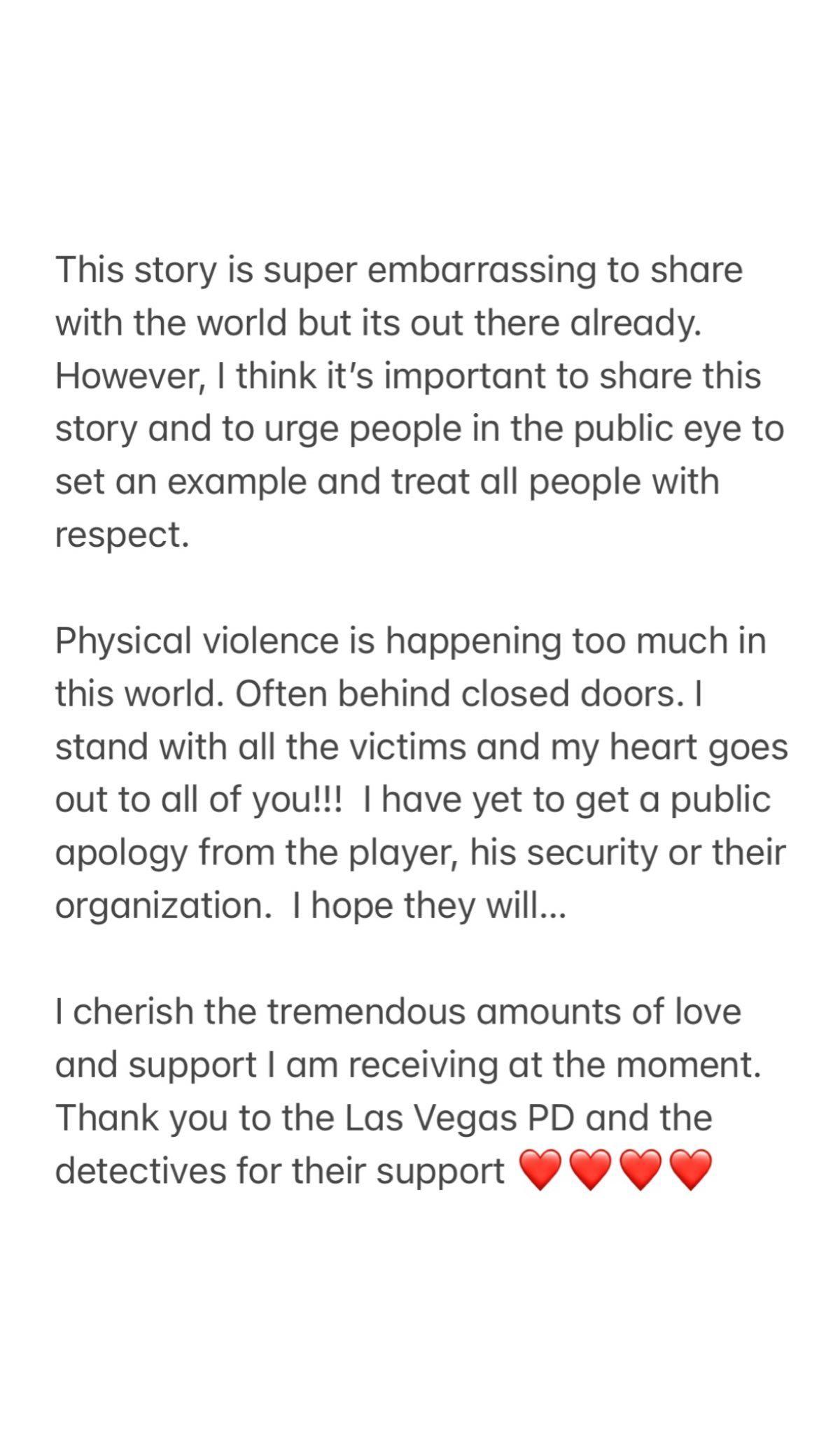 Britney went on to say that the incident has been embarrassing for her, but expressed her support for other victims of physical violence, noting that the world seems to be getting more and more violent by the day.
"This story is super embarrassing to share with the world but its [sic] out there already," Britney wrote. "However, I think it's important to share this story and to urge people in the public eye to set an example and treat all people with respect. Physical violence is happening too much in this world. Often behind closed doors. I stand with all the victims and my heart goes out to all of you!!"
Britney then went on to reveal that she has never actually received an apology from Victor or the organization. "I have yet to get a public apology from the player, his security or their organization," she wrote, adding, "I hope they will…"
She concluded her post by thanking her fans, writing, "I cherish the tremendous amounts of love and support I am receiving at the moment. Thank you to the Las Vegas PD and the detectives for their support." She capped off her post with four red heart emojis.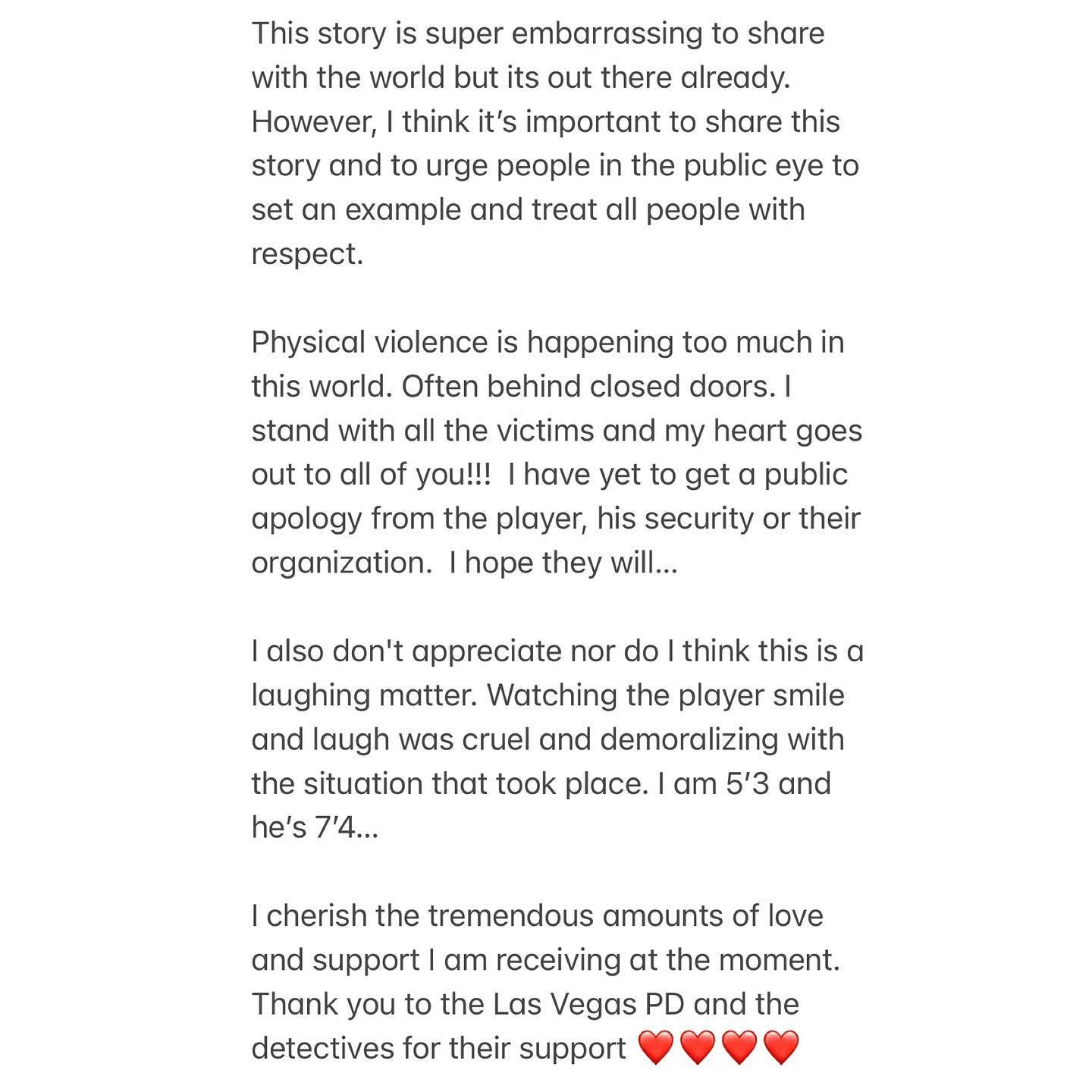 UPDATE: An hour after she posted her statement on her Instagram Stories and Twitter, the "Lucky" singer took to Instagram to share another statement that was mostly identical to her first statement, except with the addition of one paragraph.
"I also don't appreciate nor do I think this is a laughing matter. Watching the player smile and laugh was cruel and demoralizing with the situation that took place," she wrote. "I am 5'3 and he's 7'4…"
Britney's Husband Sam Asghari Also Speaks Out, Slams 'Out-Of-Control Security Guard'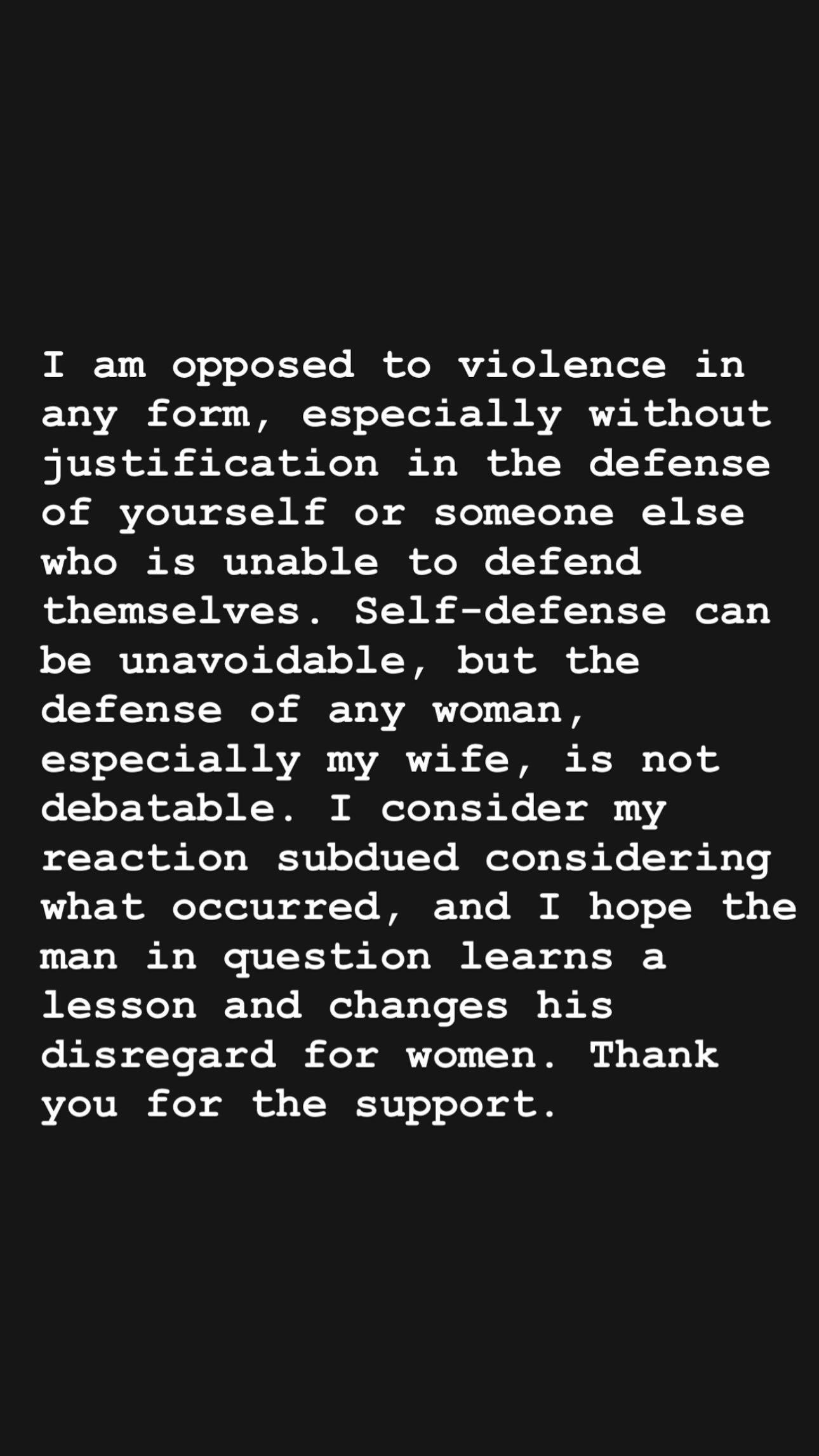 On Thursday afternoon, the Iranian actor also took to his Instagram Stories to share his statement.
"I am opposed to violence in any form, especially without justification in the defense of yourself or someone else who is unable to defend themselves," Sam began. "Self-defense can be unavoidable, but the woman of any woman, especially my wife, is not debatable. I consider my reaction subdued considering what occurred, and I hope the man in question learns a lesson and changes his disregard for women. Thank you for the support."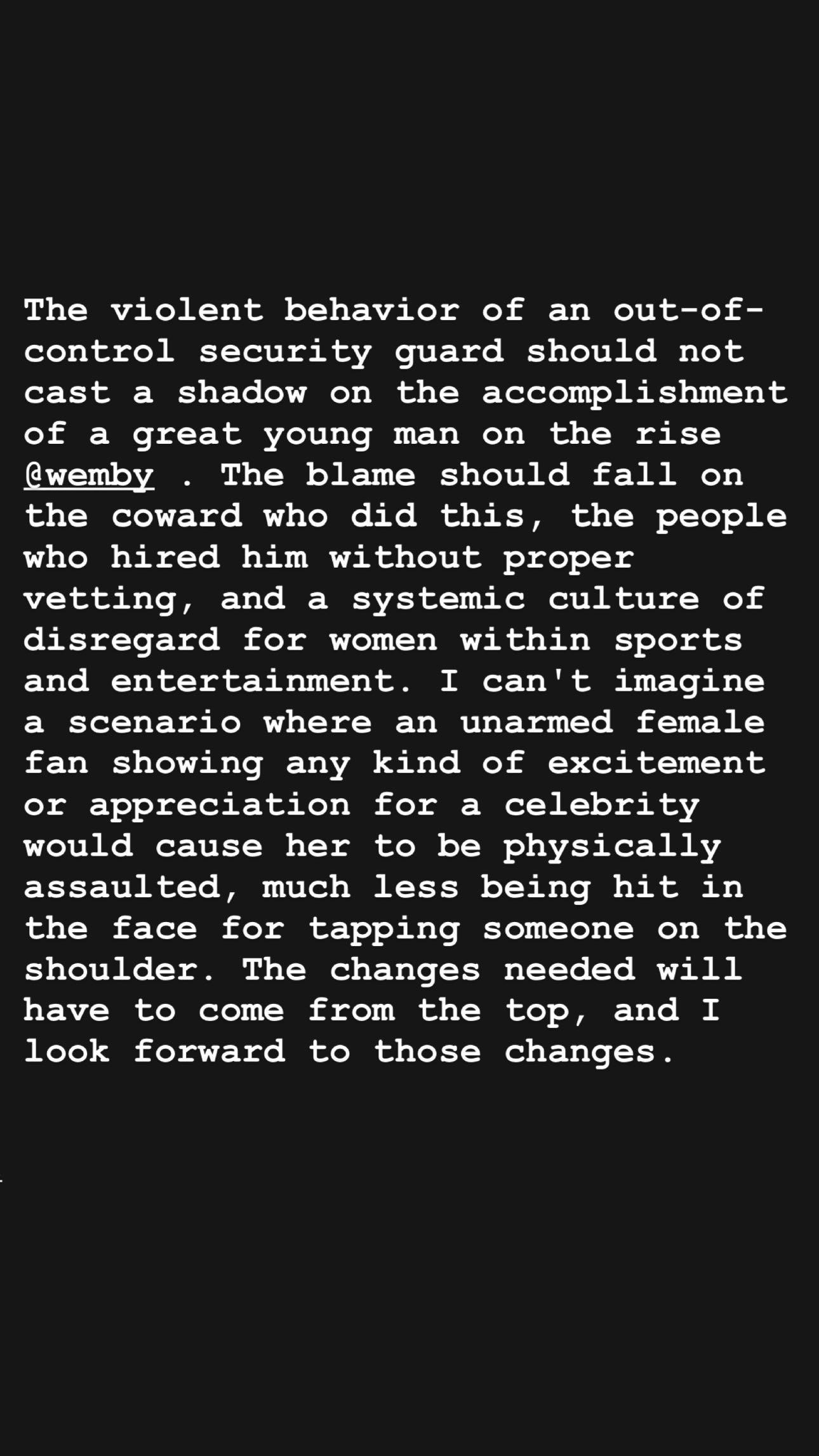 He followed it up with a second slide, which read, "The violent behavior of an out-of-control security guard should not cast a shadow on the accomplishment of a great young man on the rise @wemby," he continued. "The blame should fall on the coward who did this, the people who hired him without proper vetting, and a systemic culture of disregard for women within sports and entertainment."
"I can't imagine a scenario where an unarmed female fan showing any kind of excitement or appreciation for a celebrity would cause her to be physically assaulted, much less being hit in the face for tapping someone on the shoulder," he concluded. "The changes needed will have to come for the top, and I look forward to those changes."