Peta Murgatroyd is garnering new bragging rights as her first son Shai Aleksander trains hard on his tennis skills. A mother's joy and pride over their little ones knows no bounds, and they are totally committed to surrounding them with all the love they deserve. 
The pro dancer is no stranger to such devotion when it comes to her cuddly kids — Shai and newborn Rio John— whom she shares with her husband, Maksim Chmerkovskiy. In precise fashion, the doting mother of two spotlighted and gushed about her firstborn's budding tennis skill in her latest update.
Peta Murgatroyd's 6-Year-Old Son Channels His Inner Lleyton Hewitt In New Post
On Monday, June 3rd, the "Dancing With the Stars" season 14 winner put up pleasing clips of Shai learning to play lawn tennis to the delight of her Instagram followers. In the heartwarming updates, an instructor was heard instructing the six-year-old. Shai was bare chest but wore a Nike tracksuit, grey sports shoes, and a face cap.
The clips' background suggests the tiny tot was playing tennis on a semi-standard court and training ground. During the first clip, the coach, who was not in view, could be heard saying, "I'm sweating more than you. You can't go home until you are sweating," a remark the loving mother attached to her write-up across the post. The note included:
"HAHA COACH SERGEY. SO PROUD OF MY BIG BOY @SHAI.ALEKSANDER."
Likewise, the instructor kept telling the youngster what to do in the second post, and without fail, he was perfecting his skills. In the accompanying caption, the 36-year-old gushed:
"HE LOVES HIS TENNIS. I CALL HIM MY LITTLE LLEYTON HEWITT 😎 WE WILL MAYBE BEGIN TOURNAMENTS NEXT YEAR IF HE STILL LOVES IT:)."
The Blackpool Dance Festival star's willingness to evolve her child's tennis skills for his happiness brings to mind a previous report by "Good Morning America" where the "Faith, Hope & Love" actress and her hubby added a furry friend to their family.
Shai who recently became an elder brother, initially played that role with the family's furry friends. In April, the "DWTS" pros shared a joint Instagram post set to Randy Newman's song "You've Got a Friend in Me" from "Toy Story." It revealed the household welcomed a moyen poodle named Hachi into their brood.
Alongside the video introducing Shai to the pup, the couple wrote: "This little guy has brought so much joy into our lives these past 2 days with oodles of kisses and licks and an uber playful [temperament]….(also lots of poops, pees and cries at night)."
The pair expressed that Shai "is obsessed" and how they let him take the lead in naming their newest family member. "We probably bit off more than we can chew with another actual human arriving soon, but hey 🤷🏼‍♀️ there is never a perfect time, right? Lol," they continued. After that, the duo added hashtags for "#puppylove" and "#familytime."
The 'Burn The Floor' Star's Husband
Maksim Chmerkovskiy Relishes Life As A Father Of Two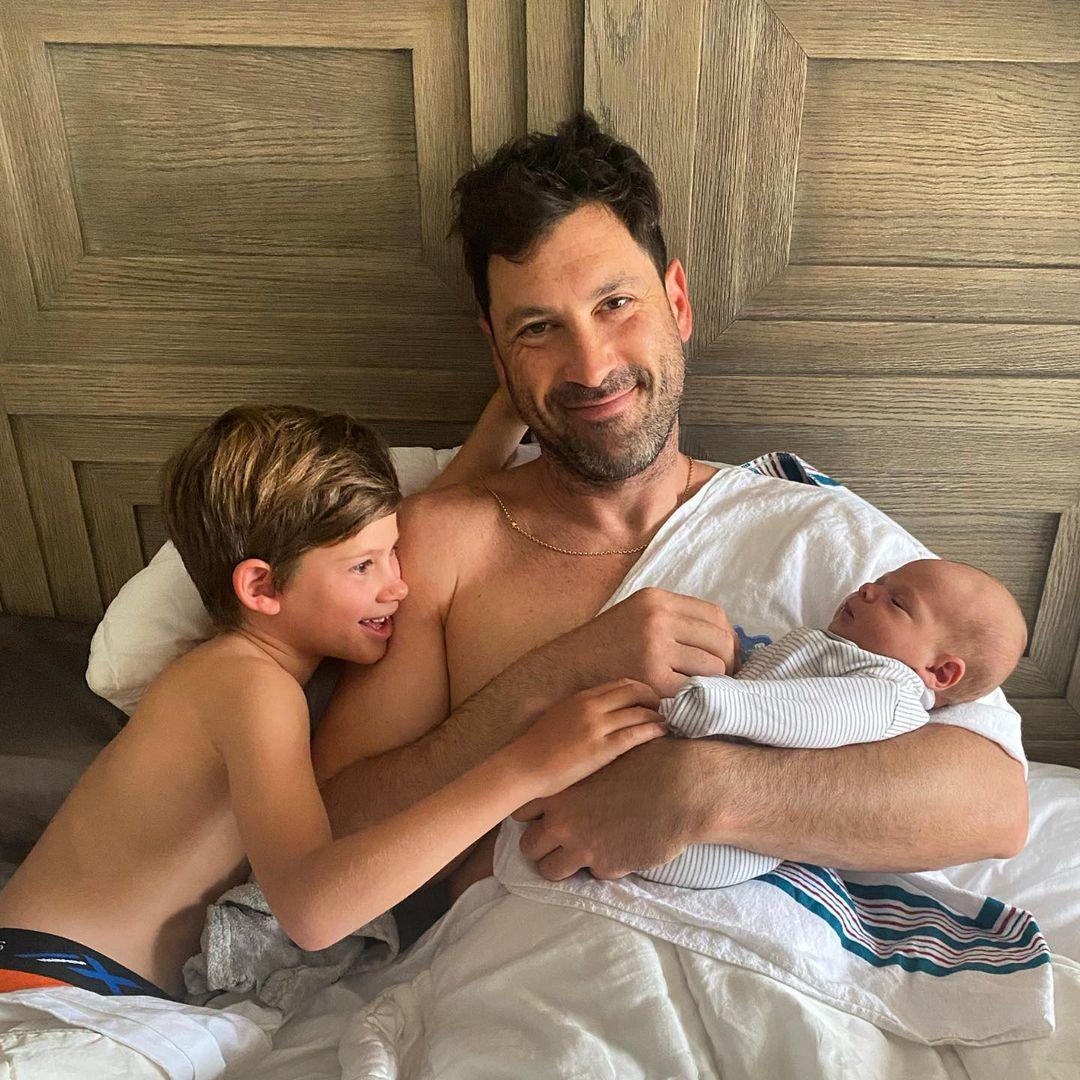 Chmerkovskiy has been in love with his newest fatherhood role and has shown his excitement over bonding with his kids since his wife delivered on June 18, which coincided with this year's Father's Day celebration.
The Blast noted how the 43-year-old father of two put fans in their feelings when he shared a snapshot of his newborn sleeping in his arms while big brother Shai looked on from the side.
Although the six-year-old matched his dad's shirtless upper body, he covered his bottom half with colorful shorts. He placed his head on his father's arm and lightly touched Rio's body with his right hand. 
As for the choreographer, he covered his bottom half with a white duvet. At that moment, he also smiled at the camera. Chmerkovskiy captioned the sweet image, "New favorite pic of all time! Father of two," adding, "Est 2017" and "#MadeInPeta." 
As expected, the fans of the Latin–ballroom dance champion showered the post with compliments and praises in the comments section. "Shai's face is so precious," and a third chimed, "Congratulations, Maks. Your full and happy heart is in your smile," one fan enthusiastically wrote.
A second user claimed, "This is the most beautiful picture. I love this," and a third concurred, "Big brother is SO happy. So is Papa. But dang Shai is cute." A fifth person exclaimed, "Shai looks so happy and mesmerized by his new brother! A new generation of Chmerkovskiy brothers!!! 😍❤️ congrats Max and Peta, on your beautiful family!"