Jeremy Renner — who outlived being crushed by a 14,000-pound snowplow— is walking toward full recovery!
As many had hoped, the "Avenger" star is making significant progress in his recuperation after the monster's New Year's Eve accident, which left him with over 30-plus broken bones and a punctured lung.
However, from showing himself lightly jogging on a "Boost Microgravity Treadmill" for the first time and weight-lifting sessions, the 52-year-old actor has continued registering his recovery process on social media. 
Jeremy Renner Covers Major Walking Distance In His Recovery Update
Recently, the Hawkeye actor again shared pictorial evidence of activities he is engaged in to advance his healing progress to the next, and knowing the blockbuster film actor; it came with a little bit of humor. The "Dahmer" actor wrote alongside the snap: "I guess I'm that guy now that clocks his Damn STEPS????"
The snapshot featured a smart wristwatch that appeared to calculate the incremental steps he had taken that day. It showed that Renner had impressively taken "8,566" total steps and walked "4.23 miles" total distance with "28" flights cape.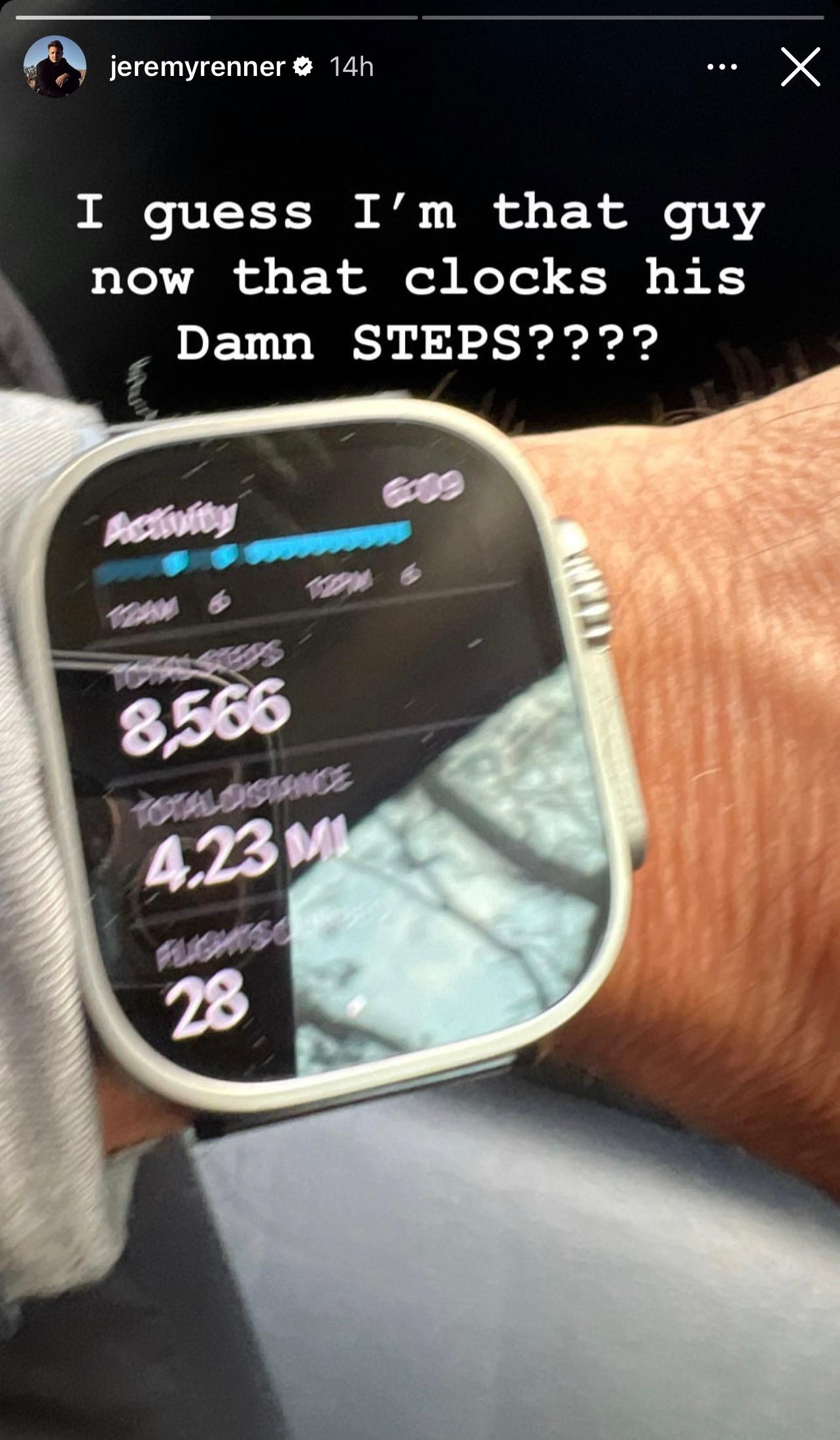 He then shared a short clip of himself attempting to swing a golf club. In this video, the "Neo Ned" actor donned a floral print Navy blue T-shirt with the same color shorts and baseball hat. He paired his outfit with white tennis shoes.
The caption, "Ava's lesson Daddy's therapy," hints that he was there with his daughter Ava— whom he shares with ex-wife and Canadian model Sonni Pacheco. Fans can see the "Mayor Of Kingstown" star pushing hard for his comeback in all of his post-hospital recovery updates. Unsurprisingly, he once informed them that he is determined to "push through the pain" to make a full recovery.
Weeks ago, in another recovery update, the "Mission Impossible" actor dropped a post of himself carrying out a series of warm-up training with the help of two exercise ropes attached to a large piece of equipment. 
He wore a black face cap, matching long-sleeved hoodie, gray shorts, and multi-colored sports shoes. For the warm-up, the father of one motioned side to side, tipped back, and did some squats. The "28 Weeks Later" actor made his goal clear in the accompanying caption, where he wrote:
"UPDATE: I've decided to push through the pain of progress (this damn shattered tibia) and take the new parts for a tiny test drive. The body is miraculous…Even though I feel like the Tin Man, needing oil for all my new joints (hips, knees, ankles, tibia etc). Encouraged after this warm-up to press on (don't tell my PT)."
The comment section was flooded with sweet sentiments from fans and celebs who wanted the best for him. "Looking great! Just don't push TOO hard and end up causing more damage!!" one fan stated.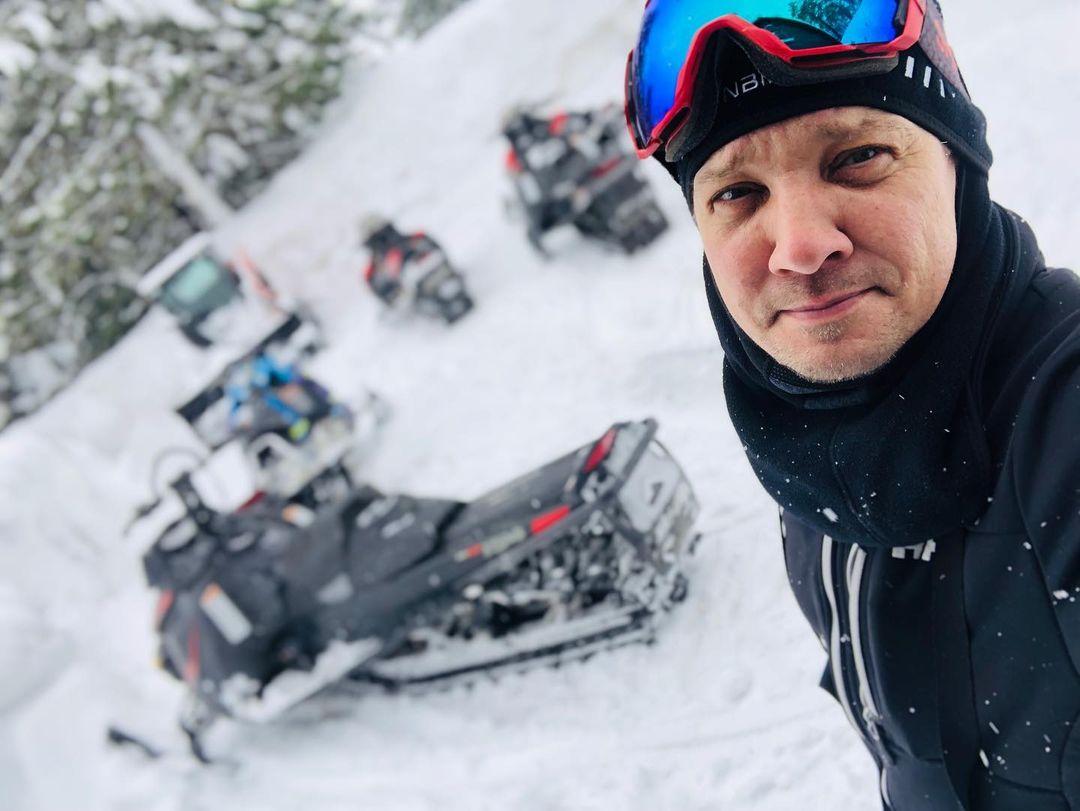 A second netizen reiterated, "Good for you, but please don't overdo it. You're making such amazing progress – don't want to jeopardize that." Actor Ryan Reynolds exclaimed, "That's the stuff!!! ❤️❤️❤️," while Josh Brolin dropped a slew of emojis, including party poppers and thunderbolts.
Jeremy Renner's Co-Star Hailee Steinfeld Shares Her Thoughts On His 'Miracle' Recovery
Right after details of Renner's accident began public, he received overwhelming support from his celeb friends and colleagues. One of them is Hailee Steinfeld, who shared that she was pleased to see the "American Hustle" actor back on his feet during an interview with ET at the Sony CinemaCon Presentation last month.
The 26-year-old actress — who stars in the American television miniseries "Hawkeye" alongside the "Arrival" actor— asserted that she was "so grateful" to hear that he "has made a truly miraculous recovery."
After that, the "True Grit" actress highlighted the relationship she shares with her co-star. She explained: "I mean, I go back to thinking about how excited I was just to meet him, and then I realized very quickly — I can't believe I'm going to admit this, but much like Kate Bishop is to Clint, I am that way with Jeremy."
Steinfeld concluded by praising the Marvel Cinematic Universe actor for being the "amazing" and  "most inspiring"  person she has met, indicating that she now feels more inspired than him.