Billie Eilish is sparing no words as she is telling off trolls who have a problem with her embracing her sensual side!
Entering the spotlight with the release of chart-topping debut single, "Ocean Eyes," at just 14, the California native has achieved accolades many haven't dreamt of at that age. However, with all the success and fame comes unfettered access to trolls criticizing her every move.
Such was the case recently when Eilish delved from her usual boyish style but didn't keep calm about the haters!
Billie Eilish Tells Trolls That Women Can Be Multifaceted!
A day after setting the internet on fire with a sultry clip, the "Bad Guy" songstress took to her Instagram Story to release an important PSA about how she chooses to live her life.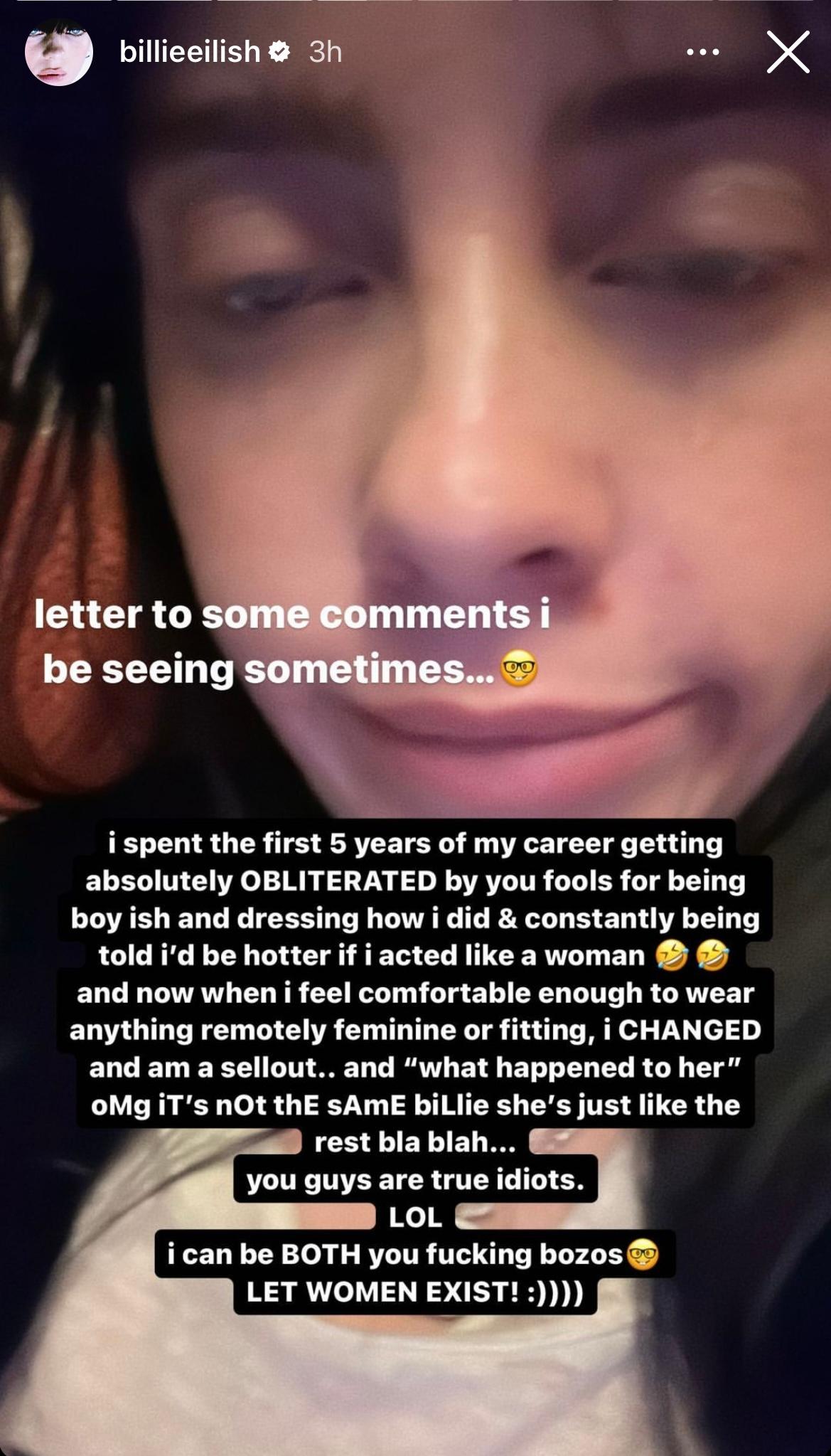 "Letter to some comments I will sometimes see," she began. "I spent the first five years of my career getting OBLITERATED by you fools for being boy-ish and dressing how I did." The 21-year-old reminded the haters that they told her she would be "hotter" if she acted like a woman.
"And now when I feel comfortable to wear anything remotely feminine or fitting, I CHANGED or am [sic] a sellout… and "what happened to her." oMg iT's not thE sAme Billie. She's just like the rest blah blah," she lamented.
Shutting her haters quickly, Eilish called the critics "true idiots" and warned, "I can be BOTH you f**king bozos. LET WOMEN EXIST!" The seven-time Grammy winner didn't stop there as she further trolled her haters in a subsequent update that read:
FUN FACT! Did you know women are multifaceted!!!!?? Shocking right?? Believe it or not, women can be interested in multiple things 😱😱" She further warned the detractors about equating femininity to weakness while sarcastically reminding them that people had to right to express themselves "differently at different times."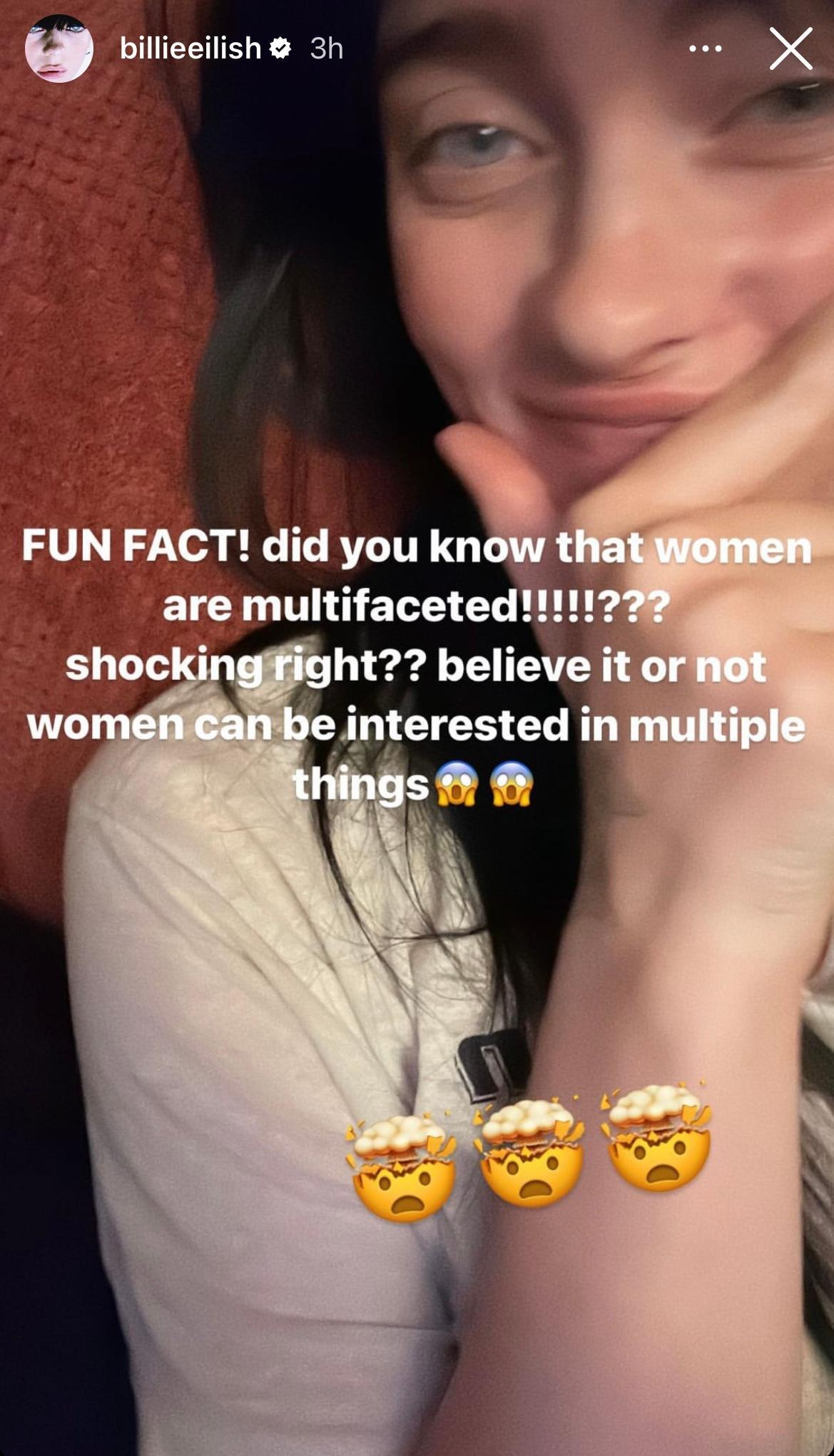 For her final message, Eilish delivered a heavy blow, writing, "Suck my absolute c**k and balls you women hating a** weirdos," before adding a blurred photo of her doing the peace sign. The songwriter's heated response comes after she shared a steamy thirst trap in her first post since splitting from ex Jesse Rutherford.
In an Instagram post on May 25, the Guinness World Record holder reminded fans she is single and thriving. She uploaded a boomerang of her dressed in an illusioned crop top paired with a low-waisted skirt. Fans got a tempting view of Elish's toned midriff and pierced belly button.
The highlight of the snap was the dragon tattoo on the side of her waist which was hard to miss. Located in what looked like a dressing room, the award-winning artist bounded seductively in her chair while biting her lips. While the post garnered over 10 million likes, the comments were filled with negative remarks from some fans.
"what r u doing respectfully," one disappointed fan asked, while another observed, "Damn, the same girl who before she turned 18 said she wears baggy clothes so she doesn't get judged [sic] about her body or sexualized."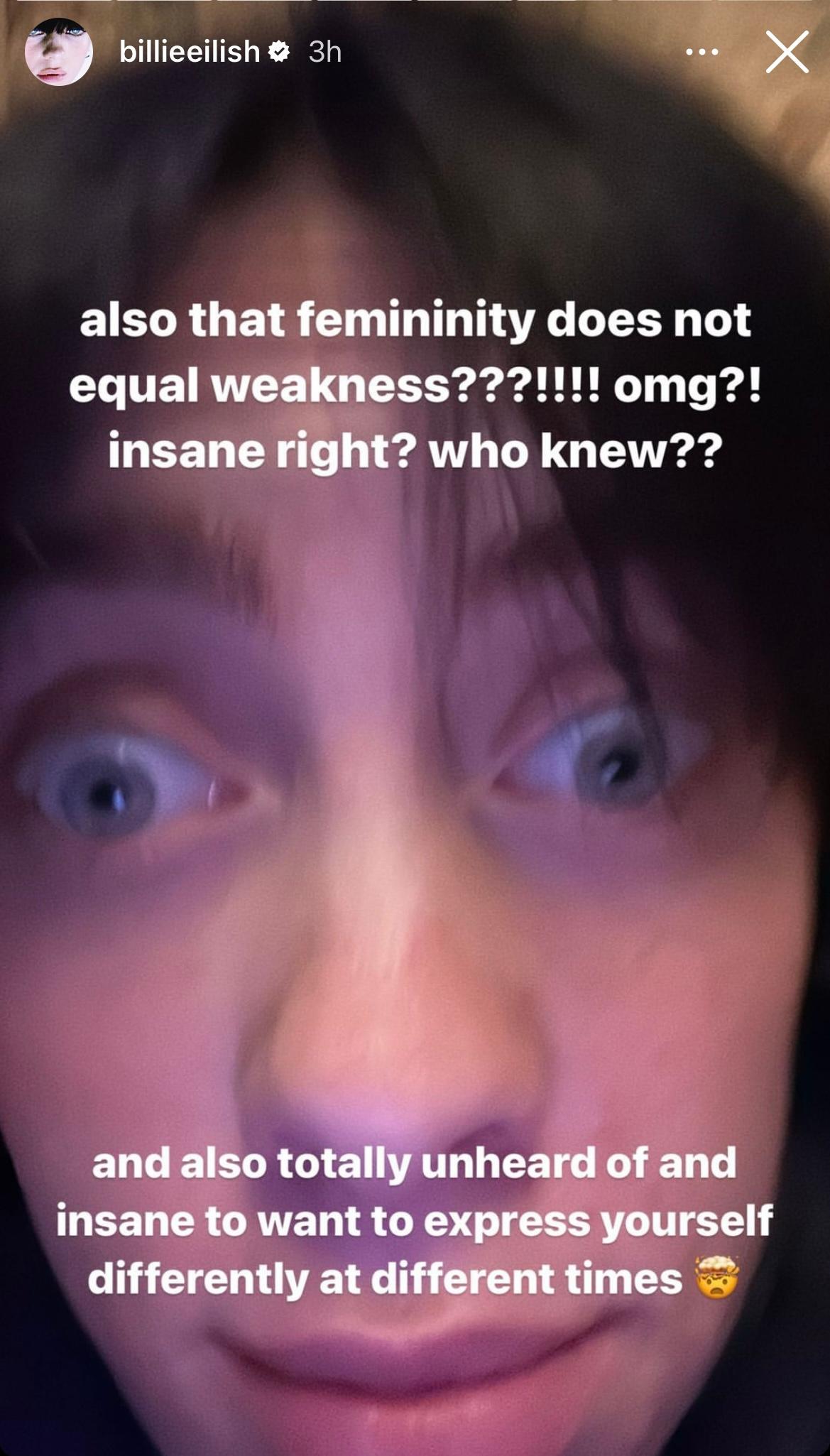 The 'Happier Than Ever Singer's Lingerie Photos Were Labeled Cringey
This isn't the first time Eilish has gotten heat for sensuality in her social media uploads. She was torn apart earlier this year when she dropped a series of provocative snaps wearing a black lingerie set.
She was seen in a low-cut black slip dress that revealed some cleavage paired with Gucci tights that teased her long—Smooth legs. The impressive songwriter was seen in what looked like her room and struck several seductive poses beside her bed.
Eilish had her jet black tresses styled into her signature bangs, and her face was ultimately makeup free, while her blue eyes stole hearts. "you're looking right at me," she captioned the inviting carousel. As expected, the Golden Globe winner was heavily slammed for sexualizing herself.
One pissed fan commented, "My respect is less since you started wearing hideous clothes," while another noted, "Why do these pictures make me sad? Something doesn't feel right. She's definitely in pain of some sort."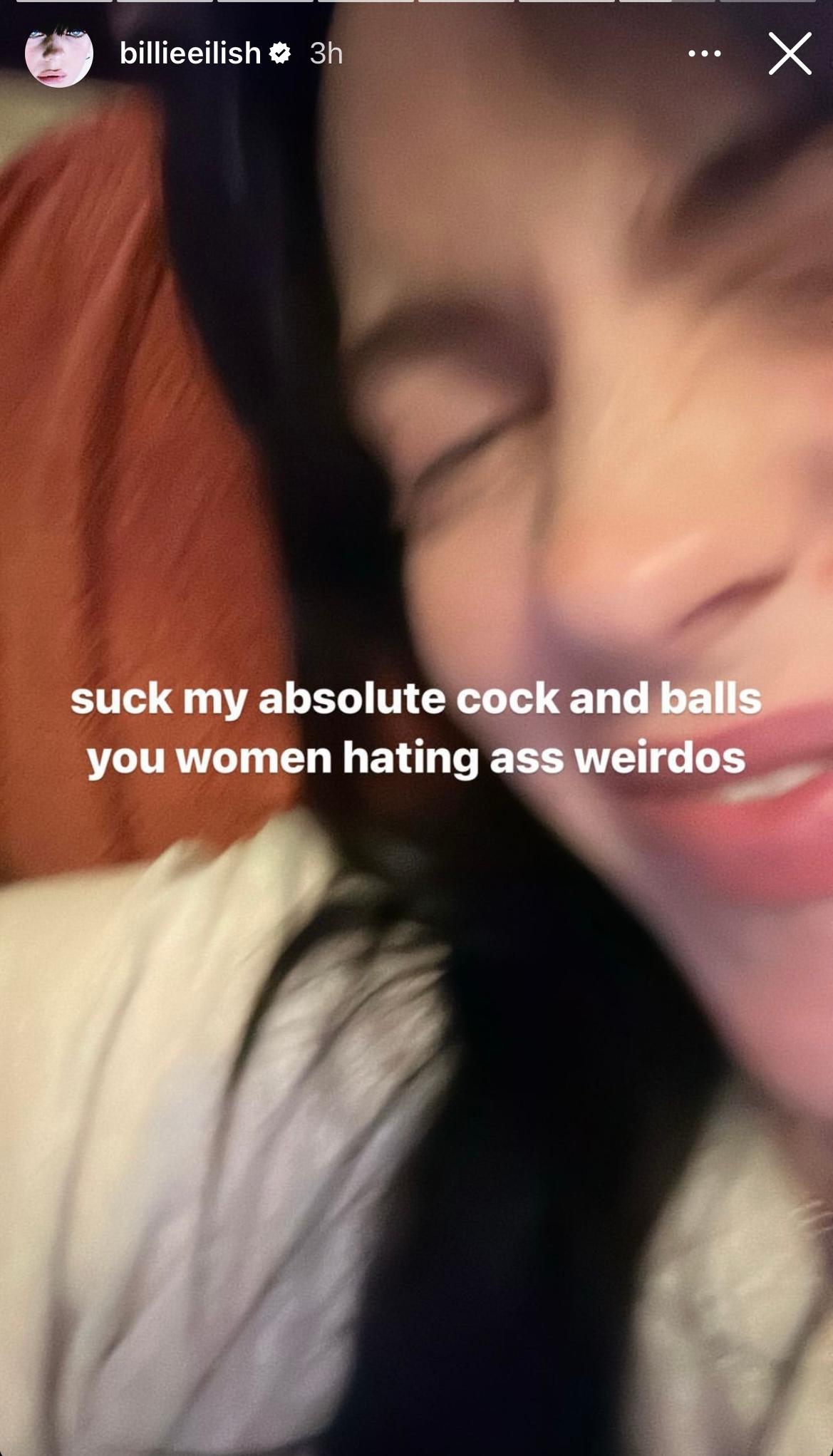 This unimpressed follower shared their sentiment, writing, "I miss the days when you didn't want to be sexualized…. how disappointing that you're just another person playing on their sexuality for attention." However, Eilish was not left undefended, as her core fans slammed the haters for being too uptight.