Khloe Kardashian is taking delight in the results of her intense workout routines as she turns up the heat on social media with her banging body.
Like her stunning sisters, the media personality has no qualms about flaunting her endowed curves while still looking fashionable at all times, which fans recently witnessed in one of her latest Instagram posts.
Khloe Kardashian Showcases Round Backside On Instagram From Vegas Trip Dump
Khloe recently went on a girls' trip to Vegas with her sister Kim Kardashian and their friends and could not help but share photos of her killer outfit.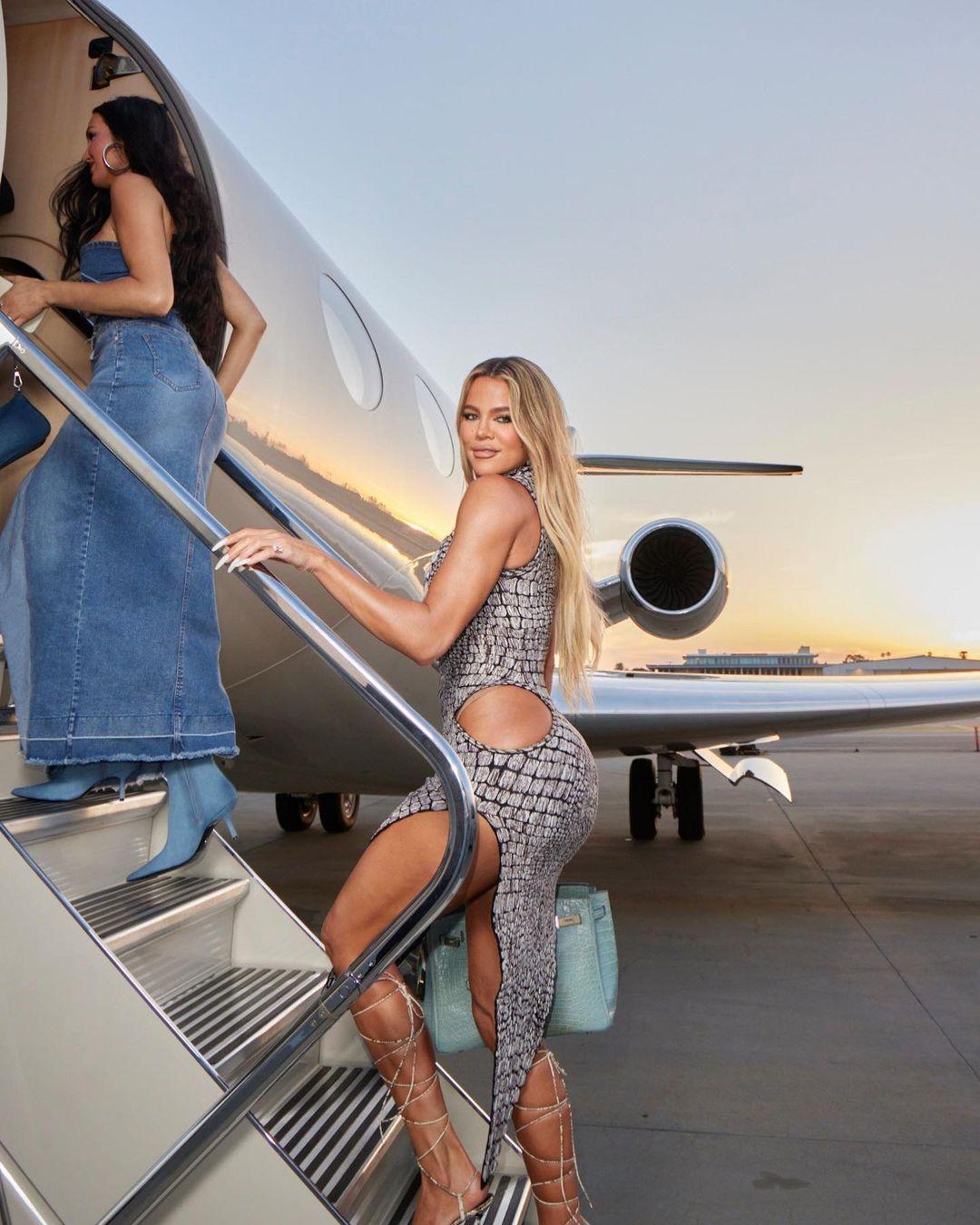 As fans may recall, for Kim's 42nd birthday last year, the girls planned to go to Vegas to see Usher perform during his residency. However, their wish couldn't be fulfilled as the plane couldn't land twice due to weather issues.
However, more than six months later, the girls finally ticked seeing Usher off their bucket list, and Koko, as she is fondly called, gave fans a glimpse of how it went. In the eight pictures posted on her Instagram feed, she rocked a revealing snakeskin dress featuring a massive cutout on her waist area that extended to a bit of part of her behind.
The sleeveless ensemble put her tanned, toned arms on full display and featured a thigh-high slit that gave fans a juicy look at her muscled legs, almost teasing her big butt.
The 38-year-old added more sass to her clothing with a blue-green Birkin bag and nude-colored strappy heels while her blond curls flowed down her back in soft waves. Some of the slides showed her walking up the steps of a plane and looking back at the camera with a suggestive smile.
However, the highlight of her look was how the skin-tight ensemble embraced her round behind and blessed fans with a full view. The camera zoomed in on her dress's exposing cutout in one slide, highlighting her muscled body part. While the Good American co-founder stole the spotlight, her elder sister Kim was seen in the background of one of her photos.
The SKIMS founder chose a sheer black two-piece ensemble with a crop top and a ruched ankle-length skirt.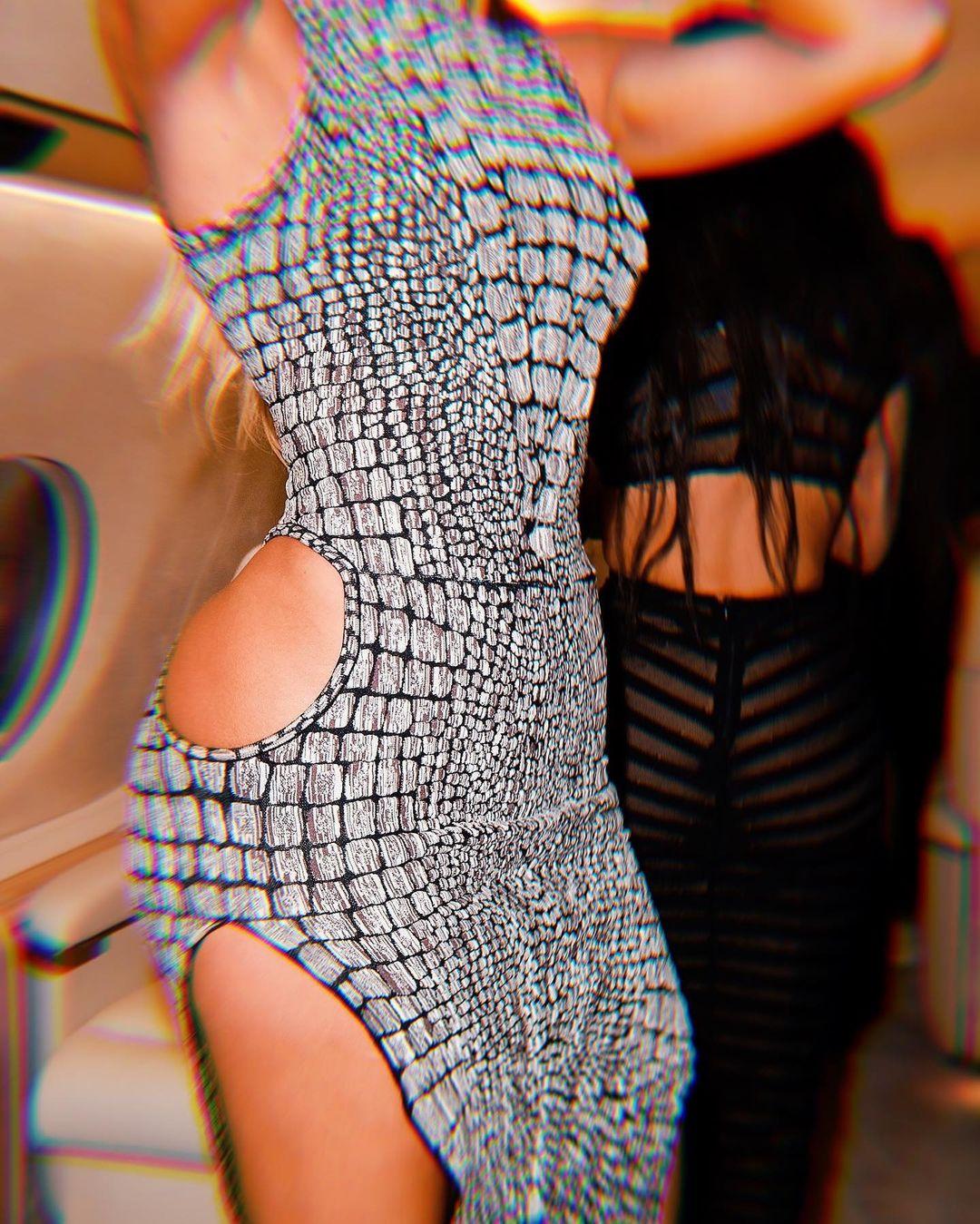 Khloe referenced the group's former Vegas fail in the caption, writing, "That one time, we FINALLY made it to see Usher in Vegas." In no time, many of Khloé's fans took to the comments to gush over her enviable body with exciting words and matching emojis. One follower raved, "You look incredible – SO toned and fit."
Another dropped three heart eyes emojis and wrote, "Omg body," before a third commenter remarked on the "KUWTK" star's thickness, saying, "[God] damn!!! You are thicker than a bow [sic] of oatmeal."
Subsequently, a fan exclaimed, "Ok, arms!!!!" while a fifth was about her "leg muscles." This fan then commented, "Yesss triceps," alongside a red heart emoji. Another admirer wrote, "That body though!!" adding four fire emojis before a Koko supporter wanted to know what "butt workouts" the socialite did.
One fan also noted, "Her butt looks smashed," while asking if the ensemble she had on was from her sister Kim Kardashian's clothing brand Skims. Khloé can credit her magnificent physique to her relentless fitness journey, which she once shared with her millions of followers on the gram.
Per The Blast, the mother-of-two filmed herself late last month getting busy in the gym. In the first black and white video, showing a 4:38 am time stamp, "The Celebrity Apprentice" alum captured herself having cute interactions with her pet.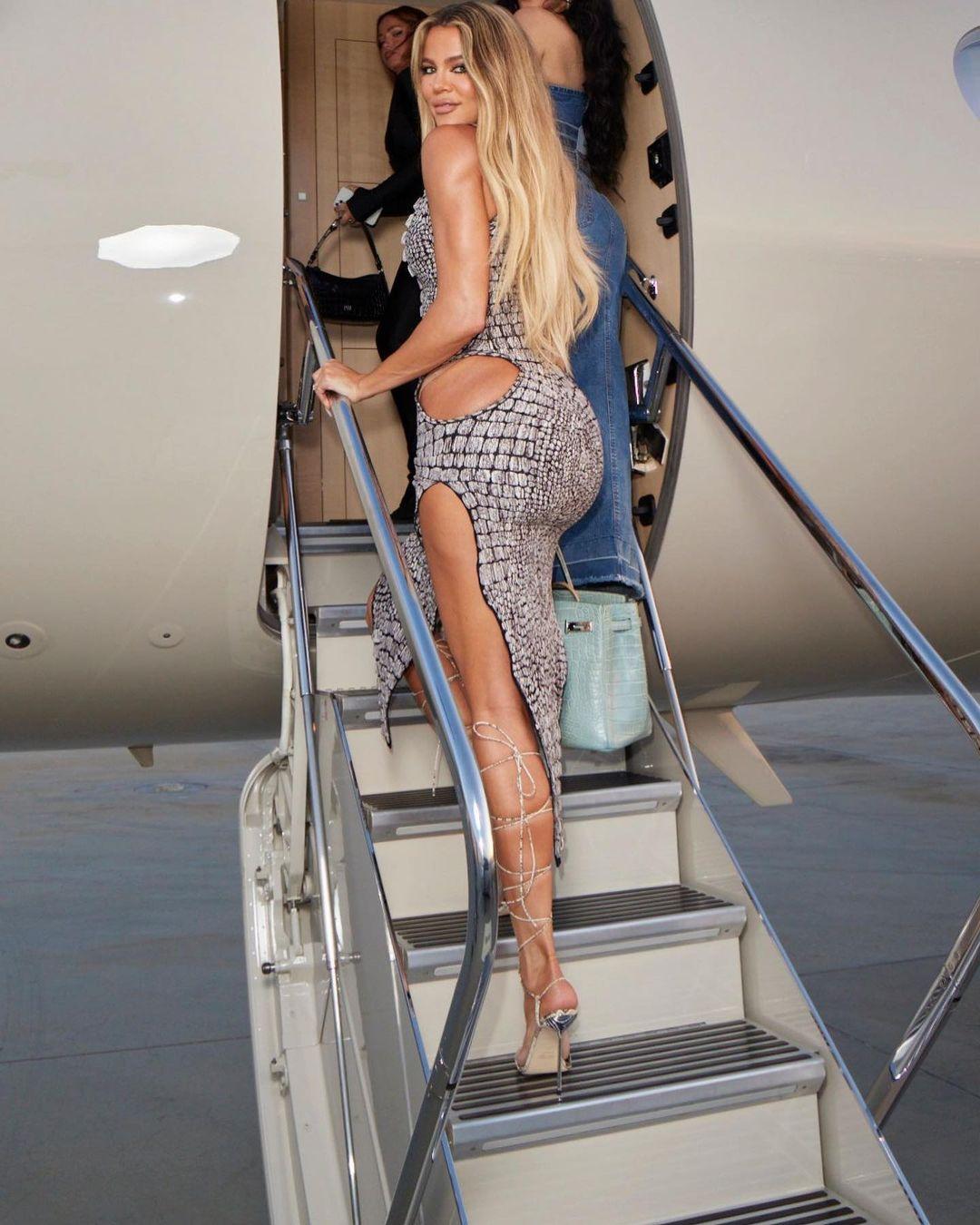 The following post displayed an energized Khloé wearing an all-black sports outfit, giving a side view of her slim mid-riff and bulging heavy dump. Another video showed an exhausted Khloé explaining her exercise routine, divulging that she usually worked out early every time, but 4:30–5 am was always "brutal" for her.
The 'Revenge Body' Producer Got Into Her Mermaid Era In A Skimpy Bikini Bra
Khloe hasn't taken her legs off fans' necks, as she has been all about letting her beauty cause chaos. Just last week, the 38-year-old gave her fans something to discuss when she uploaded a captivating photo of herself giving off mermaid vibes in a tiny bikini top.
She rocked a white bandeau top lined with black, accentuating her bosom while she looked like she had just come out of the water. The "Kocktails with Khloé" host was photographed beside a tree with curly wet hair drawing attention as it flowed down her shoulders.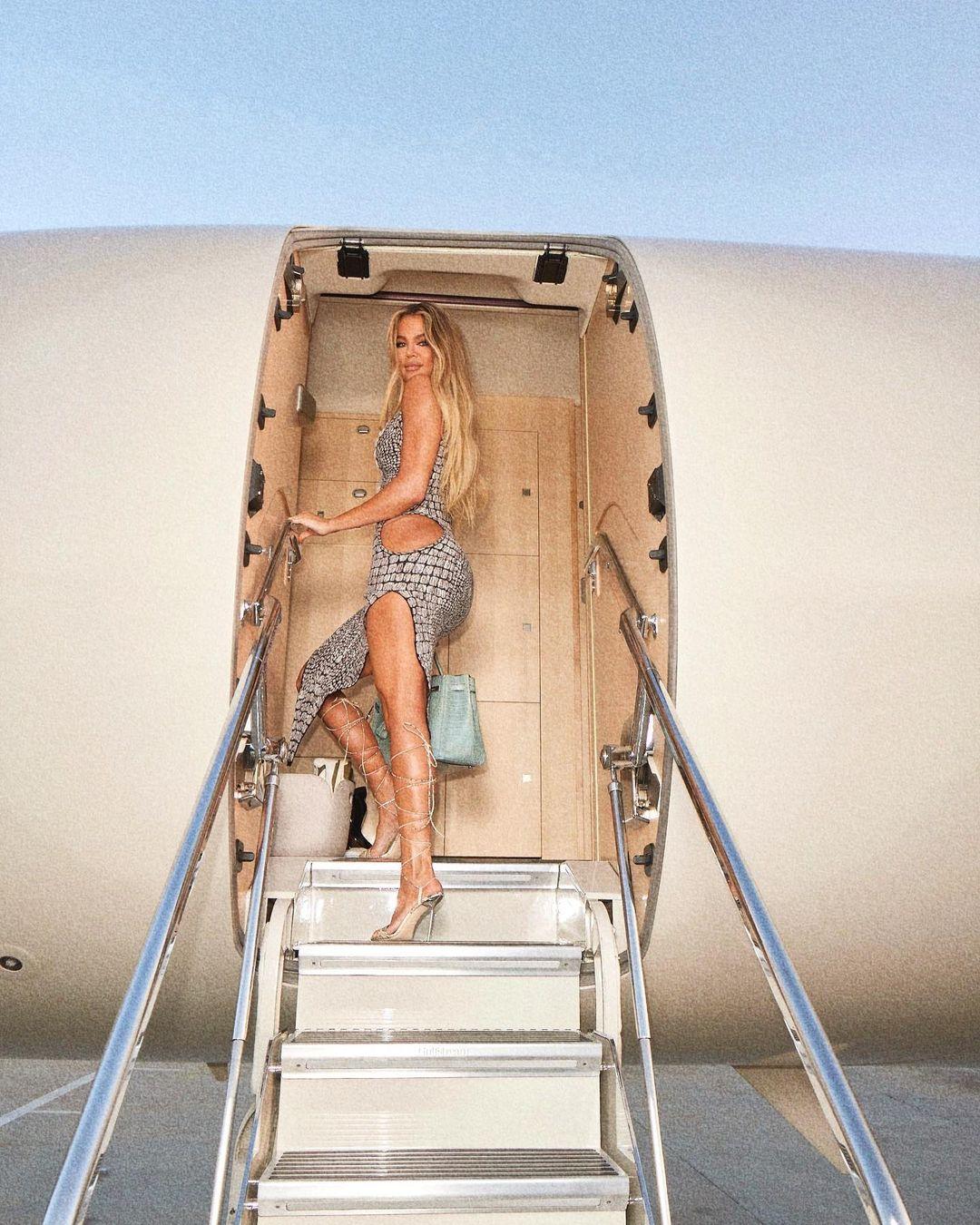 In the caption, she kept her fans in suspense, writing, "Something is brewing," prompting many to try their luck guessing what was "brewing."