New mom Kaley Cuoco is opening up about some of the challenging aspects of motherhood!
Two months after welcoming her first child into the world with her partner Tom Pelphrey and raving about the joys of having her precious daughter, the actress took to the Internet to share the hardly talked-about part of parenting with fans. 
Kaley Cuoco Is Brave For Sharing Realistic Mom Routine
While the "Big Bang Theory" actress is mostly ecstatic when spending time with her daughter, Matilda, there are days when the doting mom struggles to attend to her daughter's needs.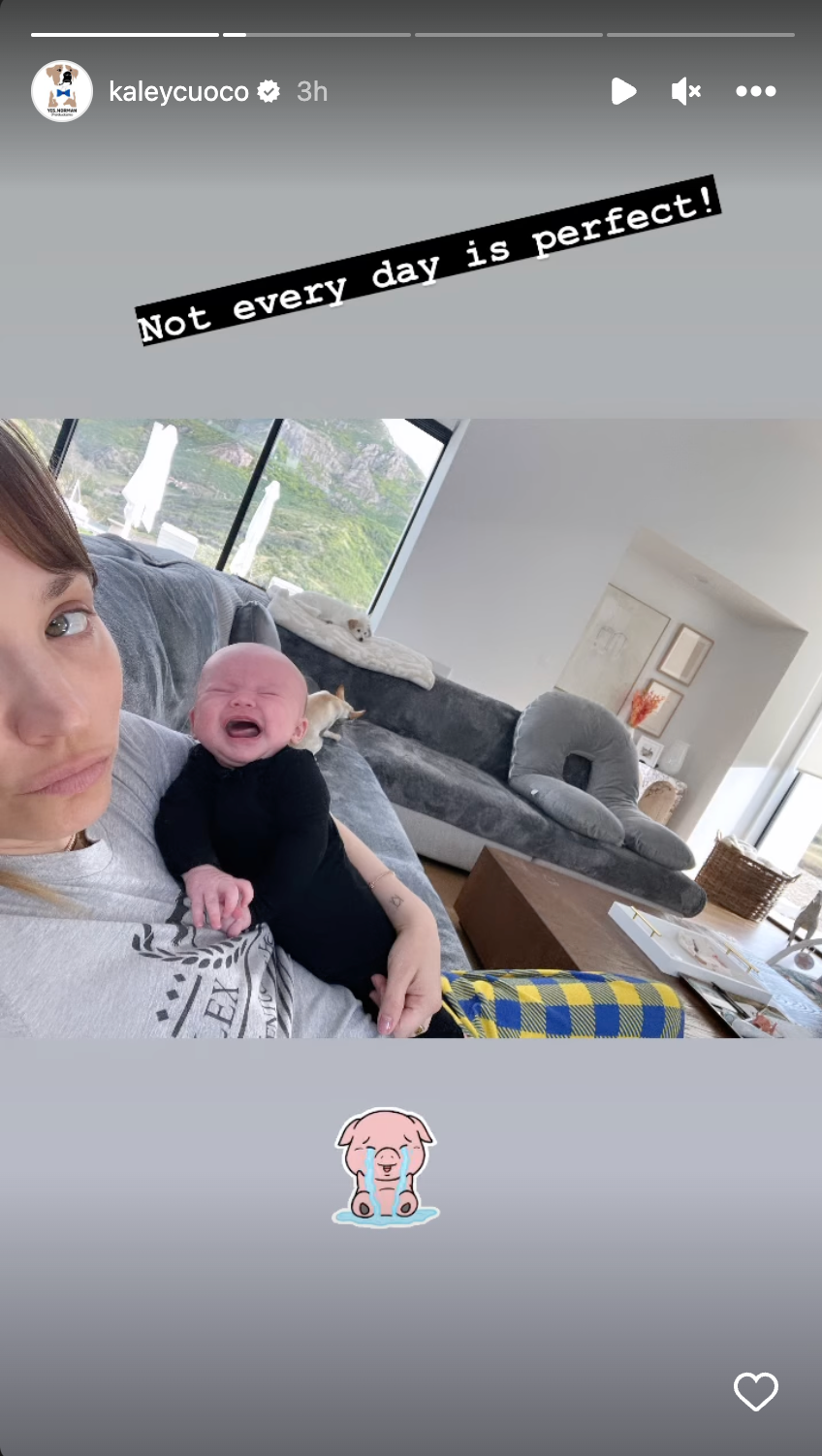 Revealing one of those days to her fans, the actress took to her Instagram Story to post a snap that detailed what a day in the life of a new mom looked like. In the photo, Cuoco appeared to be on mommy duty as she carried a crying Matilda in her arms while lounging in the sitting room of her cozy home.
The actress donned a gray T-shirt and multi-colored checkered PJs bottoms while her little one wore a black long-sleeved onesie. Appearing in the background of the snap were her furry pets, who appeared to be taking a nap while sprawled on the couch. 
Revealing her exhausted face and a wailing baby Matilda, she wrote in the caption, "Not every day is perfect"! She added a baby pig crying emoji at the bottom of her post.
However, in a subsequent post, the mom of one disclosed that some days were better than others and shared a heartwarming picture of baby Matilda looking adorable.
In the snap, the actress dressed her daughter in a two-piece pink baby outfit with a top and trousers. 
Focusing the camera on her baby's face, the little one appeared to be in a better mood as she stared at the camera without throwing any fits. Cuoco gushed about the cute image in the caption, writing, "But most are!" adding several heart emojis to the post.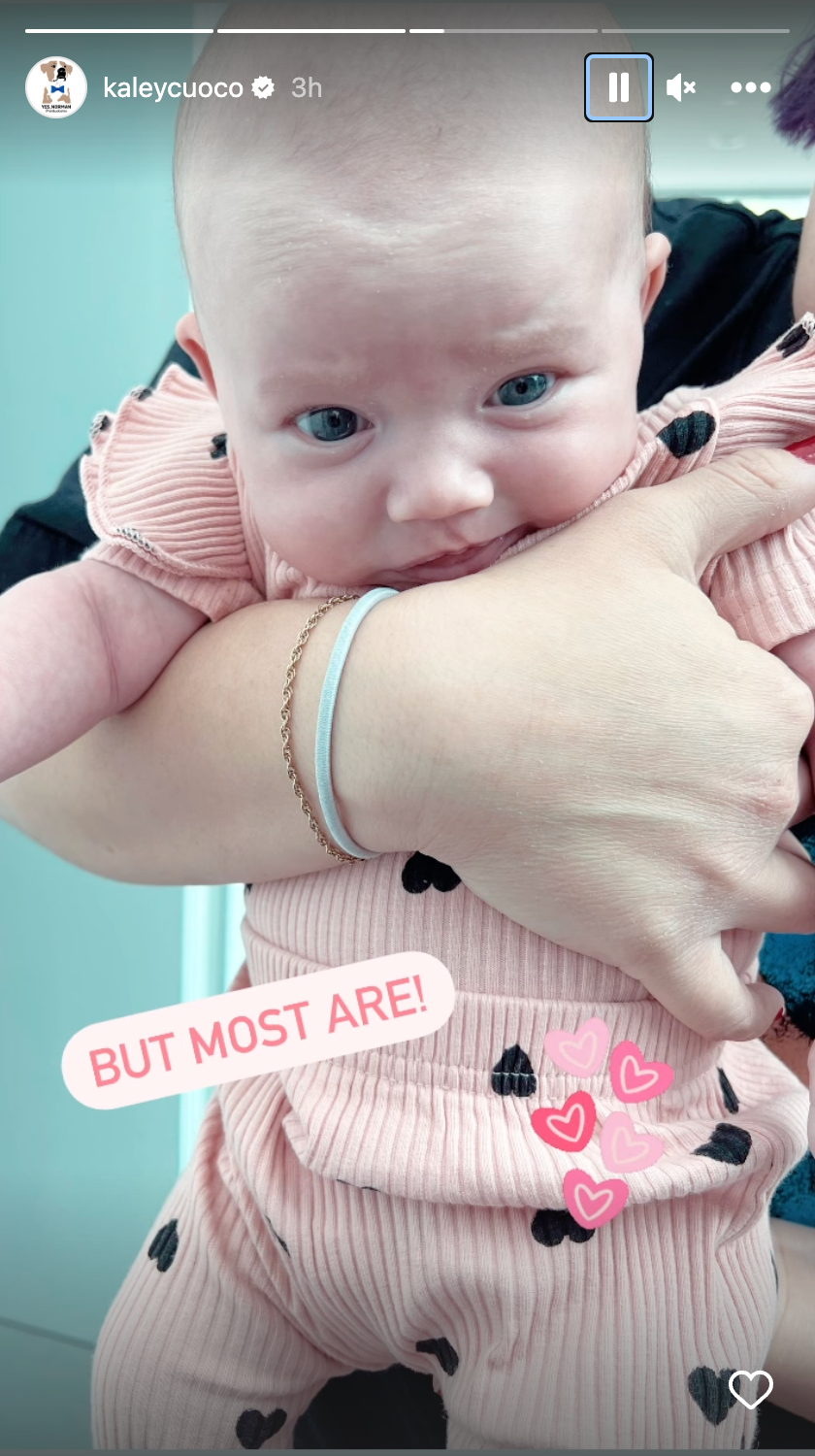 While catering to a newborn might be tough on some days for Cuoco, the "Charmed" actress has often declared that she doesn't need a manual or parenting book to help guide her as a new mom.
The doting mom shared her opinion about parenting books while attending the John Ritter Foundation's 20th annual Fundraiser in Los Angeles. Appearing on the red carpet dressed in the cutest pink ensemble, Cuoco spared some time to discuss her new life as a mother of one with a news outlet.
When asked whether her opinion on learning more about motherhood from parenting books had changed, she said, "Still haven't read a damn thing. We find ourselves in a very realistic situation. We're going with the flow. She tells us what she wants; it's obvious, like one of three things."
The "Meet Cute" actress hinted that her partner Pelphrey also didn't mind winging it with her. The star patted herself on the back for killing parenting without following the book route and appreciated her baby girl for making the job easy.
She declared, "She's cool. She's just awesome, and we love it. We love being at home with her. We didn't read anything, and it's working for us."
As for her daughter's well-being in general, she revealed, "She's five weeks today. Everyone's happy, everyone's good… She's thriving; she's the best!"
The Teen Choice Award winner added that she is "so obsessed" with her baby and has turned out to be one of those moms that post everything their child does on the Internet.
She said, "I've become that mom who posts every freaking thing. She does something, and I'm like, 'I have to post that"! Describing her experience as a first-time mom with three perfect words, she declared, "Special, exciting, and insane – but in the best way."
Cuoco Returned To The Gym A Month After Giving Birth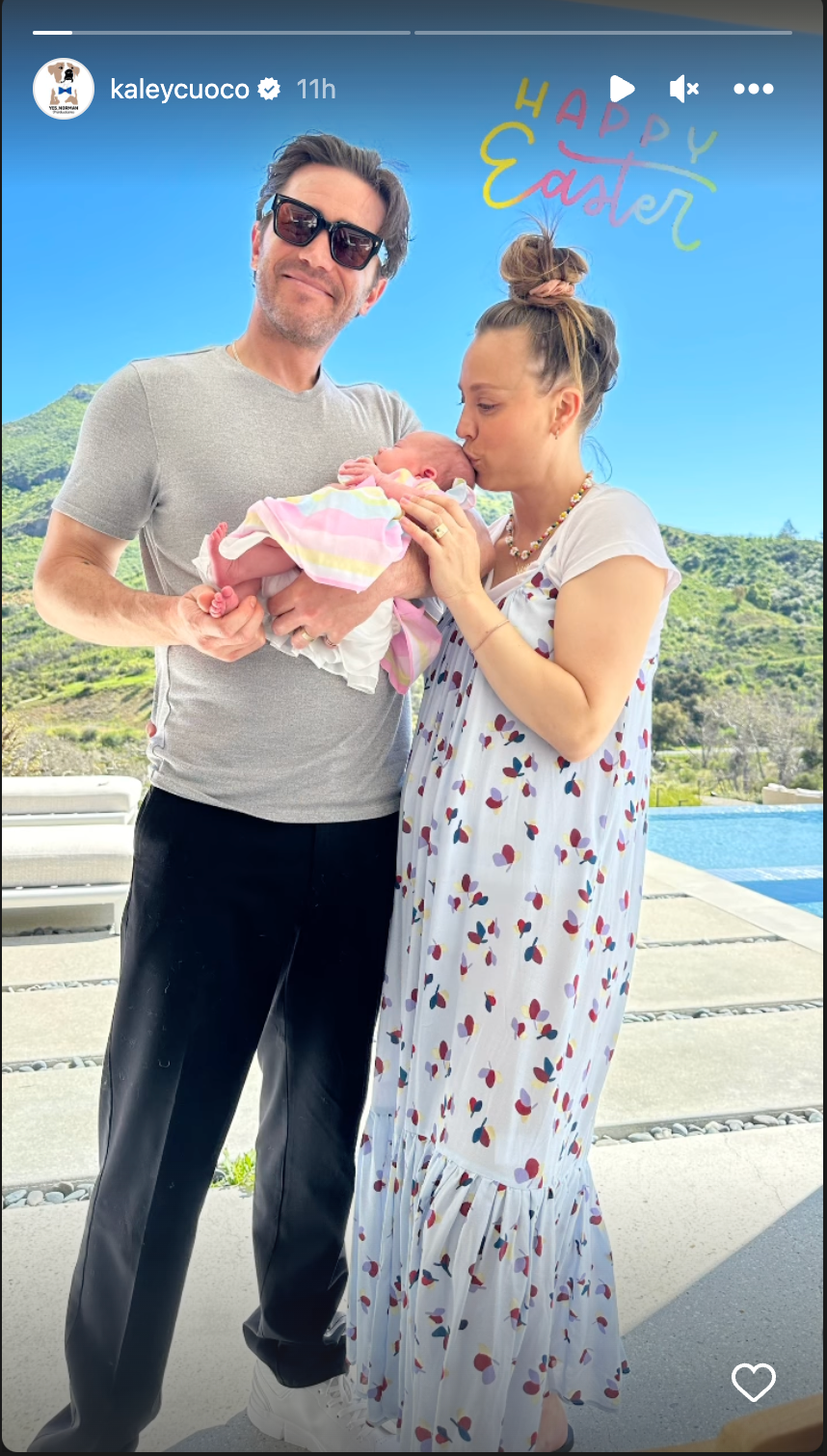 While the new mom is adapting to the tasking duties of motherhood, she appears to be balancing it well by creating "me time" for herself.
Per The Blast, the California native resumed her gym exercises to burn out the excess weight she gained while pregnant with baby Matilda.
She took to her Instagram Story to show off her time at the gym with her fitness instructor. She reposted a mirror selfie snap featuring herself and her instructor, Ryan Sorensen, alongside a caption that read, "We back 💪💪👍 Finally"!
In the photo, the pair, ready to begin their workout session, struck a peace sign pose and seemed excited to burn off some calories. 
Cuoco appeared sporty, dressed in a white t-shirt and low-waist black sweatpants that showed a bit of her surprisingly trimmed stomach. 
Meanwhile, Sorensen donned a gray two-piece hooded sweatshirt which he paired with a black face cap, white socks, and black sneakers.