Rebel Wilson is gearing up for her role in an upcoming action movie, making fans anticipate her brilliant performance as usual.
Wilson, who needs little to no introduction based on the significant roles she has played in the movie industry, became a sensational star after playing the role of "Fat Amy" in the "Pitch Perfect" trilogy, which remains the highest-grossing musical comedy film of all time. 
The actress has since solidified her place in the competitive Hollywood community and starred in many hit movies.
Rebel Wilson Gives Main Character Energy While Flaunting Trimmed Body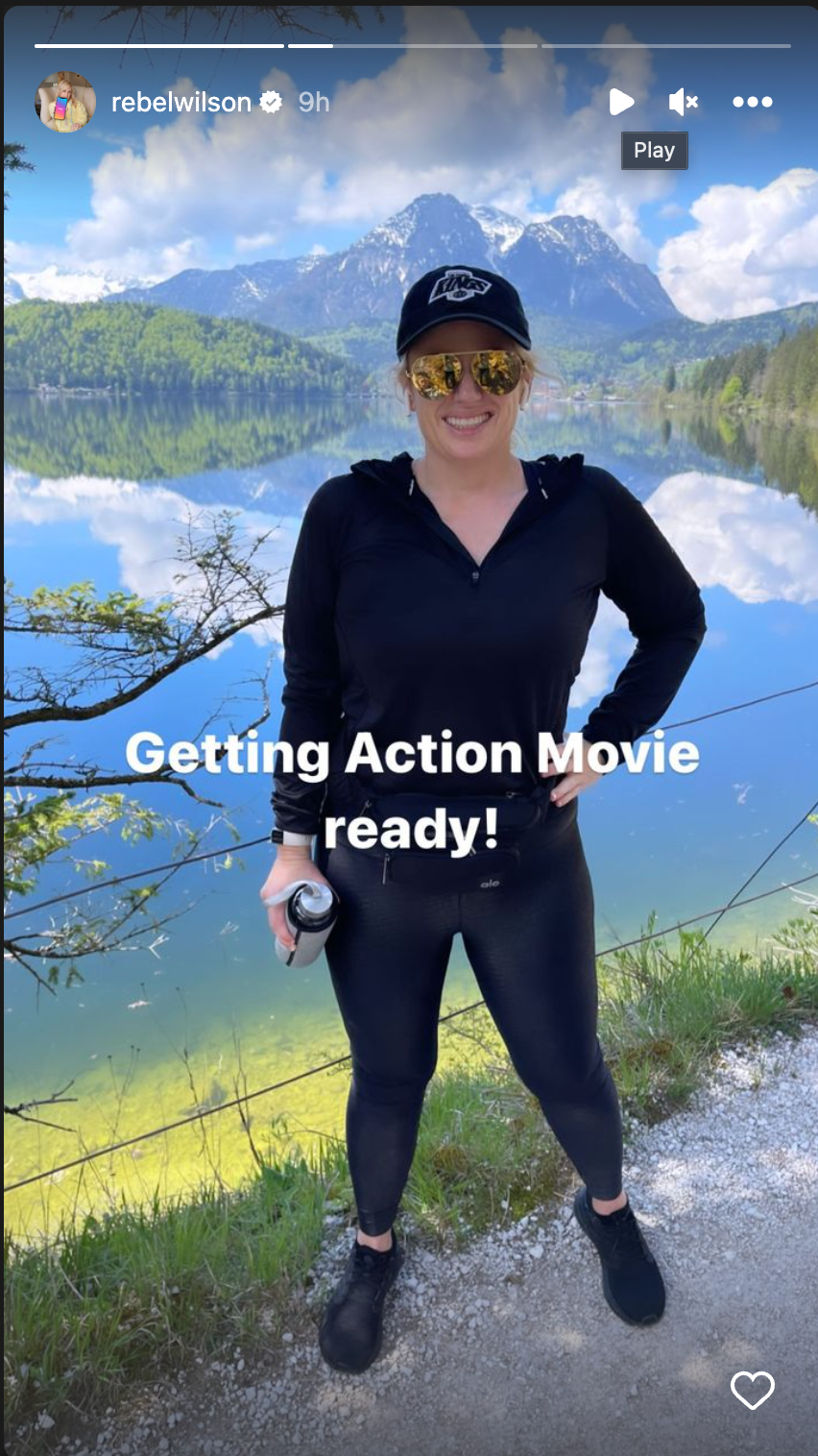 The Australian actress/producer, whose weight loss journey over the last three years has resonated with a handful of her supporters, continues to grind on her rigorous workout routine to stay in shape.
Often flaunting her toned figure on the internet, she once again took to her Instagram Story to share a picture of herself looking gorgeous and fit.
In the snap, the "Pitch Perfect" actress appeared to be hiking as she donned a black sweater and matching leggings that hugged her toned thighs. She paired her sporty ensemble with black sneakers and hid her blonde hair in a fancy face cap.
Accessorizing her outfit, she wore gold sunglasses and a smart wristwatch. She also wore a fanny pack on her waist and carried a gray water bottle. Striking a pose on a sandy hill surrounded by high mountains and a lake, Wilson smiled enthusiastically for the camera and added a caption to her post.
She updated her fans about what she'd been up to lately, writing, "Getting Action Movie ready"! In a subsequent post, the mom of one shared a six-second clip to her Story, revealing part of her workout routine.
Wilson briefly captured herself in the short video as she strolled around a path surrounded by mountains, green grass, and trees. The blonde-haired beauty wore a white T-shirt and rocked her natural face. She placed AirPods in her ears as she journeyed alone. 
Wilson seemed excited about her walk as she smiled brightly for the camera before turning the device around to give a good view of her greenery surroundings. Simply attaching a caption to the post, she wrote, "Still walking."
Wilson's preparation can be attributed to her role in the upcoming action-comedy "Bride Hard." Per DEADLINE, the movie, directed by Simon West, is set to show the life of "badass secret agent Sam (played by Wilson), who has been tasked with one of her most challenging missions yet — being a Maid of Honor for her childhood best friend
The film combines action, adventure, and comedy. West further disclosed his thought process about his new work, saying, "These are genres I love to mix. I've done it in the past with films like 'Expendables 2' or even going back to 'Con-Air' and 'Tomb Raider.'" 
The director added, "I think audiences will love this. It operates on so many levels. It's exciting, glamorous, a huge ensemble cast, and with Rebel Wilson in the lead, it's guaranteed to be hilarious."
Regarding the financing and production of the movie, "Balcony 9 Productions" will be handling it. Meanwhile, the producers in the film include; Joel David Moore and Max Osswald (Some Other Woman), Cassian Elwes (Mudbound), and Colleen Camp (Knock Knock).
Wilson Finally Unveiled Her Baby's Face After Months
Wilson's update about her preparation for her new role comes weeks over a month after she delighted fans with the beautiful gift of her daughter's face.
As you may recall, Wilson welcomed her daughter via surrogacy in November of 2022 and has insisted on shielding her baby's face from the world until recently.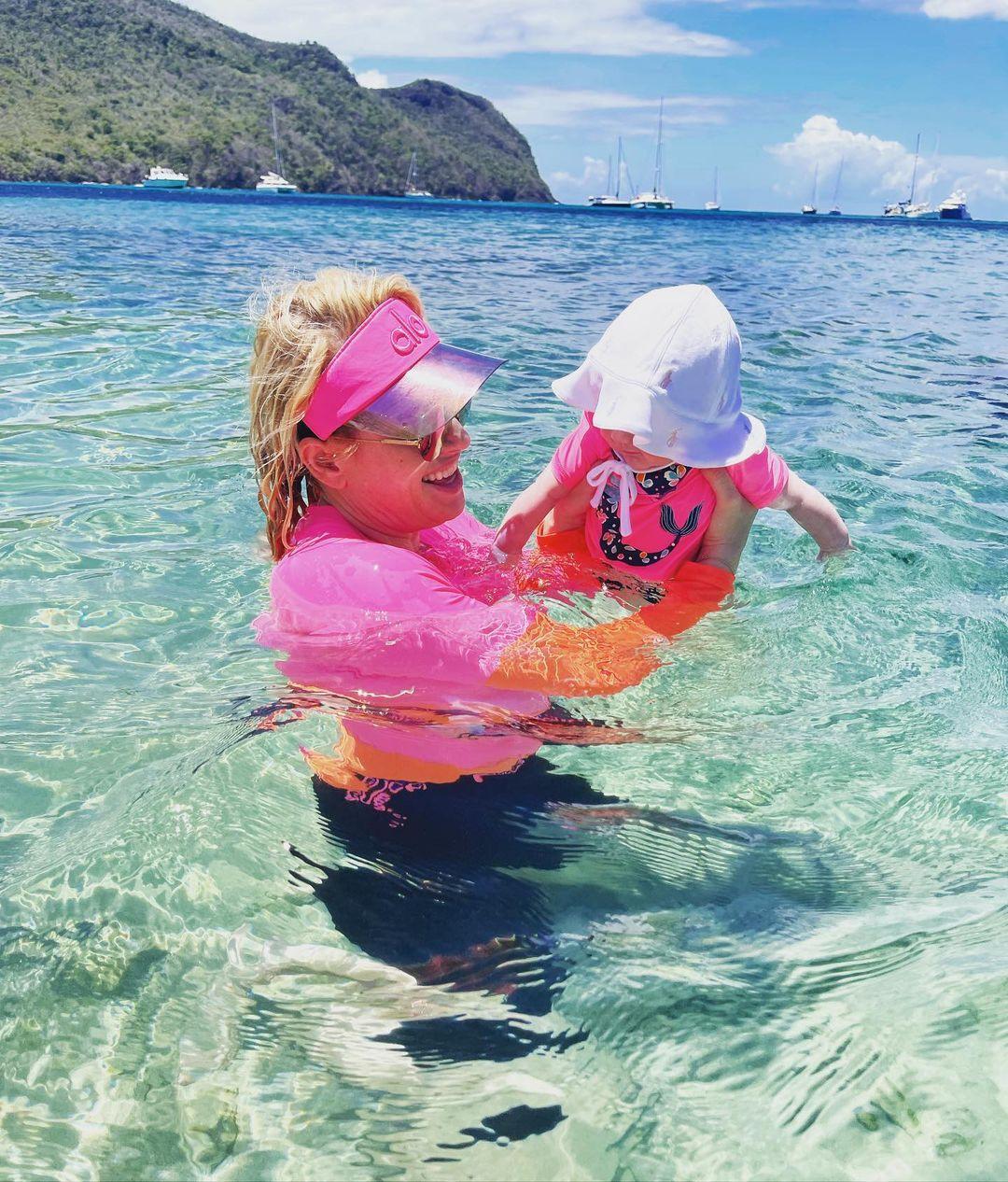 However, the actress finally changed her heart after sharing glimpses of the little one's face while traveling to the Caribbean with her fiancée, Ramona Agruma. She took to her Instagram page to post a scenic video detailing her surroundings and the beautiful view she enjoyed with her loved ones.
Ensuring that her child's face was visible in the video, the clip began with a drone view of the mother and daughter duo before showing the island surrounded by blue-green waters on which a few boats swayed.
The short clip was set to The Andrew Sisters' "Rum and Coca-cola" while Wilson declared in the caption, "Rebels of the Caribbean."