Nick Cannon is sharing how he handles being father-of-twelve children.
The television personality who welcomed the kids with six different partners has stated that he is open to having more. However, with the ones he has now, he continuously strives to maintain a positive relationship with each of them despite the challenges.
Nick Cannon Shares His Reasoning For Keeping His 11 Children Separated
The actor recently disclosed his perspective on allowing each child to have unique experiences and relationships with him. In an exclusive interview with PEOPLE, he shared his approach to parenting his children, explaining why he prefers spending individual time with each of his kids rather than bringing them all together. 
Although he admitted they sometimes came together "when necessary," the 42-year-old believed he was the only beneficiary. He said, "I feel like qualitative experiences are when I can give everyone their own experience,' adding:
"I actually love stepping into their world. Going to their sports games or giving them their personal time for the holidays. So I have no problem with bouncing around."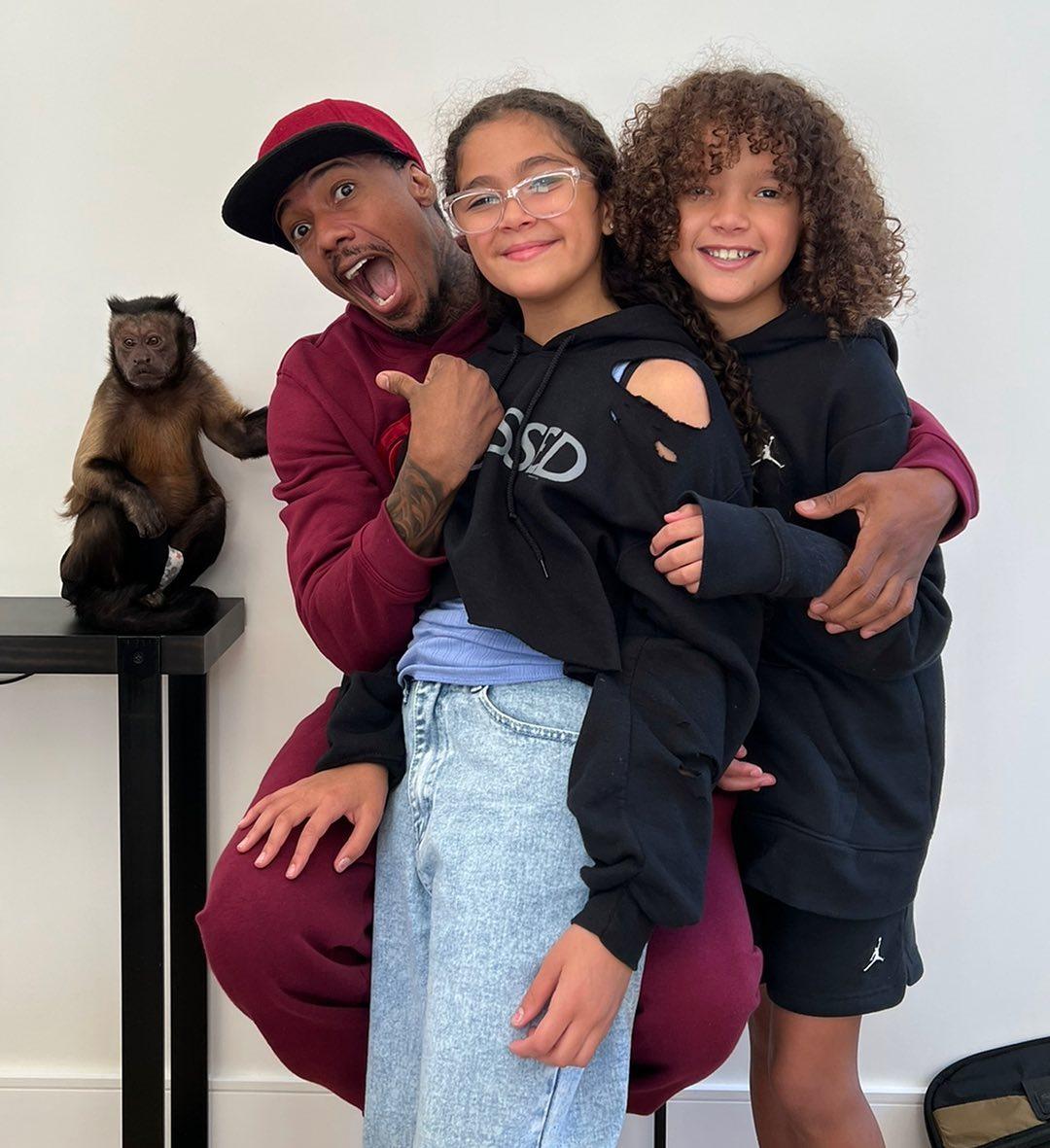 Cannon anticipates that as his children age and he slows down, they might all start coming to him in one place. He stated, "I think it works much better [right now]. Because everyone's busy, not just me, it works to be able to take the time to go to them and show the value of being with them and not to force anyone to come to me." 
As for when he plans to stop procreating, the actor revealed that he is leaving it up to God to decide. In an interview with ET, the "Wild 'n Out" host shared his plans for the future while acknowledging that God would ultimately choose when he is done having kids.
Cannon stated that he already has his hands full and is focused on his current family. However, he added a playful note, saying, "But when I'm 85, you never know. I might [decide to have more]."
He also shared his thoughts on a viral TikTok video featuring his ex-wife, Mariah Carey, and their daughter, Monroe, alongside Kim Kardashian and her daughter, North. He noted that although he was surprised by the collaboration, given his past relationship with Kardashian, he considered it "epic."
He added that the fact that the song was one he worked on with Carey made it even more special. On what he felt about Monroe catching the "entertainment bug," he stated, "You can see that connection between her and her mom. It's beautiful that they get to have fun with each other."
'The Masked Singer' Host Sets The Record Straight About Giving Baby Mamas Monthly Allowances
Last month the TV personality addressed the controversy surrounding his use of the term "provider" when referring to his relationships with his baby mamas. Per The Blast, Cannon clarified that he does not give the mother of his children a "monthly allowance."
He revealed that he does not follow a specific procedure for providing financial support to them, preferring to be flexible in his approach. He explained further, "I don't give myself that guideline. What they need, they get it," adding, "There's never been something that one of the mothers of my children has asked for and didn't receive."
The "America's Got Talent" host expressed his utmost respect and admiration for his baby mamas, acknowledging their tremendous sacrifice by carrying and birthing their offspring. He stated that despite any disagreements or complications that might arise, he would never speak ill or be disrespectful to any of his women.
In an interview with Thembi Mawema of "The Shade Room," Cannon admitted that he wished he had fathered a child with Christina Milian and felt sad after finding out in 2019 that she was expecting a child that was not his.
After co-starring in the film "Love Don't Cost A Thing," the pair had a romantic relationship that lasted for two years. The actor disclosed that they had discussed having a child together as a couple, but it did not happen to them.