Heather Rae El Moussa is taking a walk down memory lane.
The real estate agent is known for co-hosting the HGTV show "The Flipping El Moussas" with her husband, Tarek El Moussa. His mother, Dominique, has been supportive in Heather's life, especially during her pregnancy.
Heather Rae El Moussa Shares Heartfelt Throwback Of Double Surprise For Mother-In-Law
The reality TV star recently shared a heartwarming throwback on her Instagram account. The post featured a surprise for Dominique, adding a sentimental touch to the family's already close relationship.
In the video posted on HGTV's page, Tarek could be heard describing his mother as frugal and saying she was unlikely to spend money on luxuries, even if she had the means to do so. He then revealed that because of that, they would buy her a new car that was safe for her to drive.
View this post on Instagram
The clip then showed the 68-year-old coming down the steps to her new shiny red car, exclaiming excitedly as she got in the driver's seat. For the second surprise, they took her to the car's boot, where a box was placed beside a cute white onesie. Immediately she saw it, Dominique correctly deduced that Heather was pregnant, emotionally hugging her. 
The heartwarming post which was captioned, "Beep, beep! Surprise, mom! 🚗 👶 ❤️ #FlippingElMoussas #Surprise #Family," was met with comments from viewers of the show who thought the moment was special. One follower wrote, "They are awesome! Heather adores him ! And mom is great! ❤️," while another gushed, "Omg! I love this 😍😍😍 two surprises at once, wow!!"
A fan described the couple as a "wonderful son and daughter-in-law ❤️," This person opined that the surprise was "thoughtful and generous." The closeness between Tarek's mother and Heather is evident as she goes out of her way to compliment the 35-year-old's parenting abilities.
An example of such a time was reported by Heavy, who shared that the older woman expressed her opinion on her daughter-in-law's mothering skills in a comment on the publication's Facebook page. Dominique wrote:
"Heather is a wonderful mom, very caring and nurturing," and conveyed her appreciation for her nurturing nature and efforts to ensure her son's well-being, especially considering Tarek's history of health issues. She stated, "I am so grateful and delighted to add a new grandson in my life, ❤️."
Most of the health issues mentioned occurred before their relationship started in 2019. As fans would recall, the 41-year-old was diagnosed with thyroid cancer in 2013 while married to his ex-wife Christina Hall.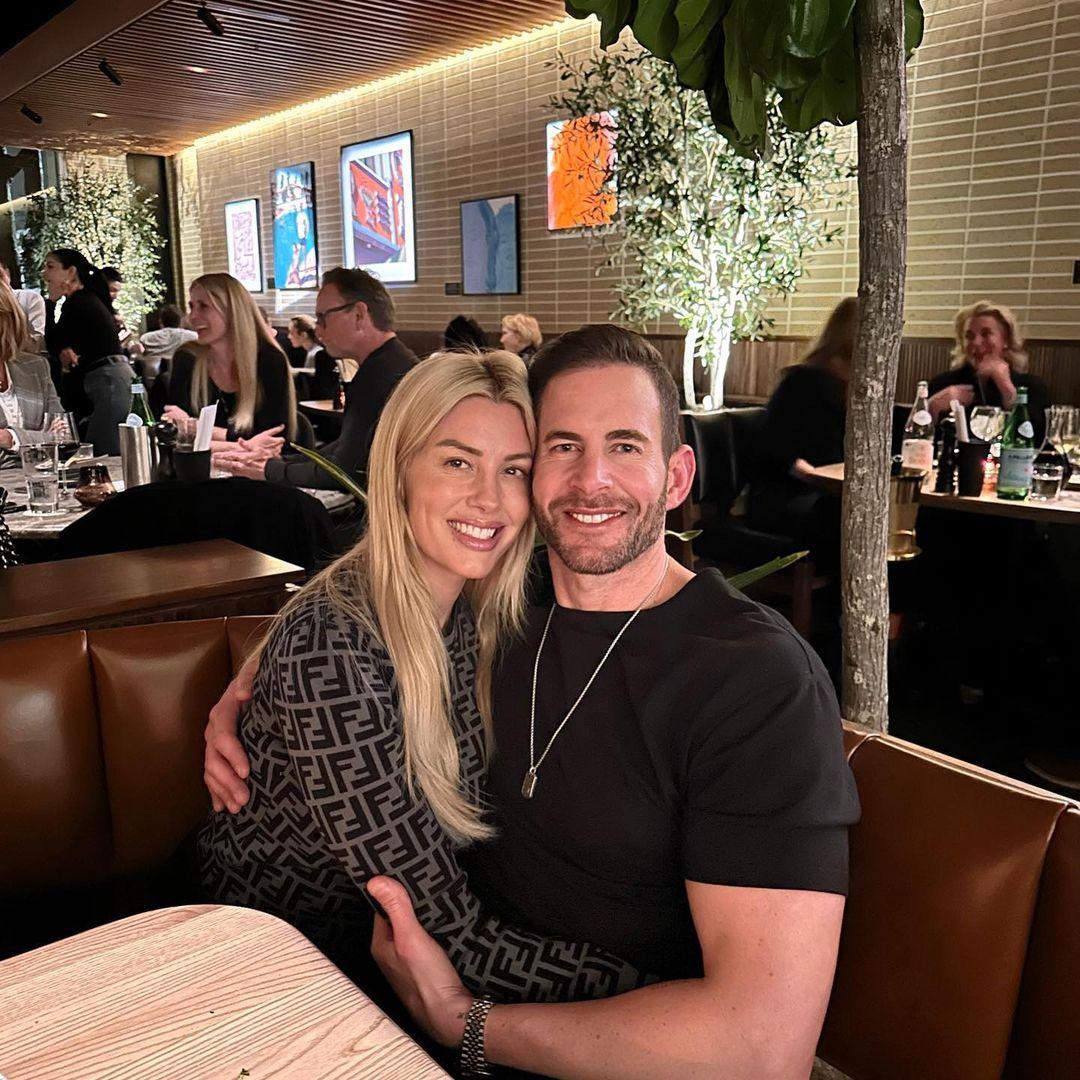 He had gone to the doctor about the lump on his neck, but was told it was not serious until a registered nurse and fan, Ryan Read, emailed the production company to suggest that he seek medical advice.
When he paid heed and sought a second opinion, he was diagnosed with Thyroid cancer and, after a more extensive checkup, testicular cancer. He also underwent two back surgeries – the first was four months after healing from cancer, and the second was in 2018. 
The 'Selling Sunset' Star Opens Up About Postpartum Anxiety In Heartfelt Social Media Post
The "Selling Sunset" star shared a vulnerable side of motherhood as she opened up about her struggles as a new mother. The Blast reported that the television personality shared her experience of leaving her baby for the first time and the challenges of navigating motherhood. 
In the post, the blonde beauty looked stunning in a gray robe with a high ponytail and beautiful makeup. However, the caption revealed a more vulnerable side as she admitted, "Mommyhood takes a lot out of you."
The actress opened up about the emotional toll of leaving Tristan for the first time and disclosed, "I cried the first time I was away from him for 4 hours because honestly, my whole world surrounds Tristan, and it's hard to think of anything else."
In addition, she described how her schedule was dictated by the baby and noted that having a newborn "completely diminishes any routine." Notwithstanding, she stated, "I have loved every second of the newborn stage, and I wouldn't change anything. I also know that it'll get easier and that l'Il get back to feeling more like myself again… baby steps 😉🤍."