Chanen and Juwan Johnson have chosen a name for their baby girl! But are they sharing that with the world? Not just yet.
The couple, who shares much of their lives on TikTok and have a loyal following of nearly 3 million people, decided to tease their fans a bit about the baby's name in a cute video. Let the guessing game begin…
Chanen And Juwan Johnson Shared That Their Baby's Name Has Been Chosen!
In a recently shared TikTok video, the content creator and her NFL player husband teased their followers that a name has been chosen. They even shared a hint, so many of their followers are on the hunt for name possibilities.
What we know from the video – the baby's initials appear to be JCJ – and many of the couple's followers took to the comment section to leave their guesses.
The video has received more than 1 million views in the four days since it's been shared, and has nearly 2,000 comments, most of which are name guesses.
Some of the guesses include Joy, Josie, Janessa, Joelle, Jolie, Juanita, Jaycee, Jessica, and Juniper.
One follower is playing full-on detective. "JCJ are the initials?? Hat?? BRB GETTING TO WORK," they wrote. Another asked, "Why Chan! Why do you always keep us guessing?"
Other comments, that weren't necessarily name related, were pregnancy compliments and support. "Girl you obviously look stunning every day…but this picture of you is on another level! I mean Gorgeous," one follower wrote. Another added, "I've never been so happy for someone I didn't know like congratulations to y'all."
Juwan And Chanen Johnson Announced Their Rainbow Baby In January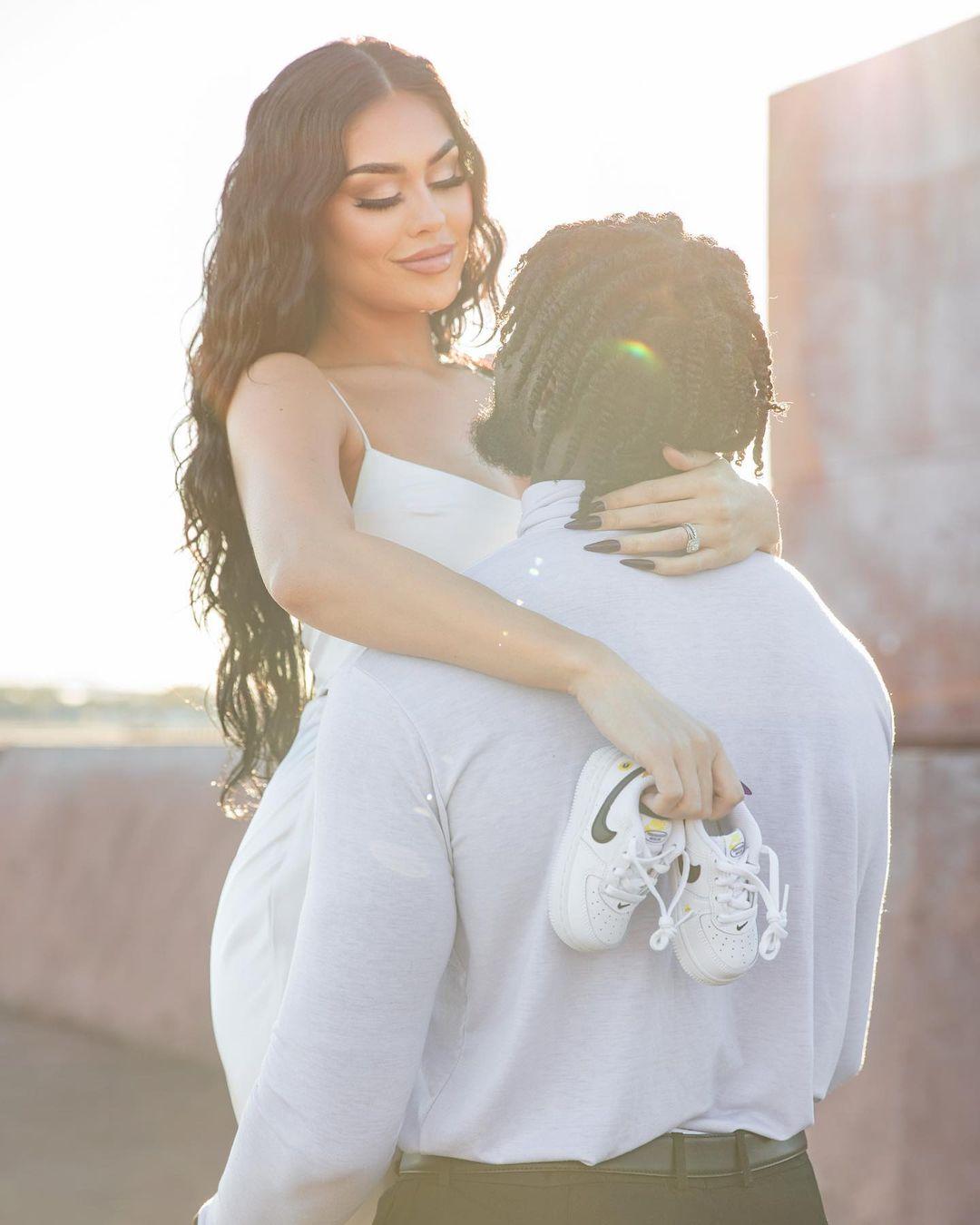 Chanen has shared the couple's fertility journey, ups and downs, with their social media followers. Last year, Chanen was pregnant two times before this pregnancy and sadly suffered two miscarriages. Shortly after announcing they were expecting, Chanen exclusively told The Blast why she's shared so much of her journey with the public.
"I've talked so much about my experiences. It sucks how many women go through this and feel they have to keep it to themselves. I felt I needed to talk about it and by sharing it hopefully it helps. I've had so many women reach out to me and express that. It's been a part of my healing process," she said.
"The ups and downs were definitely intense. We got pregnant in March, lost in June, pregnant again in July and lost that one. We found out about this pregnancy in November."
She further explained the stress involved with having multiple pregnancies in a short period of time and how that affects her this time around.
"Having multiple pregnancies before this one is extra stressful," she said. "I'm a little more anxious than the average pregnant woman. But this time around, I believed this was it."
Since announcing they are expecting, they've shared much of the pregnancy with their fans, including their gender reveal when they found out they are expecting a baby girl.
While many of the couple's TikTok videos are purely fun, some have a more serious tone, but regardless of the type of video they share, so many people can relate and are supporting them from afar.
At 5 months pregnant, they shared a video captioned, "Us realizing we are 5 months pregnant with our daughter," while showing a video of Juwan holding Chanen's baby bump. Then the scene transitions to the Lightning McQueen video trend with the caption, "Our 2 angel babies cheering her on in heaven."
"Oh I didn't expect that to hurt so bad," one follower said. "And just like that I'm crying," wrote another.
Another follower could relate and shared, "I felt this and think about my angel babies often."