Sharna Burgess is not a fan of her son becoming more independent as the day goes by!
The ballroom dancer welcomed her son Zane in June 2022 with her boyfriend, Brian Austin Green. Though the proud parents shared the wholesome news of their pregnancy last February
Over the past months, Burgess has focused mainly on soaking up every minute with her only child. The new mom has shared beautiful moments on her social media platform from time to time, detailing her motherhood journey to her thousands of followers.
It was no different when the pro dancer shared that her son had learned something new via Instagram hours ago. 
Sharna Burgess Reflects On Son's Fast Growth
Although it is a thing to be proud of as a parent, the mama bear appears to have mixed feelings about the exciting development. The television personality revealed that her son, Zane, fed himself without assistance.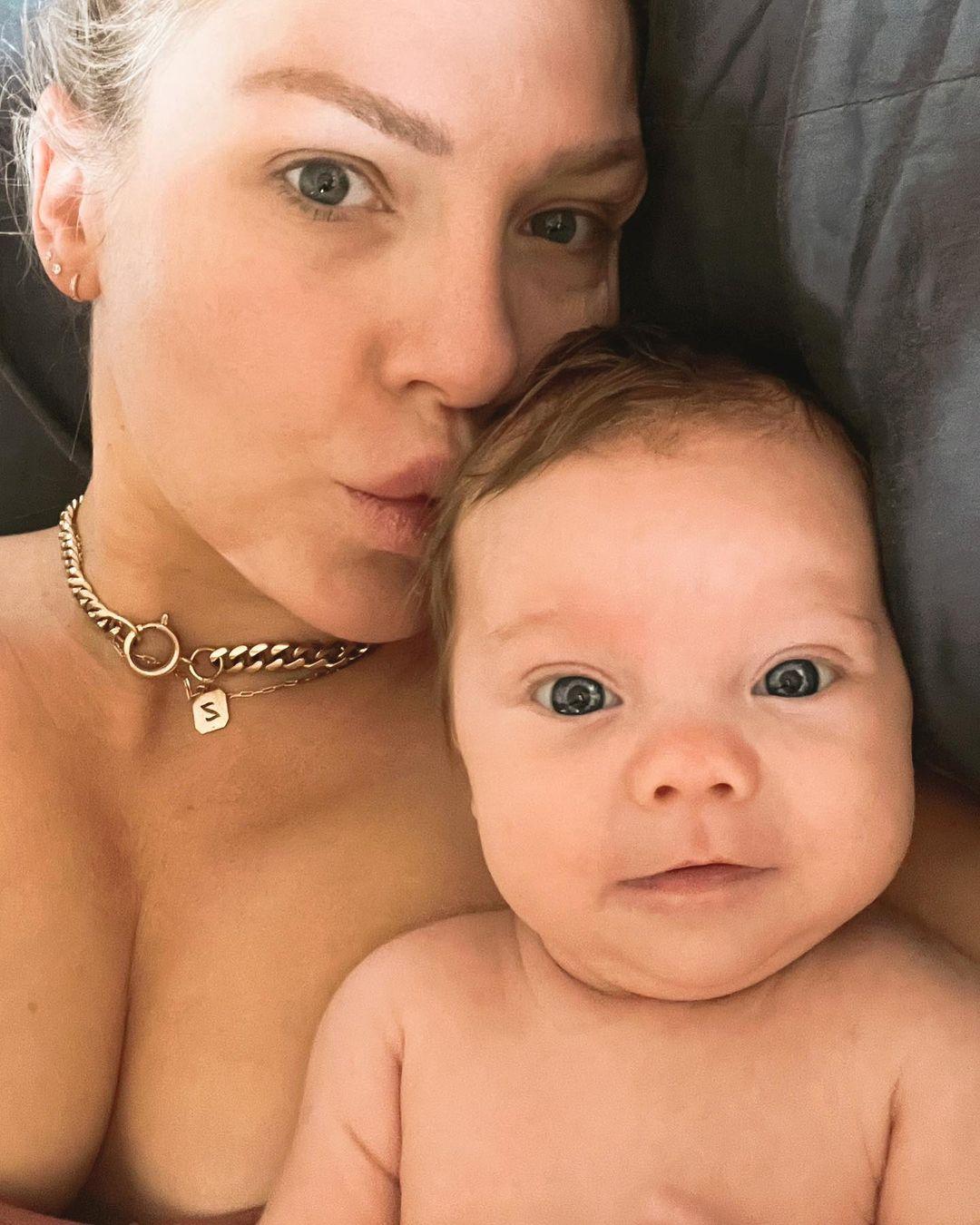 Taking to her Instagram account, Burgess shared a private message that featured a picture of her seven-month-old son satisfying his stomach in a comfortable position. 
As mentioned in the text conversation, the adorable little one was focused on watching the show "Elmo" while lying on a grey couch. He was wearing onesies, with a white fluffy blanket covering his whole body. 
Over the photo, the Australian native wrote, "My heart swelled and ached all at once. Time is a thief." In a separate Instagram post, she shared a mashup video of her son from infancy to his current age with Harry Styles' "As It Was" song playing in the background. All through the clip, she was holding and kissing him. The mom of one excitedly captioned the video, "Time is a thief, and I am a puddle 🥹."
Fans filled the posts with numerous love messages, encouraging the doting mother to keep up the excellent work. One fan wrote, "So adorable. He's perfect. I do hear how quickly they grow. I love all your videos, Sharna. ❤️ thanks for sharing him with all of us."
Another person declared, "He is so precious!! So glad you're loving these moments with him, bc time flies so quickly, as you said. God bless you and your family! A particular fan shared their experience, writing, "It does go so quickly, but every single second is so worth it. Each year with my Daughter just gets better and better. Enjoy each special moment with your beautiful boy ❤️."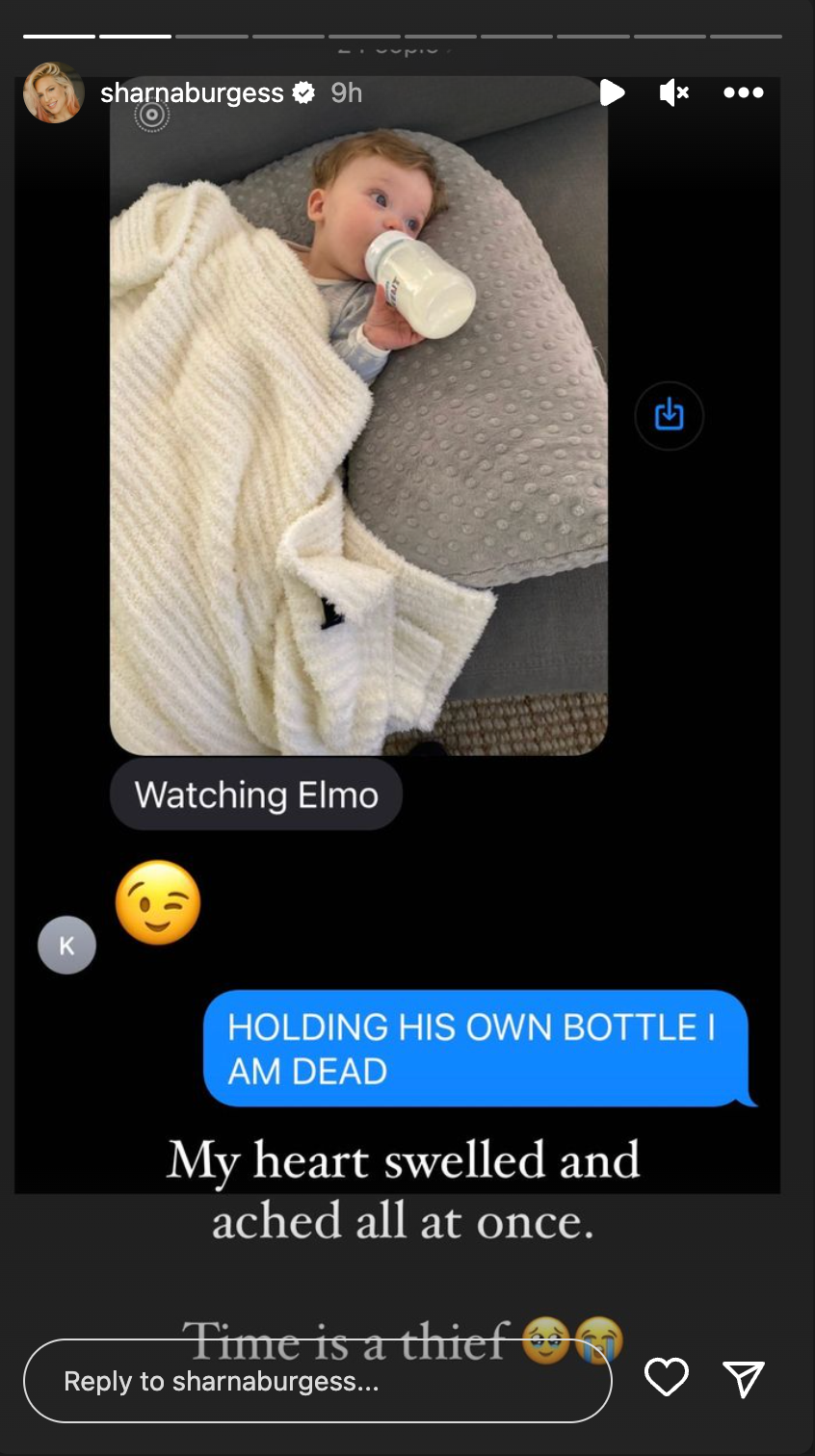 A week before this announcement, the "Dancing With The Stars" alum expressed her displeasure over adults using filters on kids. The Blast previously reported that she called out the action when she saw a video of a kid using a filter that altered their face.
The Instagram filter used on the eight-year-old child made her face slimmer, changed her eye color, and highlighted her nose. The choreographer shared a video of herself using the same filter and wrote in the accompanying caption, "I just saw someone that had this filter on several videos of their child. A beautiful young girl, maybe eight years old." 
She expressed irritation towards the act, "Congratulations on giving your kid insecurities about her already perfect face. This s**t fires me up." She asked her followers to try the filter and note the changes it made. 
Burgess shared a video of her natural face to prove further her point, which was a clear contrast to the video with the filter. She announced, "For the record, this is my face this morning. No makeup and no filter."
Sharna Burgess Rants About Her Mom's Lifestyle
Early November, a few months after the birth of her son, the beautiful mom talked about the challenges and overwhelming feelings that came with motherhood. At the time, her little one was just four months old, so she had such heavy feelings.
View this post on Instagram

She wrote, "Mom life is busy, and at the same time, I go nowhere. Between pumping, feeding, playtime, and everything in between, there are no hours left in the day. Tbh I realized at one point I hadn't showered in 2 days…. And I'm a 2 showers a day human!!!"
However, the mama bear noted that it wasn't all negative as she revealed that she managed to find balance in the chaos. She wrote, "Finding time and balance is the new skill I'm trying to master. I wouldn't change a single thing, though, I'm obsessed with life and everything in it."