British pop star Harry Styles recently had a wardrobe malfunction during a performance in his "Love on Tour" concert series with his childhood crush, Jennifer Aniston, in the audience. Styles is currently in California for his worldwide tour and is set to wrap up his slew of performances in July 2023.
He recently split with his ex-girlfriend, Olivia Wilde, who directed "Don't Worry Darling" late last year after two years together. They reportedly separated on amicable terms and have "no bad blood" between them.
Aniston, on her end, was previously married to Brad Pitt; however, they split in 2005 after five years together. The actress's last known relationship is with "Leftovers" star Justin Theroux.
Read on to learn more.
Harry Styles Ripped His Pants
During an Inglewood, California performance on his "Love on Tour" concert series, Styles ran into some trouble. While performing his hit track, "Music for a Sushi Restaurant," on Thursday night, the artist ripped his tan leather trousers at the seam by his crotch. He was down on one knee when it happened and immediately stood up and covered the rip with his hands upon realization.
Fans shared numerous videos of the incident, one showing that the artist recovered from the wardrobe malfunction by tying a Pride flag given by a fan to cover up the tear. He carried on with his performance afterward. According to Page Six, several A-list stars were in Styles' concert, such as Ellen DeGeneres, Kylie Jenner, Trevor Noah, and most notably, Aniston.
Speaking to DeGeneres on her show in January 2020, Styles revealed that Aniston was his "first celebrity crush." A year later, the actress wore the same suit Styles wore at the Brit Awards. Her Instagram story was captioned, "Just call me Harriet Styles."
Fans Make Fun Of The Pop Stars Wardrobe Malfunction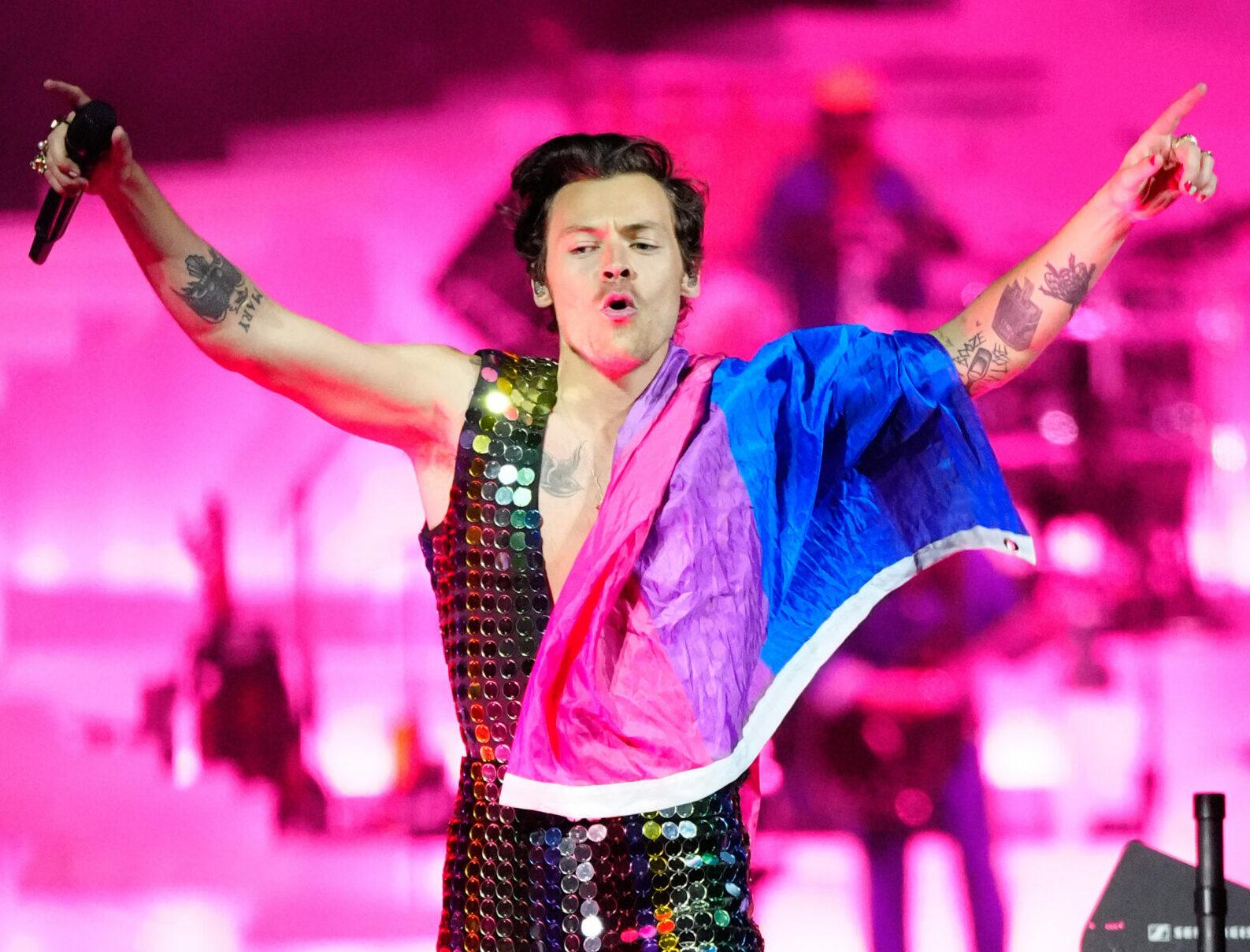 While Styles certainly seemed horrified by the turn of events, fans who recalled the artist's crush on Aniston were even more amused. A comment on Twitter read, "this is harry rn thinking about how he ripped his pants in front of jennifer aniston," with a video of a very sad-looking man.
Another fan wrote, "Harry's first-ever celebrity crush (jennifer aniston) is in the audience tonight, and he F**KING RIPPED HIS PANTS in front of her." A fan wrote, "If I were Harry, just thinking about ripping my pants in front of Jennifer Aniston would send me into early retirement."
"if i had a nickel for every time harry ripped his pants and used a pride flag wrapped around his waist to cover it, i'd have two nickels, which isn't a lot, but it's weird that it happened twice," someone posted, referencing the first time Styles ripped his jumpsuit mid-performance.
Harry Styles Ripped His Jumpsuit Last Year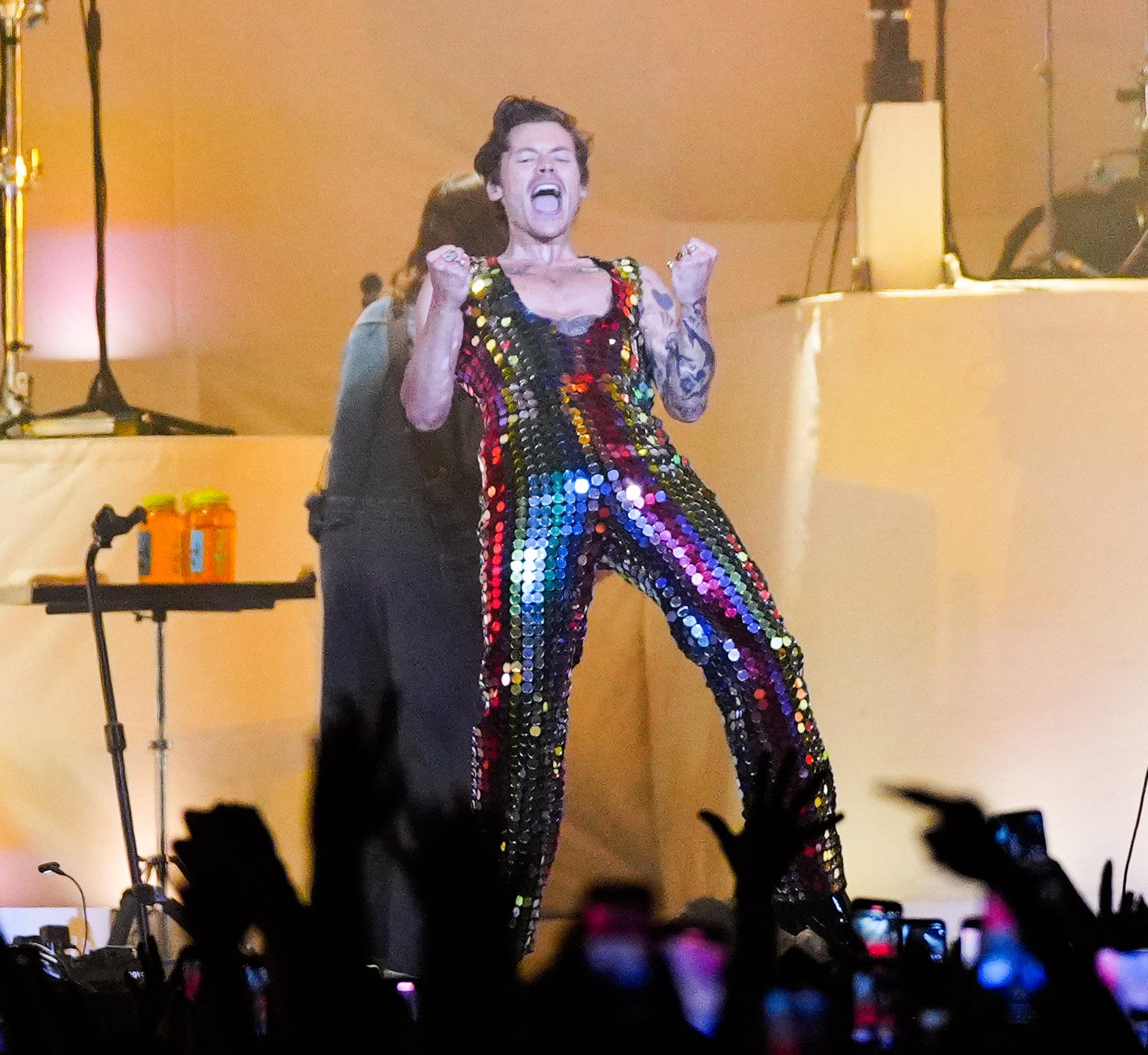 In a December 13 performance in São Paolo, Brazil, for his "Love On Tour" last year, Styles once again ripped his concert attire. This time, the artist has on a blue sequined jumpsuit that tore near his legs while he kicked about performing a rock-influenced version of "Kiwi."
Styles covered the damaged attire with his hands while waiting for assistance and carried on with the show. Like the recent incident, the artist used one of the many pride flags thrown on stage to fix his wardrobe mishap.
The "Sweet Creature" performed his 2019 track, "Fine Line," next after fixing his attire to the cheers of excited fans.
Harry Styles Partnered With Gucci In November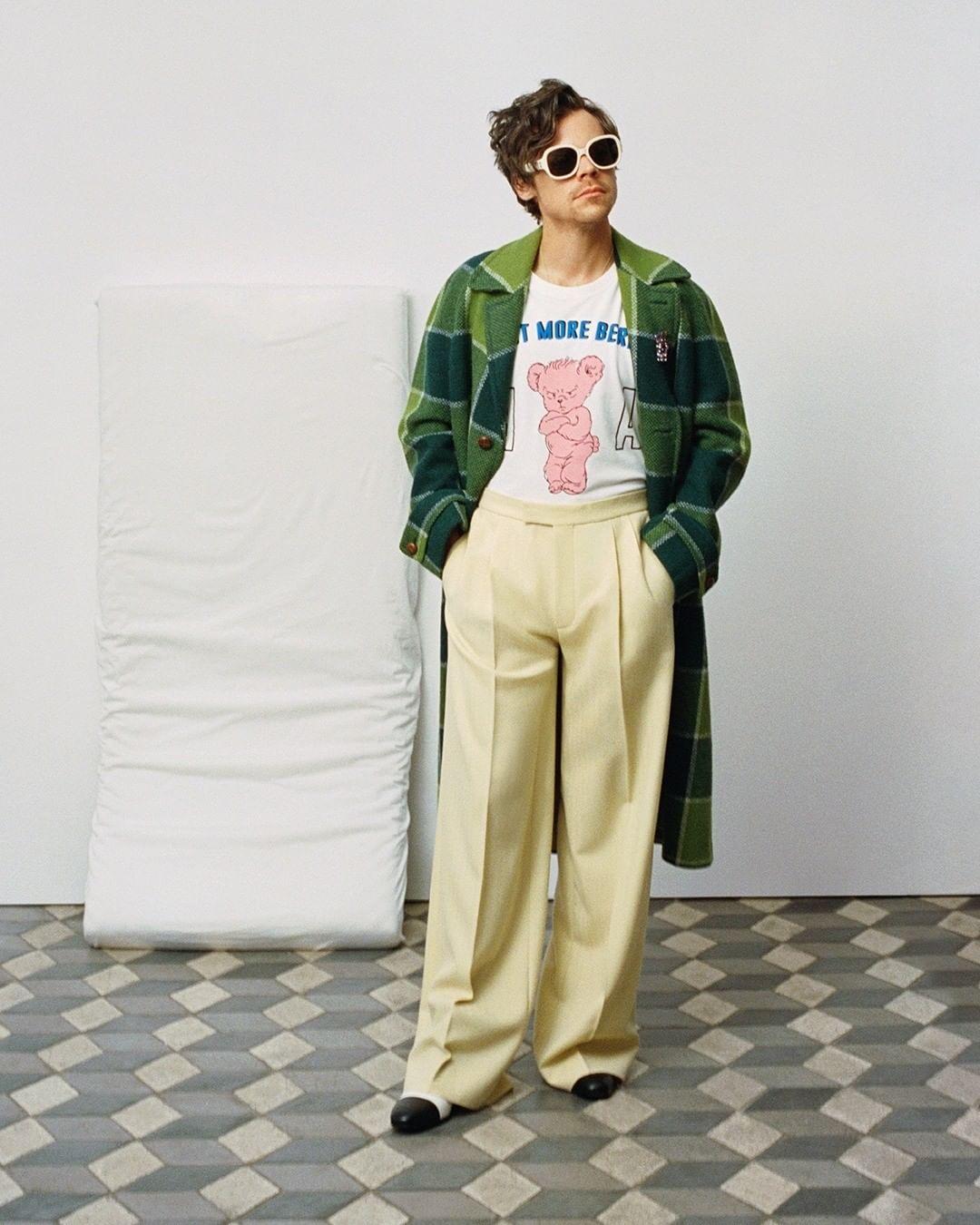 In other non-wardrobe mishap news, last year, Styles collaborated with Gucci for his HA HA menswear collection. The collection's name is a combination of the artist's first name initials and that of Alessandro Michele. It included varieties of suits, t-shirts, jewelry, suits, and a pair of $3,350 pajamas.
In a press release for the collaboration, Styles said, "I'm so happy to see this project finally come to life. I've known Alessandro for years now, and he's always been one of my favorite people. I'm always inspired watching him work, so doing this collaboration with my friend was very special to me."
The collection was inspired by '70s silhouettes, femininity, and the British artist's retro aesthetic, as well as his numerous hits. The collaboration between the fashion icons and longtime friends was first announced in June 2022.