Kylie Jenner wants to be a mighty king, but this might be the worst way to go about it!
The cosmetics mogul attempted to become the king of the jungle during a recent fashion show, and it ended poorly.
She attended Schiaparelli's fashion show in Paris, France over the weekend.
The mother-of-two wore a black gown paired with a massive lion's head.
Kylie Jenner Wears Faux Lion Head To Fashion Show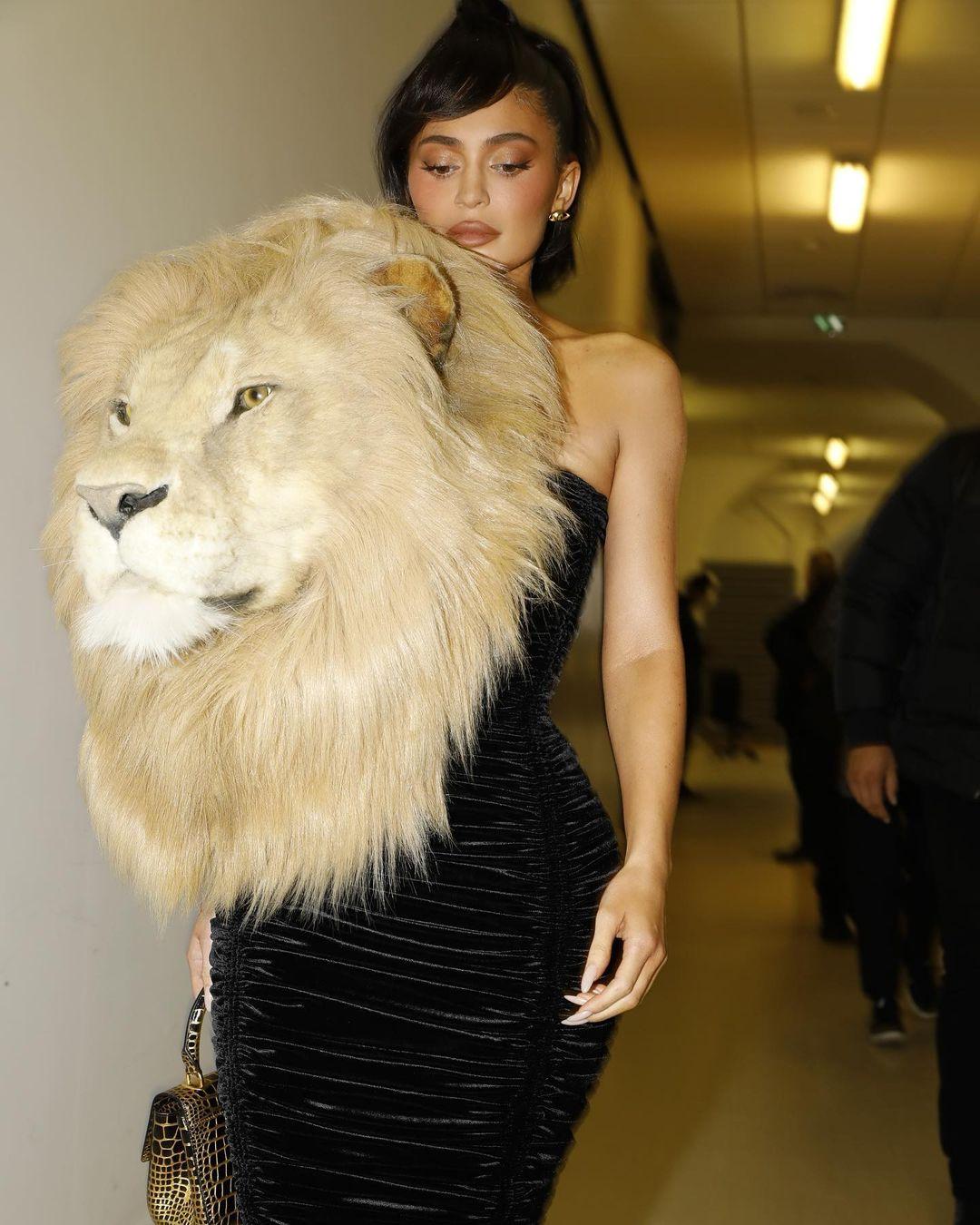 She shared multiple pictures of the eye-popping outfit but reassured fans the lion head was NOT real.
"BEAUTY AND THE BEAST. thank you @danielroseberry and @schiaparelli for such a special morning. wow, i loved wearing this faux art creation constructed by hand using manmade materials. beautiful beautiful 🦁🦁," she captioned the photo.
Despite it being a faux lion head, Kylie's outfit enraged MANY people on social media and they let their grievances be heard.
Kylie shared several Instagram Reels of her at Schiaparelli's show to her IG Story on Sunday, January 22nd.
Kylie Jenner Enrages The Internet
View this post on Instagram
"Wtf is that? are we supporting the killing of endangered species again? these people have no shame. Can't they for once use their platform for something good, other than showing? How much money they have and their looks… sad (I know that the lion is not real, but the message was very clear," one person reprimanded Kylie in the comments.
"I really hope that's not real. Disgusting promoting animal abuse and cruelty like that," another shamed the Kylie Cosmetics queen.
One person was absolutely at a loss over Kylie's outfit writing, "This is just the worst thing I've ever seen her do. And probably the first worst thing I'm at a loss for words."
"This is totally disturbing.. fake or fashion or whatever…This is like you promoting poaching…We should protect our wildlife and endangered species in every way," yet another person commented.
"Even if it's not real, it's so in bad taste, especially when you know that lions are victims of poaching around the world," one dismayed fan pointed out.
Kylie also shared an Instagram Reel made by Vogue France, which opened up the floodgates of harsh criticism for the fashion outlet
Vogue France Receives Backlash Too Over Lion Head!
View this post on Instagram
"Stop promoting this! Even if it is fake it sends out a message of violence, it is inappropriate to promote the idea of wearing animals as trophies, fashion or anything else," a commenter shared.
"Very disturbing… for a brand that represents a fashion-forward vision, this is very backward. DELETE!!!" another lamented.
One person questioned how the lion head is even considered "fashion," and called the design "disturbing."
"Probably one of the worst fashion moments I have ever seen. I mean, what is the purpose? It's actually disturbing, regardless of whether the lion's head is fake," one comment read.
Another simply wrote, "Delete this Vogue!"
This is hardly the first time Kylie has upset fans and foes with her fashion choices.
And I have an inkling it's far from the last time.
She and her sisters have been accused countless times of cultural appropriation and promoting animal cruelty.
In October 2021, Kylie was slammed on accusations of "blackfishing."
"Blackfishing" is a term commonly used to describe someone on social media who is pretending to be black by changing their appearance by using makeup, editing, or even surgery.
 Kylie Doesn't Seem To Care About Her Fashion Choices 
The accusations came after she shared a video of her skin tone looking much darker than normal.
One person wrote, "WHY IS HER SKIN COLOR LIKE THAT?"
.@KylieJenner looks gorgeous in new Instagram story listening to @DonToliver's new song, #Smoke, featuring #HVN & @ImSoFaygo. pic.twitter.com/W9luS76x9S

— Pop Crave (@PopCrave) October 20, 2021
Another commented, "She looks kinda darker 🤨🤨🤨🤨," and "So she doing black face and people just posting like its all good? Are we in the 60s again."
Someone else posted a photo of Kylie without makeup on and captioned it, "And also don't forget that this is what @KylieJenner looks like when she's not attempting to completely change her race."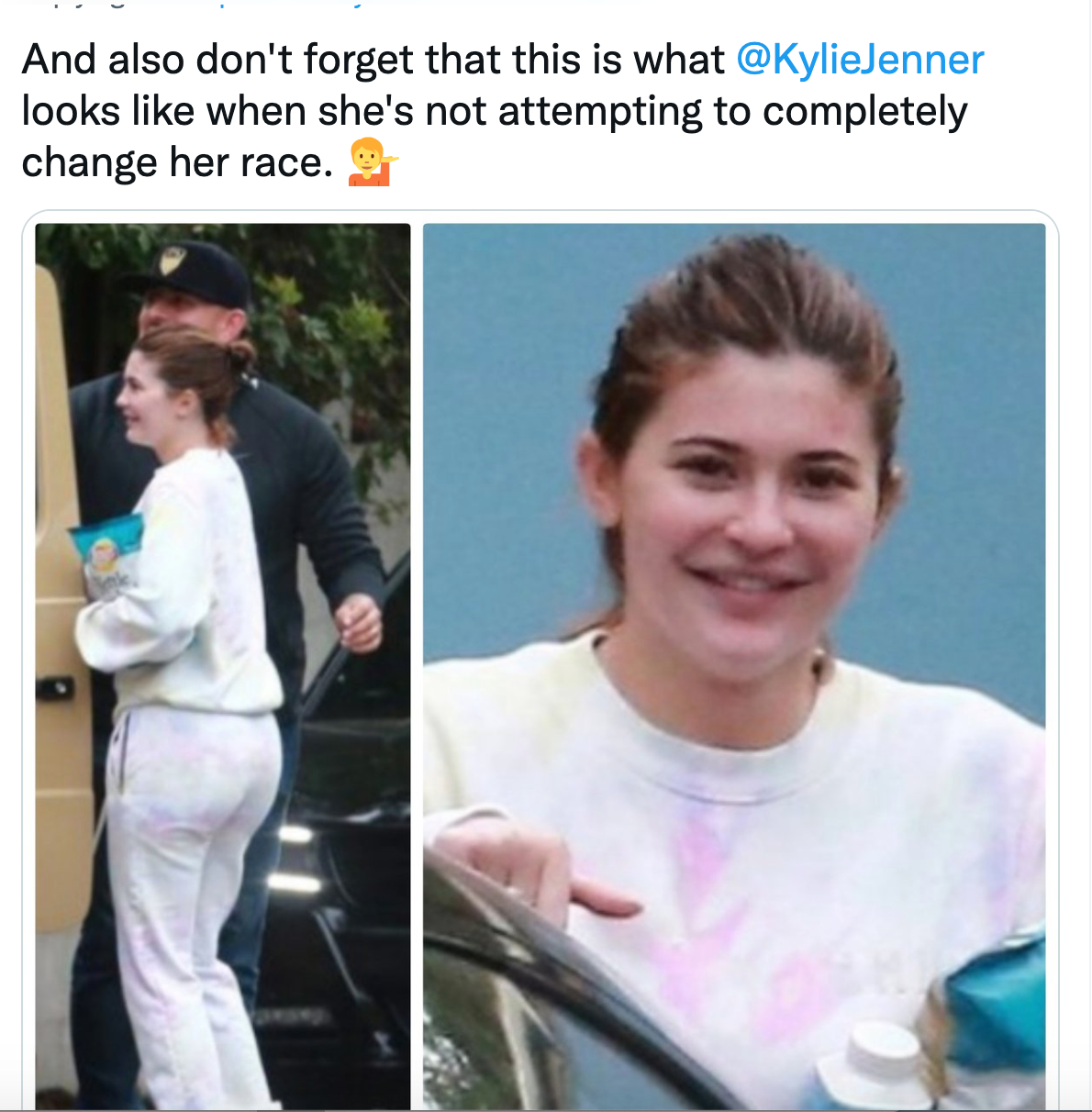 Many compared her to former Little Mix member, Jesy Nelson.
 As fans of the British pop star may recall, she came under fire for blackfishing when she released her solo-debut music video, "Boyz."
One wrote, "Little Mix when Jesy Nelson left the group."
So far, Kylie hasn't addressed the backlash.