Chrissy Teigen is relishing the last days of her third trimester.
Despite her initial reluctance to share the news of her pregnancy, the mom-of-two has been updating fans about her baby bump progress since August. So far, her almost 40 million followers have been kind and encouraging toward her, prompting her to share even more.
Chrissy Teigen Is Ready To Welcome Her Third Baby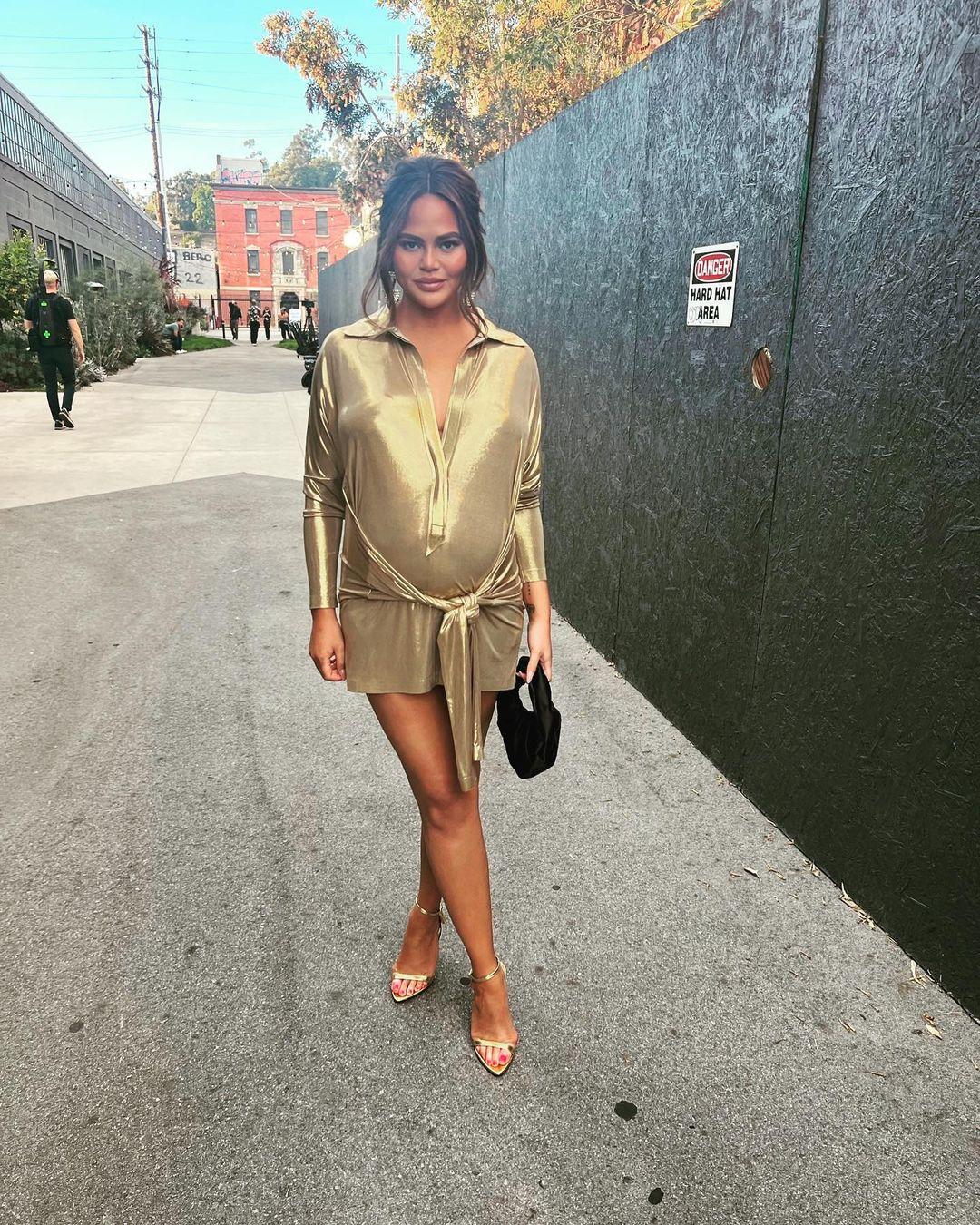 Teigen took to Instagram to drop two gorgeous pictures of herself in a shimmery gold dress. The mini-gown has a collar design running from the neck to just above the model's visible bump and two ropes tied in front.
Although no jewelry adorned her body, Teigen paired her fit with matching heels and a small black bag. In the first image, one leg is lifted up in a playful pose. As for the next slide, the expectant mom put one leg in front of the other, sporting a slightly serious look on her face. Teigen wrote in the caption:
"wrapped an incredible season of a show I'm honestly not positive has been announced?? it involves eating a lot of food and couldn't have come at a better time! Now I'm gonna try to rest a little and enjoy the last few weeks of two-kid life!"
The post has already gotten almost 70k likes and hundreds of comments from supportive fans. One fan gushed, "Gorgeous! Going from 2 to 3 is a breeze!!!!" and a second observed, "You make pregnancy look so beautiful, but you share the rough days also that's why I love you even more!!"
A third commenter asked, "What I want to know is how you are still wearing those shoes?! Amazing!" Even Teigen's husband and singer, John Legend, was agog with pride in the comments, admitting, "My gorgeous wife."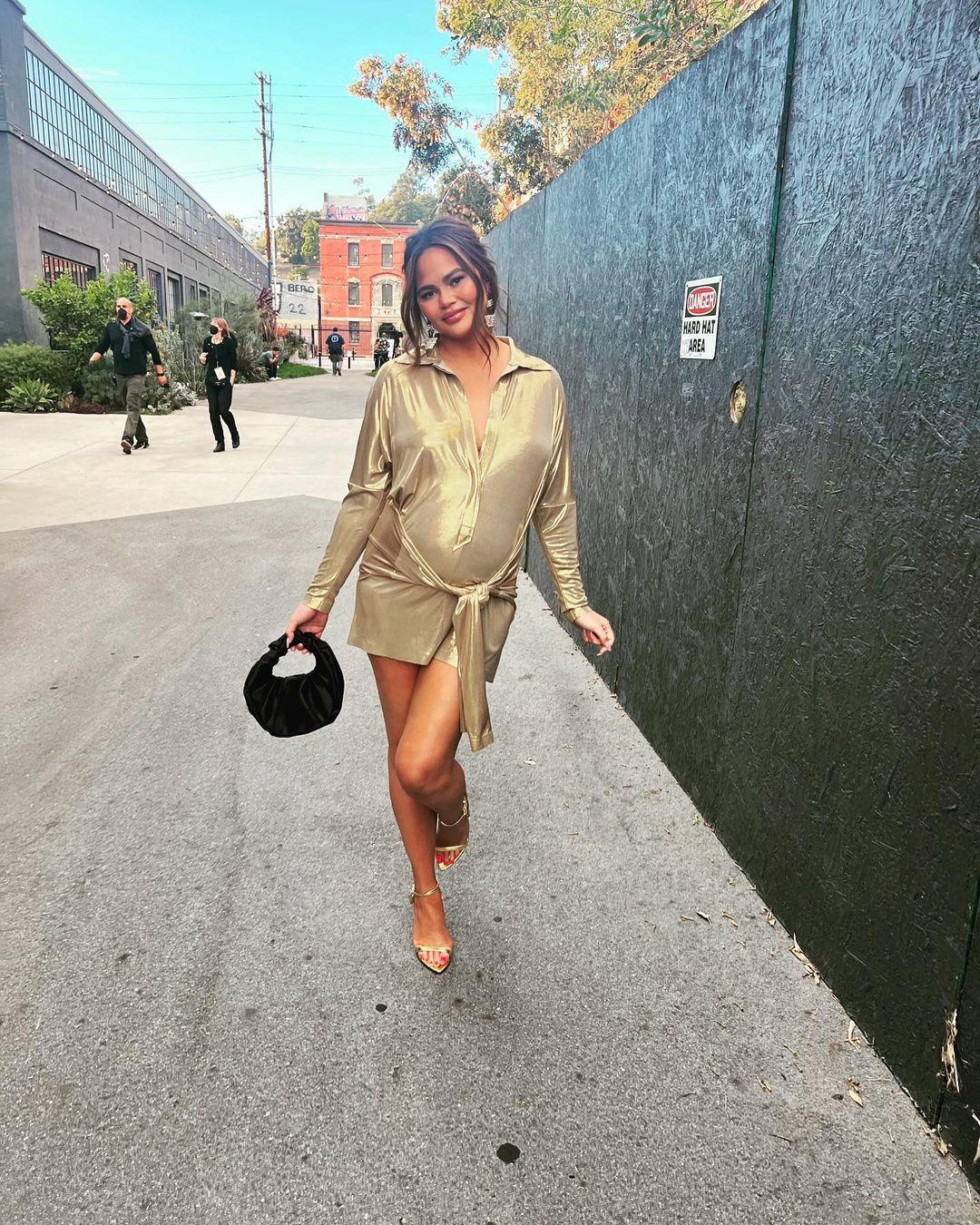 Fans reacted slightly differently when the TV personality informed them of her new fake lawn a few days ago. Per The Blast, Teigen had uploaded two images of her soaking in the sun on the greenery.
Rocking a red bathrobe, the 36-year-old first posed with the robe's fluffy collar pulled up high to partially cover her face, sitting cross-legged. Next, she threw up the peace sign as she lay on the grass and pointed one leg out. She captioned the pics:
"just got turf in at the office! im allergic to grass so this is very exciting for me. tea parties and picnics abound!! (never not in this robe)" and fans jumped into the comment section to voice their thoughts. 
Although a few fans wanted to twin with her in the red robe, others thought switching out natural grass for fake was a bad idea. One person expressed their concern that Teigen's post would motivate others to follow in her footsteps, when they wrote:
"There are sooo many natural, living plant alternatives to grass.. which does no good for the natural environment anyway. Moss, clover, creeping thyme, etc. I really hope this doesn't inspire a bunch of people to cover their yards in plastic."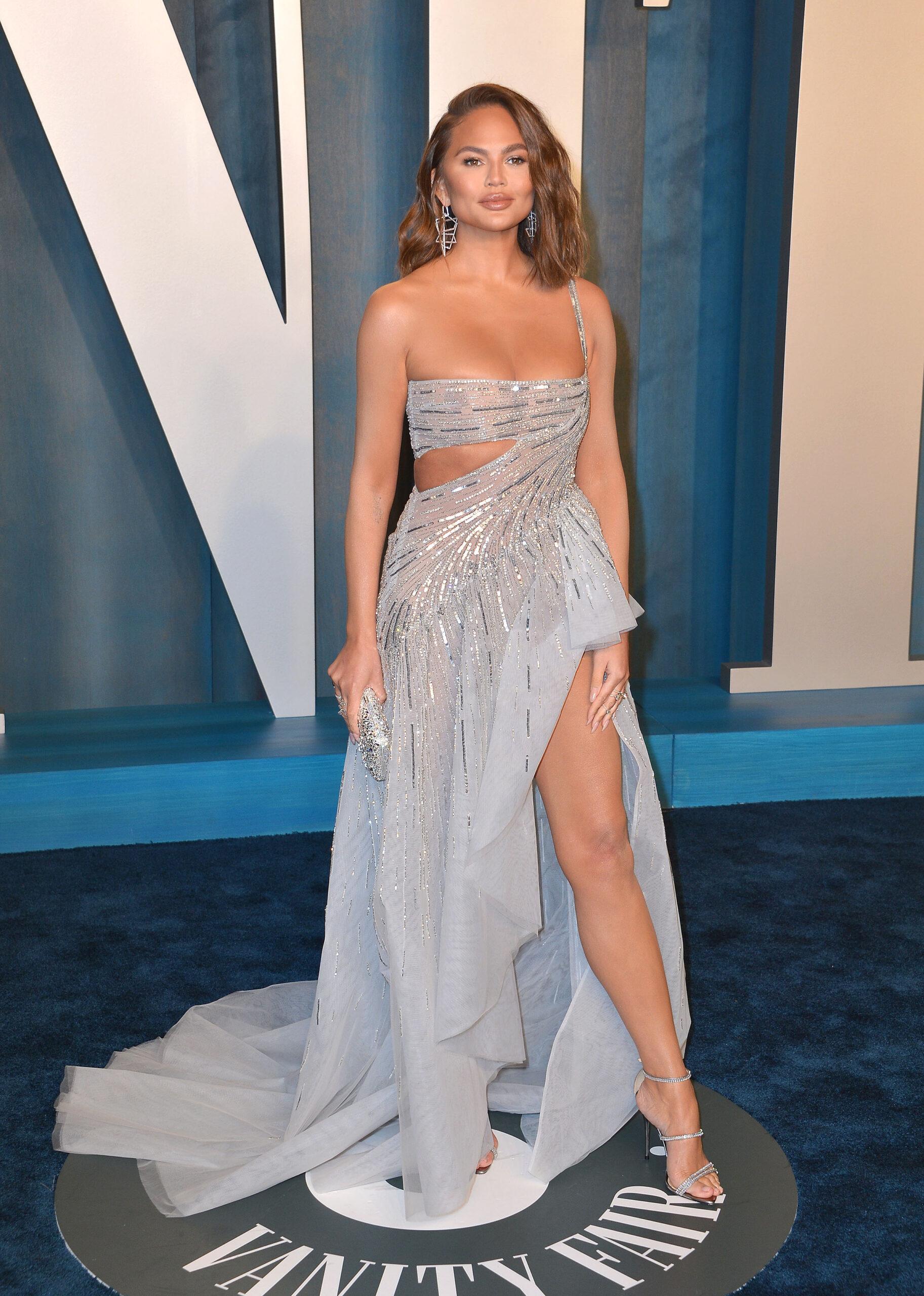 Another follower added, "That stuff is loaded with PFAS (epa say there is no safe amount to be exposed to) and chemicals. You may want to rethink. Also it's horrible for the environment. #endocrinedisruptors." A third onlooker stated, "To choose plastic over clover literally blows my mind," and a fourth appealed to her to be careful because of the "terrible chemicals in turf."
The "Lip Sync Battle" Host Suffered A Bout Of Digestive Sickness
The Blast reported on Teigen's digestive challenges during her ongoing pregnancy. The Cravings founder shared the worrying news about her health and that of her two kids — Miles Theodore Stephens and Luna Stephens — in an Instagram update on November 13.
The soon-to-be mother-of-three provided her followers with three photos showing her in a white floral blouse. The "Deal or No Deal" briefcase model sat on a vintage seater in front of a wall filled with magazine covers of herself.
Teigen's wavy brunette hair fell naturally to her chest with a part in the middle. The "America's Next Top Model" challenge judge's face is done up with a bronze hue and a pink lip stain.
"This was yesterday. today I have two sick babies and I'm coughing up blood! I love fall," the "Wild" video vixen wrote beneath the photos. Her comment section was instantly filled with a show of love from concerned fans.