Jesy Nelson is ready for an image upgrade.
The singer is going to undergo a total transformation… on her hair.
She must've been feeling frisky following her Pam Anderson-inspired Halloween costume, because she's going fully blonde.
Blondes Have More Fun!
View this post on Instagram
Jesy took to her Instagram Story on Thursday, November 3rd, and asked fans their thoughts on her going blonde.
"So guys, I've woken up this mornin' and I think I'm gonna change my hair color. I'm thinkin' I want to go really blonde. What do we think about this guys? Do we like or do we go really blonde?"
Jesy Is Preparing For A Total Transformation
According to Jesy her "children" have spoken and she called on her hair stylist to help make the major transformation.
She's saying "Goodbye to Sandra Dee."
It seems like some of her fans encouraged her to become a red head, which Jesy shot down real quick.
"Guys I know you all Love the ginge but I think If I did that I'd be heading towards this as a look and I'm thinking it's a 'no' for me as cute as Annie is, it's not for me," she wrote on her IG Story.
Fans Want Jesy To Become A Red Head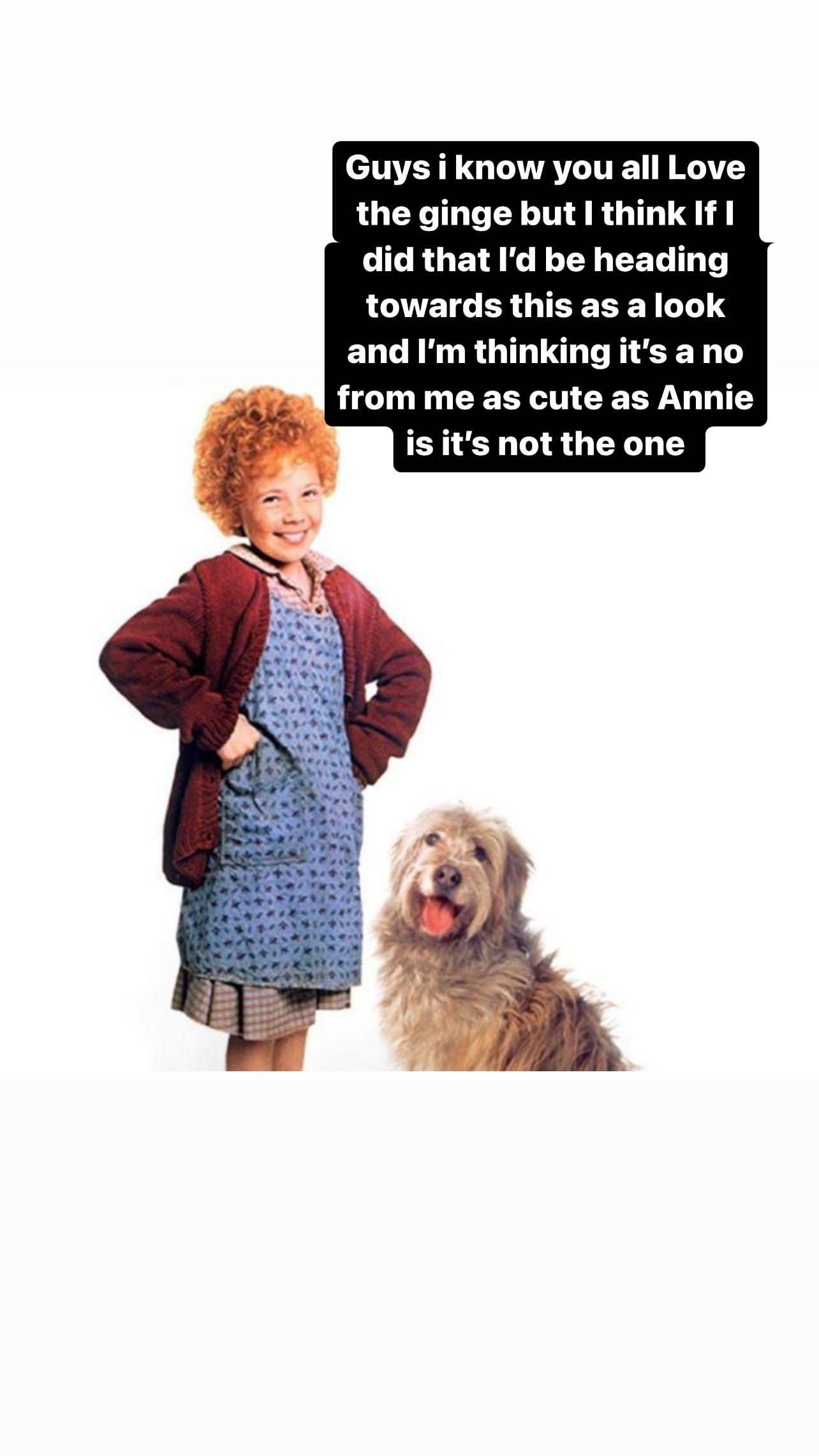 In another video she told her fans, "I'm not going ginger. GIVE IT UP!"
Her fans would not let down and suggested she go strawberry blonde, which again Jesy shot down.
"Someone just said, 'Why don't you go strawberry blonde.' No! No strawberry blonde, no ginger, no red, no Annie, NO NO NO. Blonde"
Last month, the former Little Mix member returned to Instagram following a month-long hiatus from social media.
On Monday, October 24, the former Little Mix member shared, "Hello my beautiful people, I am back! I decided I needed a bit of a social media break and it did me the world of good. I have missed you all so much."
Her note continued, "Thank you to all my amazing fans for being so loyal and patient I promise you there will be music soon but wanted to make sure it was perfect! Keep your eyes out for some clues but IT IS coming early next year 💕💕."
Jesy Announces Her New Album Is Coming Next Year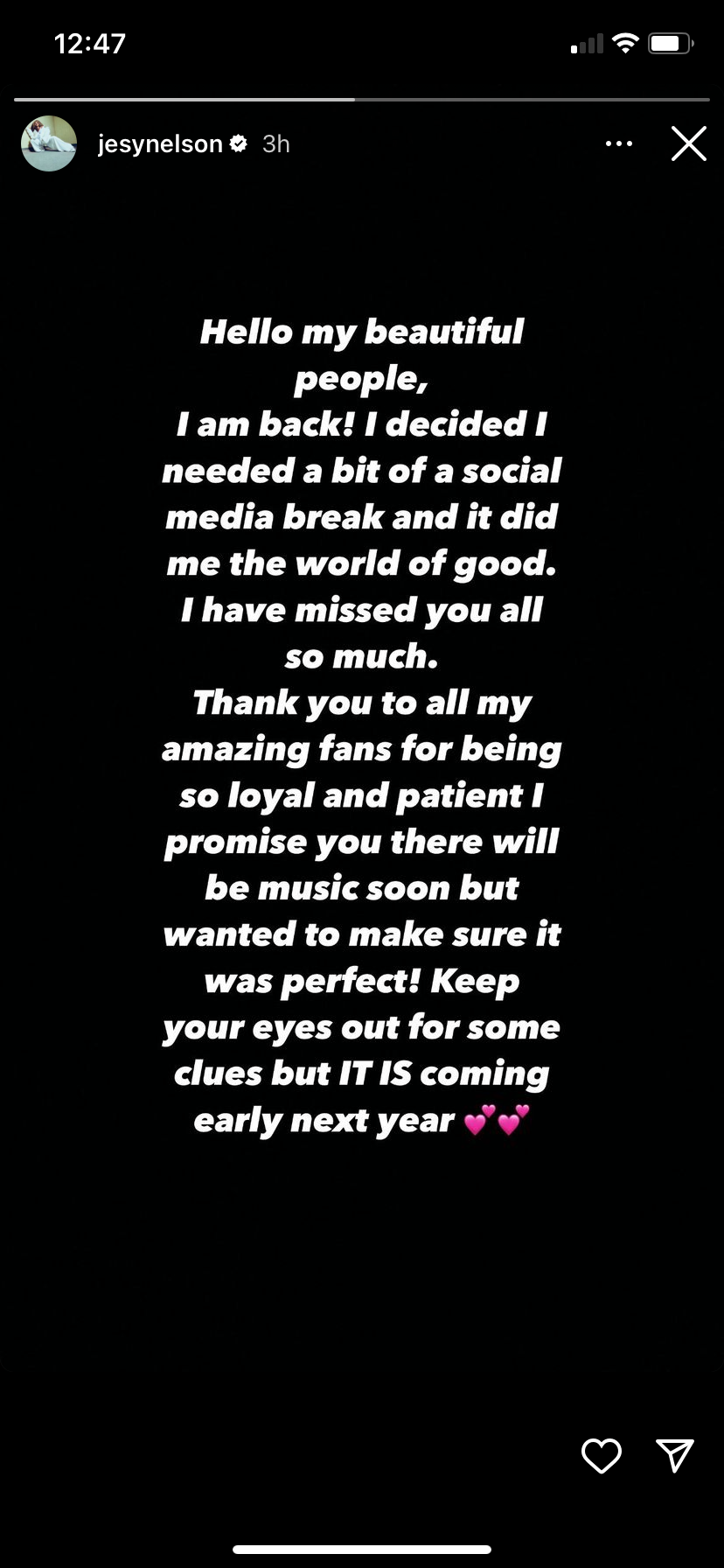 Jesy has deleted everything from her Instagram page, and in September, she deactivated her account.
Her major "log off" from social media came after her less than stellar debut as a solo artist with "Boyz."
She was hard at work on reinventing herself.
A representative for Nelson told The Sun, "Jesy has decided to concentrate on her music and re-charge her social media batteries ahead of the release of new music."
Earlier this year, Nelson parted ways with her music label Polydor.
The label confirmed that they are no longer working with Jesy in a statement to Metro UK.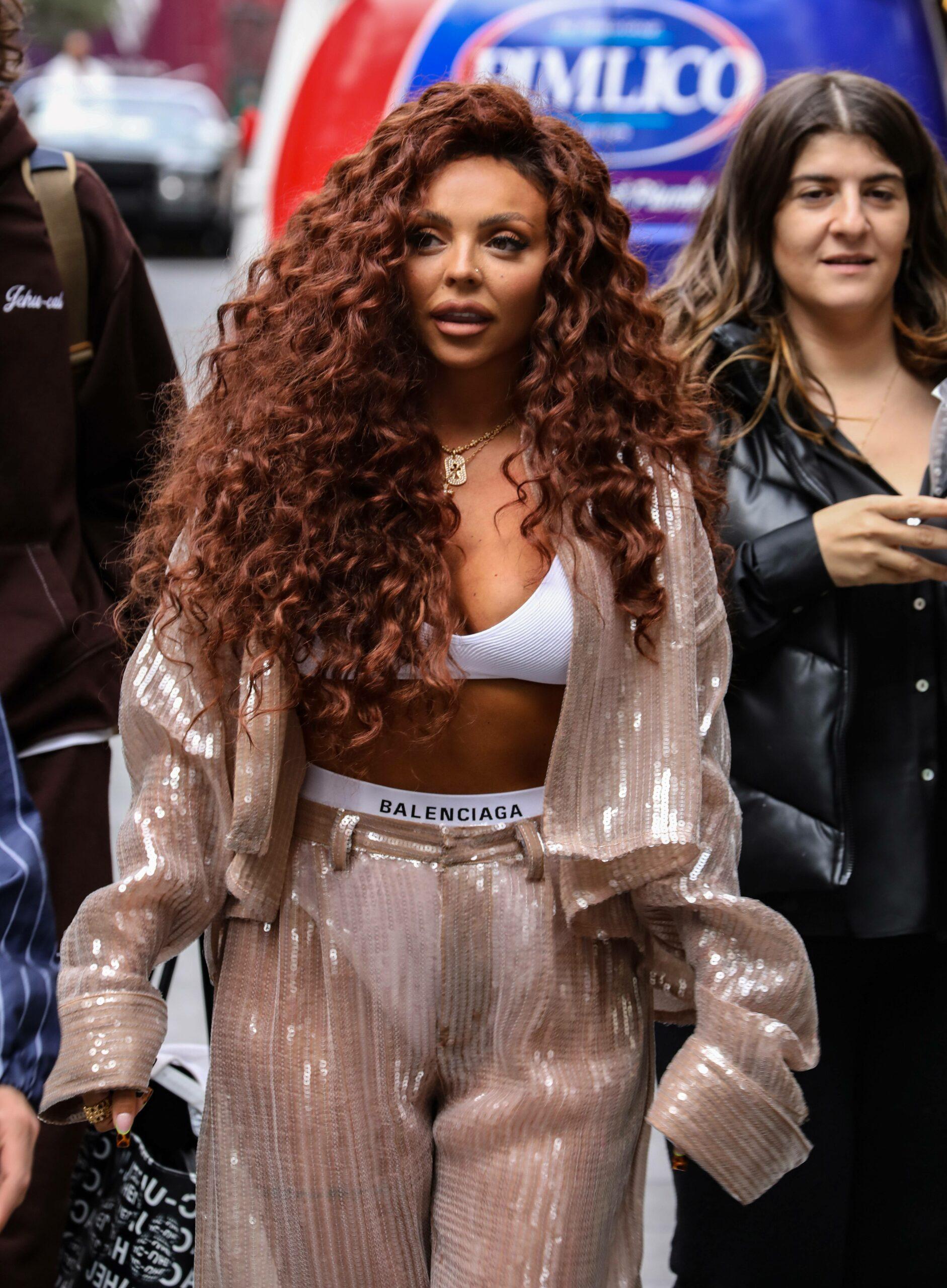 "Polydor have amicably parted ways with Jesy,' the statement began. "We have enjoyed working with her and everyone at the label wishes her nothing but the best for the future."
Music insiders revealed to The Sun that Jesy's decision to split from Polydor was due to her wanting a fresh start.
"Jesy decided it was the right time for her to make a clean break," the source explained. "She and the label have been going in different directions in recent months. And while there hasn't been a fall-out, Jesy just felt it was better to start afresh now – while everyone was still friends."
The source explained the British pop singer enjoyed her time with Polydor; however, she feels the she had different musical ideas than what Polydor was wanting.
"She now wants to be able to fully develop her own ideas as an individual artist," the source revealed.
Jesy is determined to redeem herself and make her solo career work.