Usher hopped into party-planning mode last night!
The 44-year-old RnB superstar had an idea for the ultimate form of entertainment to enhance Kim Kardashian's birthday extravaganza! The reality star's 42nd birthday was on Friday, October 21st, and she was in complete celebration mode last night.
Kardashian took her fans along for the celebration via her Instagram stories last night. Her followers received a front-row seat into her whirlwind birthday bash, which seemed to be ruled by spontaneity!
The spontaneous nature of Kardashian's birthday party hadn't been planned. Unfortunately, mother nature played a strong role in altering the game plan for Kardashian's big night!
Read on to find out how Usher played a role in Kardashian's birthday plans!
Kardashian Embraces 'Party Princess' Mode!
View this post on Instagram

The Blast covered the details of Kardashian's big birthday bash, sharing every detail!
Kardashian incorporated her tight family unit into her party by kicking off the night with a family dinner. According to our report, many members of the Kardashian and Jenner clan attended the dinner. Her sisters Kourtney and Khloé Kardashian, and Kendall Jenner were present, and Kourtney's new husband, Travis Barker, was also in tow. (per Daily Mail)
It wouldn't be a Kardashian and Jenner shindig without everyone's favorite 'momager' in attendance! Kris and her man Corey Gamble were also on the guest list.
The dinner took place in Kardashian's Calabasas office space.
It's Girl Time: Kardashian And Her Gal Pals Party It Up!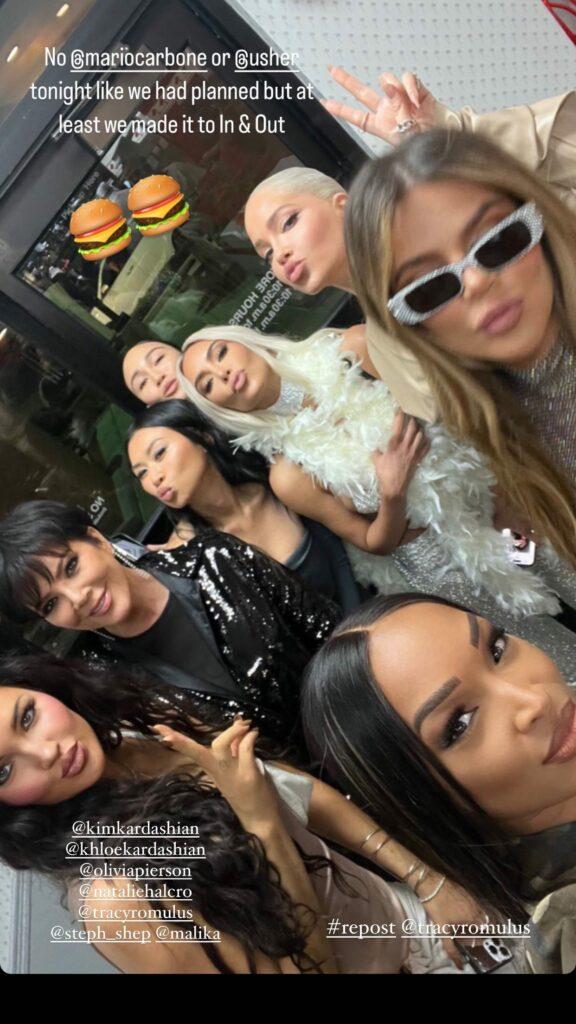 Kardashian and co. soon hopped on her sister's private jet, Kylie Air, to embark on the next phase of the party. Khloé and her mother were on the plane with a number of Kim's friends and notable Kardashian and Jenner confidants, Malika Haqq and Khadijah Haqq-McCray.
The plane ride was filled with a number of drink choices for the guests to imbibe! The craftily-named drinks all had quirky names related to Kardashian, including the "Kiki-Rita," the "Kimtini," and the "Keeks-Kougar Kourage."
The gang also enjoyed jello shots; Kardashian shared a snap on to her Instagram story of her knocking one back!
Ushering In… Usher!
View this post on Instagram

Kardashian and her party pals were en route to the entertainment portion of the night until there had to be an unexpected change of plans.
Our report also shared the plane had been headed into Sin City, stopping at the Carbone Los Vegas before going to see Usher perform!
Usher is currently in the middle of a residency at Park MGM.
Unfortunately, these A-List celebrities wouldn't be in the crowd. Inclement weather prevented the plane to make two different landings!
The news would soon make its way to the "Yeah!" singer about Kardashian's situation. While he couldn't immediately remedy their disappointment, he offered the next best form of consolation: Usher took to his Instagram story and reached out to her.
"Happy birthday Kim," Usher began in his video message, "I saw the post, I hate that you didn't make it to the show last night. But listen, open arms to you, whenever you want to come," he concluded. (per Page Six)
The night wasn't completely lost, though! The party would soon conclude in a way that many of us could relate to: grabbing a late-night burger at In-N-Out Burger!
Perhaps we'll be able to see more of Kardashian's night to remember in a future episode of "The Kardashians!" Season two is now streaming on Hulu!