Gettyimages | Matt Winkelmeyer
After 11 seasons, acclaimed sitcom Modern Family has filmed its final episode, and the cast and crew celebrated their achievement at the wrap party. Star Sarah Hyland posted a ton of pics from the party, saying:
"I love these people with all my heart. 11 years together is proof you and your tv sister will start wearing the same outfit, siblings for life will be made, and you'll forever fight over the same professor ? We'll always be Dunphys and we'll always have each other ❤️"
However, instead of focusing on the sweetness of the message, Instagram commenters were more focused on her co-star Ariel Winter's revealing dress.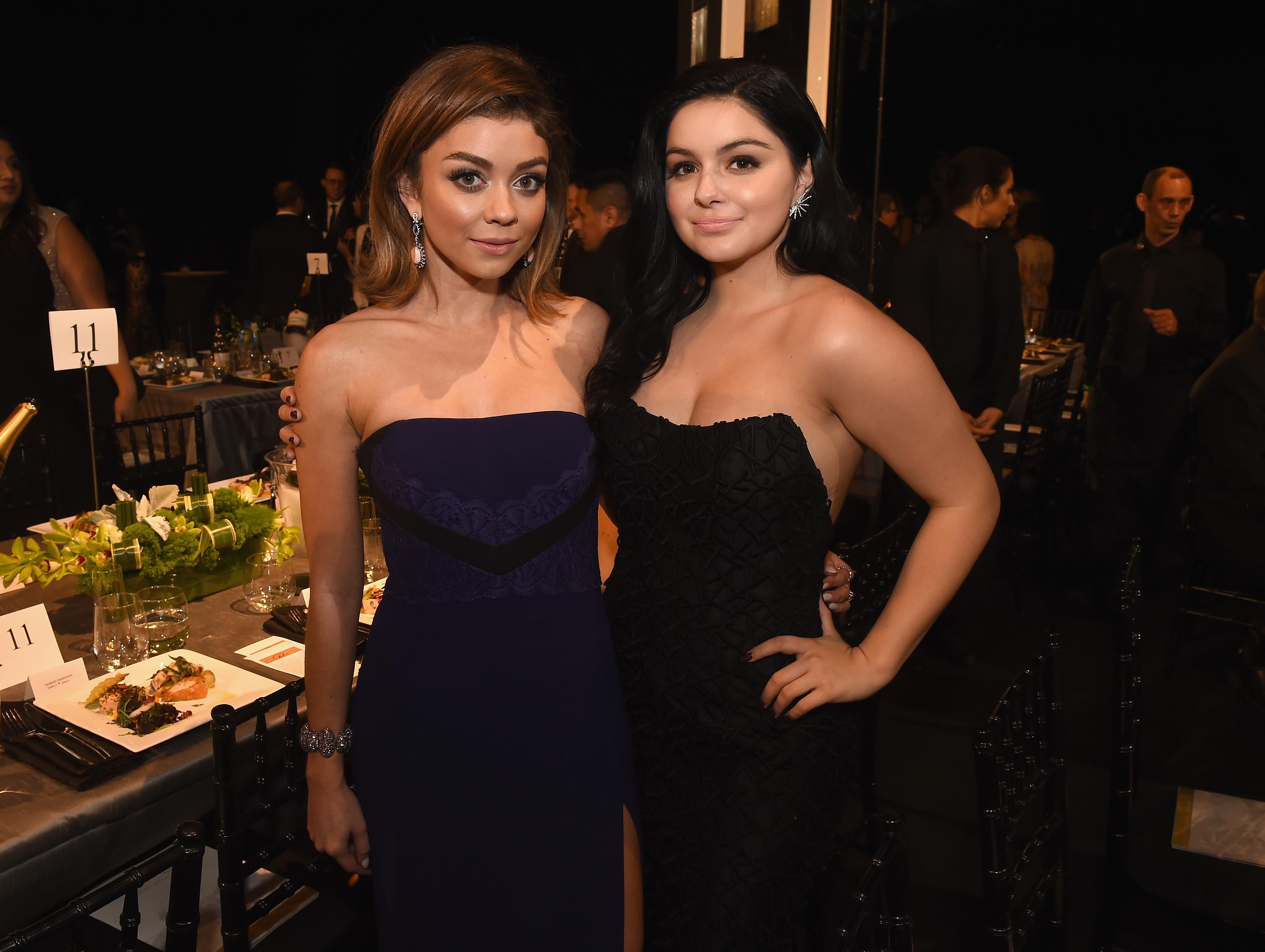 Gettyimages | Kevin Winter
Winter rocked a dress that was more of an underwear and gauze situation, continuing her tendency to strut her stuff in the least amount of clothing possible.
The comment section became a little contentious when one user commented "What was she thinking… seriously." Hyland would not stand for that kind of criticism of her TV sibling and immediate came to Winter's defense.
"That she's a sexy and confident woman. Everyone that is making a negative comment about my sister can back the f-ck up because I WILL NOT tolerate it!"
This is hardly the first time that Winter faced criticism for her provocative style, and she is not afraid to stand up for herself.
After a season 8 Modern Family panel, people were quick to jump on Winter's dress choice, criticizing her for a more glamorous and revealing look. She took to Instagram to defend herself.
"Why TF does anyone care that I didn't dress casual like everyone else for the panel? Why do I have to be like everyone else? Why can't people just let other people feel good about themselves and do what they want? WEAR WHATEVER YOU WANT PEOPLE! As long as you feel good about yourself that's what matters. I know I did. Don't ever let anyone stifle who you are and how your express yourself. Rant over :)"
Ultimately, people should just let Winter live her life and dress how she wants. This body shaming has gone on at least since 2017, when the actress took to Twitter to sound off on the haters, declaring "I am not a whore."
"Pretty annoyed about the focus on the fact that I wear shorts, and the commentary that I'm 'squeezing' into them or the idea that it's not okay for me to wear shorts. It's SUMMER. Get over it. It's hot, I'm obviously going to wear minimal clothes."
Rant pic.twitter.com/ZjrK4x7qrU

— Ariel Winter (@arielwinter1) July 14, 2017