The two-night NWA 74th Anniversary Show, AKA NWA 74 takes place on August 27th and 28th in St. Louis. The latest PPV from the historic National Wrestling Alliance that is now owned by rock star Billy Corgan of the Smashing Pumpkins should be an awesome show.
Among many matches announced, the highlight to some fans will be a huge match between NWA Worlds Heavyweight Champion, Trevor Murdoch as he takes on current NWA Television Champion, Tyrus which is for sure to be a balls to the wall thriller.
The Blast was able to speak to Tyrus EXCLUSIVELY all about the show, his match, his boss and if there ever will be a chance of seeing the Funkasaurus back in a WWE ring again! Check all that out and more below in the first of our two part interview!
Tyrus Is Looking To Become The New NWA Worlds Champion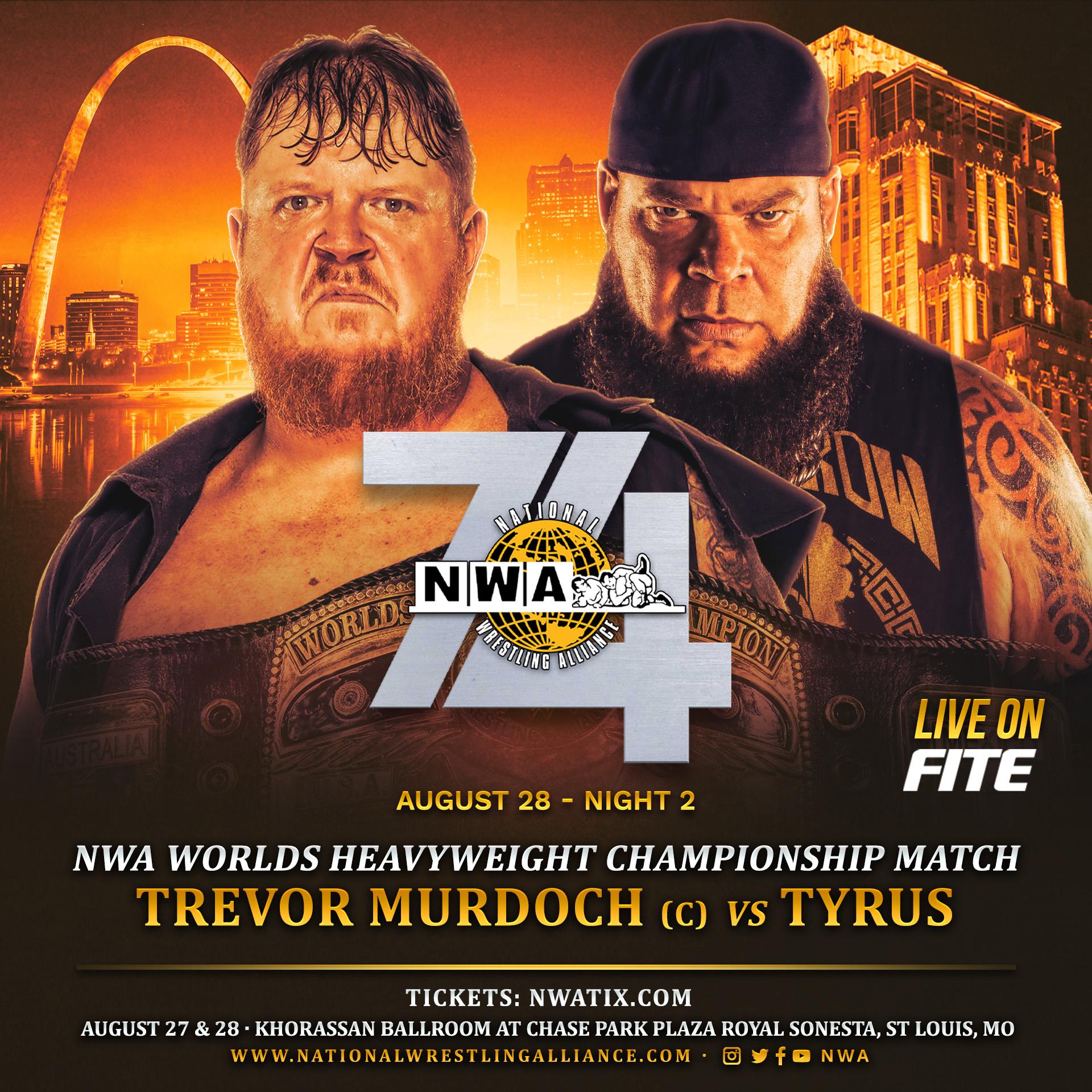 Easily the biggest match of his career, Tyrus is set to go for one of the most important championships in professional wrestling. The NWA Worlds Championship, a title that has been held by legends the likes of Dusty Rhodes, Harley Race and Ric Flair just to name a few.
Originally former NWA Worlds Champion Nick Aldis was the one who was to have the match with Murdoch, but after Corgan pulled him from the match and inserted Tyrus for reasons people still don't 100% know and still want to learn about. Those answers may be answered at NWA 74 but for now, at the end of the day Tyrus was given the opportunity and has realized how important this moment is and he is very much prepared for the opportunity telling The Blast EXCLUSIVELY, "You know, our owner Billy Corgan is a very easy guy to talk to, so you know all are welcome but there's only one Television Champion and and not only is it ironic in the title but I'm also a Champion on TV as well. I got the number one show on TV every time I'm on TV, the ratings go up at least 600,000 so I am the embodiment of a Television Champion in the ring and out of the ring, so you gotta pry this one out of my dead hands and that's why when after my seventh title defense, Billy's people said , "Are you gonna relinquish it for a title shot? And I was like, "No this is not a Championship that you relinquish, this Championship, that has to be taken off me."
He continued, "Now I understand, if on 74 or when I were to beat Trevor, I would understand, because if I had to surrender the title, which is a little bit different. But history, the last time this happened was the Midnight Express, they were the United States Tag Team Champions, they wrestled Arn and Tully for the World Tag Team Championships and they won."
Tyrus was then quick to add, "And for about two weeks on TV ,we had Unified Champions before they had to surrender the United States Title. So what I understand right now is that I do not have to surrender, although I might be in a situation where I might have to make two tile defenses or two on one night, but it's whatever you know but we gotta take care, we gotta get to point A and worry about point B later. I'm not going to wonder what to do until I hear, "And new!" If you follow my Instagram and stuff, I am training. I've had, I'm having a great training camp for this title shot and I've just ,you know the diet is good. I'm going to be in the best shape of my career. I didn't like when I wrestled Pope, I bulked up because I knew Pope, I could just lean on him all night and eventually that would eventually get the end of him, but the problem is when you put on extra weight, and your a big guy, it is hard to come off so with Trevor, that that won't work. Because Trevor is you know, he throws hay bales for a living. Trevor is as strong as an ox and so I've gotta be quicker .I've gotta be stronger and so the only way to do that is to lean down. So I'm coming into this match around 345 pounds, which is the lowest weight I have been in my career. In the WWE I was around 356, I'm trying every known training apparatus, I'm doing the inner waves, rope flex I've been at Hard Knock South and I'm just and I'm committed to it. I'm intermittent fasting. I'm getting my 8 hours of sleep and still maintaining a full workload on top of it."
Tyrus is determined and ready. And as much as the match is going to be two big guys in the ring tearing each other a part, we had to see if any surprises were brewing for the match and you'll get that answer on Sunday from the second part of this interview. But as much as we are talking about the future, we needed to talk a little about his past. A past we hope returns one day!
Tyrus Talks About The Future Of The Funkasaurus 
One of the most fun characters that Tyrus played was when he was known as the 'Funkasaurus' Brodus Clay, a powerful but lovable character that always was about dancing, having a good time and calling his mama! The character he made so fun for the WWE is missed by fans. So we had to ask, will there ever be a chance to see Brodus Clay return even after all the success he has achieved and will achieve as Tyrus. He told us emphatically, "Oh never say never! Brodus Clay will always be there. Dusty Rhodes and I came up with that name, there's been a lot of changes lately so you know who knows. I would not be who I am without the WWE. I would not be who I who I am without John Laurinaitis, Mr McMahon, Triple H, Stephanie McMahon. With Stephanie and Triple H, they brought me into the Connecticut office and talked about the character before the Funkasaurus. It was Triple H that was the one that got me up and out of FCW, so I'm always going to be grateful."
This led to him to talk more about the current state of wrestling and the WWE, Tyrus has his eyes set on its continued success as he continued, "And Stephanie allowed me to do the Be a Star program and I got to be the spokesman for a lot of that stuff and all of my stuff, even the you know the the horrible night that my match was cut at WrestleMania, it was Mrs McMahon that came out to me in the lobby and made me feel better. So there's a lot of admiration there and I'm excited for them. I think Stephanie's been ready for this, who better, you know it's always I always think it's better when someone is groomed into position and I think she's been groomed for this her entire life so I think WWE is in great hands! I think wrestling is in great hands, I think right now with New Japan and AEW, WWE, the NWA, Impact. It's a good time to be in wrestling!"
So we might have to wait for more of Brodus Clay in the WWE, but is there a chance that Tyrus would ever go through wrestling's Forbidden Door and appear on Monday Night Raw under the NWA umbrella. Yet another tease for you all as we will get to that in the second part of this interview this weekend.
And speaking of weekends, we are so close to Labor Day weekend, and Tyrus has stated his love for BBQ on Fox News and everywhere else, and he was able to give us some awesome tips for our upcoming grilling! We are already licking our fingers in anticipation.
Tyrus Gives His Tips To Have The Best Labor Day BBQ Ever!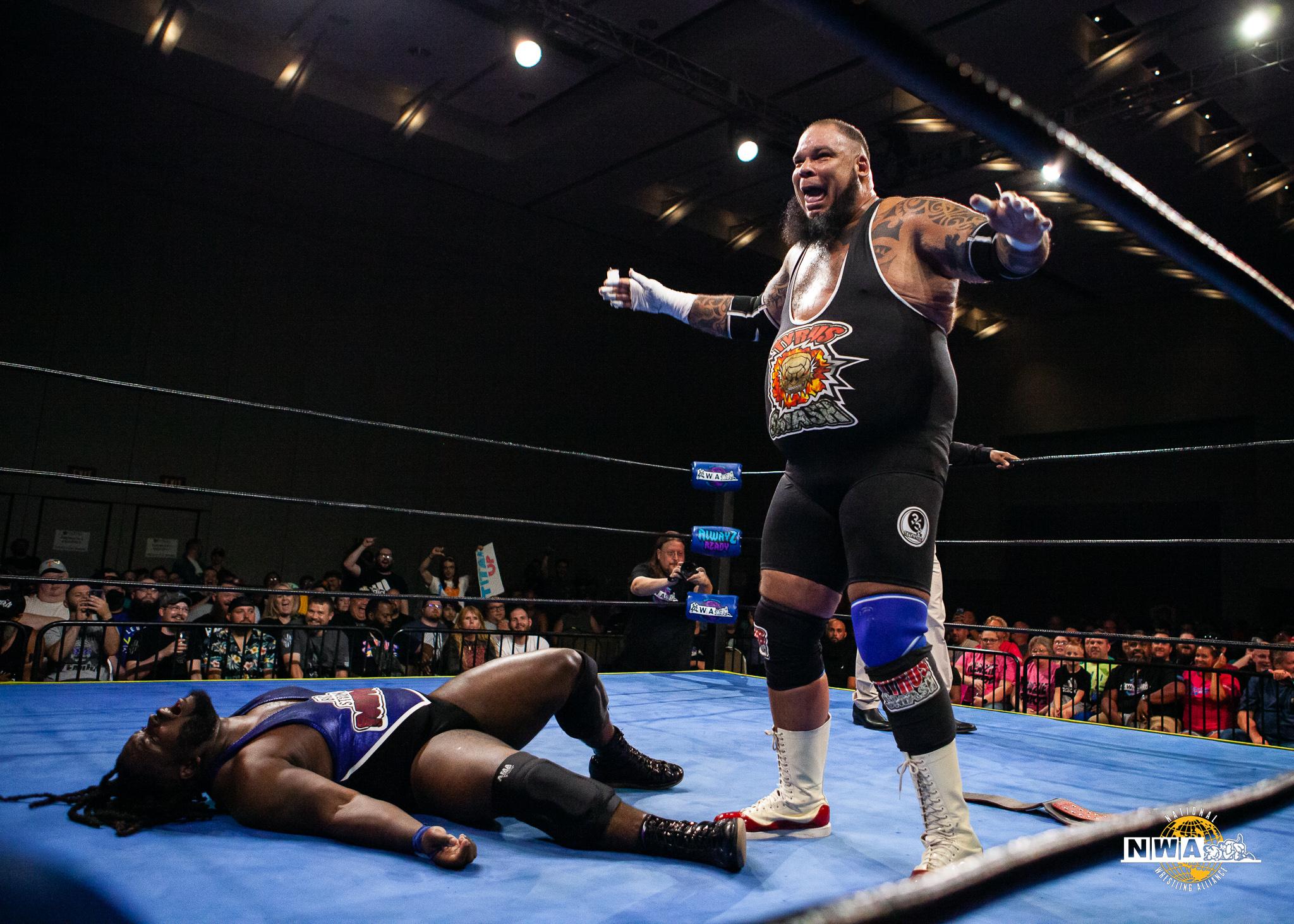 When Tyrus has time to himself and is away from everything else that is going on in his life, he finds himself in front of the grill. And that is a great thing for us all.
While on a recent episode of 'Gutfeld' on Fox News, Tyrus was speaking and joking about New York Gov. Kathy Hochul, as she recently signed a bill promoting the use of the phrase "incarcerated persons" instead of inmates and her BBQ skills or lack thereof, calling it an "atrocity" after seeing a picture of her in front of a grill saying about both, "I was sitting in the penitentiary right now, this just in, the governor called. You're an incarcerated person now. I'm still incarcerated? You know, brought me in for this. I'm like, this is my visit. I only want to talk about that. That's bad enough as it is. But as a boy, I'm a barbecue chef, man. It is my passion. Somebody has to go, you understand? If they touch my barbecue, right? Right. I will disown children. Don't touch my barbecue. This is an atrocity. First of all, she's holding the spatula. There's no fire. Yeah. They turn the flame off so it wouldn't get our little dress. The burger is not even cooked right. Right as she's trying to flip. It's not done on the other side. This is a mockery. This is horrible."
So after seeing all that go down and hearing what he had to say and with Labor Day right around the corner, we needed to find out the best ways to cook all our food for the big weekend. And Tyrus didn't disappoint and gave us the best tips to have the best Labor Day BBQ ever as he told us EXCLUSIVELY, "The first thing you gotta do. What you gotta do is you gotta marinate the night before a BBQ. A BBQ is an event! When I am the new NWA Worlds Heavyweight Champion, I'm going to have a BBQ party of epic proportions. I might even marinate 2 days out, but you gotta get your chicken ahead of time, steaks ahead of time, you burgers and hot dogs ahead of time and you marinate, you let that stuff marinate. Whatever your secret sauces, family recipe you let that stuff go and then with your steaks after they marinate, then you gotta leave them out, room temperature. Let them sit out and get that room temperature, then you throw them on that grill and just don't leave the grill, no cell phones. When you're grilling, the only thing in your hands should be a spatula and twinkle in your eye and it should be a good time for everybody. Marinate the day before, that's my tip!"
So thanks to Tyrus, we have our next two weekends covered. This weekend for NWA 74 and next weekend for Labor Day BBQ fun!
NWA 74 streams live on FITE TV internationally. The Night 1 & 2 Bundle is available for purchase for $39.99. Night 1 & Night 2 can also be purchased individually at $24.99.
And if you're in town for the show, make sure to checkout The Fanfest that is scheduled to be taking place August 27th & 28th at 2 pm CST. You won't want to miss it all!
And on top of it all, stay tuned for Part Two of our interview this Sunday on TheBlast.com
Watch The NWA 74 Pre-Show Below