Simone Biles is sharing life updates about her wedding and marriage with fans!
The well-decorated gymnast gave her followers a chance to ask her questions, which she answered honestly.
Although there were questions about therapy and her athletic career, most people wanted to know about her wedding and family plans.
Simone Biles Wants Two Kids With Johnathan Owens— Who Wants Three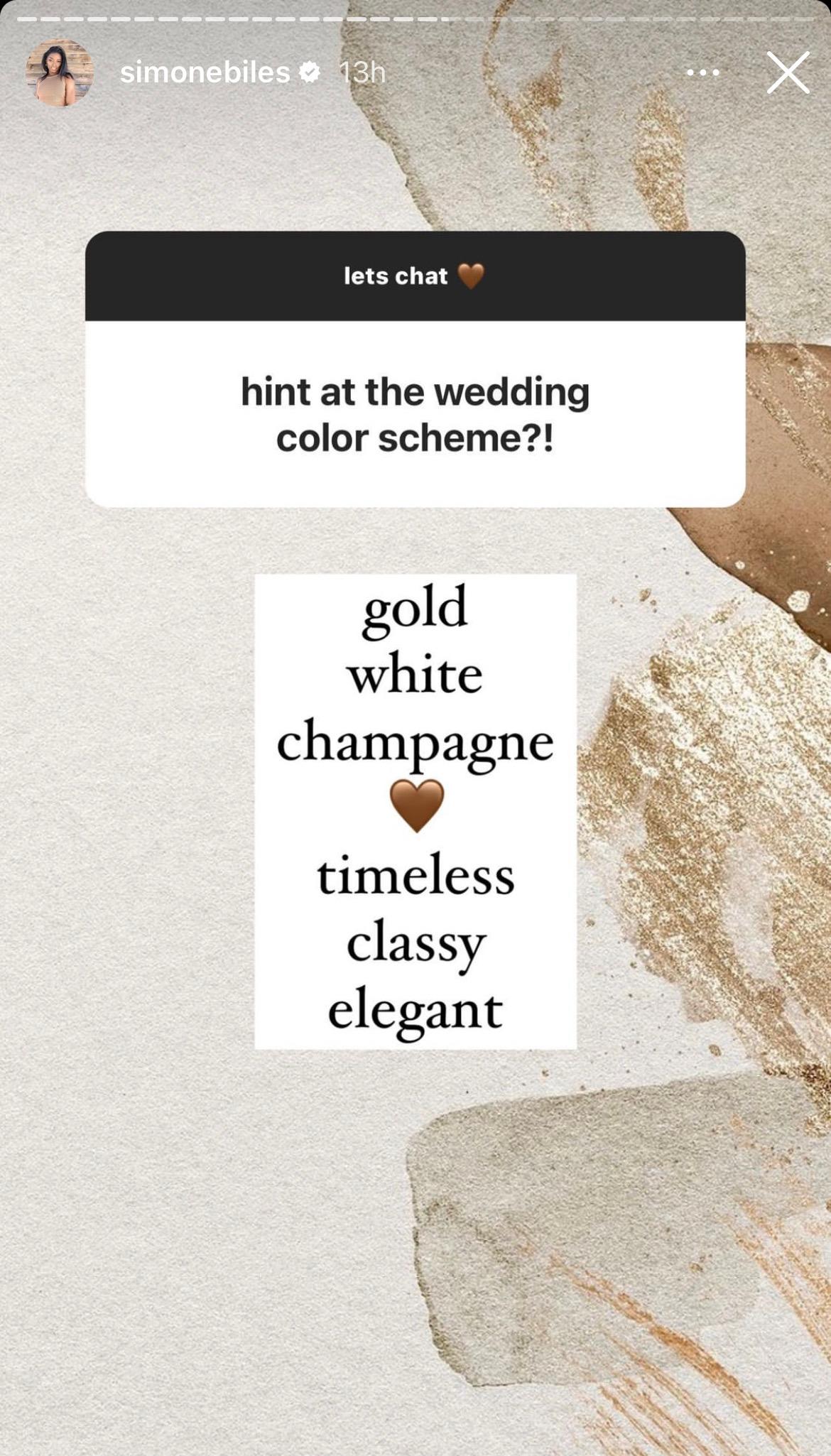 With just a few months left till D-Day, fans are curious about how Biles' wedding plans are coming along. In a move nobody expected, the Olympic superstar gave her nearly seven million followers a chance to ask whatever they wanted.
Without further prompting, one fan asked for a hint at the wedding color scheme to which Biles replied, "gold, white, champagne. Timeless, classy, elegant." 
Another curious fan wanted to know how many kids she and her man, Johnathan Owens, wanted, and Biles wrote:
"I want 2. that's my max haha UNLESS I had twins. [eyeball emoji] I only wanna go through 2 pregnancies. Jonathan wants 3 though. I don't like the oddness."
The Presidential Medal of Freedom awardee also told fans that the most challenging part of wedding planning was setting a date and finding a location— everything seemed to fall into place once those two got settled.
As for the best part, it was seeing her vision for the big day come to life.
Owens even made an appearance as he revealed that the most stressful part of the process for him was creating a guest list and sticking to a specific number of guests.
Biles laughed at her man's answer before giving fans her take on eating pineapples on pizza.
You would recall that the Olympic gold medalist and Owens began dating amidst the coronavirus pandemic in 2020 after meeting on a dating app.
Although the health restrictions stopped them from sharing specific experiences, the pair's relationship continued to blossom. The pair announced their engagement the day after Valentine's Day 2022.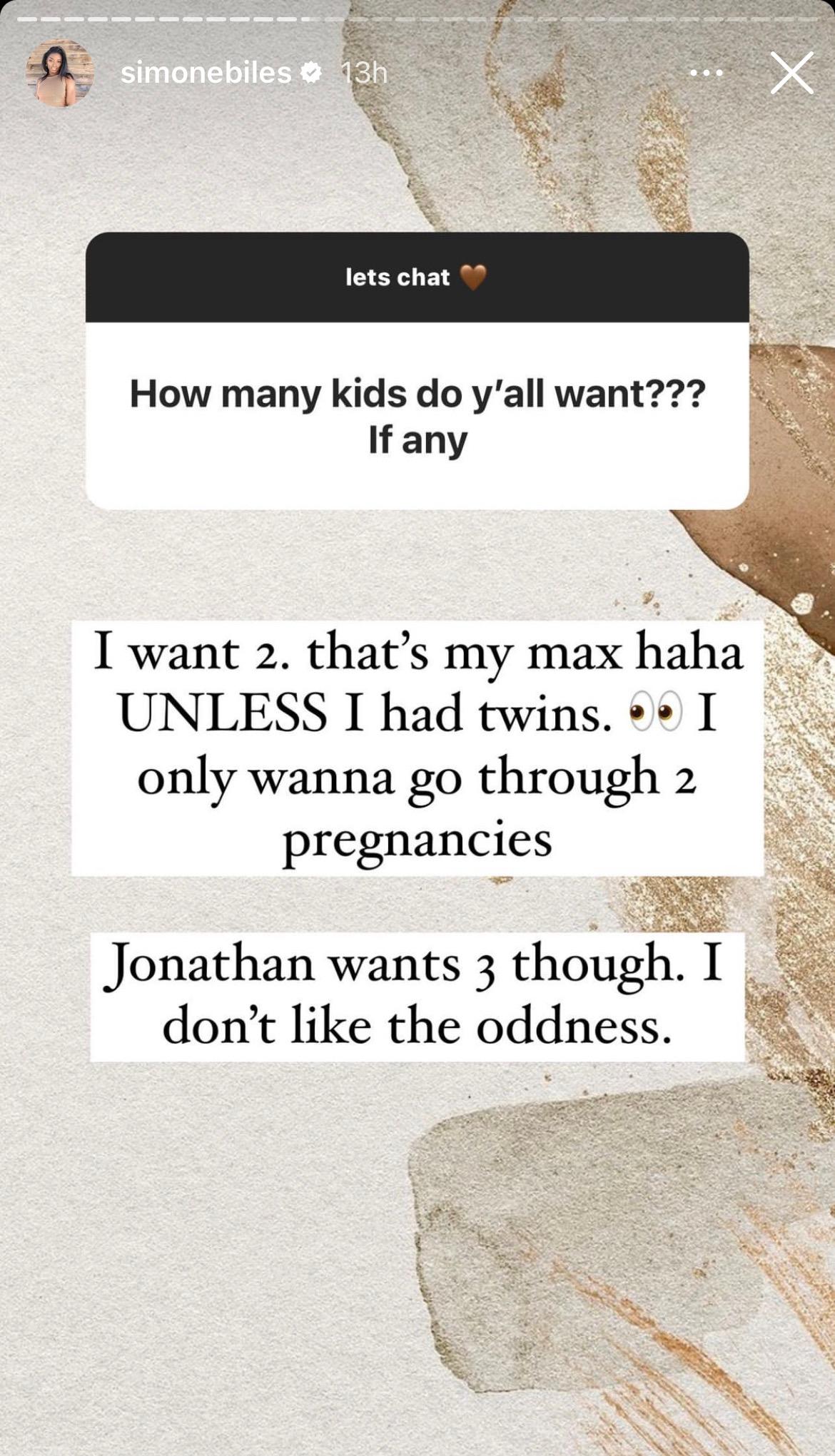 Biles Celebrates Milestones In Her Relationship & Her Man's Actions
In May, The Blast revealed that Biles and Owens are focused on planning their big day. In fact, Biles celebrated checking off "big" items from their to-do lists with an Instagram post.
The Texas-native took a break from her romantic getaway with Owens to post a picture of them kissing and hugging each other in front of the ocean.
In the caption, the soon-to-be Mrs. claimed she was "one step closer to becoming Mrs. Owens."
The 25-year-old also included checkmarks next to the words "date" and "venue," thus confirming that both items have been settled.
Soon after the post dropped, fans and followers trooped into the post's comments to express excitement. While one person asked for the details on the location and date, another wanted to know if they would get invited to the wedding.
Just a month after that, The Blast noted that Biles had put up a sweet tribute to her NFL beau for hosting a free football camp in his St. Louis hometown.
The picture she posted showed Owens' face as he bent towards her in an intimate pose. While Owens donned black shorts, a gray shirt, and a matching bucket hat, Biles rocked a purple and gray sweatshirt with dark shades.
View this post on Instagram
The duo accessorized their fits with jewelry on their ears, wrists, necks, and fingers. Through the caption, Biles gushed:
"I'm so proud of my fiancé," the artistic gymnast wrote on Instagram, adding, "for hosting his very 1st football camp in St. Louis [heart emoji]. this year is your year, baby, let's get it [fingers crossed, 100, and kiss emojis]."
The touched 26-year-old athlete appreciated his partner in the comments for being there to support him as it "meant the world" to him.
Owens subsequently took to Twitter to respond to CBC High School's message acknowledging his presence on their campus alongside Minnesota Vikings' Armon Watts.
The Missouri Western alum claimed that he loved every minute of the football camp and expressed his impatience to return the next year. 
Sports anchor Daniele Esteve also used a short clip  of the Houston Texans player surrounded by youths to address the occurrence. Esteve tweeted:
"Out at @CBCHighSchool where Cadet alums @jjowens_3 and @armonwatts are putting on a FREE clinic for St. Louis area athletes. Field work is done. Now it's time to bust out the touchdown dances @BamFam501c3 @FOX2now."
Fans showed their appreciation by giving the tweet multiple likes.