Simone Biles is excitedly sharing updates about her upcoming nuptials.
The gymnast shared that she is one step closer to her big day with Jonathan Owens. Biles and Owens announced their engagement earlier this year after confirming their relationship in August 2020.
Simone Biles And Jonathan Owens Have Chosen A Date And Venue For Their Wedding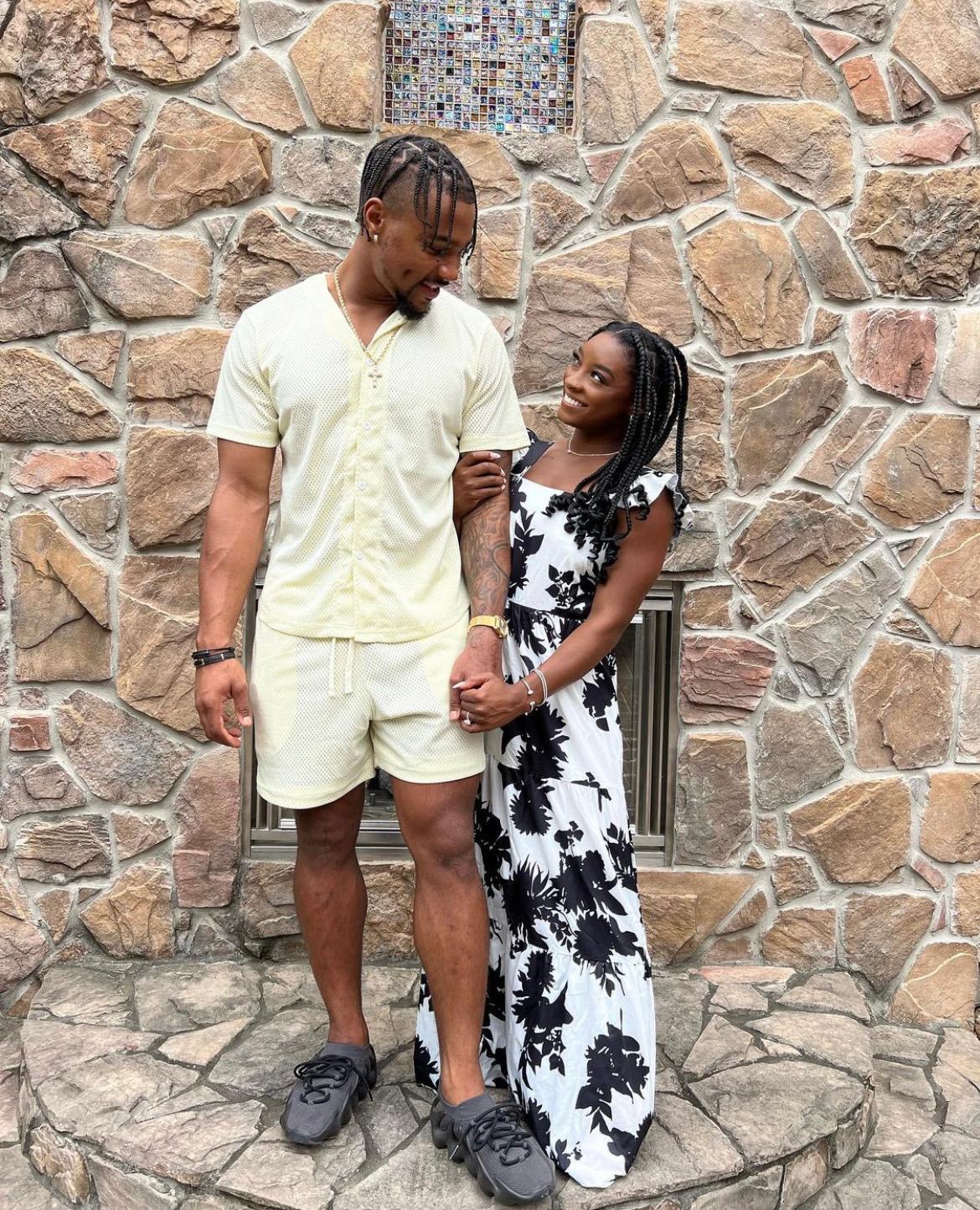 Although the couple is enjoying some quality time on vacation, they managed to cross two important tasks off their wedding planning to-do list over the weekend.
Alongside an Instagram picture of them kissing and holding each other tight in front of the ocean, Biles revealed that she is "one step closer to becoming Mrs. Owens."
Below that text, the 25-year-old had checkmarks next to the words "date" and "venue." Her action confirms to fans that both have been set.
Not long after the post dropped, fans and followers trooped into her comment section to share their excitement. While one person asked for full details, another asked if they would get invited to the wedding.
A third commenter prayed for them to enjoy a good marriage and many others dropped fire and love emojis. The post has also received over 200,000 likes since its upload.
Biles has consistently updated her social media followers and fans throughout her wedding planning process.
The Blast disclosed that the seven-time Olympic gold medalist said "yes" to two wedding dresses at Galia Lahav's shop in Los Angeles in March. 
View this post on Instagram
Through their Instagram page, fans got a glimpse of the gymnast trying on dresses in the couture wedding shop. Lahav's post contained three pictures and a caption that read:
"It's official: She said "Yes to the dress(es)!" We are over the moon & so honored about gold medalist & mega athlete @simonebiles becoming a GL Bride!"
While the first gown was a gorgeously crafted A-line gown with floral patterns and a v-shaped bodice, the second was a floor-length beaded strapless dress.
In the third image, the soon-to-be bride posed in front of a wall decorated with large white flowers, green leaves, and neon lights that carried the shop's name.
The 24-year-old gymnast kept true to the white theme as she rocked a white blazer over a white top and ripped denim shorts. She complimented her look with white sneakers.
Biles could not help beaming brightly at the camera while holding a framed message that confirmed she had said: "yes to the dress at Galia Lahav LA."
The senior international elite followed that trip with a Q&A session on her Instagram Story, during which she revealed that the wedding would happen in 2023.
The Award-Winning Gymnast Has Problems Choosing Wedding Guests and Venue
An earlier report by The Blast revealed that the Glamor Award winner shed more light on that information during an interview.
Although her wedding planning process has been going well, she had difficulty finding a location. Biles said:
"I feel like I've only become stressed out within the last week, trying to choose a venue and stuff like that, because there are so many great places to get married, and I feel like that's a really big decision."
Despite that snag, Owens' fiancée still has a strong desire to bring her wedding vision to life, adding that the nuptial is "definitely going to be next year."
Asides from that, the United States national all-around champion has had issues cutting down her and Owens' guests for the wedding.
She said that even though she and her man know several people, they wanted the event to be "intimate and private with our closest family and friends, thus making it "the hardest" task.
Biles publicly confirmed her relationship with Owens through an Instagram post that featured a series of sweet photos. The duo dated for two years before getting engaged in August 2020.
Biles recalled that the proposal had surprised her as she had no idea what was happening until D-Day. She noted that her then-boyfriend had had no issues surprising her as it was easy for him to keep secrets.
The Olympic icon recounted that she and Owens went on a restaurant date on Valentine's day, where she met a photographer. Although she knew her man had hired the photographer, she had no idea what was coming her way.