The Official Steakhouse of the Vegas Golden Knights was the official stop for many WWE Superstars to feast during the July 4th weekend.
While the WWE Universe's favorites were in town to battle at the MGM Grand for the Money in the Bank Premium Live Event, they still had their downtime to enjoy all that Vegas has to offer. And they used it wisely as many of the WWE Superstars the likes of Bianca Belair, Riddle, Omos and so many more took their appetites to what many consider to be the best steakhouse in all of Vegas, Barry's Downtown Prime!
While most ate and enjoyed every minute of it, one WWE Superstar and current Money in the Bank winner Theory was chased away by a steak in a funny showdown with Barry's Owner/Chef Barry Dakake. And we have the EXCLUSIVE video that shows it all!
Barry's Downtown Prime Was Host To A WWE Steak SmackDown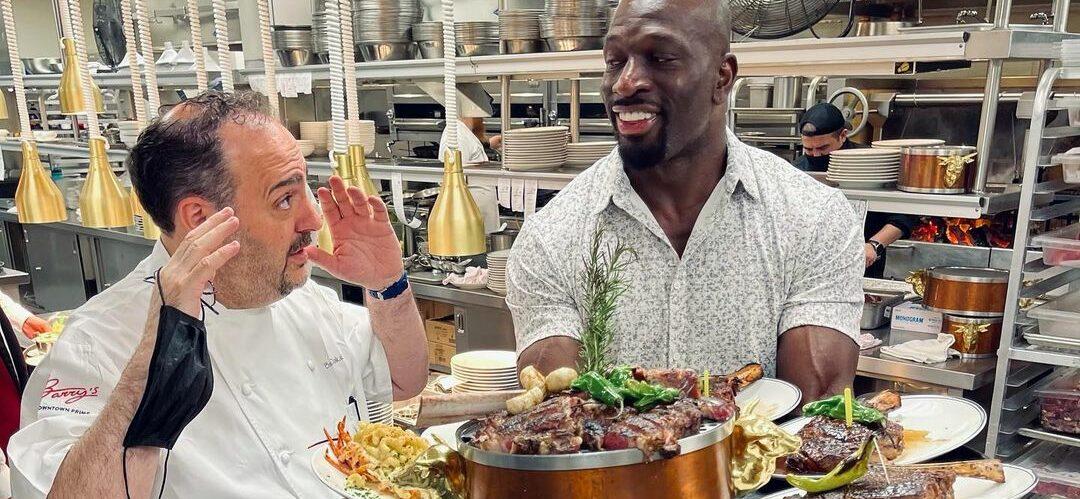 The finest steakhouse in Downtown Las Vegas, Barry's Downtown Prime, located in Circa's exclusive lower level might be the future location for many WWE matches. And if that is the case, the WWE Superstars who went to grab a bite to eat over the Independence Day weekend wouldn't be looking for WWE Championships, they'd most likely be battling for the 12 oz. Rib Cap "BARRY'S STEAK" or maybe even the 8oz. Bison Filet.
Just one look at the menu will have you salivating, and all our favorite WWE Superstars are no different as Bianca Belair, Montez Ford, Angelo Dawkins, Riddle, Theory, MVP, and Omos are only a select few of the wrestlers that were seen posing with Circa CEO/Owner Derek Stevens, Casino Host/former NHL player Darren Banks, and Barry's Owner/Chef Barry Dakake. Other WWE Superstars made sure to stop by and not miss out on themselves as Sheamus made sure to visit Barry's for a wonderful meal as well.
Now, this isn't the first time the best from the WWE have dined with Barry's Downtown Prime, so it certainly was the previous experiences of WWE CEO Stephanie McMahon and her mother Linda McMahon, and other wrestlers' experiences that must have solidified its status as the go-to steak spot while you're in Vegas.
Current WWE Women's Champion Bianca Belair who hasn't slowed down since winning the championship a few months ago at WrestleMania made sure to have a long-awaited celebration at Barry's. Chef Barry, who was amazed by Bianca's incredible hair and almost never-ending braid, had some fun posing for photos together. Later that night, two-time WWE Champion, Drew McIntyre was also spotted getting down with some amazing food.
Barry's Downtown Prime often gets its fair share of celebs to visit and dine with them and with it being Vegas, if you are going to make a bet that future visits from WWE Superstars and other major celebs would happen. Then you'd win every time!
But it wasn't all fun and games for everyone as current Money in the Bank winner, Theory had a completely different experience altogether.
Chef Barry Dakake Has High STEAKS Battle With WWE's Theory
Before the Money in the Bank event, Chef Barry had a little fun of his own and makes us think, if he ever wanted to get in the ring, he'd be just as good at doing that as he is cooking. While showing WWE Global Ambassador Titus O'Neil around the kitchen and showing him how they make one of their incredible steaks, it didn't take long for the youngest WWE United States Champion of all time, Theory to interrupt.
The Blast got an EXCLUSIVE video of the interaction as the current Money in the Bank winner tore into the Chef because he didn't want fellow WWE Superstar Bobby Lashley, who he was defending his championship against and a frequent visitor of the steakhouse to dine there anymore. Theory eventually lost in that request and later lost his championship to Lashley at the Money in the Bank event later in the weekend.
Theory's loss to Lashley must have been caused by still been reeling from being chased away by Chef Barry and one of his amazing steaks. Along with of course, Lashley's mastery in the ring. But as the video shows, many hijinks were had, so we'll have you make your own mind on if that had any effect on things.
But one thing is for sure, the next time you're in Vegas, or the next time Theory is in Vegas, you'll have to visit Barry's Downtown Prime for a meal because their steaks are so much better when they hit your stomach, rather than in Theory's case, almost hit the his face.