Singer Kesha decided to release her inner "Animal" on the Fourth of July!
The "We R Who We R" singer took to her Instagram Stories on Monday to share a photo of her and her booty… and a rock!… as she wished her followers a "Happy 4thh."
Kesha Is 'Just Hanging Out W My Booty On This Rock' In Bathing Suit Snap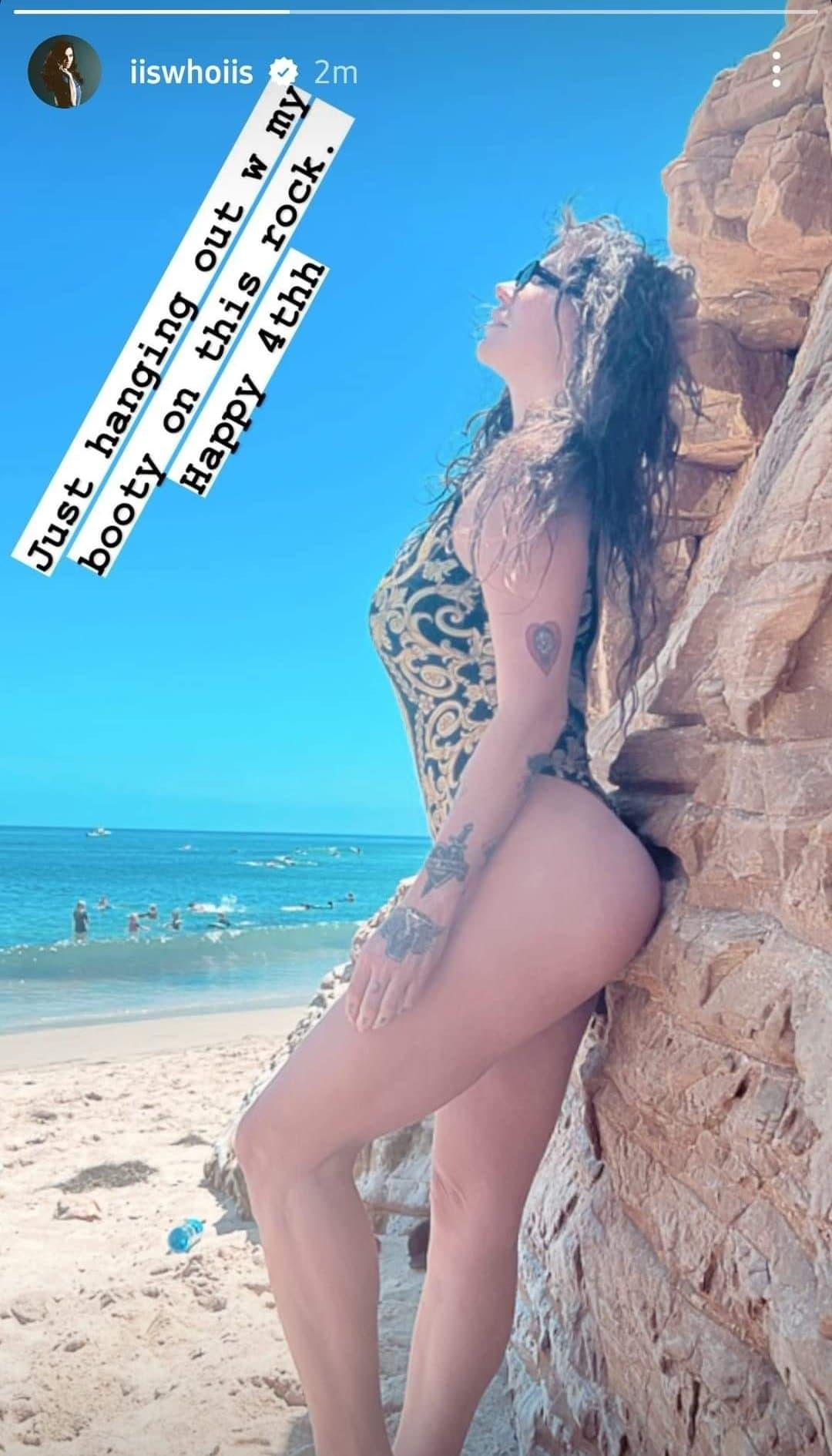 On Monday, the "Tik Tok" singer took to Instagram stories to show off her black hair with bleached blonde hangs. She's wearing sunglasses to shield her eyes from the sun as she reclines on a rock in a green bathing suit with a gold design.
Several heart tattoos can be seen on her left arm, including another tattoo on her hands and more on her knuckles. Her legs are free of tattoos as she presses her toned booty up against a rock overlooking the ocean.
"Just hanging out w my booty on this rock," Kesha captioned the snap. "Happy 4thh."
View this post on Instagram
Fans are glad to see more of Kesha and they're especially glad to see her having fun and enjoying herself.
The 35-year-old singer recently posted photos from her trip around Iceland, including a few snaps of her bathing in a pool.
View this post on Instagram
"🚨 update 🚨 she bathed," Kesha wrote in the caption.
"#2 album cover," one fan commented. "the last pic would be such a serve for an album cover," another agreed. "Slide 2 Is Giving SINGLE/ALBUM ART 👌🏽📸🩸" said a third fan.
"The general public in 2010 would be shocked," another follower joked.
View this post on Instagram
"This is what serenity looks like," another wrote.
"Queen of bathing," said another fan.
"Omggg the steam baths look so relaxing!!!! So jealous!'" another fan shared. "You deserve the best I hope you enjoyed ❤️❤️❤️❤️ enjoy your weekend my hero. Love you."
Kesha definitely deserves a break… because she has big plans coming up!
Fans Are About To See A Lot More Of Kesha… On TV!
View this post on Instagram
THIS Friday, July 8, fans can get forward to seeing Kesha again on TV. Although they love her in front of a microphone, her fans are going to go crazy when they see her in front of a camera… talking to ghosts!
Kesha got her own paranormal ghost hunting series on Discovery+ called "Conjuring Kesha." The network is currently home to the Ghost Hunters and the Ghost Adventures series. Fans would love to see Kesha team up with Zak Bagans, taking on the paranormal!
View this post on Instagram
"🚨🚨🚨🚨🚨THE MOMENT HAS FINALLY ARRIVED🚨🚨🚨🚨🚨  #ConjuringKesha is coming JULY 8 and it is going to blow ur fking minds!!!!!!" Kesha wrote. "Me n my fellow spiritual explorers have been traveling to the most 👻haunted, energetically wild, inter-dimensionally active, magical locations ever 👽 this is literally the most insane thing I've ever experienced, and I've experienced a lot of insanity this life time."
"Join me on the adventure!!! We cry! We laugh. We wonder if we're already dead! Are we bigfoot? Are we aliens.?!?" She asked. "ConjuringKesha officially premieres Friday, July 8, on @discoveryplus ! 📹eeeeeekkkkkkkk!!!!"
View this post on Instagram
In another post, Kesha asked, "Are you getting excited for Conjuring Kesha on @discoveryplus yet?????"
"I've never been more excited for y'all to see something and I've never had a more ridiculous time," she continued. "And lucky for us all, it's all caught on camera. @whitneycummings are we still friends ? I love you. I'm sorry for the torture. And You're welcome to all in advance 👽☠️💀👻☠️👽"
Kesha AND comedian Whitney Cummings hunting ghosts? Fans can't wait for the series to debut! Luckily, they don't have to wait long. The series will become available to stream on Discovery Plus on Friday, July 8.