It seems the wedding season for Kourtney Kardashian and Travis Barker is finally over, as they got married in a third ceremony in Portifino, Italy. The couple has generously shared some of their wedding pics, and what they haven't shared, the Internet has, making for a beautiful set of pictures indeed.
Here's all the beauty and style behind the weddings of Kourtney Kardashian and Travis Barker. Cheers to them.
Practice Makes Perfect, Says Kourtney Kardashian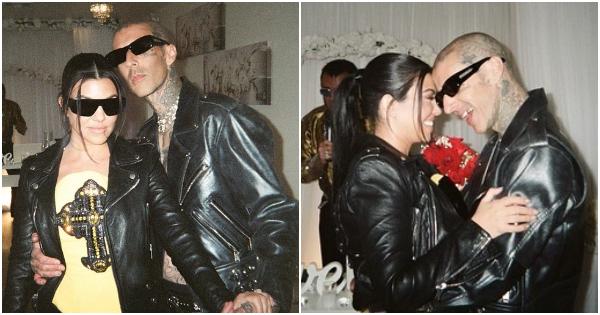 The first "wedding" between Kourtney Kardashian and Travis Barker may not have been legally binding but it sure looked like a lot of fun. The two got married in Vegas, with the bride wearing a leather jacket over a yellow corset emblazoned with a cross motif, while the groom wore his leather jacket over bare skin, well, because, YOLO.
Kourtney wrote, "Once upon a time in a land far, far away (Las Vegas) at 2am, after an epic night and a little tequila, a queen and her handsome king ventured out to the only open chapel with an Elvis and got married (with no license). Practice makes perfect."
Fans felt the couple were giving off Ross and Rachel vibes. Plenty of other comments followed:
"so it's not really real! I knew @krisjenner would never let this be the real thing, lol"
"Why is this also my dream way to get married. I have been telling everyone I wanna go to Vegas and get married, by Elvis."
"Here comes Kim with Pete trying to do the same thing next week. She will never let her sister have the spotlight."
Well, she did.
View this post on Instagram
Kourtney Posted Pics Of Her Courthouse Wedding Giving Retro Vibes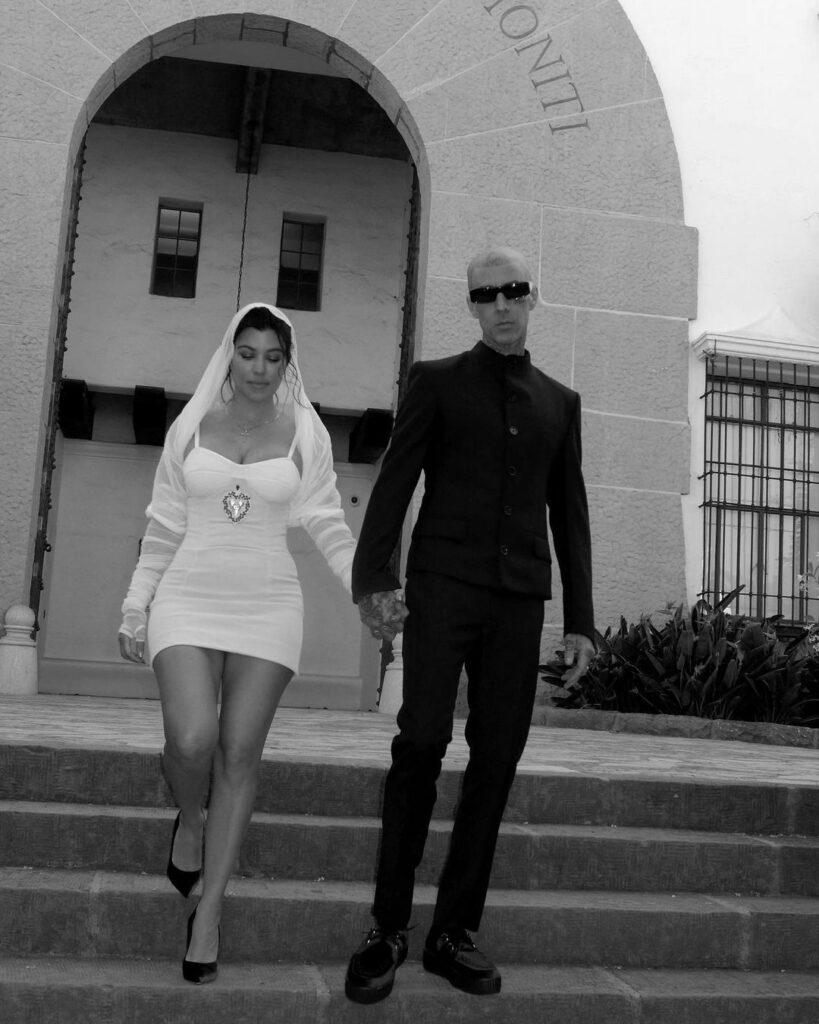 The two got married for real, legally, in a courthouse ceremony on Sunday, May 16, with Kourtney's grandmother May Jo "MJ" Campbell, and Travis' father, Randy Barker in attendance. Fans were quick to point out that her kids were missing from the picture, again.
Wrote one Instagram user, 'She made such a fuss that she wanted her kids at engagement and was upset they weren't yet she married him twice now and kids were at neither of them."
More followed:
"Please tell me you told your children before you got married."
"WHERE WERE YOUR KIDS AT KOURTNEY?"
But there were nicer comments in there too.
"I'm so happy for youuuuu. You deserve all the love and peace and the partnership. We love you K♥️"
"Old Hollywood Vibes"
View this post on Instagram
While Kourtney Kardashian and Travis Barker have been friends since 2008, it took them all the way toll 2021 to get dating. After the couple acknowledged their relationship, moving on from sweet nothings to heavy PDA to three weddings in a row seems to have happened in the blink of an eye.
The Italy Wedding Had All The Kardashian Clan, Enforce
After the intimate courthouse wedding, the entire KarJenner clan, along with friends and family of Travis Barker took over the town of Portofino, in Italy where the third wedding, and the second legal one, was a gigantic family affair.
Kourtney's most recent post carried the sweetest caption, "Introducing Mr. And Mrs. Barker" and the pictures showed a fairytale wedding, replete with a meaningful veil.
No expense seemed spared, as the couple rented out Castello Brown, a 16th-century castle in the seaside town of Portofino, as their ceremony venue. The castle has had a long history, being a military stronghold dating all the way back to 1425. Later, in the 18th century, it fell to the French, although its name comes from the English Consul Montague Yeats Brown, who turned it into a private residence in the 19th century. It finally went back to Portofino in 1961 and is not used as a private event space, for weddings and more. Renting it for a day costs anything between $3,500-5,000 Euros.
Here are more snapshots from the wedding, including the all-important kiss.
View this post on Instagram
Miranda Kerr commented, "So happy for you" and plenty of other celebs also added their congratulatory notes.
Many fans had the sweetest comment to offer as well:
"May you be just as hot for each other forever and ever! (Have a strong feeling you will!) ❤️❤️"
"I suddenly believe in love again ❤️"
" I just got truth bumps. So very happy for you Kourtney ❤️❤️❤️❤️ such a beautiful family 😍"
View this post on Instagram