Brittany Matthews and Patrick Mahomes have been together for close to 10 years and share one-year-old daughter Sterling Skye.
The 26-year-old fitness trainer's longtime relationship with the NFL star led to the altar on March 13, 2022. Following their union, Brittany has taken to her Instagram story to share details of their fairytale honeymoon.
Brittany Matthews Enjoys The Best Time With Husband Patrick Mahomes On Honeymoon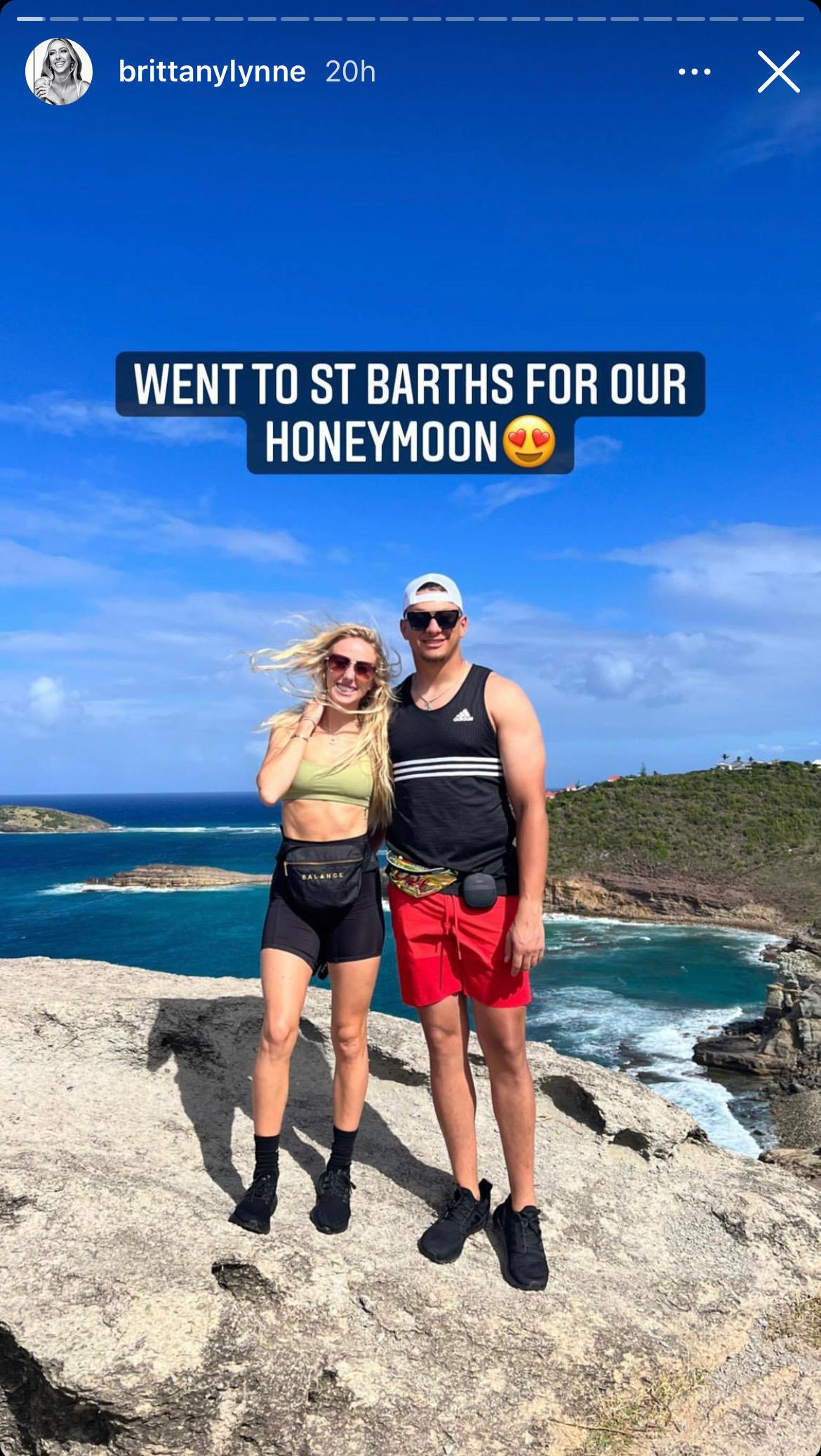 It looked like Brittany had the time of her life with Mahomes in St. Barths, where they went for their honeymoon. They mainly were seen basking in marital bliss together on her story.
The expert trainer uploaded a series of photos showing details of how the vacation went, including what the couple was up to and their location.
The first post showed the pair on a rocky slope with quite the view while they sported shades and beamed at the camera. They also wore shorts, black sneakers, and each carried a fanny pack.   
The following post displayed the island's magnificent scenery, which the couple toured. They also hiked up a mountain where her beau could be seen pointing to an "Onlyou" text on a wall.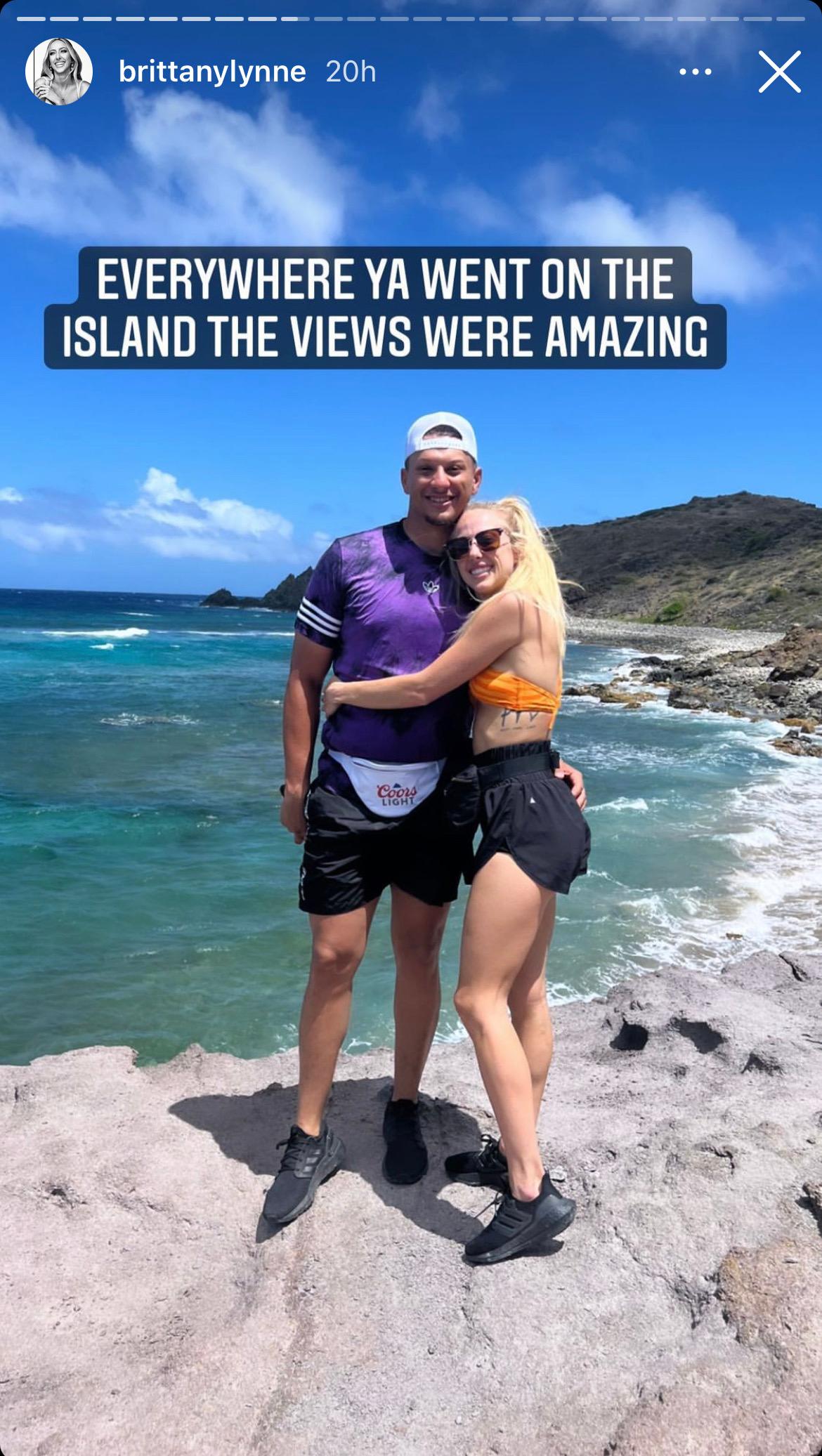 Their honeymoon did not end there as they hung out at a natural pool, of which Brittany made a video and added a few photos of their time in the puddle.
The loving wife wore an orange bikini top and black shorts as she spread out her arms in one photo while a few others showed her holding on to her husband's waist.
"It was quite beautiful," she wrote and tagged Mahomes on a snap of them gazing at the waves and standing barefoot in the natural pool.
The island had terrific views and pretty cool spots where the couple ate. They also watched a sailboat race and had some fun in the water.
Brittany wore a cute white bikini with a matching bucket hat as she posed on what looked like a yacht. She later watched the beautiful sunset and the calm waves with the star quarterback.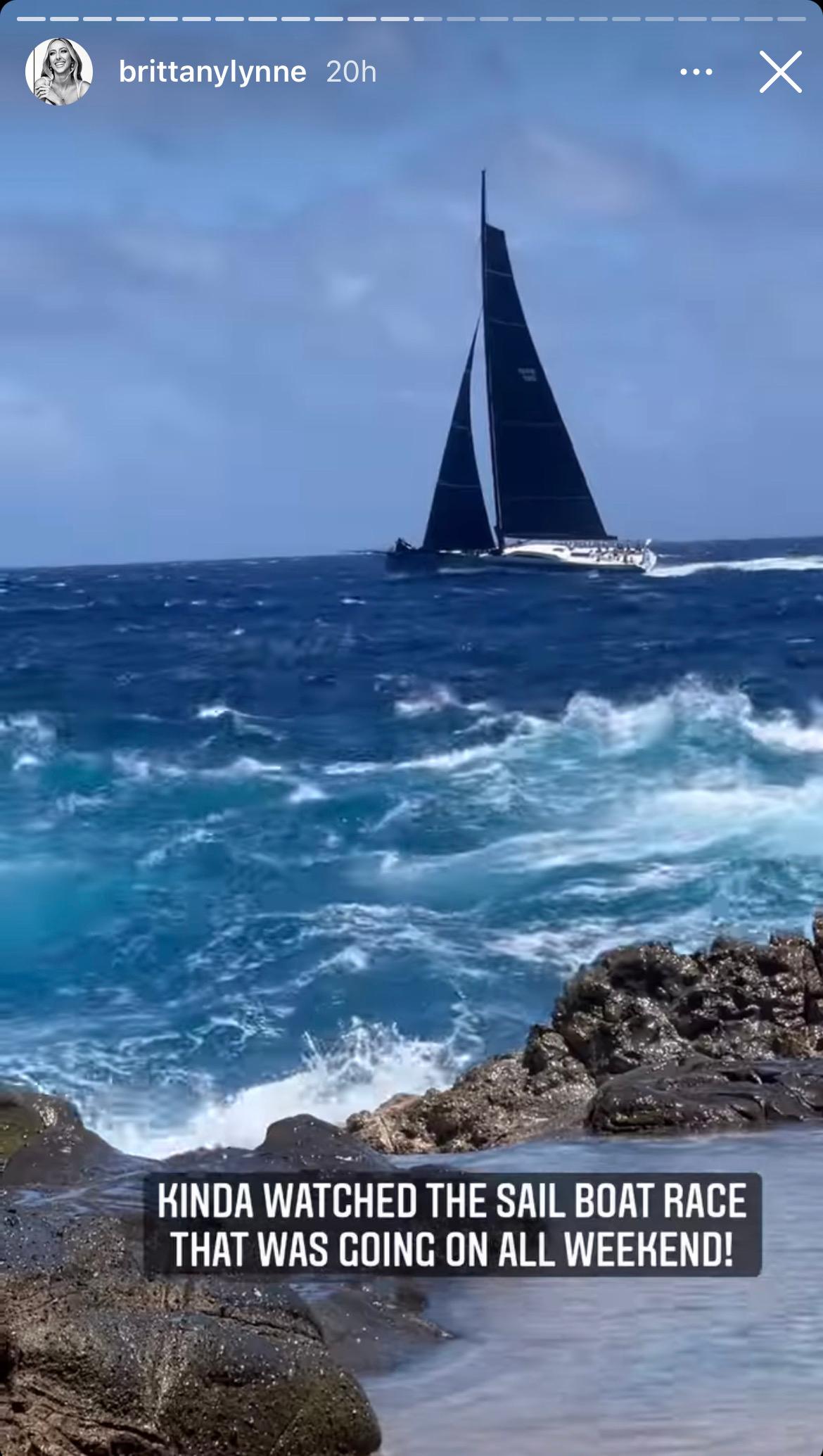 Before wrapping up their vacation, they had a kayaking adventure where they saw numerous turtles. The mother-of-one also shared a back view of herself in a blue bikini, enjoying the perfect view from their villa.
The honeymoon ended on just the right note as Brittany wrote, "was such a perfect honeymoon!" accompanied with two pink sparkling heart emojis. She also tagged the athlete on the post.
Her final honeymoon snap showed herself leaning on Mahomes and rocking a two-piece white outfit, including a crop top and a high-slit skirt. She completed the look with complementing high-heeled shoes and a glittering purse.
On the other hand, her partner dressed casually in ripped jeans and a brightly colored and patterned shirt with gray sneakers.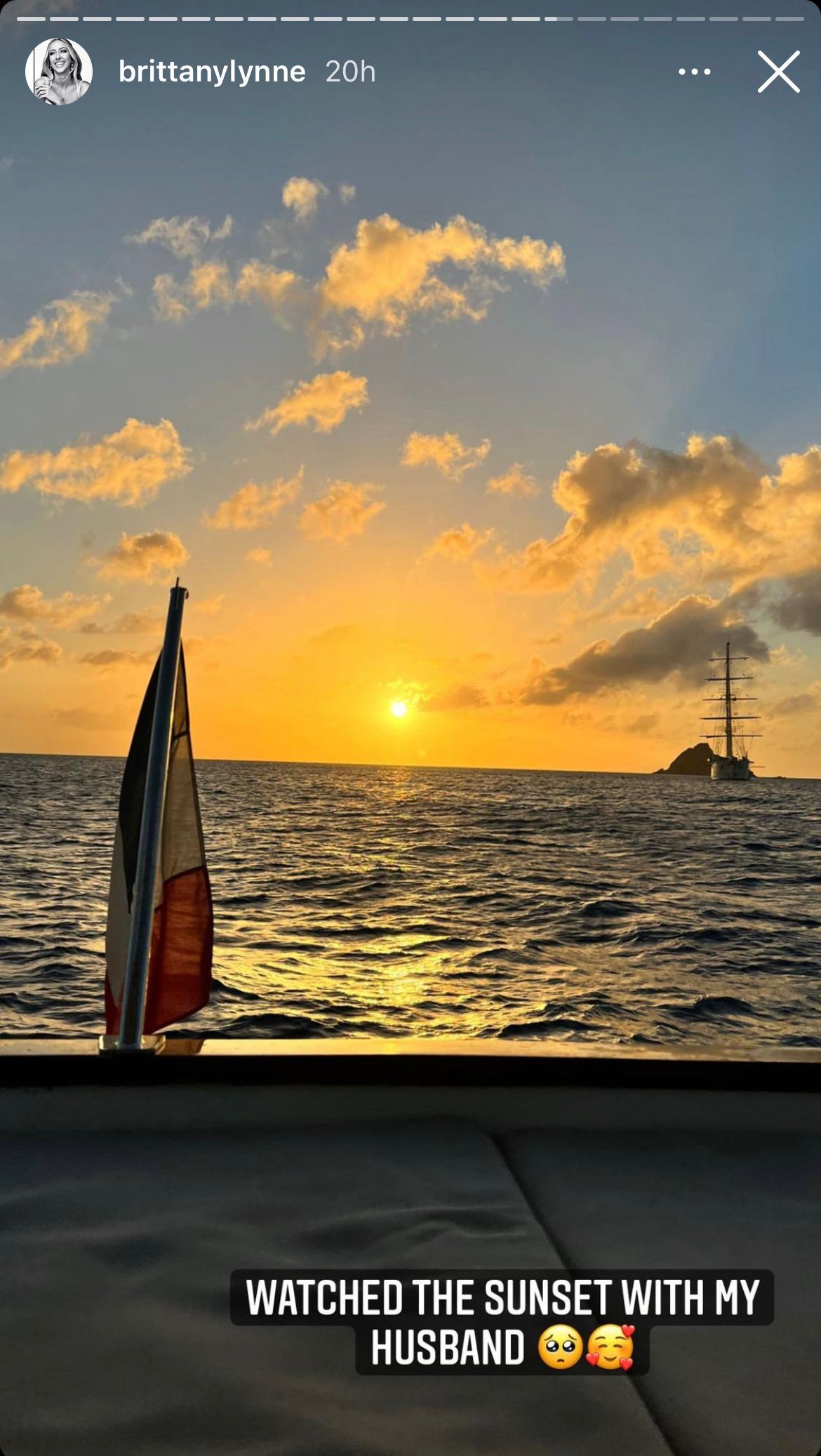 Several days before the honeymoon posts, Brittany shared a couple of her wedding photos, emphasizing her stunning custom Versace white dress.
Three of seven photos were detailed black-and-white displays of herself in the wedding attire, while two showed her kissing Mahomes, who wore a light gray suit.
The couple is loved by many as the comments were filled with sweet words, including her husband, who called her wife, adding a red heart emoji.
Ashley Peterson, Savannah Chrisley, Chris Cabot, Betina Gozo Shimonek, and Ash Holm were among the well-wishers who rooted for the newlywed's love. 
The Owner Of KC Current Gets Hitched After Nearly A Decade-Long Relationship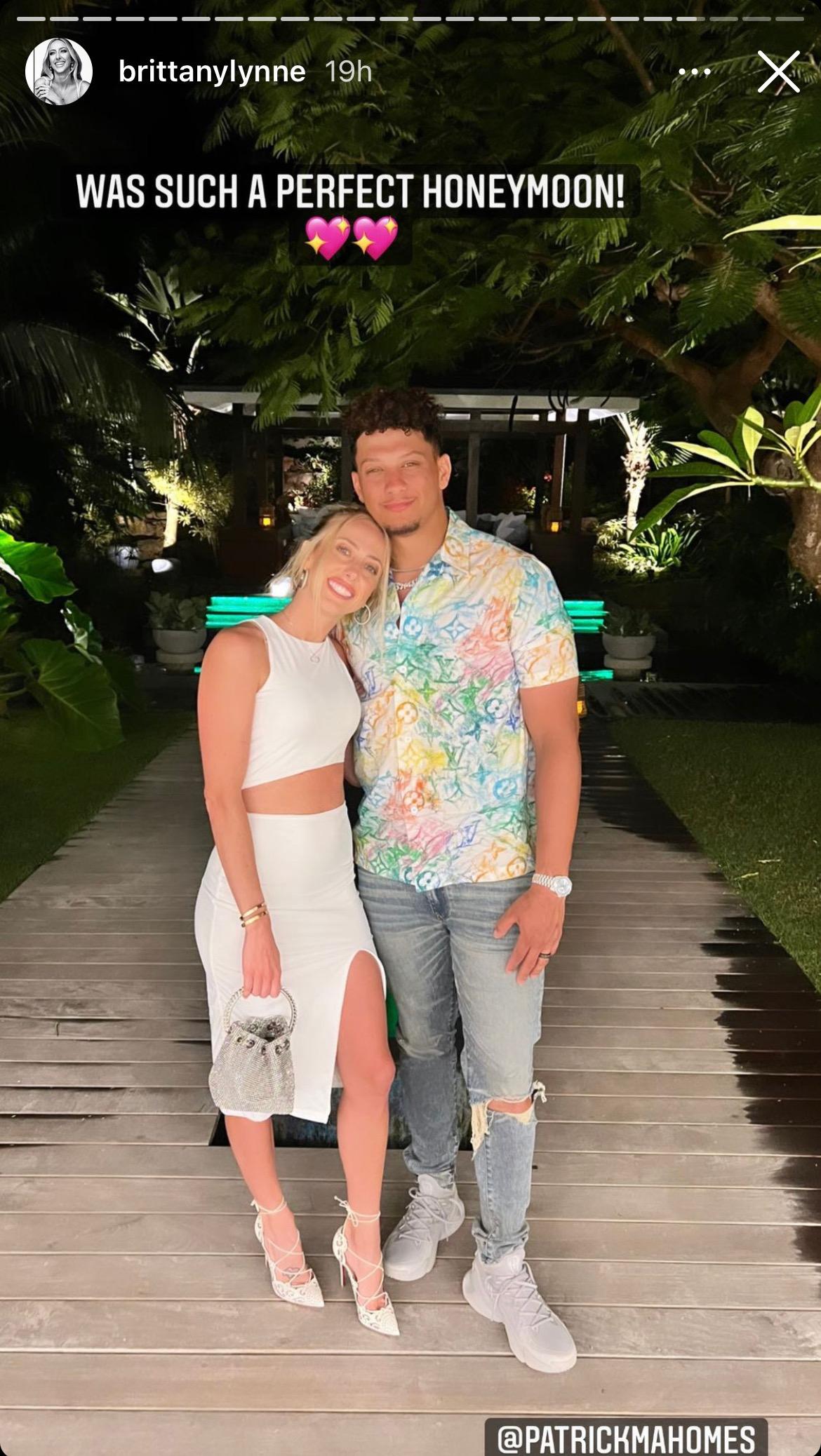 The Blast recently shared details of Brittany's marriage to Mahomes, which the couple jointly posted on Instagram. The ceremony took place in Hawaii, and a couple of the sportsman's teammates were present.
Tyran Mathieu, Orlando Bloom, Travis Kelce, and Kliff Kingsbury were among the athletes reported to be in attendance. 
The post showed the duo together and a picture of their daughter with them. They wrote in the caption, "Mr. & Mrs. Mahomes."
The memorable event was scheduled to be on the weekend, and the groom's best man was his brother, based on a previous Instagram post that indicated so. 
Brittany and Mahomes have been in a relationship for almost a decade since they attended Whitehouse Texas High School. Their union was a blessing to both themselves and their avid supporters.