Elliot Page is ready to tell his life story as one of Hollywood's most famous transgender people! The actor has an upcoming memoir in the works that will give his fans a closer glimpse at his transition journey.
Elliot Page's Upcoming Memoir Is Titled 'Pageboy'
According to the Associated Press, Page is currently working on a memoir titled 'Pageboy' set for release sometime in 2023. Flatiron Books will publish the book. They released a statement, giving fans a scope of what to expect from the memoir.
The memoir will delve into Page's relationship with his body, his experiences as one of the most famous trans people in the world, and will cover mental health, assault, love, relationships, sex, and the cesspool that Hollywood can be.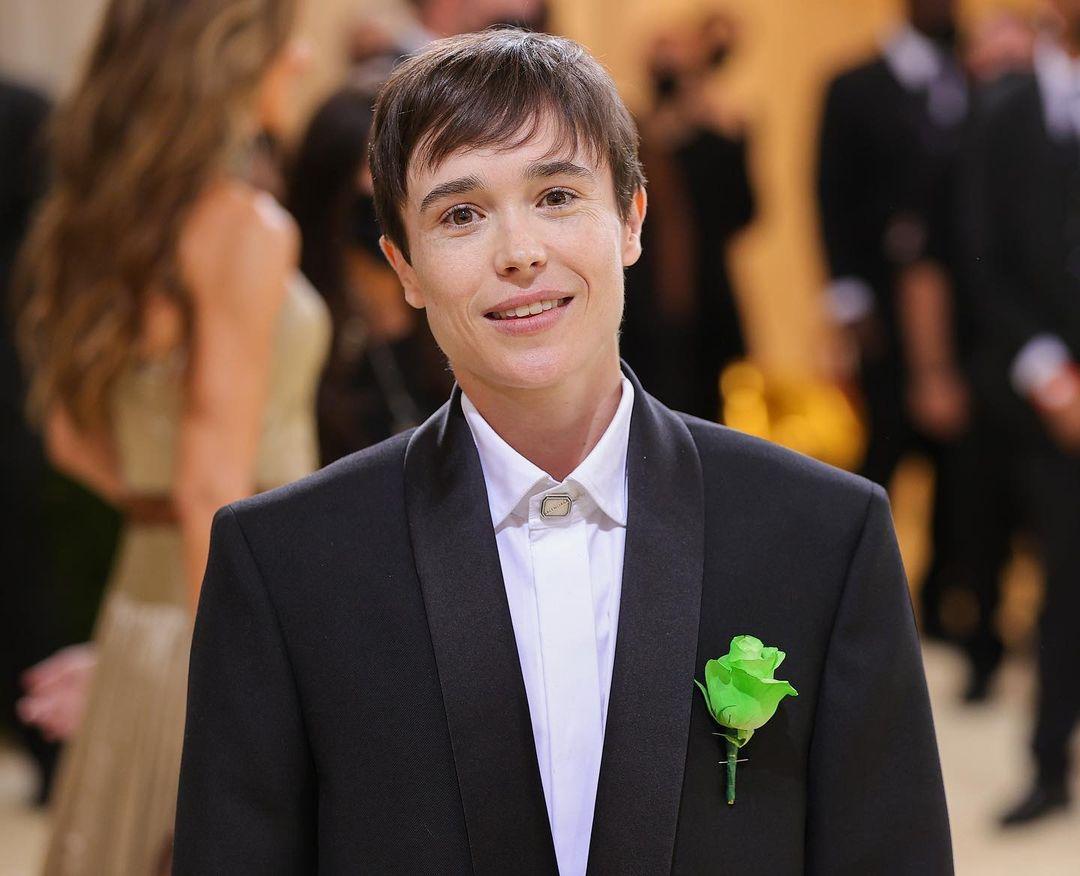 As you might know, "The Umbrella Academy" star shocked the world when he came out as transgender in December 2020. The Oscar-nominated star, formerly known as Ellen Page, opened up about his journey to authenticity in a touching social media post.
" Hi friends, I want to share with you that I am trans, my pronouns are he/they and my name is Elliot, I feel lucky to be writing this. To be here," the beloved Hollywood star wrote.
Page's announcement was met with immense love from his colleagues and the LGBTQ+ community at large.
The 34-year-old confirmed the upcoming memoir with a repost of AP's article on his Instagram story alongside a sticker that read, "hell yes!" He also shared Flatiron Books' announcement of the project, writing, "can't wait!"
Page Once Described Coming Out As A 'Dichotomy'
Since coming out in December 2020, Page has not shied away from telling his truth. In April 2021, he sat down with Oprah Winfrey for the Apple TV+ series, "The Oprah Conversation."
The "Juno" star talked about how he has felt in his body since coming out, describing it as "such a freeing experience." He explained, saying, "well, it's this interesting dichotomy in a way where on some levels it feels just like the most miraculous, amazing things."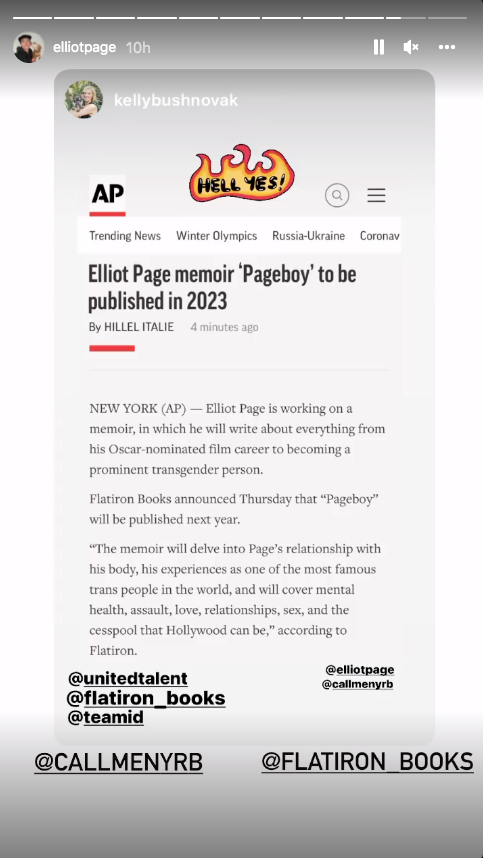 While Page was thrilled to have finally found his authentic self, he shared that he also questioned why it was so hard for him to come out in the first place. He blamed society for making it difficult for people to be their truest selves.
Page also touched on his decision to discuss his subcutaneous mastectomy surgery to remove all the breast tissues.
The actor noted that he chose to make his surgery public because he wanted people to know how much it saved his life. "I do believe it is life-saving and it's the case for so many people because there is such an attack on trans health care," Page explained.
A New Documentary In The Works
As The Blast previously reported, in January, Page signed up to serve as an executive producer on a documentary that will shine a light on young transgender adults.
The film titled "Nel Mio Nome" translates to "Into My Name" and debuted at the 2022 Berlin Film Festival. The Italian docu follows the lives of four friends: Nico, Leo, Raff, and Andrea, who are transitioning from female to male gender identity at different stages in their lives.
View this post on Instagram

The project was inspired by director Nicolò Bassetti's transgender son and will delve into the struggle of transitioning while in a binary world.
Speaking about the project, Page said, "What stands out to me about 'Nel Mio Nome' is the way it so artfully and intentionally presents all the different pieces that make up a person's identity."
Page praised the project, saying she had never seen another film like it and felt honored to be among the team bringing it to life.
" Nel Mio Nome@ received three nominations at the Berlin International Film Festival and is already making quite the impression on critics. Film critic Jude Dry of Indie Wire gave the documentary a B+ rating.