Like the rest of us, Swizz Beatz can't help but drool over his wife Alicia Keys' iconic diamond piano necklace. The famous record producer recently flaunted the icy piece of jewelry following Keys' Twitter Space discussion with Jay-Z.
Alicia Keys' Piano Chain Might Get It For 2021
In an Instagram post shared on Beatz's Instagram, fans got a closer look at the prestigious diamond chain. The 35-second video zoomed in on the piano pendant, which featured bedazzled black chords over diamond keys.
Above the realistic-looking piano pendant was a writing of "Keys" with black diamonds. The heavy pendant was held by a Gucci link chain with black designs.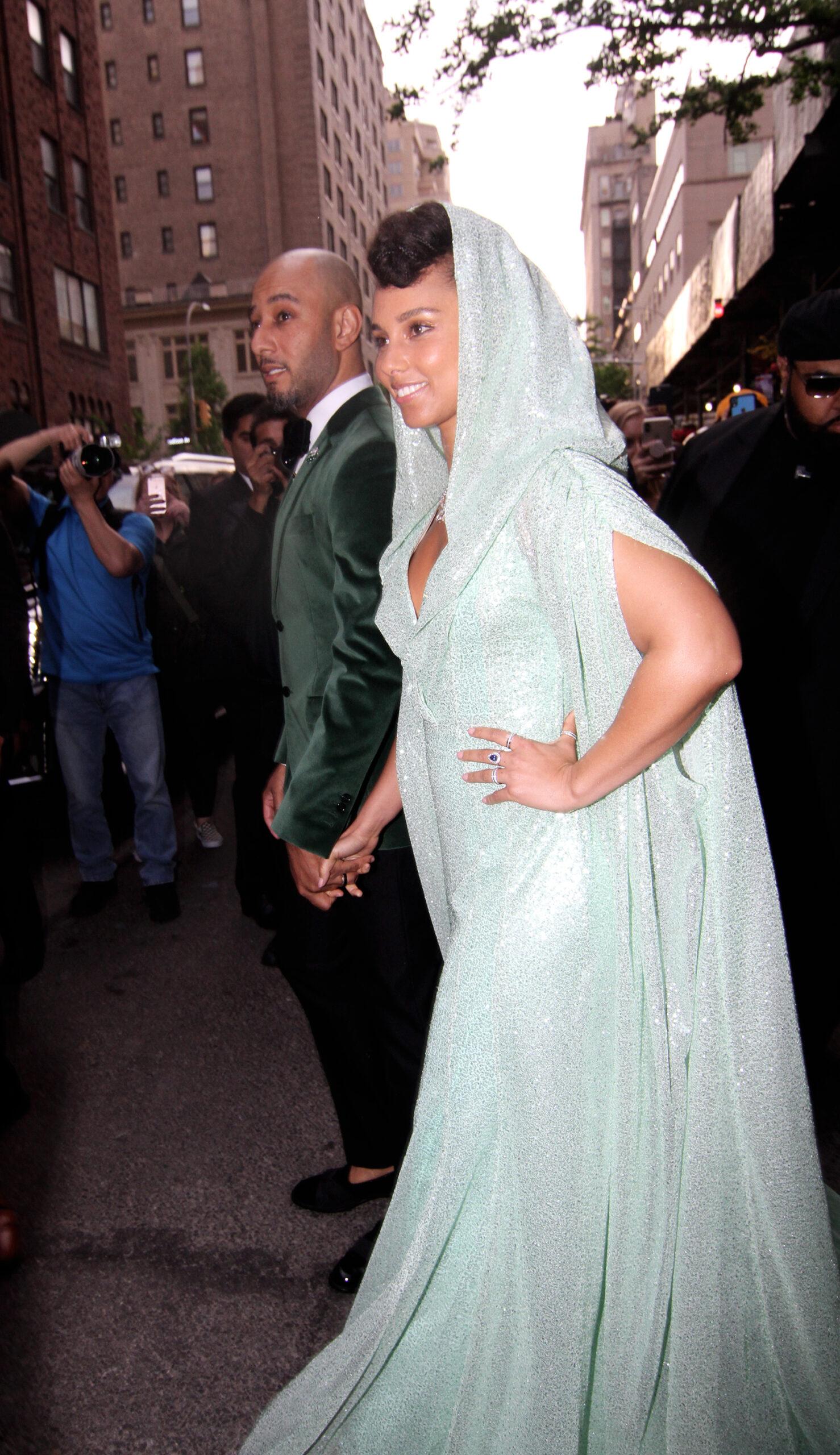 Alongside the necklace's video was a voiceover of Jay-Z praising the luxurious necklace during their recent Twitter Space discussion. In the background, Hov can be heard describing the piece as "super hard" while Keys says thank you.
Jay-Z noted that the prominence of the chain comes "from a different place" and is "beyond a show of wealth." Instead, it has a history buried in the great kings of Africa like Mansa Musa.
A wowed Beatz captioned the post, "Can't lie wife piece might got it for 2021😳👀🥶🥶🥶🥶🥶🥶🥶🥶 @eliantte thank you for bringing this gift to life for the Queen 🐐! Hov said no lies …… thoughts."
Keys first unveiled the jaw-dropping necklace at the 2021 MTV VMAs and was custom-made by celebrity jeweler Elliot Eliantte.
There's Also A Lego-Themed Chain
View this post on Instagram
The impressive piano chain isn't the only bling that Keys has to her name. During her 40thb birthday in January, her loving husband gifted her a Lego-themed chain.
Per TMZ, the "Girl On Fire" singer is a huge fan of the building block game, and Beatz decided to make her the happiest woman for her big day. It's not certain how much the producer dropped, but it was reportedly at least six figures because Beatz wanted something exquisite for his woman.
Beatz sought the help of none other than Eliantte, and the renowned jeweler reportedly made use of 65 carats of diamonds and sapphires to bring the colorful vision to life.
Keys And Beatz's Love Story
Keys and Beatz have been married for more than a decade and have been an evident example of the ultimate #couplegoals. However, like most relationships, the pair have had their fair share of ups and downs.
View this post on Instagram

In her memoir "More Myself," Keys opened up about how she and Beatz became an item and how she almost closed her heart to him after their first date.
She recalled that they met when they were teenagers, but she wasn't interested in him and wanted to remain just friends. However, after working with him on some projects and observing his beautiful mind, Keys was drawn to Beatz.
However, things almost went out the window when he showed up 20 minutes late on their first date. Keys was ready to say goodbye, but Beatz was able to turn it around with his humor and special gift.
Later as we approached my car I noticed something enormous attached to its top. 'That's why I was late,' he said. It was a painting of a grand piano with paintbrushes attached to the keys. "When I saw this," he explained, "it seemed like the perfect representation of our friendship. You're the keys, I'm the brushes.