After 'Confident' singer Demi Lovato confidently revealed it all, Jada Pinkett Smith has done it too. Before imaginations run amok, both Lovato and Smith have opted to shuck their tresses and shave their heads.
That said; both have done it for very different reasons, but the change is there and they are rocking it, right into the New Year. Here's the DL.
Demi Lovato Wants A Fresh Start
View this post on Instagram
For Demi Lovato, who revealed their non-binary status earlier this year, it is all about a fresh start. The "Dancing with the Devil" singer shared their buzzed cut on December 24th, via a FaceTime video shot by photographer Angelo Kritikos on Instagram.
The short clip has a staticky soundtrack and is edited into a deliberately frenetic pace and later, they also took to showing off their newly chopped cut on their Instagram story, enough for fans to exclaim, "OMG, NEW ERA???"
Lovato's reasoning was simple. Long hair means any stereotypical box for them and now that they are unboxed, they will do what feels best for them. As another fan put it rightly, "there they are in all their fierceness".
Jada Pinkett Smith Follows Suit
View this post on Instagram
And there you have Jada Pinkett Smith, who has been struggling with alopecia since 2018. While initially, she said that it had made her cry and feel at her lowest, she's far more positive about it.
Smith began her Instagram video, saying, "Now at this point, I can only laugh" as she points just to her bald head a noticeable line on her scalp. She said the line appeared "all of a sudden one day" and then carried on explaining, "y'all know I've been struggling with alopecia".
"Look at this line right here…it just showed up like that. And this is going to be a little bit more difficult for me to hide, so I thought I'd just share it so y'all not asking any questions."
Her caption to the video was also the coolest, as she wrote, "Mama's gonna have to take it down to the scalp so nobody thinks she got brain surgery or something😜 Me and this alopecia are going to be friends … period!😆".
Smith is cool with her new look, cooler even when showing her 5-hour makeup transformation for "Matrix Resurrections". Watch.
View this post on Instagram
Other Female Celebrities Who Went Bald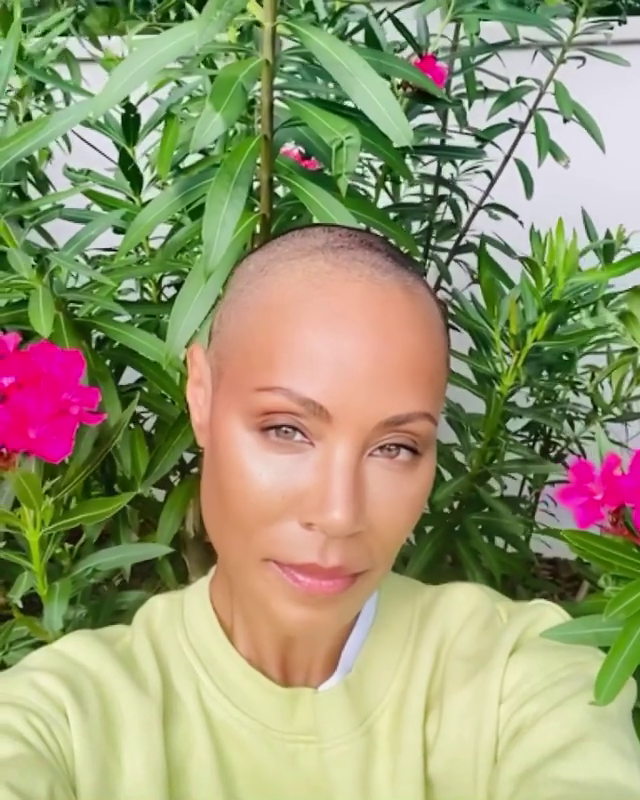 While Demi Lovato and Jada Pinket Smith have shared their personal and medical reasons for not sporting longer tresses, there have been many female celebrities before them to have shorn off their locks.
Charlize Theron, Natalie Portman, and Cate Blanchett have shed locks for various roles and reveled in it, later opting to rock pixie cuts.
Both Demi Lovato and Jada Pinkett Smith are receiving tons of love for their new looks, so clearly when it comes to hair, it truly is here today and gone tomorrow. And it does not matter, not one bit.