Singer Britney Spears may have just spilled her secret!
On Tuesday night, the "Oops!… I Did It Again" singer shared a video of her nursing something in her arms while feeding it with a bottle. She's turned away from the camera so her fans can't see what it is.
In the caption, Britney wrote: "New addition to the family 
 guess if it's a boy or a girl 
 … thank you again baby @samasghari !!!!"
Asghari himself commented on the post with "
"
Even Paris Hilton commented with a heart-eye emoji, leading some to believe that she's in on the secret! So what kind of pet did Britney adopt?
Fans Go Nuts Trying To Guess Her Secret!
View this post on Instagram
Fans left over 18,000 guesses on the post trying to figure out what her secret pet might be! Some eagle-eyed fans spotted the tip of a tail by her left hip, leading some to speculate that it was either a puppy or a kitten.
"I think it's a baby puppy!" one fan commented. The comment drew over 11,000 likes within 12 hours.
"I was hoping it's a baby goat," said another fan, to which someone replied, "omg that would be so cute."
"I saw a little tail on her side at the beginning," another added. "My bet is a puppy."
"A kitten, I say," another wrote. "She said she wanted a fluffy kitten even though they're mischievous."
"Yes! Or a piglet!" another replied. "And definitely a female."
"She said she always wanted to have a cat," another fan recalled. "So I believe it's a kitten."
"I see a part of a brown tail," another commented. "Whatever it is, I hope it makes her happy."
Britney Reveals Her Secret: It's A Kitten!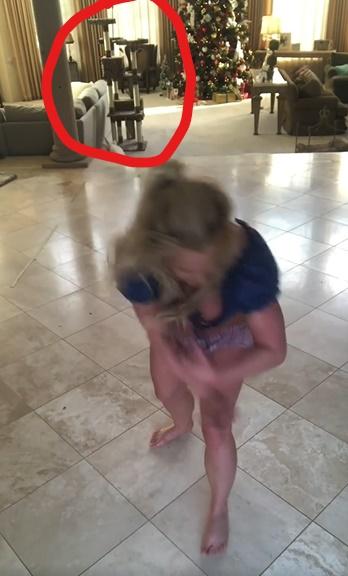 Although Britney hasn't posted any adorable photos of her lovable new pet, she did just drop a major hint that she adopted a cat!
Earlier today, she posted a photo of herself dancing. While she revealed that she dances a staggering three hours a day, she also revealed a cat tree in the background of the video, and some fans couldn't help but call her out!
"Welp that bottle-fed animal must have been a kitty!" commented one fan. "I see a cat tower."
"That's what I was thinking lol," added another.
"It's got to be," another said.
"I SPY A CAT TREE IN THE BACKGROUND," commented another.
"That is DEFINITELY a kitty condo in the background so we know the answer to the new family member !!!!" another wrote.
Although fans are sure that Britney has adopted a cat judging by the cat tree in the background, fans won't know for sure until she confirms it for herself. Judging by the responses, fans absolutely cannot wait for Britney to share the pics!
Fans can watch the full dancing display and try to spot the cat tree for themselves in the video below!
View this post on Instagram