Kelly Ripa is starting the holiday season off right, by licking whipped cream off her own body during this year's Christmas party shenanigans!
The 'LIVE with Kelly and Ryan' host allowed staffers to shoot hilarious footage of her trying to pull off a trick with whipped cream that started with licking it and then trying to fire it into her mouth. As you can imagine, it's a priceless video, and in true Kelly Ripa fashion — almost pulls it off without a hitch.
"Just a normal day pre-gaming with whipped cream for our Holiday Sweater party 😂 thanks [Ugly Sweater USA] for the sweater!" the show captioned the video. 
Kelly Ripa Pulls A Whipped Cream Trick During Holiday Party!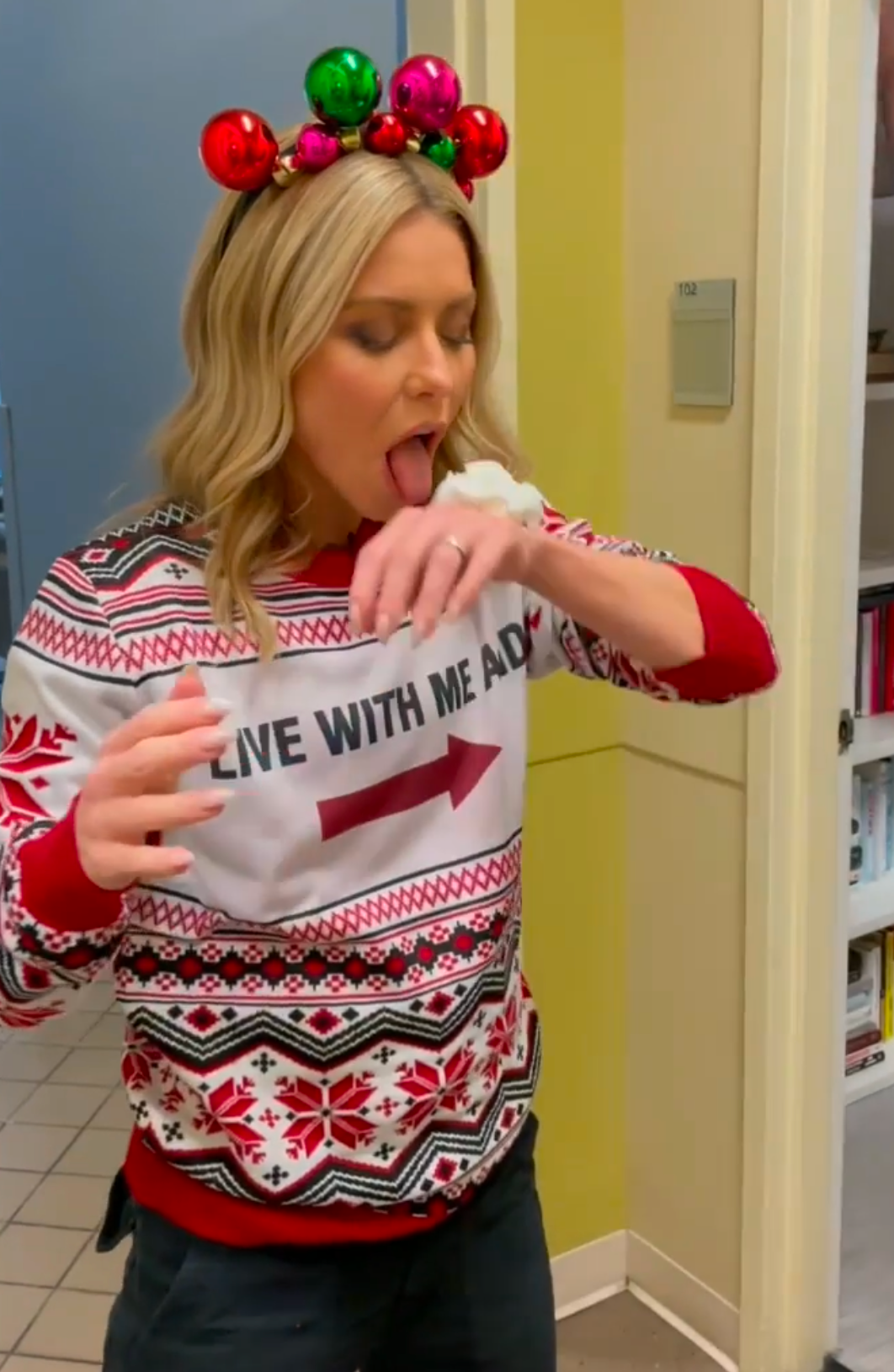 The morning show's official Instagram account shared the funny footage, which began with Ripa licking a bit of whipped cream from her arm and then trying to toss it into her mouth. In the video, Kelly slaps one arm with the other, to get the cream airborne — and try to land it in her mouth. First of all, it's the greatest thing you've seen all day — and second, she almost pulls it off perfectly.
After seeing the full clip, you are DEFINITELY going to try this one at home!
"I think this is absolutely amazing," one fan wrote. Many of Kelly's fans are tagging their loved ones in the post — including a few couples — hoping that they can try this one at the next family gathering. Or, tonight's date night! Scroll Down To See The Video!
Kelly Ripa's Whipped Cream Licking Is The Greatest Thing You've Ever Seen!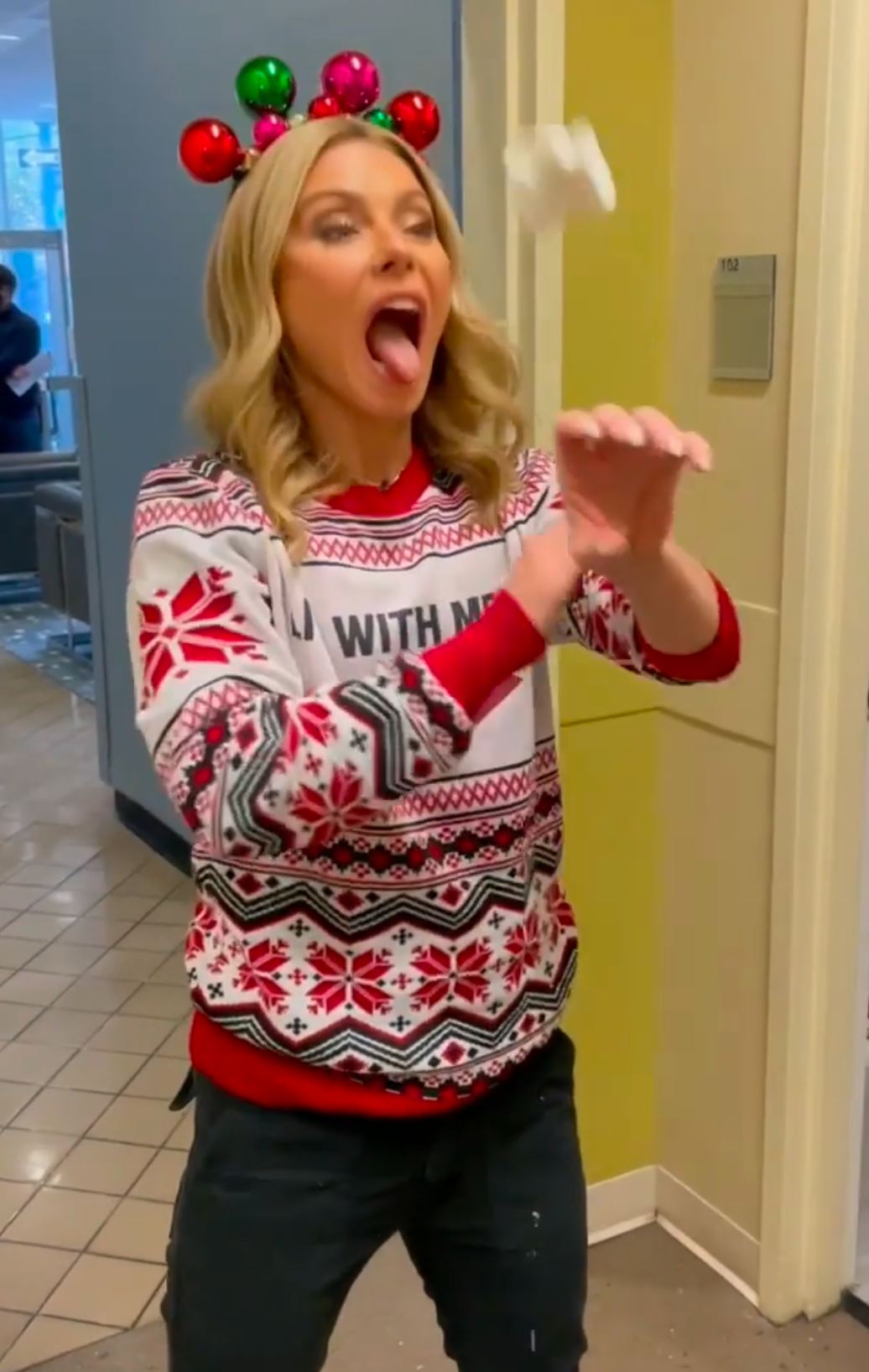 Speaking of Christmas, Kelly Ripa made huge headlines in the past few days after sharing her family's annual holiday card. Of course, the family looks amazing, and the snapshot comes from the family's Italian vacation from last summer. In it, Kelly and husband Mark Consuelos are surrounded by their three children — Michael, Lola, and Joaquin. "Repurposed vacation photo 🎄," Ripa captioned the card.
It should be noted, Kelly doesn't always take the easy road on getting the family together for a Christmas card. Back in 2019, the talk-show host hired an entire crew to shoot a professional card, where the family is decked out in full black-tie gear.
Of course, Kelly's famous friends flooded Instagram to compliment the card — including 'RHOBH' star Lisa Rinna who wrote, "You all… ❤️❤️❤️ such a special and beautiful family… happy holidays!" 'Dancing With The Stars' judge Carrie Ann Inaba chimed in, saying, "Love it!!!"
It's Christmas Party Time!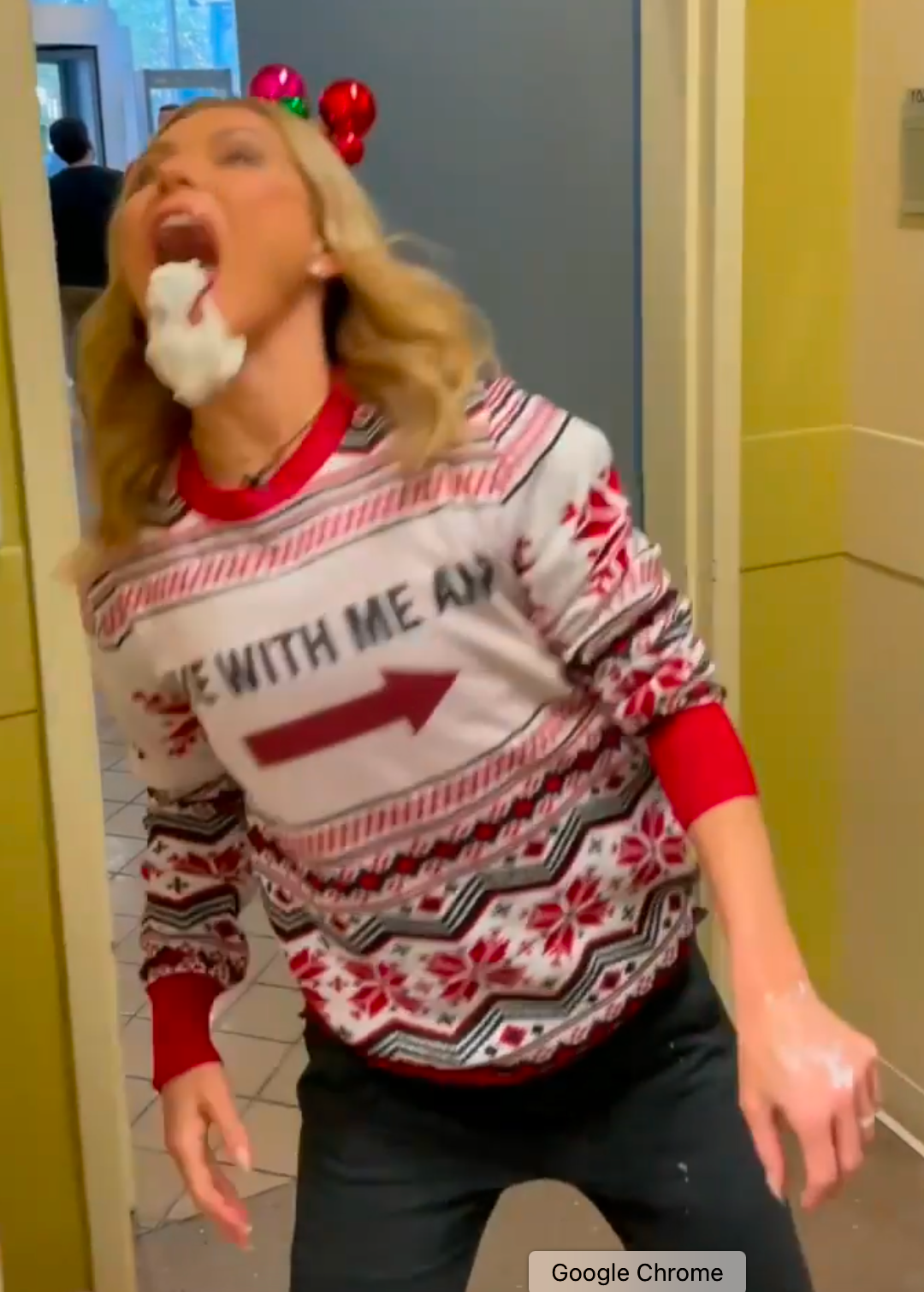 Besides licking whipped cream, Kelly made waves in the past few days for admitting she DOES have a favorite child — although, it's not something she wants to fully reveal!
"I have a favorite child and I have a favorite dog but they don't know who they are. As a matter of fact, each one of my kids accuses the other child of being my favorite. Constantly," Ripa said on the show. Adding, "They're like, 'Well, you're mom's favorite.' 'No, you are.' 'No, you are!' And that's the best game to play, isn't it? You never know who is going to benefit at the reading of the will."
Happy Holidays! And…Here You Go!
View this post on Instagram